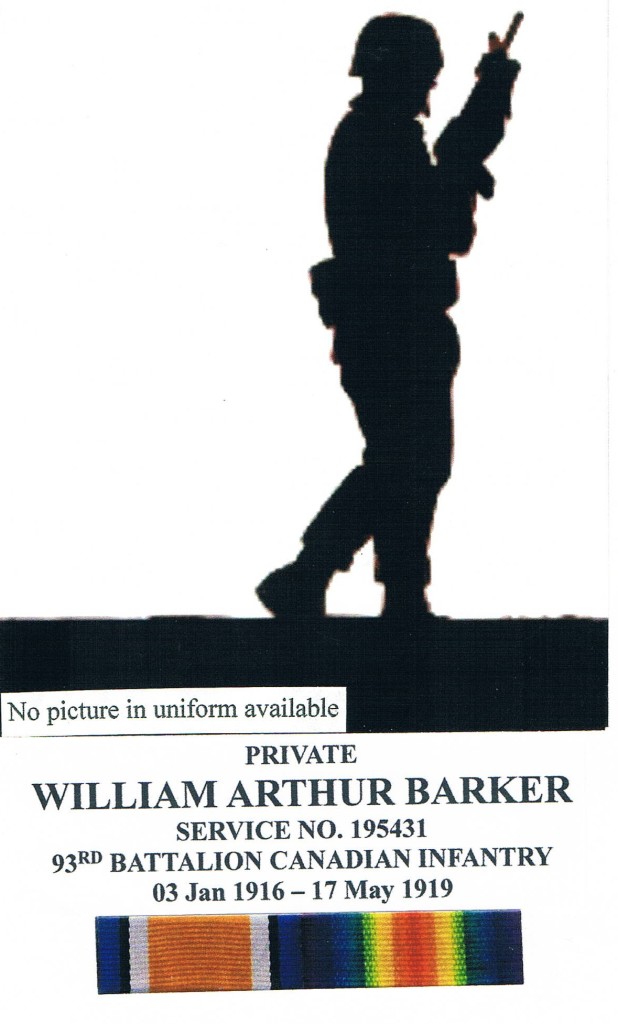 MILITARY HISTORY
Private William Arthur Barker – 195431 – ACTIVE SERVICE (World War I)
On January 3, 1916, William Arthur Barker completed the Attestation Paper for the Canadian Army (Expeditionary Force). He was 18 years, 2 months old when as a single man he enlisted for the duration of the War. William Arthur Barker was born in Morley, Yorkshire, England and gave his birth-date as November 2, 1897. On his Attestation Paper William Arthur indicated "he did not presently belong to an Active Militia and that he had never served in any Military Force". There is nothing on his Military File to indicate where he was educated or to what level. As far as employment is concerned, he lists Teamster. William Arthur was 5′ 9½" tall, 35″ chest (expanded); his weight is not listed. He had a fair complexion, with blue eyes, and light brown hair. His Medical Records indicate that he had a "loss of terminal joint, middle finger, left hand" (end of finger missing). Overall, William Arthur was deemed fit for Overseas duty with the Canadian Army. His next-of-kin was listed as his mother, Mrs. Mary J. Barker, of Lakefield. William Arthur Barker signed the Declaration and Oath on January 3, 1916, in Peterborough, Ontario; he was appointed to the rank of Private (Pte) and assigned Service Number 195431. The Certificate of Magistrate was signed by the Justice on January 10, 1916. Although, the Attestation Paper is stamped "57th Regiment". Pte Barker was taken-on-strength with the 93rd Battalion (Bn) [Peterborough], Canadian Expeditionary Force (CEF), probably on January 3, 1916. The 93rd Battalion was authorized and formed up on December 22, 1915, only 12 days prior to William Arthur Barker's enlistment.
Pte Barker's Military Records do not provide information, other than for a transfer, from January 10, 1916 to July 15, 1916. He would have had some basic Military Training in Peterborough until May 29, 1916 when he was transferred by rail to Valcartier Québec for Basic Infantry Training. Valcartier was constructed as a Military Base in August 1914 as part of the mobilization of the CEF at the outset of World War I. The Base was located approximately 16 miles north of Québec City. Training, which was pretty rudimentary, consisted of marching, rifle, and bayonet drills; the officers were trained in the correct use of a pistol and practiced swordsmanship. The main goal of the Valcartier Base was to form the men into Units and ship them off to England as quickly as possible when their training had been completed. Pte Barker and the 93rd Bn embarked from Halifax, Nova Scotia, on July 15, 1916 aboard the SS Empress of Britain.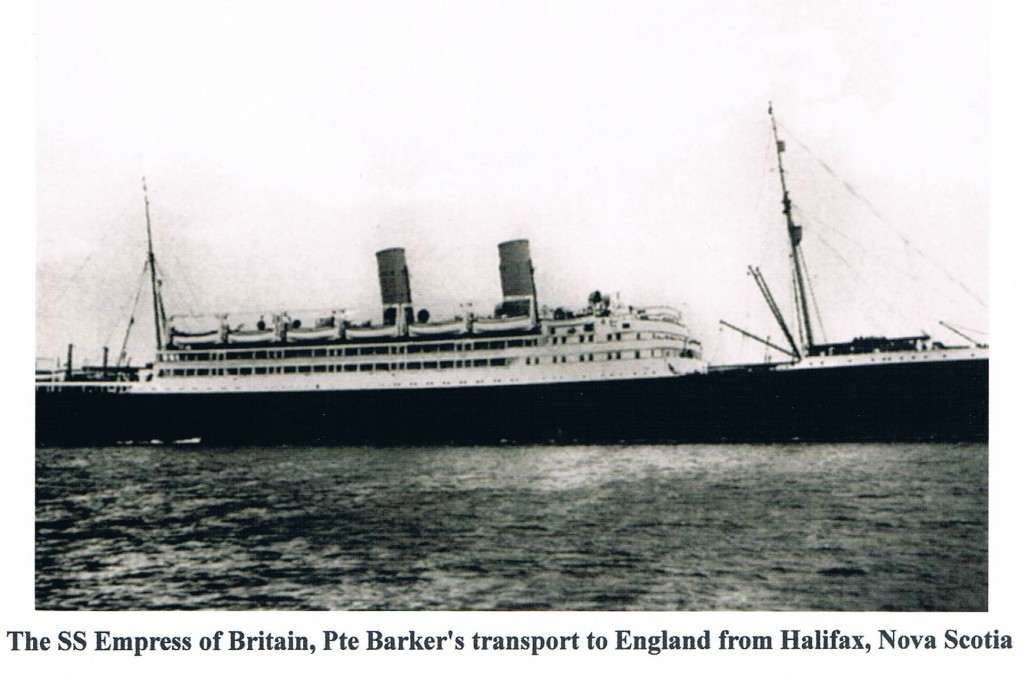 Pte Barker disembarked at Liverpool, England on July 25, 1916. Again, his Military Records don't have information from July 25, 1916 to October 7, 1916. In these 3 months Pte Barker would be doing training and Base duties. On October 7, 1916, Pte Barker was transferred to the 39th Battalion stationed at West Sandling, England. January 4, 1917, Pte Barker was transferred to the 6th Canadian Reserve Bn at West Sandling. On January 19, 1917, he was admitted to a Temporary Hospital located at the Canadian Moare Barracks, Shorncliffe, England for treatment of Pleurisy and on January 28, 1917, he was discharged. Probably, on March 21, 1917 Pte Barker would have embarked England and March 22, 1917 he disembarked in France at the Canadian Base Depot (CBD) located at Le Havre. March 26, 1917 he left the CBD and was taken-on-strength with the 2nd Canadian Battalion (Bn) on March 28, 1917. April 13, 1918 Pte Barker was admitted to No 46 Field Ambulance (Fld Amb) with Incipient Pleurisy; he was discharged to the 2nd Bn April 6, 1918.
The 2nd Canadian Battalion was part of the 1st Brigade, 1st Canadian Division. Based on Pte Barker's arrival date of March 22, 1917, he would have participated in: the Battle of Arras (April 9 to May 16, 1917) which included Vimy Ridge; the 3rd Battle of the Scarpe (May 3 to May 4, 1917) which included Fresnoy and the 3rd Battle of Ypres (July 31 to November 6, 1917) which included Passchendaele.
The Battle of Fresnoy: On May 3, 1917 the 1st Canadian Brigade was assigned the task of capturing the town of Fresnoy. The 2nd Battalion, Pte Barker's Unit, was tasked with the town, with the 1st and 3rd Battalions securing the woods on either flank. The 4th Battalion was held in reserve. For two days, the Canadians rehearsed the assault on mock German positions.
At 3:45 AM, a Canadian "rolling barrage" hit the German lines and the town of Fresnoy. The barrage cut most of the German wire in front of the town. Due to the ferocity of the barrage on the trenches the Germans were forced to take shelter where they could. Following closely behind the barrage of exploding earth and sandbags came the attacking Canadians. In an effort to repulse the attack, German machine guns swept across the approaches to the town, but the barrage and cover of darkness hid the Canadians from view. Once the 2nd Battalion had breached the wire in front of the town the 1st and 3rd Battalions went about their business of securing the flanks.
"In the centre of the attack, the 2nd Battalion's attack was carried out with surgical pin-point accuracy". The German machine guns guarding the entrance to the town were silenced within minutes. After clearing out and securing the trenches, the 2nd Battalion proceeded to neutralize the remaining resistance and secure the town. By 6 a.m., the 2nd Battalion was consolidating its newly won objective and were digging new defenses 250 yards east of Fresnoy. During the day the Germans launched two counterattacks in an attempt to retake the town but both were beaten back by artillery, small arms and mortar fire, as well as the liberal use of grenades.
By sunset on May 3rd, 1917 the Canadians had been involved in nearly 16 hours of strenuous assault and defense. During this one day Battle, 1st Brigade lost 1,269 young men, almost 1/3 of its strength; the German losses were far higher. Following this victory the 1st Brigade was withdrawn from the front line and replaced with fresh troops. Unfortunately, on May 7th and 8th, the Germans mounted a counterattack against the fresh troops, and the town was lost. January 13, 1918 Pte Barker is granted a 14-day Leave back to the UK. On January 28, 1918, he returned from his Leave, and rejoined his Unit.
During the months of December 1917 to March 1918, in general, offensive operations (by both sides) were stopped based on the weather. Military operations were mostly restricted to one of survival in the rain, fog, mud-fields, water logged trenches and shell holes. On April 3, 1918, Pte Barker was moved a few times; he was admitted to No 1 Canadian Field Ambulance (CFA) for Pleurisy then he was sent to No 3 CFA which followed with admission to No 46 Field Ambulance (FA) and finally being admitted to the Field Hospital. On April 6, 1918, Pte Barker rejoined his unit from the Field Hospital.
The Canadian Field Ambulance Unit was a Mobile Unit of the Canadian Medical Corps. It was situated quite close to the front-line, and received wounded and sick men. The job of the CFA personnel was to treat men who could be quickly returned to their Unit or send them on for further medical treatment.
On October 13, 1918 Pte Barker left the 2nd Bn for a Course at No 10 Veterinary School in the Field, France. October 15, 1918 he joined the Course at No 10 Veterinary Hospital; Bourbonne-les-Bains, France. Ten days later, October 25, 1918, Pte Barker completed the Course and left to rejoin his Unit. October 27, 1918 he rejoined the 2nd Bn in the Field.
On January 25, 1919, he was granted a 14 day Leave to Yorkshire, England. On February 2, 1919 Pte Barker was admitted (while on leave) to No 16 Canadian General Hospital (CGH) at Orpington, England with Bronchitis. Pte Barker's Medical Case Sheet dated February 13, 1919 states: "ten days ago reported sick, whilst on Leave. Came to No 10 Canadian Field Hospital on his own responsibility, just before returning to France. Complains of cough, pains across chest, expectoration, weakness and cough since 1918". March 13, 1919 he was discharged to duty.
On February 13, 1919 Pte Barker was posted to and taken-on-strength to the 6th Res Bn at Seaford from the Eastern Ontario Regiment Depot (EORD) also at Seaford, England. March 13, 1919 Pte Barker was admitted, with Bronchitis, to the Princess Patricia Canadian Red Cross Hospital (PPCRCH) at Cooden Camp, Bexhill England from No 16 Canadian General Hospital (CGH) at Orpington, England. He was discharged from the PPCRCH on March 25, 1919 to duty with the 6th Res Bn at Seaford; on the same day, March 25, 1919, he was taken-on-strength on posting from the EORD to the 6th Reserve Battalion, at Seaford. On April 12, 1919 Pte Barker was struck-off-strength from the 6th Reserve Battalion and was posted to Military District (MD) C Wing 3, a Camp located at Kinmel Park*, Wales, UK. May 3, 1919, Pte Barker was struck-off-strength from MD C Wing 3 on transfer to the Commonwealth Naval Forces (CNF) on proceeding to Canada. On May 7, 1919 Pte Barker embarked from Liverpool, England aboard the White Star Liner "Celtic" and was struck-off-strength from the Canadian Army (Overseas). Probably on May 8, 1919 Pte Barker was taken-on-strength with the Canadian Army (Canada) and transferred to the No 3 District Depot (DD) in Kingston, Ontario. Pte Barker would have disembarked at Halifax, Nova Scotia about May 14, 1919. Pte William Arthur Barker was discharged from the Canadian Army May 17, 1919 at No 3 District Depot, Kingston Ontario. * See Kinmel Park Riot article which follows.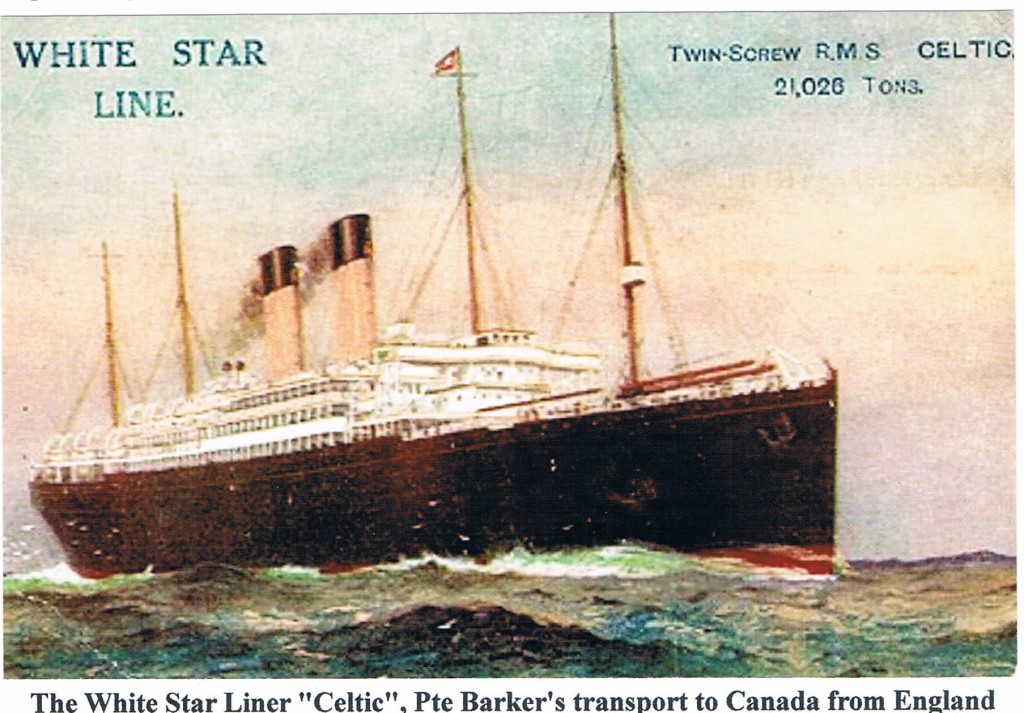 Pte William Arthur Barker served with the Canadian Army a total of 3 years and 6 months and 22 days: 7 months and 15 days in Canada, 1 year, 7 months and 4 days in France and 1 year, 3 months and 11 days in the United Kingdom. He would have received a Clothing Allowance and the War Service Gratuity.
Pte William Arthur Barker would have been awarded the following Military Medals:
British War Medal and
Victory Medal.
He was also awarded War Service Badge – CEF Class "A".
An excerpt from an article in McLean's magazine by Barbara Amiel, September 1996:
The military is the single calling in the world with job specifications that include a commitment to die for your nation. What could be more honorable?
PERSONAL HISTORY
WILLIAM ARTHUR BARKER
William Arthur Barker was born in Morley, Yorkshire, England on November 2, 1897.
On the Particulars of Family of a Man Enlisted in CEF Form, dated May 17, 1916 William Arthur stated that he was his widowed mother's sole support since his only brother enlisted in England. William Arthur had been providing his mother with $125.00 yearly. He arranged for separation allowance of $20.00 per month to be paid effective March 1, 1916. It was stopped May 1, 1919.
William Arthur had insurance with the Prudential Company and had made arrangements for payments of the Insurance premium.
THE WILLIAM ARTHUR BARKER FAMILY OF LAKEFIELD
William Arthur's paternal grandparents are unknown.
William Arthur's parents, Mr. Barker and Mary J. Barker.