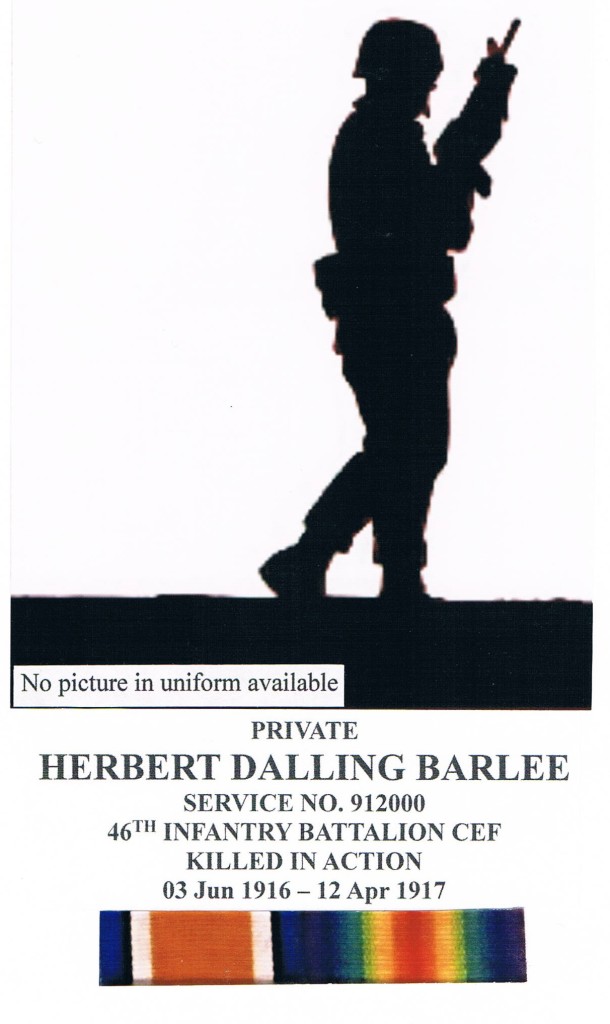 MILITARY HISTORY
Private Herbert Dalling Barlee – 912000 — ACTIVE SERVICE (World War I)
On June 3, 1916 Hebert Dalling Barlee completed the Attestation Paper for the Canadian Army (Expeditionary Force). He was 18 years and 6 months old, when as a single man he, enlisted for the duration of the War. Hebert Dalling was born in Lakefield, Ontario and gave his birth-date as November 25, 1897. On his Attestation Paper Hebert Dalling indicated he did not presently belong to an Active Militia and that he had never served in any Military Force. There is nothing on his File to indicate where he was educated or to what level. As far as his Trade or Calling is concerned, he lists Bank Clerk. Crawford was 6′ 3" tall, 38" chest (expanded); his weight is not listed. He had a fair complexion, with hazel eyes, and dark brown hair. Medical Records indicate no medical issues and overall he was deemed fit for Overseas duty with the Canadian Expeditionary Force. His next-of-kin was listed as his father F. R. S. Barlee of Lakefield. Hebert Dalling Barlee signed the Oath and Certificate of Attestation June 3, 1916 in Grand Forks, British Columbia. The Certificate of Magistrate was signed by the Justice on June 3, 1916. Herbert Barlee was taken-on-strength as a Private, with the 196th Overseas Battalion* (OS Bn). Pte Barlee was assigned Regimental Number 912000.
There is no indication of where Pte Barlee trained while in Canada with the 196th OS Bn, however, there were many training areas in western Canada. They would have had 5 months of Basic and Advanced training coupled with duties and some Leave.
*The 196th (Western Universities) Battalion, CEF was a unit in the Canadian Expeditionary Force during the First World War. Based in Winnipeg, Manitoba, the Unit began recruiting during the winter of 1915/16 in universities throughout western Canada. After sailing to England in November 1916, the Battalion was absorbed into the 19th Reserve Battalion on January 2, 1917. The 196th (Western Universities) Battalion, CEF had one Officer Commanding: Lieut-Col. D. S. MacKay. Future Prime Minister John Diefenbaker served as a lieutenant in the Battalion 1916 – 1917.
October 13, 1916 Pte Barlee made a Will in which he left his personal estate to his mother Mrs. Emma Barlee at Grand Forks, British Columbia. On November 1, 1916 Pte Barlee and his Unit embarked from Halifax aboard the SS Southland.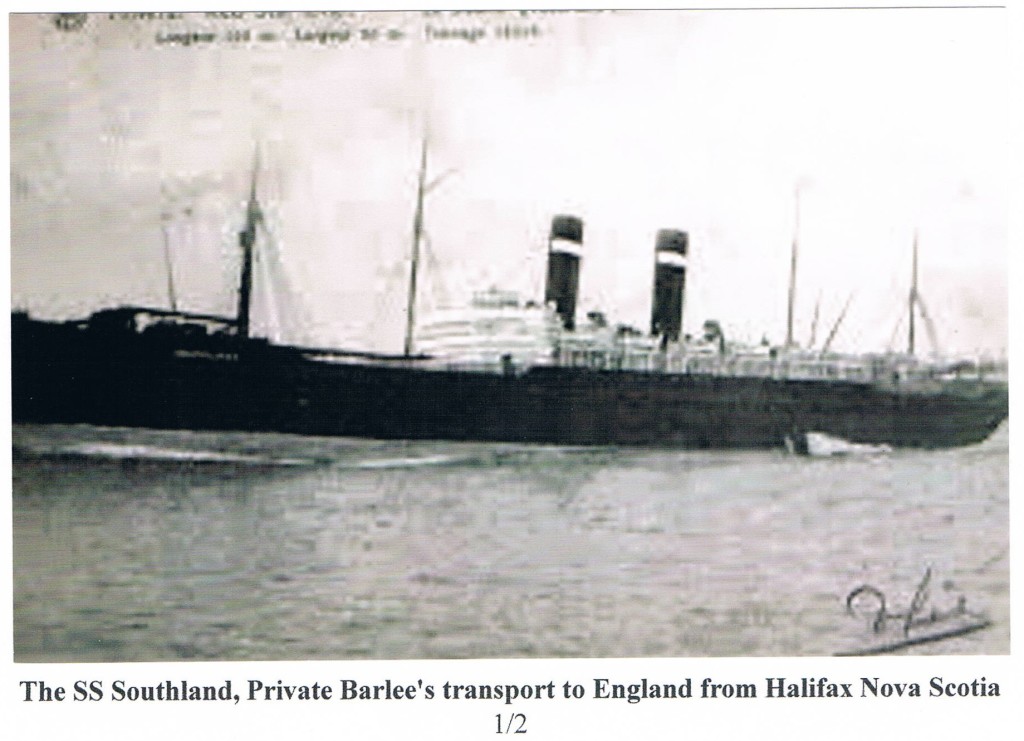 November 11, 1916 the 196th OS Bn disembarked at Liverpool, England. December 31, 1916, the 196th OS Bn was absorbed by the 19th Reserve Battalion, stationed at Seaford, England. January 1, 1917 Pte Barlee was taken-on-strength with the 19th Reserve Battalion (Res Bn). After about six weeks of training with the 19th Res Bn, the Unit was transferred to the 46th Overseas Battalion (OS Bn) on February 16, 1917 upon embarking from the UK. On February 17, 1917 Pte Barlee and his Unit arrived in France at the Canadian Base Depot (CBD). February 21, 1917 the 46th OS Bn was moved to the Front. From February 22, 1917 until April 9, 1917 the 46th OS Bn was involved in many encounters with German troops. There were raids and Recognizance Parties ongoing by both sides and many casualties resulted.
The Vimy Ridge Battle was fought from April 9 to 12, 1917; the fighting at Vimy Ridge was intense and many of the 46th OS Bn died there. Probably the worst battle was one Code Named the Pimple Operation which was the push to take the high ground. Pte Barlee was killed on April 12, 1917 in this action along with many of his fellow soldiers; the last day of the Vimy Ridge Battle. The Vimy Ridge Order of Battle indicates that the 46th Bn was part of the 4th Canadian Division – 10th Canadian Infantry Brigade. What follows is a short narration of the circumstances of the Battle of Vimy Ridge. "Attacking together for the first time the four Canadian Divisions, backed by 1,000 artillery pieces laying down a withering creeping barrage, stormed the Ridge at 5:30 am on April 9, 1917. More than 15,000 Canadian Infantry overran the Germans all along the Front. Incredible bravery and discipline allowed the Canadians to continue moving forward under heavy fire, even when their Officers were killed.
There were countless acts of sacrifice as Canadians single-handedly charged machine gun nests or forced the surrender of Germans in protective dugouts. Hill 145, the highest and most important feature on the Ridge, where the Vimy Monument now stands, was captured in a frontal bayonet charge against German machine gun positions. For the next three days the costly battle raged on, before the final victory was achieved, but the victory came at a very heavy cost; of the 15,000 Canadians who went into battle, by April 12, 1917 3,598 were killed and 7,000 were wounded".
Pte Barlee served with the Canadian Army a total of 10 months and 9 days: 150 days in Canada, 108 in England, and 55 days in France. During his time in the Service he allotted $18.00 per month of his pay to his mother. There also would have been a War Service Gratuity which would have been sent to his parents.
There is no reference, in Pte Barlee's Military File, indicating what Military Medals he was awarded, but based on his Military Service, he should have received:
Victory Medal
British War Medal 1914 – 1920
He also qualified for War Service Badge CEF Class "A".
Pte Barlee's mother received the Memorial Cross which was dispatched to her on October 29, 1920; she would have received his medals too. His father received the Scroll & Memorial Plaque which were dispatched November 18, 1921.
An excerpt from an article in Maclean's by Barbara Ameil, September 1996:
The Military is the single calling in the world with job specifications that include a commitment to die for your nation. What could be more honorable?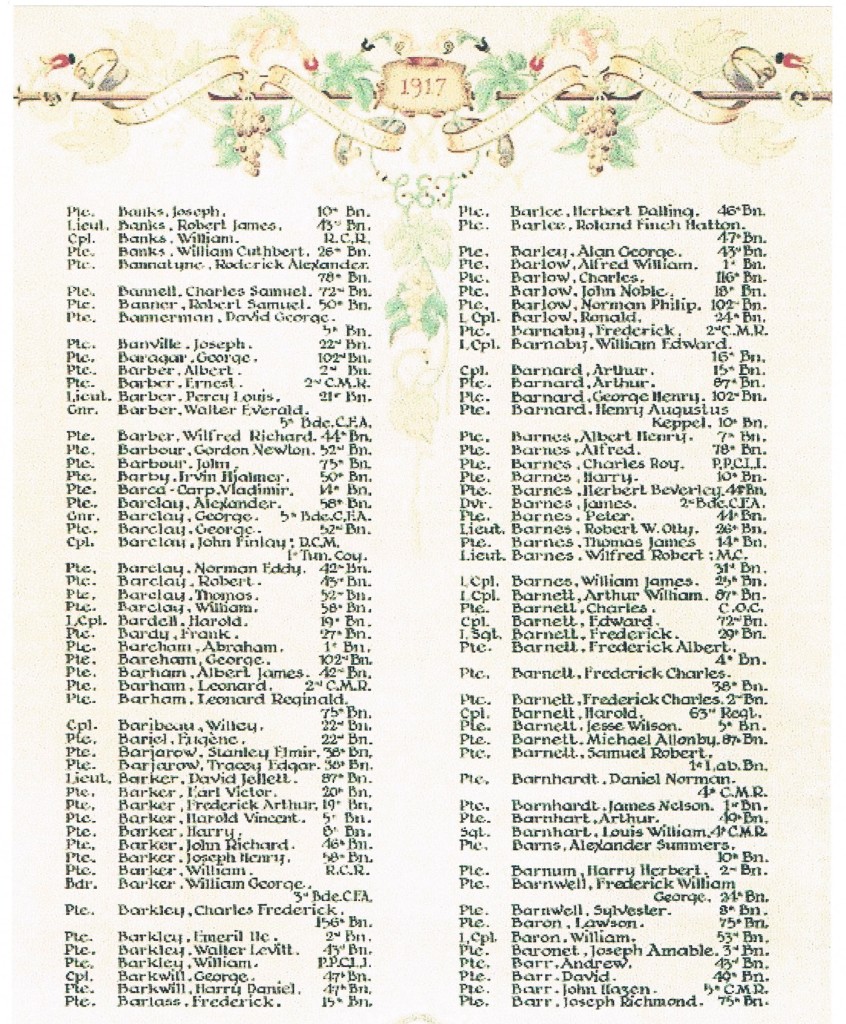 PERSONAL HISTORY
HERBERT DALLING BARLEE
Herbert Dalling Barlee was born in Lakefield, Ontario on November 25, 1897.
THE HERBERT DALLING BARLEE FAMILY OF LAKEFIELD
Herbert Dalling's parents, Frederick Ross Strickland Barlee, born August 16, 1855 in Ontario and Emma Margaret Strickland, born October 19, 1862 in Ontario were married in Ashburnham, Douro Township on March 8, 1888. Frederick and Emma had seven children: Joyce Margaret; Marjorie Grace; Frederick Henry; Herbert Dalling; Frederick George; Phyllis Mary and Tannis Grace. The family lived in Douro Township until they moved to Grand Forks, British Columbia sometime before the 1921 Census; thus the reason for Herbert Dalling enlisting in British Columbia. Emma Margaret's parents are Henry "Harry" Thomas Strickland and Margaret Achsa Rogers.