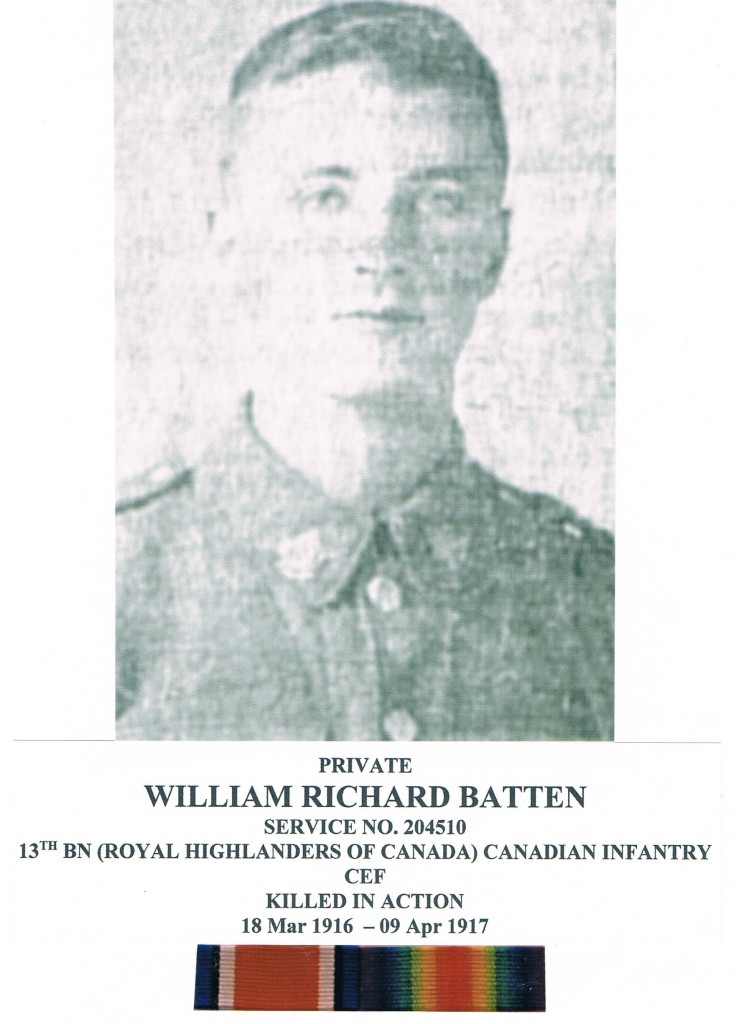 MILITARY HISTORY
Private William Richard Batten – 204510 — ACTIVE SERVICE (World War I)
William was 22 years, 4 months old when, as a single man, enlisted in Saskatoon Saskatchewan on March 18, 1916 with the Canadian Over-Seas Expeditionary Force (CEF). William stated that he was born in Peterborough Ontario on November 9, 1893 and indicated that he had no previous military experience. His previous employment was listed as a farmer. William was 5′ 8½" tall, 35½" chest, grey eyes, and brown hair; he lived in Saskatoon Saskatchewan. His next-of-kin was listed as Mr. Albert Wesley Batten, his father, living in Warsaw, Ontario. Private William Batten was assigned Service Number 204510 and his Unit was the Canadian Infantry 96th Battalion (Canadian Highlanders) CEF. William's entry medical was done in Saskatoon Saskatchewan, March 18, 1916.
Private Batten's records don't show details for the period from enlisting (March 18, 1916) to September 25, 1916. These six months would have been used for Basic Training which would include marching, rifles and machine guns plus the normal disciplinary practices.
Private Batten embarked in, Halifax Nova Scotia, on the RMS Laconia September 26, 1916 and arrived in England on October 6, 1916. On October 8, 1916 he was transferred to the 92nd Battalion (Bn) from the 96th Bn in E. Sandling and taken-on-strength to the 92nd Bn, UK. Then on October 27, 1916 Private Batten was struck-off-strength from the 92nd Bn to the Canadian Infantry 13th Bn (Royal Highlanders of Canada) CEF, still in E. Sandling. Although not stated, he would have embarked the UK probably on November 1, 1916 and disembarked at France November 2, 1916. On November 3, 1916 he was taken-on-strength with the 13th Bn in France from the 92nd Bn. Private Batten's last entry states that he was "killed in action" in the field on April 9, 1917.
The RMS Laconia, Private Batten's transport to England from Halifax N.S.
Private William Richard Batten died in the battle for Vimy Ridge. His name is inscribed on the Vimy Memorial just like about 11,000 other Canadian soldiers who were killed or missing in France and not found. William Richard Batten was never found and rests where he died; somewhere on Vimy Ridge
Private Batten's records indicate that his brother, Andrew Batten was to receive his medals and decorations. He could be reached: c/o Messrs. Peck, Kerr and McElderry; Barristers; 415 Water St., Peterborough, Ontario. His father, Albert W. Batten was to receive the Memorial Plaque and Scroll. He could be reached at R.M.D; Warsaw, Ontario. The Scroll was dispatched March 10, 1923 and the Plaque was dispatched March 12, 1923. Private Batten's mother, Elizabeth, had died July 23, 1900 at 38 years of age.
William's records specify that his Theatre of War was France. He earned the British War Medal and the Victory Medal. He would have qualified for the War Service Badge ‑ Class A. His father would also be entitled to his War Service Gratuity.
"Pte. Batten, William Richard 13th Bn" is inscribed in the BOOK OF REMEMBRANCE 1945 on page 197.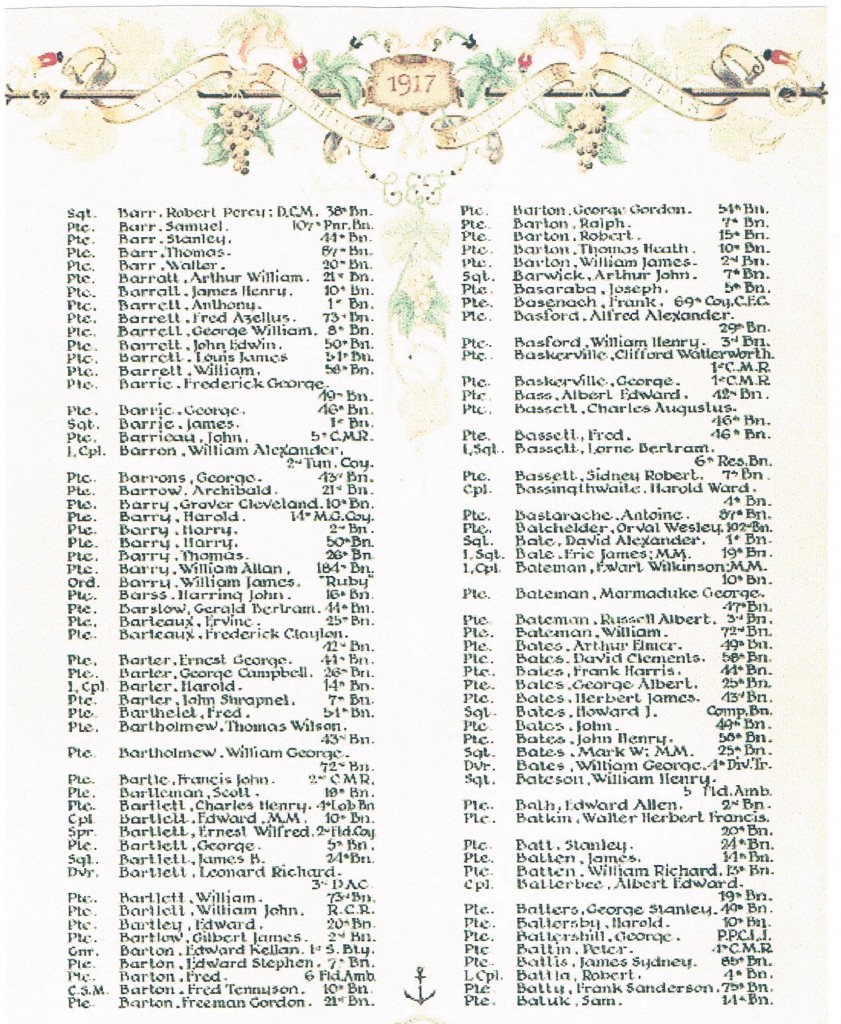 An excerpt from an article in McLean's magazine by Barbara Amiel, September 1996:
The military is the single calling in the world with job specifications that include a commitment to die for your nation. What could be more honorable?
PERSONAL HISTORY
WILLIAM RICHARD BATTEN
William Richard Batten was born November 9, 1893 in Dummer Township, Village of Warsaw. His parents, Albert Wesley Batten and Elizabeth "Bessie" Stevenson were married in Warsaw on June 3, 1891. William's brother, Andrew, was born in Warsaw on October 9, 1895 and he married Hannah Stone on November 8, 1922. Sadly, after two years with consumption, Elizabeth died on July 23, 1900. William's father remarried Mary Ann Jewell after his mother died and, unfortunately William and his step-mother did not get along so William went to live with his uncle Richard (Jr).
THE WILLIAM RICHARD BATTEN FAMILY OF WARSAW
Richard (Sr) Batten, William Richard's grandfather, was born 1836 in Dummer Township, Peter-borough County, Ontario and married Elizabeth "Emma" White on January 6, 1858. They had at least eight children; five sons and three daughters – William, Elizabeth, Albert Wesley, Jane, Martha, Richard Jr., Jacob James and Herbert John Batten.
One of the sons, Albert Wesley, became William Richard's father. Another son, Richard (Jr) married Jeannie Colvin and raised a family. The 1911 Census shows Richard (Sr), his wife Emma, two sons and five daughters plus William Richard (their nephew) living in Dummer Township. Since William's mother had died July 23, 1900 it is assumed that William went to live with them. The 1911 census has Albert and Mary Ann living in Dummer Township with Albert's son Andrew, Mary Ann's daughter Gladys Webster from her first marriage to James Webster and Albert John, son of Albert & Mary Ann.