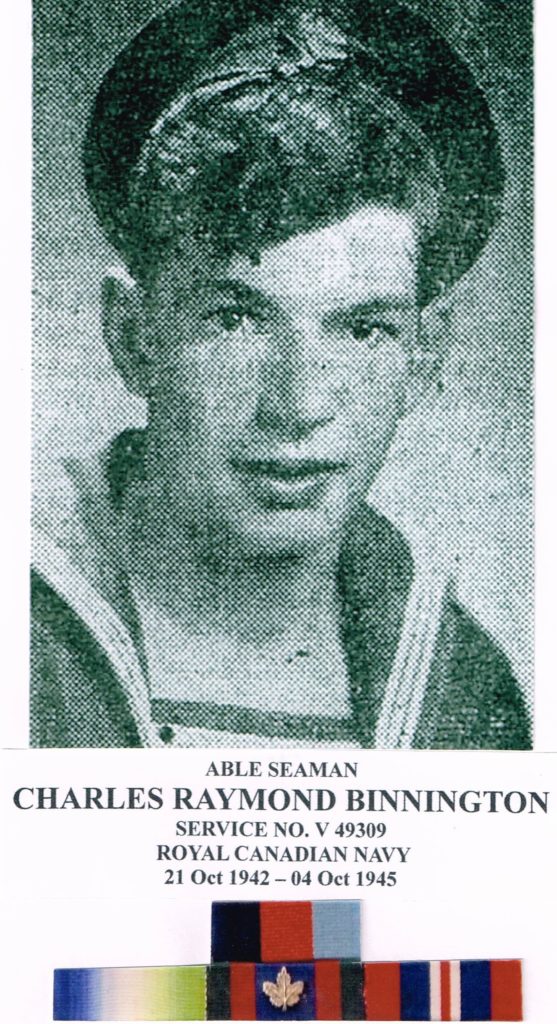 MILITARY HISTORY
Able Seaman Charles Raymond Binnington V 49309 ACTIVE SERVICE (World War II)
On October 21, 1942 Charles Raymond Binnington completed the Attestation Paper for the Royal Canadian Naval Volunteer Reserve (RCNVR) in Kingston, Ontario. He was 19 years, 2 months old when, as a single man, he enlisted for the duration of the War. Charles Raymond was born in Alderville, Northumberland County, Ontario and gave his birth-date as August 25, 1923. He indicated that he did not have previous Military experience. Charles Raymond completed Grade IX, in the Lakefield Public Schools. He lists his Trade or Calling as a Machinist Apprentice with the Canadian General Electric Company in Peterborough, Ontario. Charles Raymond was 5′ 8″ tall and weighed 126 pounds. His Medical File indicates he had a scar on the thigh of his left leg; he was declared fit for service with the RCNVR. Charles Raymond was of medium complexion with brown eyes, and black hair. He lists his mother, Mrs. Elsie Binnington of Lakefield, as his next-of-kin. Charles Raymond Binnington signed the Oath and Certificate of Attestation, in Kingston, Ontario on October 21, 1942. He was then enrolled as an Ordinary Seaman (O/S) with Service Number V 49309.
Note of clarification: His Majesty's Canadian Ship (HMCS), as used in this document, was not only a designation used for ships, but could also be a shore establishment which provided training for many facets of the naval establishment.
Having completed the Attestation process; from October 21, 1942 to July 20, 1943 O/S Binnington began a series of training assignments at HMCS Cataraqui and HMCS York Training Bases (TBs) [all TBs are "shore establishments"]. Additional training was conducted at TBs HMCS Cornwallis and HMCS Stadacona as indicated.
On October 21, 1942, O/S Binnington was assigned to HMCS Cataraqui, at Kingston, Ontario. He was shown on Divisional Strength from October 21st to December 4th, 1942 when he was placed on Active Service from December 5 to December 10, 1942. His next posting was to HMCS York located at Toronto, Ontario from December 11, 1942 to February 15, 1943. From February 16 to May 9, 1943 he was back training at HMCS Cataraqui again. May 10 to May 22, 1943 he was then back at HMCS York. May 23 to July 20, 1943 it was back to HMCS Cataraqui. On July 21, 1943 O/S Binnington was assigned to HMCS Cornwallis (TB), located at Deep Brook, Nova Scotia, on the southern shore of the Annapolis Basin. He would remain there until October 8, 1943. His next assignment was to HMCS Stadacona (TB) located in Halifax, Nova Scotia from October 9 to October 12, 1943. From October 13 to November 30, 1943 he was stationed at Fort Ramsay, a Royal Canadian Naval Base located at Sandy Beach on the south shore of Gaspé Bay, Québec. On December 5, 1943 Ordinary Seaman Binnington was promoted to Able Seaman (AB). On December 10, 1943 AB Binnington was assigned to HMCS Mahone, a Bangor Class Minesweeper.
When AB Binnington went aboard HMCS Mahone, it was operating out of Sydney, Nova Scotia, as part of a local patrol and escort force. On January 29, 1944 HMCS Mahone was rammed by the merchant vessel SS Fort Townsend off Louisburg, Nova Scotia. It was taken to the Port of Halifax for repairs.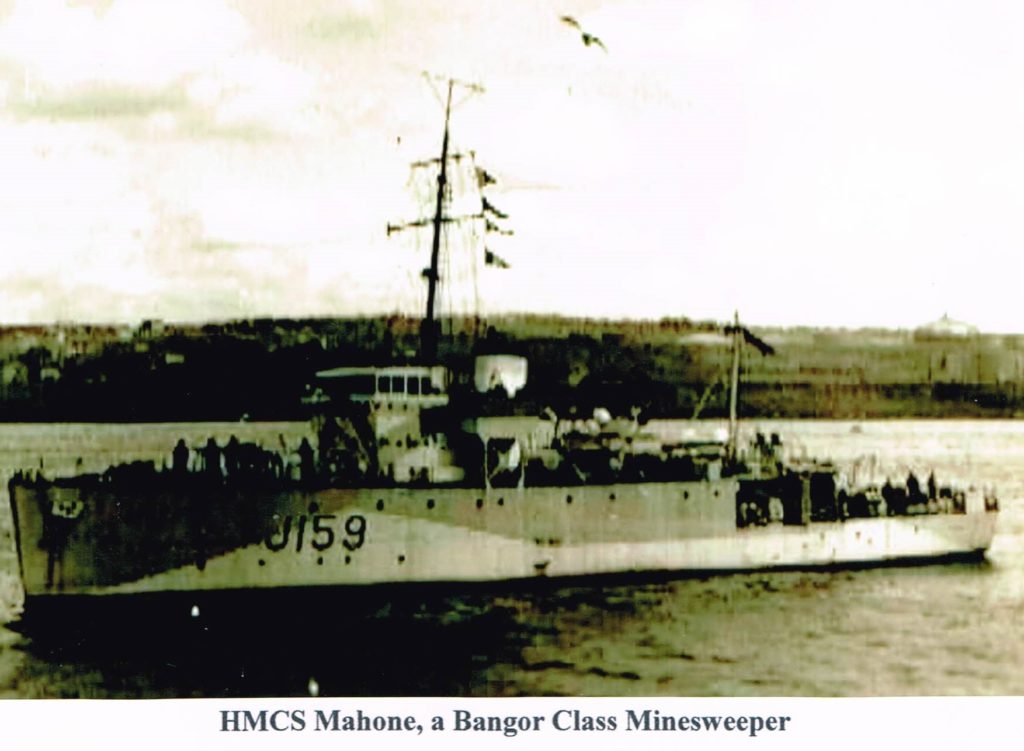 On April 12, 1943 AB Binnington was assigned to HMCS Stadacona (TB) Halifax, Nova Scotia, where he remained until June 9, 1944. From June 10 to July 28, 1944 AB Binnington is shown at HMCS Naden (TB), which was a Royal Canadian Naval Base in British Columbia. AB Binnington was then assigned to the HMCS St. Stephen on July 29, 1944.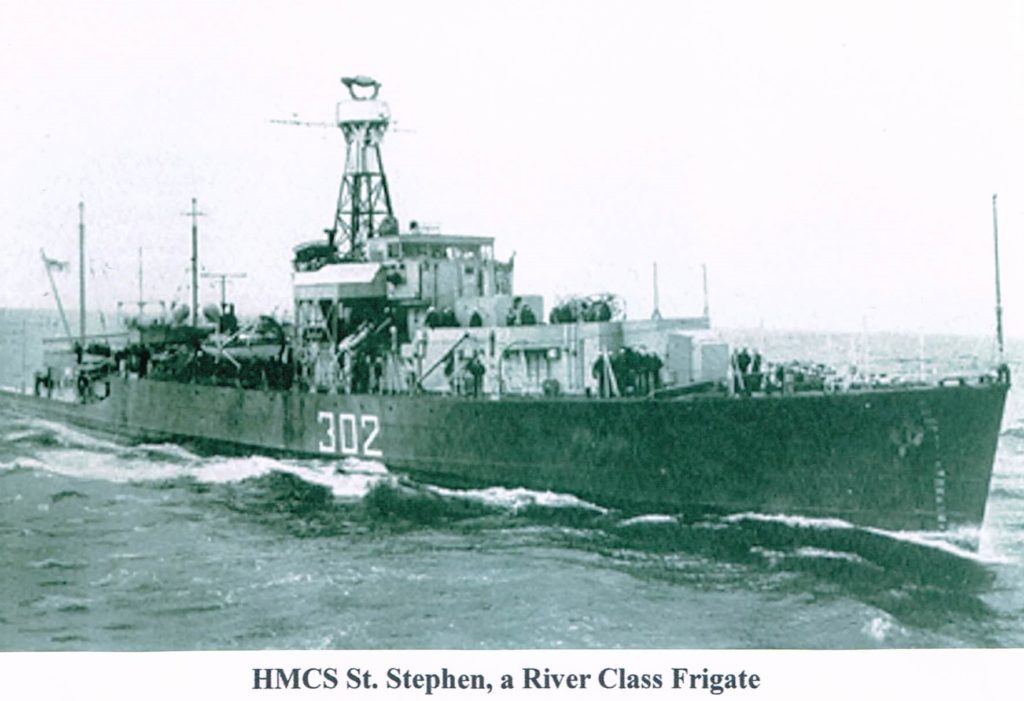 HMCS St. Stephen was a River Class Frigate built in Esquimalt, British Columbia and launched February 6, 1944. It was commissioned July 28, 1944. This would explain, why AB Binnington was in British Columbia. The crew put the St. Stephen through its workup off Bermuda in October 1944. Following its workup it was assigned to Mid-Ocean Escort C-5, providing Convoy Escort. It left Barry, Wales on May 27, 1945 to take passage back to Canada with Convoy ON 305. When it arrived back in Canada in June 1945 it underwent a "tropicalization refit" at Dartmouth for possible service in the southern Pacific Ocean.
From July 29, 1944 until May 31, 1945 AB Binnington served aboard the HMCS St. Stephen. He remained assigned to the HMCS St. Stephen from June 1, 1945 to August 28, 1945, which coincides with its refit.
In May 1945 AB Binnington "volunteered for service in the War against Japan and agreed to serve in the Pacific Theatre for the duration of hostilities".
From August 29 to September 2, 1945 AB Binnington was stationed at HMCS Peregine, a Manning Depot in Halifax where men waited to be assigned a ship or, at the end of the War, waited for demobilization.
AB Binnington's journey came full circle when on September 3, 1945, he was assigned back to HMCS Cataraqui, in Kingston. He would remain there until October 4, 1945 when he was discharged due to demobilized; under the authority of B48610. He was paid a Personal Clothing Allowance (PCG) and a Rehabilitation Grant (RG).
While in the Service, AB Binnington would receive 5 efficiency ratings (Stadacona December 1, 1943, Mahone December 01, 1943, Stadacona April 12, 1944, Naden June 10, 1944, and St. Stephen July 24, 1944. On each occasion his character is described as very good and efficiency as satisfactory.
Under a short account of service training and duties, his File indicates: AB Binnington served a total of 2 years, 11 months and 13 days with 1 year and 5 months at sea (Canada, and North Atlantic). Joined as Ordinary Seaman, discharged as Able Seaman. Took basic seamanship course. Did seaman and rigger's duties on ship and manual duties on shore. Duties: General duties such as cleaning and painting, sentry duty, acting as a lookout, assisting in working parties, steering, splicing rope, manning seaboats, and signaling.
As a result of his Service, Able Seaman Charles Raymond Binnington was awarded the following Medals:
1939 – 1945 Star;
Atlantic Star;
Canadian Volunteer Service Medal and Clasp; and
War Medal 1939 – 1945.
An excerpt from an article in Maclean's magazine by Barbara Ameil, September 1996:
The Military is the single calling in the world with a job specification that includes a commitment to die for your nation. What could be more honorable.
PERSONAL HISTORY
CHARLES RAYMOND BINNINGTON
Charles Raymond Binnington was born on the Alderville First Nations Reseve, Ontario on August 24, 1923. His parents are Charles Lionel Binnington and Elsie Mae Marsden. Charles Raymond went by the name "Ray", he was raised and educated in Lakefield, Ontario before enlisting to serve his country during WWII by joining the Navy.
After his discharge from the Royal Canadian Navy he was employed at The Lakefield Boat Factory and later worked at General Time of Canada for sixteen years until he retired. On March 14, 1952 Ray, married Mary "Joan" Dracup, in Lakefield United Church. Initially they rented accommodations from the Hendren and Sanderson families in the village and eventually moved into the Binnington residence on Reid Street where they remained for many years. Here they raised their four children – Deborah, Cynthia, Charles and Robert.
Ray was very active he enjoyed hunting, fishing, snowmobiling and boating. He was always ready for a card game of euchre or cribbage. He and Joan loved to travel and had crossed Canada from coast to coast. Ray was an active member of the Royal Canadian Legion, Branch 77 Lakefield, Ontario.
Charles Raymond Binnington died in Ottawa, Ontario on July 18, 1993; his wife, Mary Joan Dracup died in Kingston, Ontario on February 18, 2003; both are interred in the Lakefield Cemetery.
THE CHARLES RAYMOND BINNINGTON FAMILY OF LAKEFIELD
Charles Raymond's paternal grandparents are Richard/Robert/Charles Lund Binnington and Rose Anna E. Carter; his maternal grandparents are Moses 'Muskrat' Marsden and Nellie Franklin.
Charles Raymond's parents were Charles Lionel Binnington, born April 5, 1892 in York Township, Toronto, Ontario and Elsie Mae Marsden, born December 11, 1898 on the Alderville First Nation Reserve in Alnwick Township. They were married in Cobourg, Ontario on January 30, 1921. Charles Lionel was a widower and had a step-daughter, Pearl Peacock, from his first marriage to Ethel Rose Peacock. On the 1921 Census Charles was listed as 29 years old farmer; his wife Elsie was 22 years old. Also in the home were daughters Pearl, 12 years old and Thelma, 2 years old. Charles' brother Arthur, a labourer was living there too. Charles & Elsie had 5 children: Thelma, married Mr. Viron, Charles Raymond, married Mary "Joan" Dracup; Frederick Elwood; Jeannette, married John "Jack" Gordon and later Owen Gummer and Vera, married Glenn Mehlenbacher.
Charles Lionel Binnington, first marriage was to Ethel Rose Peacock, daughter of George Thomas Peacock and Emma Watts. They were married in York Township, Toronto, Ontario on November 30, 1910. Ethel Rose Peacock had a daughter Pearl Peacock born March 25, 1909. On March 14, 1920 Ethel Rose Binnington of East Queen Street, Lakefield died of pleurisy and cardiac failure at 28 years, 9 months and 15 days of age. She is buried in Lakefield Cemetery.
Charles Lionel operated a log hauling business and on July 25, 1955 he was accidentally electrocuted at Crowe's Landing; Elsie Mae was 100 years old when she passed away in the Peterborough Regional Health Centre on March 9, 1999; both are buried in Lakefield Cemetery.