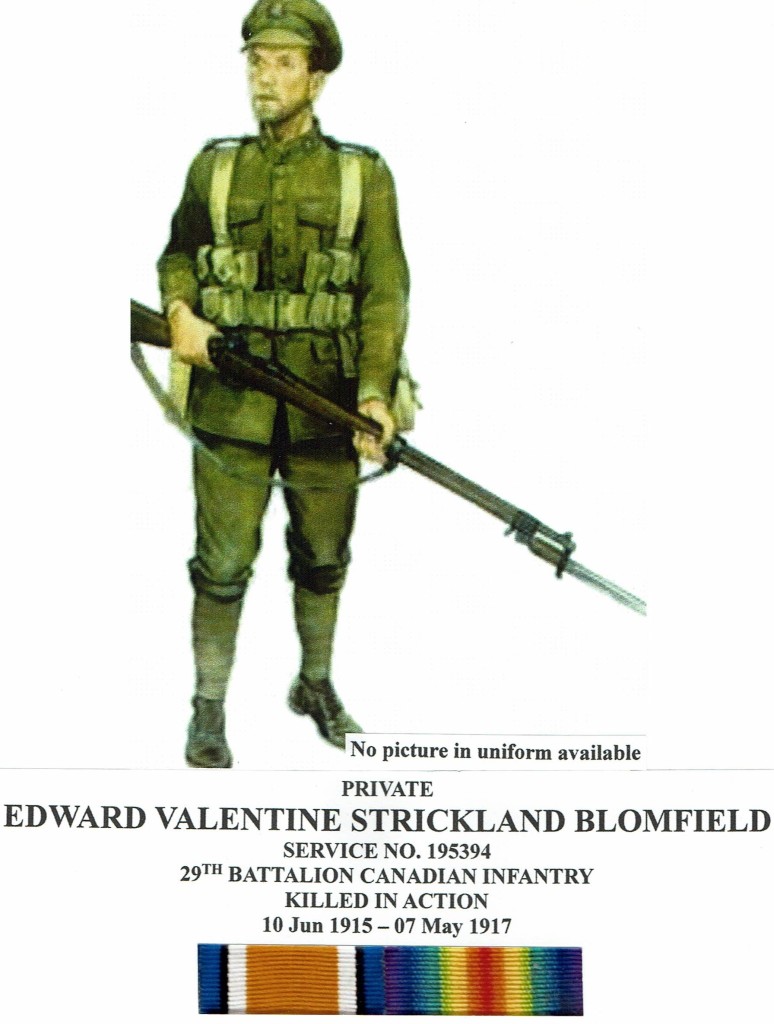 MILITARY HISTORY
Private Edward Valentine Blomfield – 442941 – ACTIVE SERVICE (World War I)
On September 16, 1915 Edward Valentine Blomfield completed the Attestation Paper for the Canadian Army (Expeditionary Force). He was 35 years, 6 months and 3 weeks old when, as a single man, he enlisted for the duration of the War in Camp Vernon, British Columbia (BC). Edward Valentine was born in Toronto, Ontario and gave his birth-date as November 18, 1879. On his Attestation Paper, he indicated that he did not presently belong to an Active Militia; however he was a member of the 54th Battalion Canadian Expeditionary Force [CEF] Military District 11). Edward Valentine indicated that he had never served in any Military Force. There is nothing on his File to indicate where he was educated or to what level. As far as his Trade or Calling is concerned, he Miner. Edward Valentine was 5′ 8½ " tall with a 38½" chest (expanded). He had a fair complexion, with hazel eyes and brown hair. Edward Valentine's Medical Examination was completed June 22, 1915 in Camp Vernon, BC. He had no medical issues or physical limitations and as such he was deemed fit for Overseas duty with the Canadian Expeditionary Force. His next-of-kin was listed as C. J. Blomfield, his father, of 676 Battery St., Vernon BC. Edward Valentine Blomfield signed the Oath and Certificate of Attestation on June 10, 1915, in Camp Vernon, BC. The Certificate of Magistrate was signed by the Justice on August 17, 1915. Edward Valentine Blomfield was taken-on-strength with the 54th Battalion (Bn) as a Private (Pte) and was assigned Service Number 442941.
The 29th Bn embarked from Vancouver, British Columbia on October 23, 1915, aboard the SS Empress of Britain.
The SS Empress of Britain, Pte Lemay's transport to England from Halifax, Nova Scotia
Pte Blomfield disembarked in Liverpool, England on November 2, 1915. On September 7, 1916 he was struck-off-strength from the 93rd Bn and taken-on-strength to the 5th Canadian Mounted Rifles Battalion (5th CMR Bn) stationed at Otterpool, England.
Although it is not mentioned in his records; the next 3 months would have been utilized for Advanced Training and duties at Otterpool. The 5th CMR Bn was a Québec Unit raised in the Eastern Townships of Québec from volunteers of the 7th and 11th Hussars of Sherbrooke, Québec. On January 1, 1916 the 5th CMR Bn was converted to an Infantry Unit and attached to the 8th Canadian Infantry Brigade.
Pte Lemay embarked from England and disembarked in France on September 8, 1916 where he was taken-on-strength with the 5th CMR Bn in the Field. On September 25, 1916 he left for the 3rd Echelon Battalion (3 E Bn) arriving September 28, 1916. On October 2, 1916 he left for and joined the 5th CMR Bn.
There are no entries in Pte Lemay's Military File from October 2nd, 1916 and September 14, 1917. To trace Pte Lemay's movements, during this period, the 5th CMR Bn War Diaries were used.
When Pte Lemay joined the 5th CMR, on October 2nd, they had just been moved to a rest area near the Village of Albert, France following very heavy fighting on October 1st, 1916. Entries in the War Diaries indicate that from October to the end of December 1916 the 5th CMR made a series of moves to and from the Front-Line trenches. This pattern continued through January until the end of March 1917. April 1917 began with the 5th CMR in a rest area going through "musketry, Platoon and Company drills, bayonet fighting, and practicing blowing up trenches". On April 5th, 1917 the Unit received its operational orders for the pending attack on Vimy Ridge. On April 8th the 5th CMR moved forward, at 10:00 PM from Woodman Camp to the Front-Line trenches. Zero hour was 5:30 AM April 9th, 1917. It is reported: "All ranks are calmly confident". Pte Lemay and 5th CMR were in position by 4:30 AM. "Zero Hour – Intense Artillery bombardment, one continuous roar. The ground trembled and mingled with the roar of the guns is the swishing and screeching of the shell-filled air. Smoke and debris thrown up by the exploding shells give the impression of a solid wall". At 5:50 AM the Infantry started its advance. Very heavy fighting went on until April 10, 1917. By midnight, on April 10th, the Canadian Corps had captured 3,000 German prisoners, seven 5.9 inch guns, two 8 inch guns, one anti-tank gun, numerous machine guns and mortars. April 12, 1917 the Unit was back at Woodman Camp. A summary of the 5th CMR Bn casualties were: 2 Officers killed; Other Ranks – 17 killed, 3 died of wounds, 28 wounded, 5 missing, and 6 shell shocked.
From April 12 to April 16, 1917 the Unit rested and cleaned up; "400 men had a bath and change of clothes at Villers-au-Bois". From April 17th to April 23rd the Unit was back at the Front. April 24, 1917 the 5th CMR was in billets at Villers-au-Bois, where they would remain to the end of the month. Here they were back to the regular routine of "musketry, physical exercises, bayonet fighting, Platoon and Company drills etc". From May 1st to May 3rd, 1917 the Unit was at Quarries Line. May 4, 1917 the Unit was moved to the Vimy Support trenches. They would remain there until May 11th. During this time they were under "almost daily, but not destructive enemy barrages". No casualties were recorded. May 12th the Unit was relieved and withdrew to "billets" in suburban huts at Villers-au-Bois. On May 20, 1917 they moved to Winnipeg Camp in the Quarries Line area. May 27th they moved forward to the Vimy Support Line, where they engaged in work parties "building dugouts and jumping off trenches". June 1917 began with the 5th CMR located at what is referred to as "Vimy Defences". "There are reports of enemy firing gas shells on Vimy and La Chaudière trenches. Canadian Artillery very active. 5th CMR snipers having great success. Not many casualties in the 5th trenches". June 8th the 5th CMR was relieved on the line and proceeded to the area of Quarries Line "for a well deserved rest". June 14th the 5th CMR moved to Villiers-au-Bois. On June 18, 1917 preparations began for a move back to Vimy Defences. From June 19th to the end of the month activity in the 5th CMR trenches was relatively quiet. July 1917 began with the 5th CMR back at Villers-au-Bois where, on July 2nd, they continued on to the "Seaforth Camp" near Bois de Berthonval. For the next several days, until July 9th, "time was devoted to practice of attack in all its phases".
July 10th the 5th CMR relieved the Royal Canadian Regiment (RCR) in a Reserve position. On July 20, 1917 the Unit moved to the St. Lawrence Camp where they stayed until July 26th when they moved to Raimbert. The 5th CMR would remain at Raimbert until August 20th. During this time they underwent; "physical training, Platoon drills, musketry, fire control in direction and recognition of targets". They also practiced attacks, and held Church Parades. On August 12th a Brigade Sports Day was held with the 5th CMR winning most of the events including; football, baseball and tug-of-war. On August 20th the 5th CMR moved to the Front-Line and on August 25th relieved the 4th CMR in "close support". On August 27th, 1917 they were withdrawn to the area of Les Bresbis, moving on the Bouvigny – Bouffelles at the end of the month. From September 1st to 5th, 1917 the 5th CMR was in the area of Bois de Alleux, once again practicing attacks. On September 6th they moved forward to close support positions, where they stayed until September 18th, 1917.
On September 14, 1917 Pte Lemay was granted a Leave in Paris, France from September 14 to 24, 1917.
Pte Lemay rejoined the 5th CMR Bn at Maisnel Bouche on September 25, 1917 where they would remain until October 16, 1917. It is believed that the 5th CMR was now about to be engaged in the Second Battle of Passchendaele. On October 16, 1917 they moved to St. Sylvestre Cappel followed by a move to the Wieltze area on October 23, 1917. On October 26, 1917 the 5th CMR moved into the "California Trench" on the Front-Line. They spent most of their time "pumping water out of the dugouts so as to make them habitable, while preparing for an attack". These were the final days of the prolonged Battle of Passchendaele.
The 5th CMR Bn War Diaries show the following entry for October 28th, 1917: "Weather fine. Preparations for attack were completed. At 6:00 PM the 5th CMR Bn left the support area and relieved the 2nd CMR Battalion with A and C Companies on the Front-Line, B and D Companies are in the old British Line, with Headquarters at Kron Prinz Farm. "Battalion Headquarters were continuously shelled by the enemy resulting in casualties. 4 Orderlies (assistants for Medical Officers) were killed and 12 wounded". This entry would indicate that Pte Lemay could have been functioning in the capacity as an Orderly assigned to a Medical Officer since he was one of the soldiers killed. The only other entry made on this day was when a Patrol was sent out at 11:45 PM to scout out No-Man's-Land but it returned at 3:00 AM without having seen any enemy or firing a shot.
Private Percy Melville Lemay is buried in Oxford Road Cemetery, Belgium. The Cemetery is located north east of the town of Leper, Belgium. His name appears on Page 274 of the First World War Book of Remembrance located in Ottawa, Ontario.
There is no mention in the File with regards to what Military Medals Private Percy Melville Lemay was eligible to receive or was awarded. Based on his Military Service, he was awarded the:
British War Medal; and
Victory Medal.
He would have also received the CEF Class "A" War service Badge.
Pte Lemay's Memorial Cross was sent to his wife: Mrs. Gertrude Lemay of Peterborough, Ontario. The Memorial Scroll was dispatched January 18, 1920 followed by the Memorial Plague on August 13, 1921.
Based on his Military File, Pte Lemay served a total of 2 years, 1 month and 12 days with the Canadian Expeditionary Force: 10 months in Canada, 1 month and 24 days in England – including transit to England, and 13 months and 20 days in France.
An excerpt from an article in Maclean's by Barbara Ameil, September 1996:
The Military is the single calling in the world with job specifications that include a commitment to die for your nation. What could be more honorable.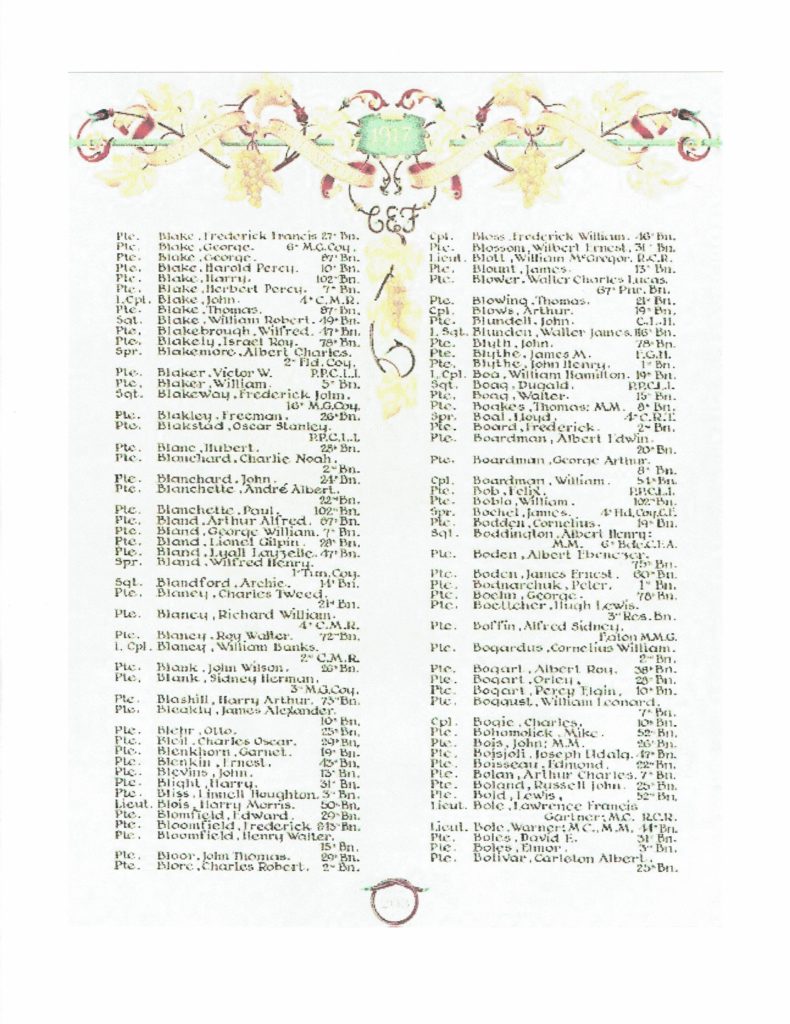 PERSONAL HISTORY
EDWARD VALENTINE STRICKLAND BLOMFIELD
Edward Valentine Strickland Blomfield was born November 18, 1877 in Toronto, York County, Ontario to Charles James Blomfield and Jane (Jennie) Margaret Strickland. He was one of eleven children born to Charles and Jennie Blomfield. The 1891 Census has the Blomfield family living in Lakefield; there were the parents, seven children and a domestic in the home. In 1901 Charles, Jennie and their four youngest children were living in the Village of Lakefield next door to Dr. John R. Fraser while Edward had moved to the Yale & Cariboo area of the Okanagan District of British Columbia. He was boarding with George & Mary Buchanan and working in a local sawmill.
In March of 1902, Jane "Jennie" Margaret Blomfield died in Lakefield at the age of 58 years and sometime after that time, Charles and his youngest daughter, Kathleen and youngest son, Charles Alfred went west to the Okanagan District of British Columbia to be near Edward. In 1911 Edward was boarding with Charles and Mary Maloan in the Okanagan District of British Columbia and working as a labourer mining.
On August 17, 1915 Edward Valentine Blomfield went to Vernon Camp, British Columbia and enlisted in the Army joining the Canadian Infantry Regiment.
Edward Valentine did not marry; he died of wounds suffered in France on May 7, 1917 and is interred in the Bruay Communal Cemetery Extension, France.
THE EDWARD VALENTINE STRICKLAND BLOMFIELD FAMILY OF LAKEFIELD
Edward Valentine's paternal grandfather Charles James Blomfield was a well-known and respected Church of England Lord Bishop for 32 years. He first married Anna Maria Health on November 6, 1810 in Norfolk, England and they had five children Anna Maria, Charles James, Charles William, Maria and Edward Thomas Blomfield. Maria Blomfield was the only child to survive to adulthood and Charles wife Anna died February 16, 1818 leaving Charles with three year old Maria.
On December 17, 1919, Charles James Blomfield married Dorothy Kent (nee Cox) who had a two year old son from a previous marriage. Charles James Blomfield and Dorothy Cox had a family of eleven children – Charles James, Mary Frances, Frederick George, Isabella, Henry John, Francis, Arthur William, Lucy Elizabeth, Charles James (III), Alfred, and Dorothy Hester Blomfield. Edward's maternal grandparents were Samuel Strickland and Mary Reid.
Edward Valentine's parents Charles James (III) Blomfield born May 18, 1931 in Fulham, Greater London, England and Jane "Jennie" Margaret Strickland born August 7, 1843 married in Peterborough, Ontario on June 15, 1865. Charles and Jane had eleven children: Frank, Dorothy Henrietta; Mary Emmaline; Frederick Charles; Edith died in infancy; Isabella May; Edward Valentine Strickland; Ethel Rose; Reginald D'Henin; Charles Alfred; Catherine Rolleston.
Jane "Jennie" Margaret Strickland, age 58 years, died in Lakefield on March 22, 1902 and is buried in Hillside Cemetery in Lakefield, Ontario. Charles James Blomfield, age 84 years, died March 25, 1916 in Victoria, B.C. and is buried in the Ross Bay Cemetery in Victoria, B.C.