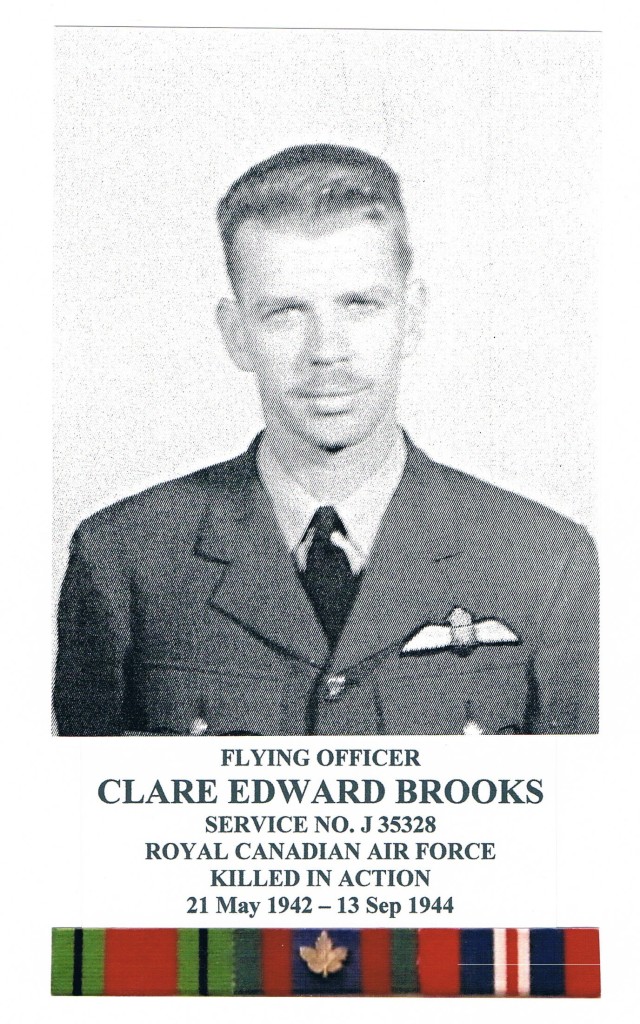 MILITARY HISTORY
Flying Officer Clare Edward Brooks – J 35328 — ACTIVE SERVICE (World War II)
Initially Clare Edward Brooks applied to become an Officer with the Royal Canadian Air Force (RCAF) on October 22, 1941 at the RCAF Reception Centre in Toronto, Ontario. His education was given as "Senior Matriculation with a one-year special Course in business training and a two-year Course in Motor Mechanics taken subsequently". For his Civil Experience or Occupation it stated that "since starting to work in 1934 he has been employed by firms in motor and motor boat business. He is a highly experienced motor mechanic. During the past 14 months he has been employed by De Haviland Aircraft as an aero engine mechanic and on engine inspection work". Special Qualifications listed considerable experimental work on motor boat (racing) engines. Clare's desire was to be considered for a position as an Aeronautical Engineer. The Recruiting Officer's Summary was not complimentary to Mr. Clare Brooks. There was no response to his application.
On May 21, 1942 Clare Edward Brooks completed the Attestation Paper for the RCAF Special Reserve in Toronto, Ontario. He was 29 years, 3 months old when, as a married man, he enlisted for the duration of the War. Clare Edward was born in Young's Point Ontario and gave his birth-date as February 26, 1913, he did not have previous Military Reserve experience but had made a previous application to join the RCAF (see 1st paragraph). Clare Edward's previous employment included a Service Department Clerk for Johnson Motors in Peterborough from 1934 to 1936, Service & Sales Clerk for Kawartha Marine Sales in Lakefield, working for Greavelle Boats in Gravenhurst and as an Engine Fitter at De Havilland in Toronto. Clare was 5′ 10″ tall, 37½" chest, weighed 138 pounds, had blue eyes and brown hair. Clare Edward's next-of-kin was listed as his father; William Edward Brooks and his wife Helena Kearney resided in Young's Point. Included in the references on his Attestation Paper, were: owner of Ariel Advertising, Lorne Ardiel of Toronto; General Manager, Hugh Crawford of Peterborough; owner of Johnson Brothers Construction Company, D. O. Johnson and Insurance Broker Harvey Doherty of Toronto. On May 28, 1942 Clare Edward Brooks' medical was done in Toronto, Ontario; it indicated that he had previously contracted mumps and chicken-pox, had an Appendectomy and a fracture at his left elbow in 1933. He was deemed fit for duty with the Royal Canadian Air Force (RCAF). Clare Edward Brooks signed the oath and the Certificate was signed June 17, 1942; he was then enlisted as Air Crew in the rank of Aircraftman 2nd Class (AC 2) [Private Recruit equivalent] with Service Number R 170921.
On June 17, 1942 AC 2 Brooks was taken-on-strength to the No 11 Recruitment Centre (No 11 RC) at Toronto, Ontario. From June 18 to September 8, 1942 he was placed on leave without pay and on September 8, 1942 he was struck-off-strength from No 11 RC for No 1 Manning Depot (No 1 MD) Toronto, Ontario. On September 9, 1942 he was taken-on-strength with No 1 MD, Toronto, Ontario with the Royal Canadian Air Force, Special Reserve for basic training. His basic training at No 1 MD would include taking orders, drill, exercises for physical fitness, studies and endless series of inoculations. September 13, 1942 AC 2 Brooks was admitted to the Station Hospital and discharged on September 15, 1942. AC 2 Brooks received authorization to marry, hence, on October 17, 1942 AC 2 Brooks married Helen Frances McDiarmid in Toronto Ontario. His next-of-kin was changed from his father William Edward Brooks to his wife Mrs. Helen Frances Brooks.
November 5, 1942 AC 2 Brooks, after about 36 days training at No 1 MD, was posted from No1 MD, Toronto to No 4 MD, Québec City, Québec. November 6, 1942 he was taken-on-strength with No 4 MD, Québec. December 14, 1942 he was issued a Special Leave Travel Warrant (SLTW) and on December 22, 1942 he was granted 19 days Special Leave to January 10, 1943. On January 9, 1943 AC 2 Brooks, after about 17 days training at No 4 MD, he was posted from No 4 MD, Québec to No 1 Initial Training School (No 1 ITS), Toronto. On March 19, 1943 AC 2 Brooks was promoted to the rank of Leading Aircraftman (LAC) [Private Trained equivalent] his trade was Air Crew Pilots. On March 20, 1943, after 5 weeks with No 1 ITS LAC Brooks passed his Preliminary Course and was posted to No 20 Elementary Flying Training School (No 20 EFTS) in Oshawa, Ontario. On May 15, 1943, after 56 days training LAC Brooks passed his Pilot Course and was struck-off strength from No 20 EFTS and taken-on-strength May 16, 1943 with No 5 Service Flying Training School (No 5 SFTS) in Brantford, Ontario. June 17, 1942 AC 2 Brooks was granted one day pay and subsistence allowance.
September 3, 1943 after 3½ months training at No 5 SFTS AC 2 Brooks passed his Pilot Spec. Course. Also on September 3, 1943 LAC Brooks was promoted to the rank of Temporary Sergeant (T/Sgt) with pay, he qualified as an Airman Pilot Spec. Group and was authorized to wear his Pilot Badge. Again, on September 3, 1943 T/Sgt Brooks was discharged as an "other rank" and re-enlisted as a Pilot Officer (P/O) with Service Number J 35328 and taken-on-strength to No 1 Y Depot, Halifax, Nova Scotia on appointment. September 4, 1943 P/O Brooks was granted 2 weeks Pre-embarkation Leave to September 17, 1943. On September 17, 1943, after 4 months at Brantford P/O Brooks was struck-off-strength from No 5 SFTS and the following day, September 18, 1943 he was taken-on-strength to No 1 Y Depot, Halifax, Nova Scotia. October 13, 1943 P/O Brooks was struck-off-strength from No 1 Y Depot to No 3 RCAF Personnel Reception Centre (No 3 PRC) and embarked from New York, USA for the United Kingdom (UK). He disembarked at the United Kingdom on October 19, 1943 and was attached to Intake 136 at Bournemouth England October 20, 1943. P/O Brooks was granted 7 days Privileged Leave from October 31, to November 11, 1943.
December 7, 1943 P/O Brooks was struck-off-strength from No 3 PRC to No 11 (P) Advanced Flying Unit (No 11 (P) AFU). On December 27, 1943 he was attached to "B" Squadron, Royal Air Force (RAF) Station, Condover located in Shropshire, England about 5 miles South of Shrewsbury. January 15, 1944 P/O Brooks qualified for the Canadian Volunteer Service Medal (CVSM) and Clasp. Then on February 15, 1944 P/O Brooks was attached to 1534 Beam Approach Training (BAT) from No 11 (P) AFU. On March 3, 1944 P/O Brooks was promoted to the rank of Temporary Flying Officer (T/F/O). April 2, 1944 T/F/O Brooks was granted 7 days Annual Leave to April 8, 1944. On April 11, 1944 T/F/O Brooks was struck-off-strength from 11 (P) AFU to No. 83 Operational Training Unit (No 83 OUT) at the RAF Station Peplow located at Cornwall, England. On June 2, 1944, he was granted 9 days Privileged Leave to June 10, 1944. After 10 weeks of training at No 83 OTU, on June 30, 1944, he was struck-off-strength from Peplow to No 11 Base at Ludford Magna in Lincolnshire, England.
August 31, 1944 after two months with No 11 Base, F/O Brooks was taken-on-strength with 101 Squadron at Ludford Magna, England. September 5, 1944 he was granted 7 days leave to September 11, 1944. On September 13, 1944 F/O Brooks and his Crew took off from Ludford Magna at 7:05p.m. in Lancaster PB 456 on his first flight at 101 Squadron. They were on a training cross country flight at night, the weather was fine and the aircraft had been check-out properly. Nothing was heard by radio nor wireless telegraph after leaving the Hamilton Hill Bombing Range. There were a number of witnesses who saw the Lancaster coming down on-fire and then started to disintegrate before hitting the ground. Initially the aircraft was reported missing on September 13, 1944 as a result of a flying accident. A report dated September 16, 1944 stated that all bodies were recovered and were killed. September 17, 1944 it was reported that all were killed September 13, 1944 and all bodies were recovered.
The following information was extracted from the Proceedings Of An Investigation, some differences in spelling of names occur:
The aircraft was on-fire and appears to have broken up before hitting the ground. The majority of the wreckage and the bodies lie in a N.E. direction except for the rear turret and two engines which lie approximately 400 yds, East of the main wreckage.
Sgt. Foweather the navigator had his parachute pack clipped into his harness when found.
The Crew from No 101 RAF Bomber Squadron, Aircraft – Lancaster Mark III, No PB. 456:
Clare Edward Brooks Pilot F/O
F.A.W. Blerkom F/Eng Sgt (RAF)
E. Foweather Nav Sgt (RAF) (Trained Pilot)
V.J. Ward AG F/Sgt (RAF)
Lloyd Geoge E. Peardon A/B F/O
John Ridley Stokes M/U/G Sgt
James Watt R/G Sgt
CONCLUSIONS
(a) The aircraft dived through the cloud on-fire heading in a South Westerly direction, breaking up
shortly before hitting the ground. The rear section of the fuselage, minus the rear turret, appears to
have fallen off before the aircraft hit the ground, also the mid upper turret.
How the rear turret came to be in the position it was found is impossible to tell. Parts of the
wreckage are scattered over a distance of approximately 2 miles from the main wreckage.
(b) From the evidence of witnesses it is certain that the aircraft was in flames for some time before
crashing. It was first seen by witnesses at 2000 feet when it appeared beneath the cloud.
As the aircraft was detailed to fly at 20,000 feet we presume that the fire started at this height but
it is impossible to state exactly where the fire started. All the engines are under the ground and
efforts are being made to salvage them for inspection. The aircraft appears to have started to break
up shortly before hitting the ground, possibly due to the fire and the severe stresses imposed in the
descent from 20,000 feet.
The main wreckage is still partly submerged and it is impossible to decide whether the fire
extinguishing appliances were used.
Group Captain Brumnond of A. I. B. carried out a thorough investigation of the crash, but we
have been unable to contact him. A report from him would possibly throw some light as to the cause
of the crash.
Signature of Officer …………………….. J.H. Shanley S/Ldr
Member of Court ………….. (SDG) .. J.L. Down F/Lt
Date of signing …. 27/9/44 ……
REPORT OF COMMANDING OFFICER
Obviously fire occurred in the air, and the distribution of the wreckage and bodies suggests that the
aircraft exploded before hitting the ground. It is impossible to determine at what height the fire
started or to offer any explanation as to why no member of the crew escaped by parachute.
Signature of C.O. ……. (SDG) … Patrick J.R. King (G/Capt)
Date of signing …. 29/9/44 …… Commanding R.A.F. Station ………… Ludford..Magna ……..
REMARKS OF GROUP COMMANDER
I agree with the conclusions of the Court, and the Commanding Officer's Report.
Signature ……………. (SDG) … E. A. B. Rice A/V/M …………………..
Date of signing …… 19/10/44 ……. ……………….. No. 1 ……………………………… Group
FORWARDING REMARKS OF COMMANDER-IN-CHIEF File Ref. No. … 7142 …..
I agree with the conclusions of the Court.
Date of signing ……….. 19/10/44 ……….. Signature ……………………………………………………
….. for A.O.C. i/c. …. Bomber Command.
Flying Officer Brooks was awarded the following medals:
Defence Medal;
Canadian Volunteer Service Medal with Bar; and
War Medal 1939 – 45.
He also qualified for the General Service Badge. In 2013 Canada started to issue a "Bomber
Command Bar" for qualified Royal Canadian Air Force aircrew members. This Bar may be received
by a qualified family member of deceased Air Crew qualifiers by contacting Veteran's Affairs
Canada.
Clare Edward Brooks served for 1 year, 4 months in Canada and 10 months, 3 weeks in the
United Kingdom for a total of 2 years, 2 months and 3 weeks.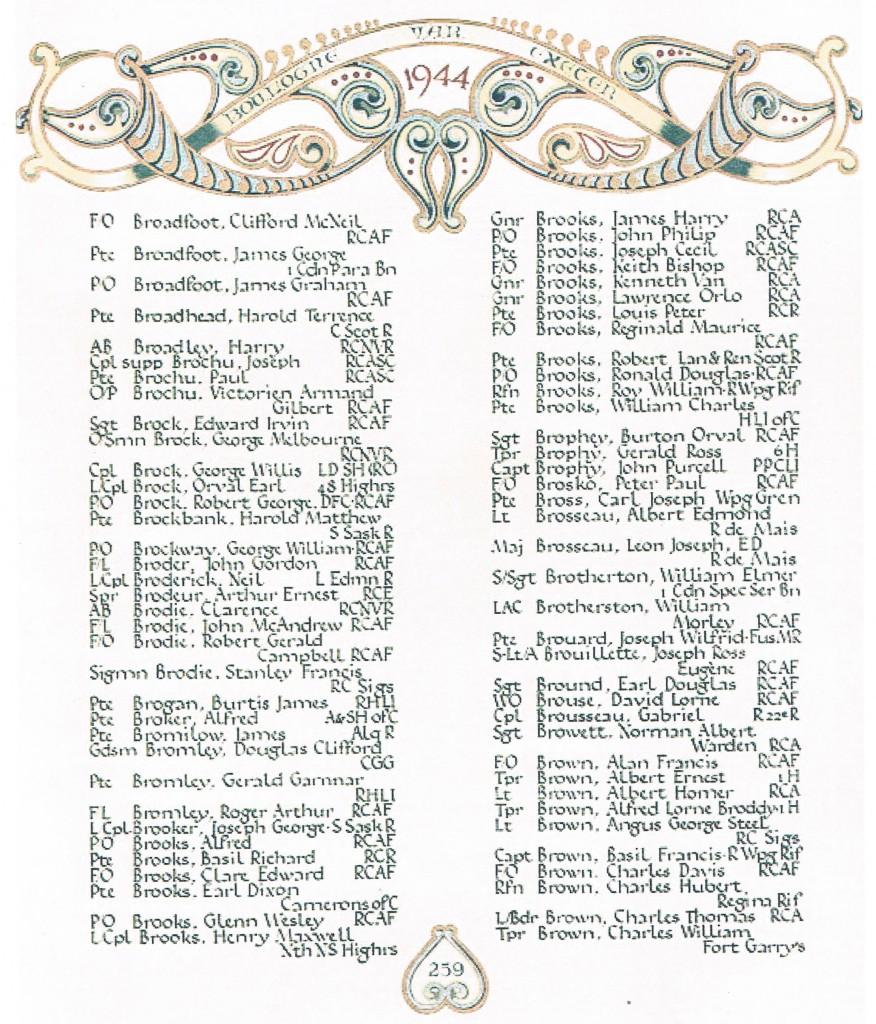 From the "Thou Shall Grow Not Old — A Book Of Remembrance" – Thanks to F/Sgt Arnold Graham
BROOKS, CLARE EDWARD Flying Officer, Pilot J 35328. From Young's Point, Ontario. Killed in
Action September 13, 1944 age 21. # 101Squadron (Mens Agitat Molem). The crew of Lancaster
aircraft # PB 456 were on a cross-country training exercise when their aircraft caught fire while in
the air and crashed three miles east of the Village of Drymen, South East Loch Lomond, Scotland.
Flying Officer Lloyd George Peardon, Bomb Aimer J 36869, Sergeant John Ridley Stokes, Air
Gunner R 205581, Sergeant James Watt, Air Gunner R 222387, Flight Sergeant V. J. Ward (RAF)
and one other crew member, not Canadian, were killed. Flying Officer Pilot Brooks is buried in the
Dumbarton Cemetery at Dumbartonshire, Scotland.
­­­———————————————————
A Summary of F/O Brooks' Flying Hours Within 6 Months Prior to Accident (in hours)
Multi-Engine Aircraft — Day
Dual 21.00
Solo 57.00
Multi-Engine Aircraft — Night
Dual 13.00
Solo 46.0
Totals:
On Link Trainer 74
By Instruments 68
Solo by Night 67
Solo by Day & Night 228
Grand Total Flying — 316 hrs
An excerpt from an article in McLean's magazine by Barbara Amiel, September 1996
The military is the single calling in the world with job specifications that include a commitment to
die for your nation. What could be more honorable?
PERSONAL HISTORY
CLARE EDWARD BROOKS
Clare Edward Brooks was born to William Edward Brooks & Helena Kearney February 26, 1913 at Young's Point, Ontario. He lived in Peterborough County for his first 16 years and then York County, Toronto Ontario for his next 12 years. Clare attended the Young's Point Public School from 1919 to 1927. He earned his senior matriculation at the Peterborough Collegiate from 1927 to 1932. Clare then attended Peterborough Vocational from 1932 to 1933 where he took a Business Course followed by a two-year Motor Mechanics Course which he did at nights. Clare married Helen Frances McDiarmid, born about 1915, October 17, 1942 in Toronto Ontario. Helen Frances lived at Beverly Park, Norland Ontario while Clare was overseas.
Clare had an interest in building and racing speed boats and enjoyed skiing, swimming, hunting and skeet shooting.
Clare had a $50.00 bond registered with the Bank of Montreal at Queen & Yonge Streets, Toronto Ontario. He also had Policy No. 409113 with the London Life Insurance Company with a total amount payable of $103.76.
A Declaration made by Helen Frances Brooks on November 2, 1944 stated:
"My husband took out a bond for $100.00 overseas sometime around April 1944. He wrote me to this effect and said that it would be sent to me – up to present date I have not received same.
Signed by Mrs. Brooks of Beverly Park, RR #1, Norland Ontario"
Clare Edward Brooks died September 13, 1944 in Scotland, UK.
THE CLARE EDWARD BROOKS FAMILY OF LAKEFIELD
Clare Edward's grandparents were Charles & Mary Brooks, they lived in Northumberland County, Dummer Township, Ontario. Charles, born in 1821 in Ireland married Mary Keogan, born in 1831 in Ireland. Both were members of the Roman Catholic faith. They had at least the following children: Edward; Charles, who was married to Margaret Jane Darling December 24, 1879 in Lakefield; Daniel; Ellen; Bridget; Emma; Anna Maria; Thomas; Margaret and William.
Clare Edward's parents, William Edward Brooks, born January 11, 1867 in Harwood, Ontario and Helena Honora Kearney, born September 23, 1870 in Young's Point, Ontario were probably married in Young's Point November 20, 1894. William & Helena had at least the following children: Oswald H., born July 23, 1895; Adrian Leonard, born March 22, 1897 in Young's Point; Geraldine, born July 11, 1898; Helen, born July 1901; Russel, born February 3, 1904 and Clare, born February 26, 1913. According to the 1921 Census William was a farmer although he was a Hotel Keeper in 1913. Adrian Leonard, a Hotel Keeper, was married to Francis Adele Grives, May 18, 1916 and they had two children; Ethel 4 and Muriel 1. Russel and Clare were students.