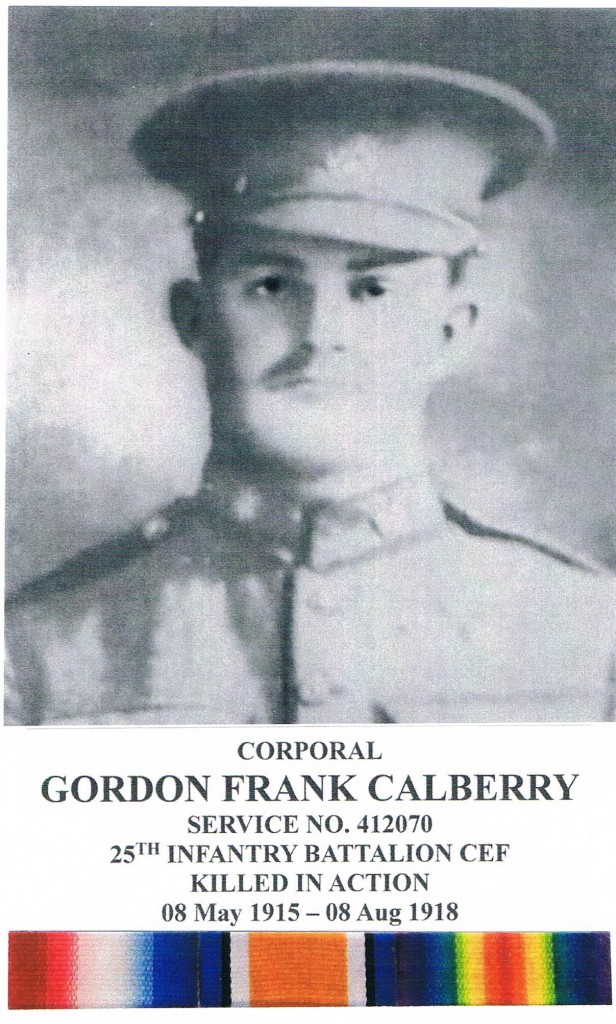 MILITARY HISTORY
Corporal Gordon Frank Calberry – 412070 – ACTIVE SERVICE (World War I)
On May 8, 1915 Gordon Frank Calberry completed the Attestation Paper for the Canadian Army (Expeditionary Force). He was 22 years and 3 months old when, as a single man, he enlisted for the duration of the War. Gordon Frank was born in Methuen Township, Peterborough County, Ontario, and gave his birth-date as February 5, 1893. On his Attestation Paper, Gordon Frank indicated "he did not presently belong to an Active Militia and that he had never served in any Military Force". There is nothing on his File to indicate where he was educated or to what level. As far as his Trade or Calling is concerned, he lists Labourer. Gordon Frank was 5′ 5" tall, 38½" chest (expanded); his weight is not listed. He had a dark complexion with blue eyes and dark brown hair, a scar on the index finger of the right hand and a scar on back of left ear. Overall, he was deemed fit for Overseas duty with the Canadian Expeditionary Force. Gordon Frank's next-of-kin was listed as his father, Frank Calberry of Clarina Post Office Village, Douro Township. Gordon Frank Calberry signed the Oath and Certificate of Attestation on May 8, 1915 in Peterborough, Ontario. The Certificate of Magistrate was signed by the Justice on May 8, 1915. Gordon Frank Calberry was taken-on-strength, as a Private (Pte), with the 39th Battalion (Bn), Canadian Expeditionary Force. Pte Calberry was assigned Regimental Number 412070.
The 39th Bn was based in Belleville, Ontario. It was raised as a Depot Bn and was not intended for service in France. There are no indications as to where the 39th Bn trained. On June 24, 1915, the Bn sailed from Montréal, Québec aboard the SS Missanabie.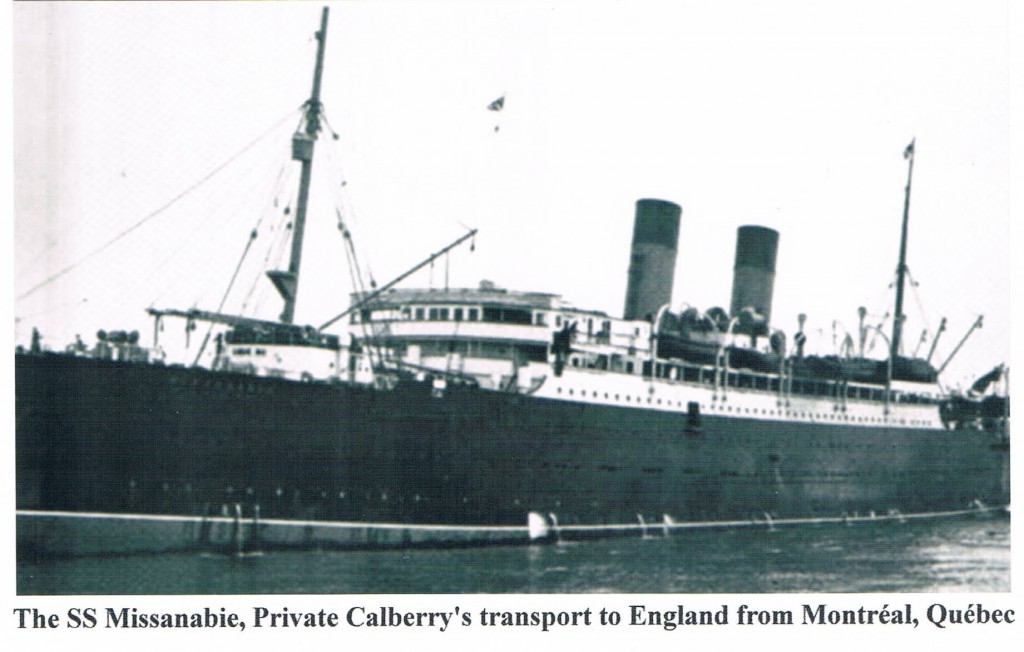 After arrival in England on July 3, 1915 Pte Calberry was initially stationed in Shorncliffe, England. On September 24, 1915 he was transferred to West Sandling, England. November 1, 1915 Pte Calberry embarked at England bound for France. On November 2, 1915 Pte Calberry arrived in France and was taken-on-strength to the Canadian Base Depot at Rouelles, France. He joined the 25th Canadian Battalion, Canadian Infantry on-the-Line on November 3, 1915.
There are no entries in the File from November 3, 1915, to July 12, 1916, but based on previous and following entries, he would have been in action in France.
On July 12, 1916, at St Eloi, France, Pte Calberry was hit by a snipers bullet which entered the base of the skull fracturing the bone. He was sent to a Hospital in Poperhinge, Belgium where the wound was treated and a dressing was applied. On July 14, 1916 he was sent to No 13 General Hospital at Boulogne, France, where an x-ray was taken (showing a fracture) and the wound was treated and dressed. On July 15, 1916 he boarded the Hospital Ship St. David for England.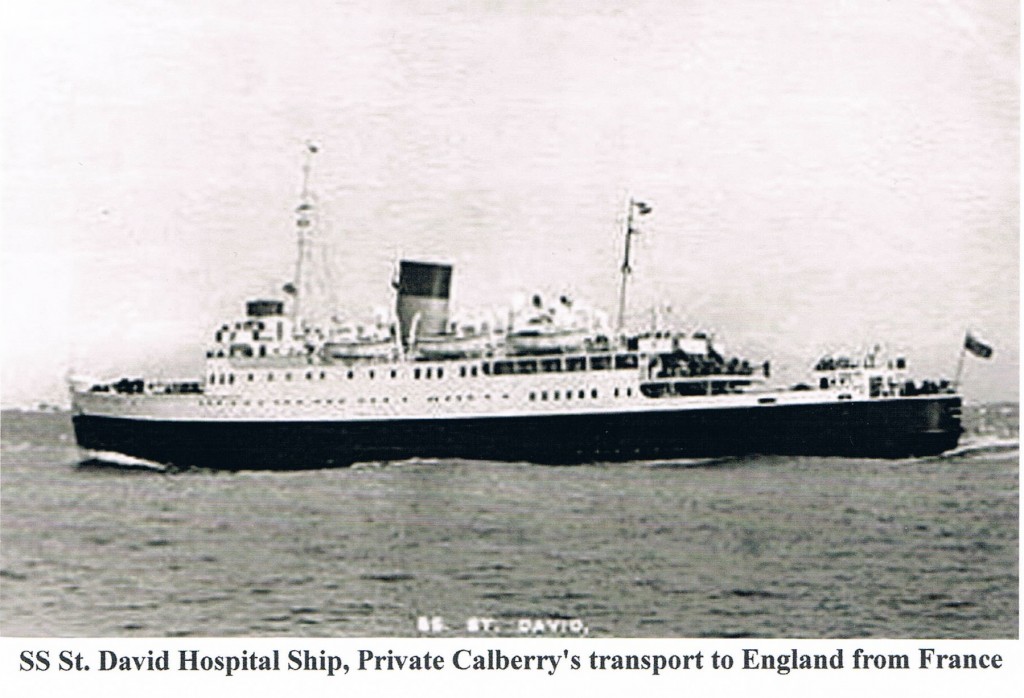 Pte Calberry was admitted to No 3 Northern Hospital at Sheffield, England where the wound was "sealed" on July 16, 1916. August 19, 1916, he was transferred to the King's Canadian Hospital at Bushy Park, London, England. On August 24, 1916, he was transferred to the Canadian Convalescent Hospital (CCH) at Woodcote Park, Epsom, England. Pte Calberry was discharged from the CCH on October 5, 1916. October 6, 1916, he reported to the Canadian Casualty Assembly Centre (CCAC). A CCAC was where wounded personnel were assessed for either further treatment or returned to duty. On October 8, 1916, he was struck-off-strength from the CCAC upon transfer to the 40th Bn located at Kent Caesar's Camp, at Folkstone, England.
On January 4, 1917, Pte Calberry was struck-off-strength from the 40th Bn and take-on-strength with the 26th Reserve Bn. April 23, 1917, he wrote a Will leaving "In the event of my death, I give the whole of my property and effects to my brother Hebert Calberry". April 25, 1917, he was struck-off-strength from the 26th Bn on proceeding to the 25th Battalion (Bn), Canadian Infantry (Nova Scotia Regiment) at Bramshott, England. Pte Calberry was appointed Lance Corporal on August 24, 1917.
There are no entries from August 24, 1917 until February 2, 1918. Based on this it is hard to establish whether he was in the UK for all or part of this time, but based on the injury he incurred on July 12, 1916, he may have remained in the UK.
On February 2, 1918, L/Cpl Calberry was promoted to Corporal (Cpl). March 15, 1918, for what was described as "an accidental wounding in the right toe", he was at No 6 Canadian Field Ambulance. Cpl Calberry was at the No 4 Canadian Field Ambulance on March 20, 1918 again for the toe wound. On March 25 he rejoined the 25th Bn.
A Field Ambulance was a mobile Unit of the Medical Corps. It was stationed quite close to the Front-Line and received wounded or sick men. The job of the Field Ambulance personnel was to treat men who could be quickly returned to their Unit or send them on for further medical treatment at a Casualty Clearing Station (CCS).
There are no entries, in the Military Files from March 26, 1918, until August 8, 1918. It is more than likely, that Cpl Calberry remained in France in action with the 25th Bn during this period.
On August 8, 1918, Cpl Calberry received shrapnel wounds in the back. He was admitted to No 9 Cavalry Field Ambulance, where he died of his wounds. Corporal Gordon Frank Calberry is interred in the Heath Cemetery, Harbonniers, France
August 8, 1918, was the start of the Battle of Amiens, which was the opening phase of the Allied Offensive which would be referred to as the "Hundred Days Offensive". It was this Offensive that ultimately led to the end of the First World War.
Cpl Calberry served with the Canadian Army, Canadian Expeditionary Force a total of about 3 years and 2½ months, including travel time. He spent about 1 month and 10 days in Canada, 2 years, 2 months and 13 days in the UK, and 1 year, 2 months and 25 days in France.
Based on his service Corporal Gordon Frank Calberry was eligible to receive the following Medals:
1914 – 1915 Star
Victory Medal
British War Medal 1914 – 1920
His mother Sabina would have received Memorial Cross and his father, Frank would have received the Memorial Plaque and Scroll.

An excerpt from an article in Maclean's by Barbara Ameil, September 1996:
The Military is the single calling in the world with job specifications that include a commitment to die for your nation. What could be more honorable.
PERSONAL HISTORY
GORDON FRANK CALBERRY
Gordon Frank Calberry was born February 5, 1893 in Colborne in Cramahe Township, Northumberland County, Ontario, son of Frank Calberry and Sabina A. Newell. Gordon Frank worked as a labourer. He was the eldest of 5 children.
THE GORDON FRANK CALBERRY FAMILY OF DUMMER TOWNSHIP
Gordon Francis "Frank" Calberry's paternal grandparents were Thomas Calberry and Mary Ann Ferguson.  His maternal grandparents were Francis "Frank" Newell and Mary Tamblin.
Gordon Frank's parents, Frank Calberry and Sabina Ann Newell, married February 3, 1892 in Warsaw, Ontario; they had 5 children: Francis Gordon, born February 6, 1893; Herbert E. Victor, born October 31, 1895; Foster Allan., born July 1900; Oscar Henry, born August 1903 and Mary Isobel, born July 1907.
The Frank (Sr) Calberry family initially lived in Colborne in Cramahe Township, Northumberland County. They were there 1901 but had moved to Dummer Township before 1911. Frank died in Cobourg, Ontario February 6, 1930; Foster Allan died in Burleigh Township February 7, 1934 and Oscar Henry died in Peterborough October 7, 1956. All are interred in Lakefield Cemetery; no wives are listed and the place of burial is only known for Oscar Henry.
Note: Sabina Ann Newell went by a number of first names – Marge E., Mary E., Selina, Livina and Lovina. Differences in some names may be due to the interpretation of the script used on the documents read.
Oscar Henry Calberry, born in Dummer Township, married Mabel Luella Charlton, born in Lakefield, in Lakefield on September 11, 1926. Oscar and Mabel had 5 children: Lillian; Percival; Ross; Douglas and Margaret (Wilford).
Mary Isabel Calberry, born in Dummer Township, married Morgan Edgar Hayward, born in England, in Peterborough on August 18, 1927.