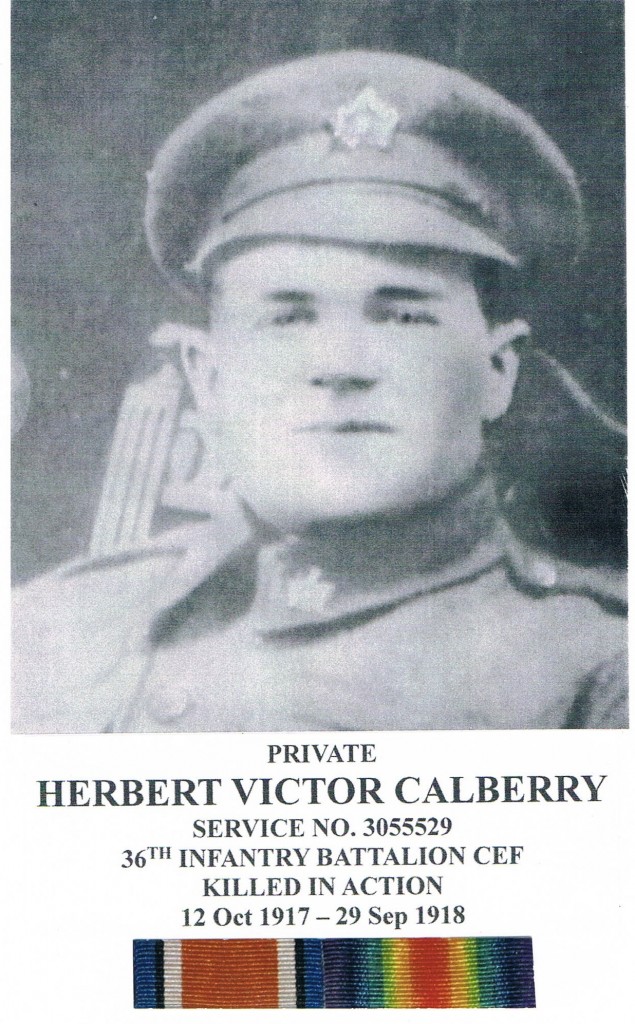 MILITARY HISTORY
Private Herbert Victor Calberry – 3055529 – ACTIVE SERVICE (World War I)
On October 12, 1917 Herbert Victor Calberry completed the "Particulars of Recruit – Drafted under Military Act 1917" for the Canadian Army (Expeditionary Force) in Kingston, Ontario. He was 21 years, 2 months and 7 days old when, as a single man, he was drafted for the duration of the War. Herbert Victor was born in Colborne, Ontario and gave his birth-date as October 31, 1896. His File indicated "he did not presently belong to an Active Militia and that he had never served in any Military Force". There is nothing on his File to indicate where he was educated or to what level. As far as his Trade or Calling is concerned, he lists Farmer. Hebert Victor signed the "Declaration of Recruit" on October 12, 1917. The "Description on Calling Up" indicates Herbert Victor was 5′ 3½" tall, 37″ chest (expanded); his weight is not listed. He had a dark complexion with brown eyes and dark brown hair. His Medical Records indicate that other than a "scar on the upper part of his right thigh", he had no other identified medical issues and as such was deemed fit for Overseas duty with the Canadian Expeditionary Force (CEF). Herbert Victor's next-of-kin was listed as his mother, Mrs. Sabrina Calberry. A Lt Colonel of the 1st Depot Battalion – Eastern Ontario Regiment signed Herbert Victor's "Draft Form" in Kingston on January 7, 1918. Hebert Victor Calberry was taken on as a Private (Pte) with the 1st Depot Battalion (DB) – Eastern Ontario Regiment (EOR) on January 7, 1918 and was assigned Regimental Number 3055529.
Pte Calberry embarked Canada on February 21, 1918; he disembarked in the UK on March 4, 1918. On the same day he was taken-on-strength with the 6th Canadian Reserve Battalion (CR Bn) stationed at Seaford, England. April 25, 1918 Pte Calberry made out his Will bequeathing all his property and effects to his Aunt H. E. Peacock of Lakefield. On August 9, 1918 Pte Calberry was transferred to the 38th Battalion (Bn) Overseas at Seaford, England. August 10, 1918 he was taken-on-strength with the 38th Bn from the 6th CR Bn. Pte Calberry left to join his Unit in France on August 14, 1918. On August 15, 1918 he joined the 38th Bn at a Canadian Corps Reinforcement Camp. August 17, 1918 Pte Calberry left to join his Unit on the Front-Line; he joined the 38th Bn on August 18, 1918.
On September 29, 1918 Pte Herbert Victor Calberry was killed-in-action; he is interred in the Bourlon Wood Cemetery in the Village of Bourlon, about 6 kilometres west of Camrai, France.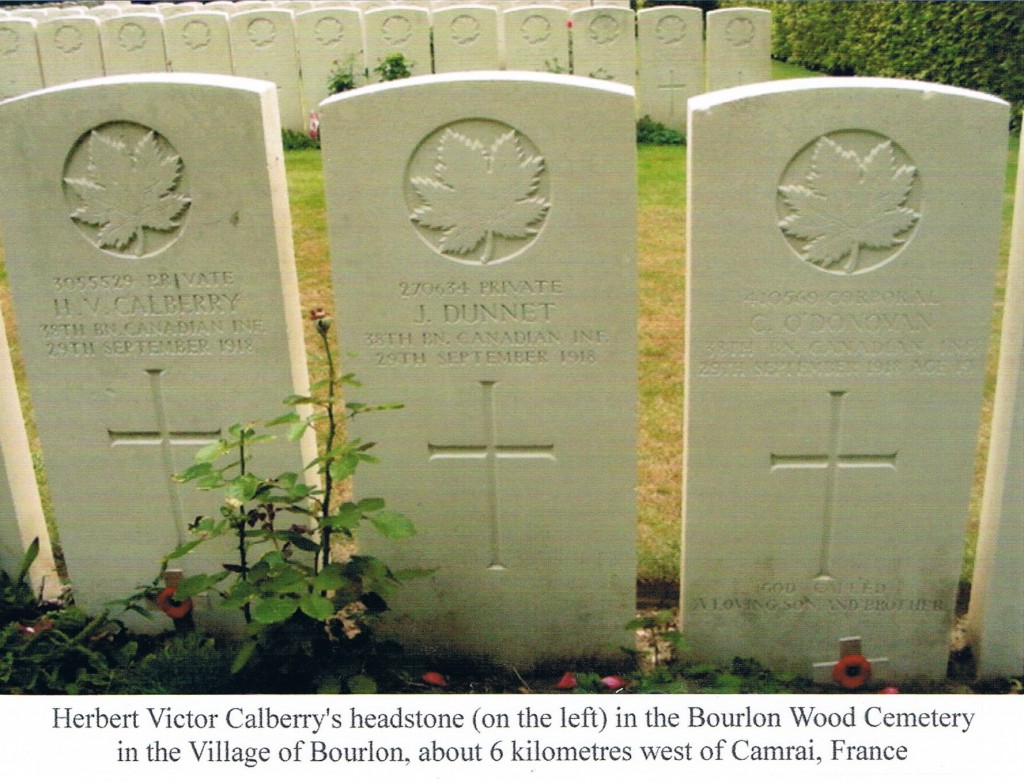 What follows are the circumstances of Private Hebert Victor Calberry's death. "The 38th Canadian Battalion entrained at Arras on September 25, 1918 reaching their assembly position at the Village of Cambrai, France, September 26, 1918. The 38th Bn was tasked with capturing the railway, near Bouron, with the attack beginning on the morning of September 27, 1918. The 38th Bn crossed the Canal du Nord at Inchy. At the outset the 38th Bn captured 25 machine guns and had taken 150 German prisoners but by noon it was up against stiff German opposition. By days end, in-spite of the opposition, the 38th Bn had captured: a Battery of 5.9 inch guns; a Battery of 77 mm guns; 28 machine guns; 2 anti-tank guns and 200 German soldiers. The 38th Bn continued on September 28, 1918 to capture German positions in the Marcoing Trench. At this time Lt Col Gardner, who was in-command of the the 38th Bn, was killed. On September 29, 1918 the task of the 38th Bn was to cross the Douat – Cambrai Road. On this day nearly all of the Officers and NCOs, along with a significant number of other ranks, were killed or wounded. Putting the losses of the 38th Bn into perspective; on September 26, 1918 when the 38th Bn went to the Line it had a combat strength of 570, by the morning of September 30, 1918, it was down to 96. The 38th Bn was relieved on the morning of September 30, 1918 having gained its objective".
Pte Calberry served with the Canadian Army (Expeditionary Force) a total of 8 months and 26 days: 1 month and 15 days in Canada, 5 months and 25 days in the UK and 1 month and 16 days in France.
There is no reference, in Private Herbert Victor Calberry's Military File indicating what Military Medals he was awarded but based on his Military Service he should have received:
British War Medal 1914 – 1920; and
Victory Medal.
He also qualified for War Service Badge CEF Class "B".
An excerpt from an article in Maclean's by Barbara Ameil, September 1996: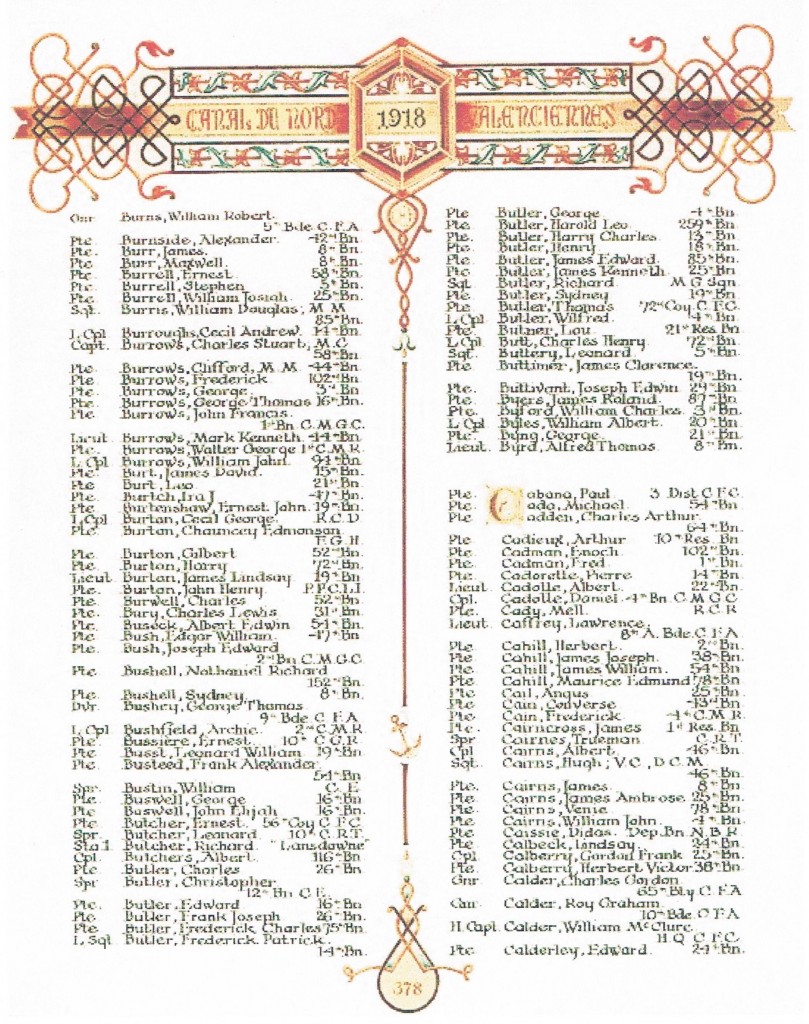 The Military is the single calling in the world with job specifications that include a commitment to die for your nation. What could be more honorable.
PERSONAL HISTORY
HERBERT VICTOR CALBERRY
Herbert Victor Calberry was born October 31, 1896 in Colborne in Cramahe Township, Northumberland County, Ontario, son of Frank Calberry and Sabina A. Newell. Herbert Victor worked as a farmer. He was the 2nd eldest of 5 children.
THE HERBERT VICTOR CALBERRY FAMILY OF DUMMER TOWNSHIP
Herbert Calberry's paternal grandparents were Thomas Calberry and Mary Ann Ferguson.  His maternal grandparents were Francis "Frank" Newell and Mary Tamblin.
Herbert Victor's parents, Frank Calberry and Sabina Ann Newell, married February 3, 1892 in Warsaw, Ontario; they had 5 children: Francis Gordon, born February 6, 1893; Herbert E. Victor, born October 31, 1895; Foster Allan., born July 1900; Oscar Henry, born August 1903 and Mary Isobel, born July 1907.
The Frank (Sr) Calberry family initially lived in Colborne in Cramahe Township, Northumberland County. They were there in 1901 but had moved to Dummer Township before 1911. Frank died in Cobourg, Ontario February 6, 1930; Foster Allan died in Burleigh Township February 7, 1934 and Oscar Henry died in Peterborough October 7, 1956. All are interred in Lakefield Cemetery; no wives are listed and the place of burial is only known for Oscar Henry.
Note: Sabina Ann Newell went by a number of first names – Marge E., Mary E., Selina, Livina and Lovina. Differences in some names may be due to the interpretation of the script used on the documents read.
Oscar Henry Calberry, born in Dummer Township, married Mabel Luella Charlton, born in Lakefield, in Lakefield on September 11, 1926. Oscar and Mabel had 5 children: Lillian; Percival; Ross; Douglas and Margaret (Wilford).
Mary Isabel Calberry, born in Dummer Township, married Morgan Edgar Hayward, born in England, in Peterborough on August 18, 1927.