Private Walter Chappell – 195506 — ACTIVE SERVICE (World War I)
On January 17, 1916, Walter Chappell completed the Attestation Paper for the Canadian Army (Expeditionary Force). He was 29 years and 2 months old, when as a married man with two young sons (Thomas 3 years and George 6 months), he enlisted for the duration of the War. Walter was born in Morley, Yorkshire, England and gave his birth-date as November 14, 1887. On his Attestation Paper Arthur indicated "he did not presently belong to an Active Militia, and that he had never served in any Military Force". There is nothing on his File to indicate where he was educated or to what level. As far as employment is concerned, he lists Laborer as his Trade or Calling. Walter was 5′ 3" tall, with a 34¾" chest (expanded); his weight is not listed. He had a fair complexion with grey eyes and fair hair. His Medical Records indicate that other than "his right eye not up to standard", he had no other identified medical issues and as such was deemed fit for Overseas duty with the Canadian Army. His next-of-kin was listed as his wife, Mrs. Annie Elizabeth Chappell of Lakefield. Walter signed the Oath and Certificate of Attestation January 17, 1916 in Peterborough, Ontario. The Certificate of Magistrate was signed by the Justice on January 18, 1916. Although, the Attestation Paper is stamped "57th Regt", Walter was actually taken-on-strength as a Private (Pte) with the 93rd Battalion (Bn) (Peterborough, Ontario), Canadian Expeditionary Force. The 93rd Bn was authorized and formed up on December 22, 1915, a little over 3 weeks before Pte Chappell enlisted. Pte Chappell was assigned Regimental Number 195506.
The 93rd Bn, after training through the winter and spring in the Peterborough area, departed by train from Peterborough on May 29, 1916. They made a short stop at Barriefield Camp located at Kingston, Ontario before moving on to the main Canadian Expeditionary Force Training Centre located at Valcartier, Québec to complete Basic Infantry training before being transported overseas to the UK. The 93rd Bn embarked from Halifax, Nova Scotia on July 15, 1916, aboard the SS Empress of Britain.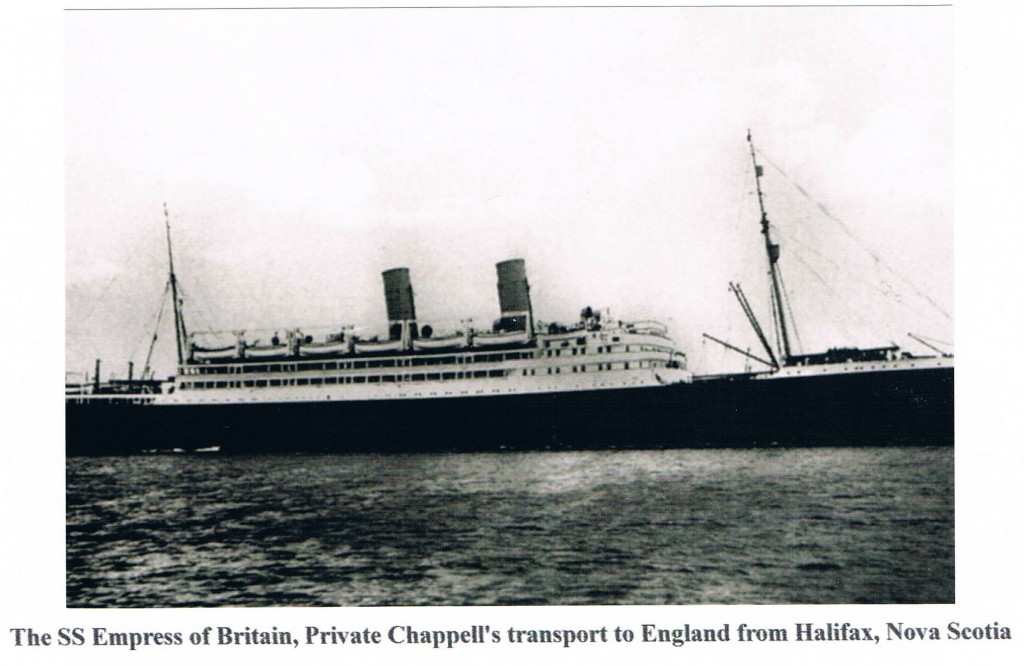 Pte Chappell disembarked at Liverpool, England on July 25, 1916. He probably would have done a lot of training with the 93rd Bn while in England for the next two months. On October 2, 1916 Pte Chappell wrote a Will, in the event of his death, bequeathing his personal property and effects to his wife Annie Elizabeth Chappell of Lakefield, Ontario. On October 4, 1916 he was struck-off-strength from the 93rd Bn on transfer to the 52nd Bn stationed at Otterpool, England and embarked at England for France. On October 5, 1916 Pte Chappell disembarked at France and was taken-on-strength with the 52nd Bn in the Field (France). He left for his Unit on October 15, 1916 and arrived for duty on October 20, 1916. Pte Chappell would have been employed on Field duties, reconnaissance details and some Front-Line action over the next 3 months.
On January 5, 1917 Pte Chappell was attached to the 9th Canadian Trench Mortar Battery; January 6, 1917 he was sent for Mortar training.
There are no entries, in the Military File, from January 6, 1917, until October 30, 1917. The following information was extracted from the War Diary of the 52nd Bn. January 6, 1917 to March 31, 1917 the Unit was in a Reserve position undergoing training. From April 1, 1917 to October 30, 1917 they made a series of rotations to and from the Front-Line trenches, including being on the Front-Line for the Battle of Vimy Ridge (April 9 to 12, 1917) and the Battle of Hill 70 (August 15 to 25, 1917).
On October 30, 1917 he was granted a 10-day Leave in the UK. November 11, 1917, he returned from Leave and on November 12, 1917 he reported to the No 12 Canadian Field Ambulance (CFA) with what could have been some type of a laceration; the notations are basically illegible, verification of interpretations are almost impossible. On November 16, 1917 he was at the No 98 Field Ambulance (FA) and on November 25, 1917 he was "discharged to duty".
There are no entries, in the Military File, from November 25, 1917, until July 30, 1918. Reference to the Unit's War Diaries points out that "during this period of time the 52nd Bn was on a series of rotations to and from the Front-Line. When the Unit was in the rear they spent their time training and marching. When they were on the Front-Line they often spent their days on work details, improving defensive positions, digging trenches, and running communication lines".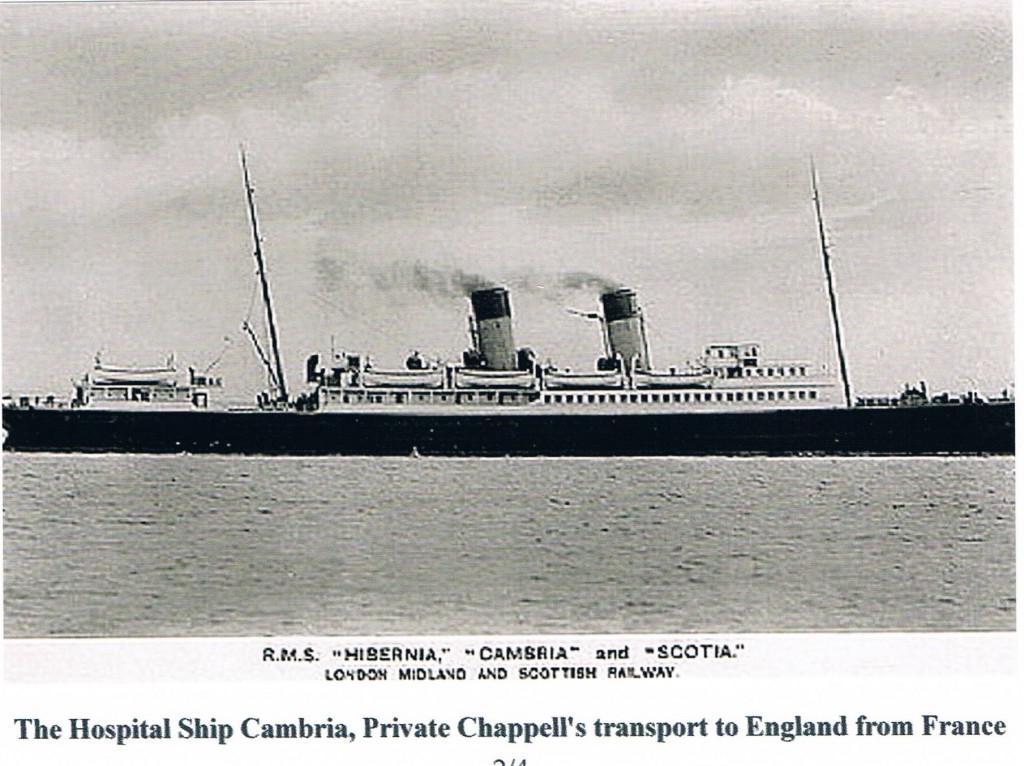 On July 30, 1918 Pte Chappell rejoined the 52nd Bn. September 11, 1918 he was at the No 9 Canadian Field Ambulance (CFA) with a gunshot wound and fractured left leg and on the same day he was processed at the No 33 Casualty Clearing Station (CCS). September 17, 1918 Pte Chappell was admitted to the No 54 General Hospital at Aubengue, France. September 30, 1918 he was at the No 15 Canadian General Hospital located at Taplow, France and embarked for the UK aboard the Hospital Ship Cambria.
On September 30, 1918 Pte Chappell was struck-off-strength from the 52 Bn and admitted to a Hospital located at Seaford, England; his File does not specifically identify the Hospital. He would remain at this Hospital until his discharge on February 26, 1919. February 27, 1919 he was at No 5 Canadian General Hospital, Kirkdale, Liverpool. Pte Chappell would have been transferred to a Convalescent Depot (CD) after being discharged from the Hospital No 5 Canadian General Hospital. Due to his injuries Pte Chappell was sent to Canada, via Portland, Maine USA, on March 31, 1919 aboard His Majesty's Hospital Ship (HMHS) Essequibo.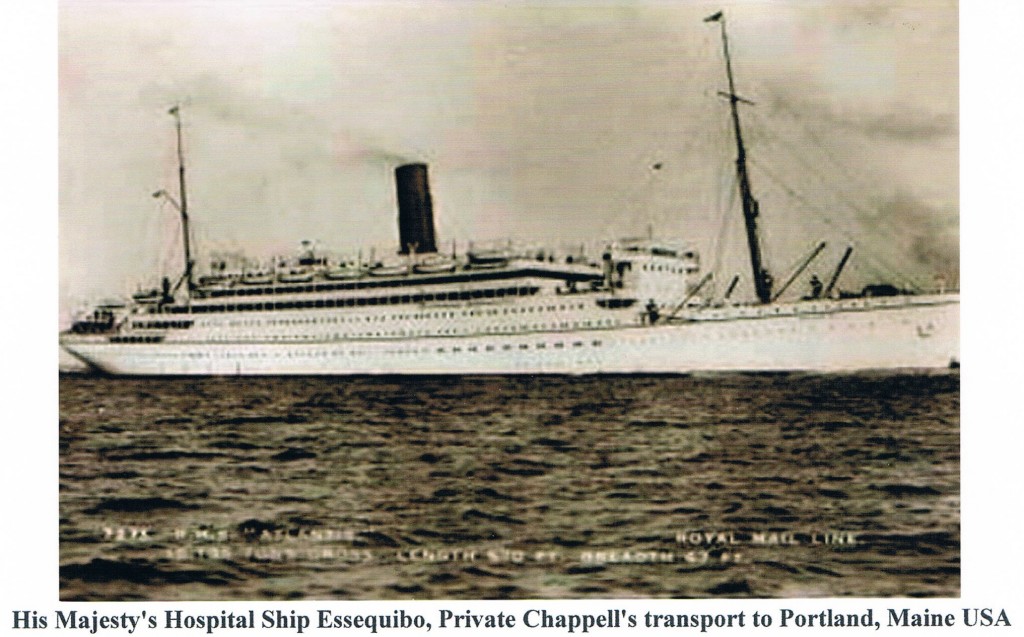 Pte Chappell disembarked in Portland, Maine on April 6, 1919 and was transported to Kingston, Ontario. On April 11, 1919 he was taken-on-strength at No 3 District Depot at Kingston; admitted to the Queen's University Military Hospital, Hospital Section and been taken-on-strength from the CD. While he was at the Queen's Hospital and due to ongoing issues with the injury to his left leg, he was fitted with a "drop foot splint and special boot". Upon discharge from the Hospital on June 16, 1919 he was struck-off-strength from Queen's University Military Hospital, Hospital Section upon transfer to a Casualty Company. On June 17, 1919, Pte Chappell was "boarded (decision taken by a Medical Review Board) from the Canadian Army as being unable to meet the physical requirements".
Pte Chappell was discharged from the Canadian Army June 18, 1919.
Pte Chappell served with the Canadian Army (Expeditionary Force) a total of 3 years and 5 months: 8 months and 16 days in Canada, 9 months and 23 days in the UK and 1 year, 11 months and 6 days in France. During his time in the Service he allotted $20.00 per month of his pay and $25.00 Separation Allowance per month to his wife. He received a War Service Gratuity of $600.00.
There is no reference in Pte Walter Chappell's Military File indicating what Military Medals he was awarded but based on his Military Service, he should have received:
British War Medal 1914 – 1920; and
Victory Medal.
He also qualified for War Service Badge CEF Class "B".
An excerpt from an article in Maclean's by Barbara Ameil, September 1996:
The Military is the single calling in the world with job specifications that include a commitment to die for your nation. What could be more honorable.
PERSONAL HISTORY
WALTER CHAPPELL
Walter was born in Morley, Yorkshire, England on November 14, 1887 his father is Thomas Chappell, his mother's name is not given. Walter and his father were plumbers.
Walter Chappell, 24, married Annie Elizabeth Barker, 21, on May 2, 1911 in St. Paul's Anglican Church in the Parish of Morley in the County of York. Annie Elizabeth's father is Thomas Barker, her mother's name is not given. Thomas Barker was a groom. Walter and Annie Elizabeth had 5 children: Thomas, born July 25, 1913 – died September 22, 1927 of accidental drowning; George Arthur (Ponzi) was born December 18, 1915, he was in the Royal Canadian Artillery in WW II and married Dorothy Irene Chartrand; John "Jack" William Chappell also enlisted and was with No 2 Canadian Army Reinforcement Unit (CARU) in WW II and he married Ruth Ann Coons; Mary "Alice", married William (Bill) Akinson and lived in Lakefield and Elsie Irma, married James Edward Smyth and lived in Toronto.
Walter worked as a shoemaker in Lakefield, from a shed attached to his house and later became the custodian/caretaker of our Lakefield Post Office, living on the premises.  He was an avid supporter of our Legion Br. 77, possibly one of the founding charter members.  Neil Wasson recalls him as carrying his thick English accent in all his later years. Walter passed away on September 13, 1958, his wife Annie Elizabeth passed away on August 11, 1972.
THE WALTER CHAPPELL FAMILY OF LAKEFIELD
Walter Chappell's father, Thomas Chappell was born and lived in England.