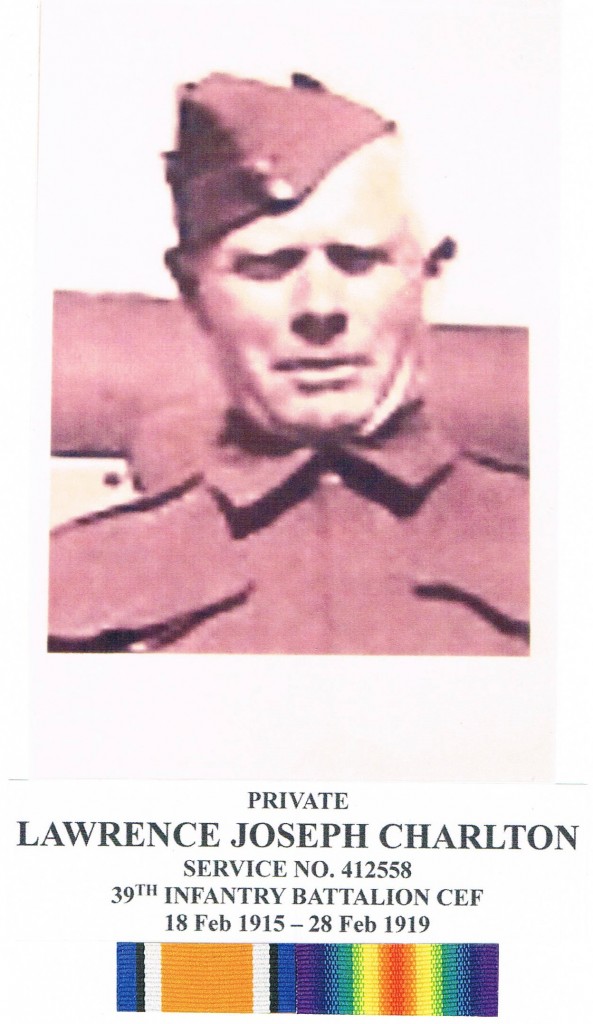 MILITARY HISTORY
Private Lawrence Joseph Charlton – 412558 – ACTIVE SERVICE (World War I)
On February 18, 1915, Lawrence Charlton completed the Attestation Paper for the Canadian Army (Expeditionary Force) at Port Hope, Ontario. He was 23 years, 4 months old when, as a single man, he enlisted for the duration of the War. Lawrence Joseph was born in Douro Township, Peterborough County, Ontario and gave his birth-date as October 1, 1892. On his Attestation Paper Lawrence Joseph indicated "he did not presently belong to an Active Militia, and that he had never served in any Military Force". There is nothing on his File to indicate where he was educated or to what level. As far as his Trade or Calling is concerned he had about 13 years of experience in mixed farming on his father's farm and he lists learning Gas Engineering. Lawrence Joseph Charlton's Medical Examination had been completed in Port Hope on January 8, 1915; was 5′ 7" tall, 36″ chest (expanded); his weight is not listed. Lawrence Joseph had a fair complexion, with blue eyes, and brown hair. His Medical Records indicate that he had no identified medical issues and as such was deemed fit for Overseas duty with the Canadian Expeditionary Force. His next-of-kin was listed as his mother, Mrs. Sarah Charlton, of Lakefield. Lawrence Joseph Charlton signed the Oath and Certificate of Attestation February 18, 1915, in Port Hope, Ontario. The Certificate of Magistrate was signed by the Justice, in Port Hope, on February 23, 1915. Lawrence Joseph Charlton was taken-on-strength, as a Private (Pte), with the 39th Battalion (Bn), Canadian Expeditionary Force. Pte Charlton was assigned Regimental Number 412558
The 39th Bn was based in Belleville, Ontario; was raised as a Depot Bn and was not intended for service in France. The 39th Bn CEF is perpetuated by the Hastings and Prince Edward Regiment. There are no indications as to where the 39th Bn trained but for the next 4 months Pte Charlton would have completed his Basic Training; most likely in the Belleville/Kingston area. On June 24, 1915, Pte Charlton and the 39th Bn embarked from Montréal, Québec aboard the SS Missanabie.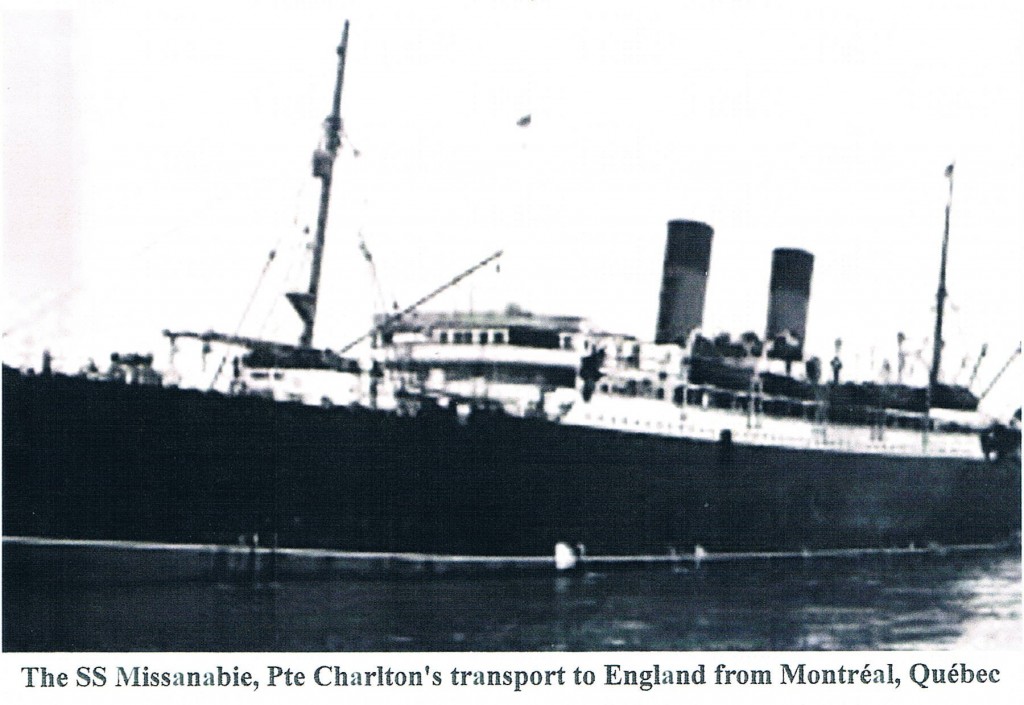 Pte Charlton arrived in England on July 3, 1915. Initially, the 39th Bn was stationed at Shorncliffe, England where two more months of training would have been conducted. On September 24, 1915, it was transferred to West Sandling, England; another 4 months of training, including Advanced Training, plus duties would have been normal tasks. On February 3, 1916, Pte Charlton was transferred to the 5th Bn Canadian Expeditionary Force. On February 5, 1916, he was taken-on-strength with the 5th Bn CEF, upon arrival at the Canadian Base Depot at Le Havre, France. February 15, 1916, he proceeded to join his Unit, in the Field. Pte Charlton arrived at his Unit on February 16, 1916.
Between February 16, 1916 and September 26, 1916 there are no entries in the Pte Charlton's Military File. This lack of reports for about 7 months are all within France; this time would have been utilized for some training in the Field and Front-Line action.
On September 26, 1916, Pte Charlton was wounded. His Medical Records indicate he had a gunshot wound to the left thigh. The bullet passed through the muscle of the front of the thigh without hitting the bone. Pte Charlton was wounded on the first day of the Battle of Triepval Ridge which was part of the first Battle of the Somme. After being wounded he was transported by the Hospital Ship Carisbrooke Castle to England on September 29, 1916.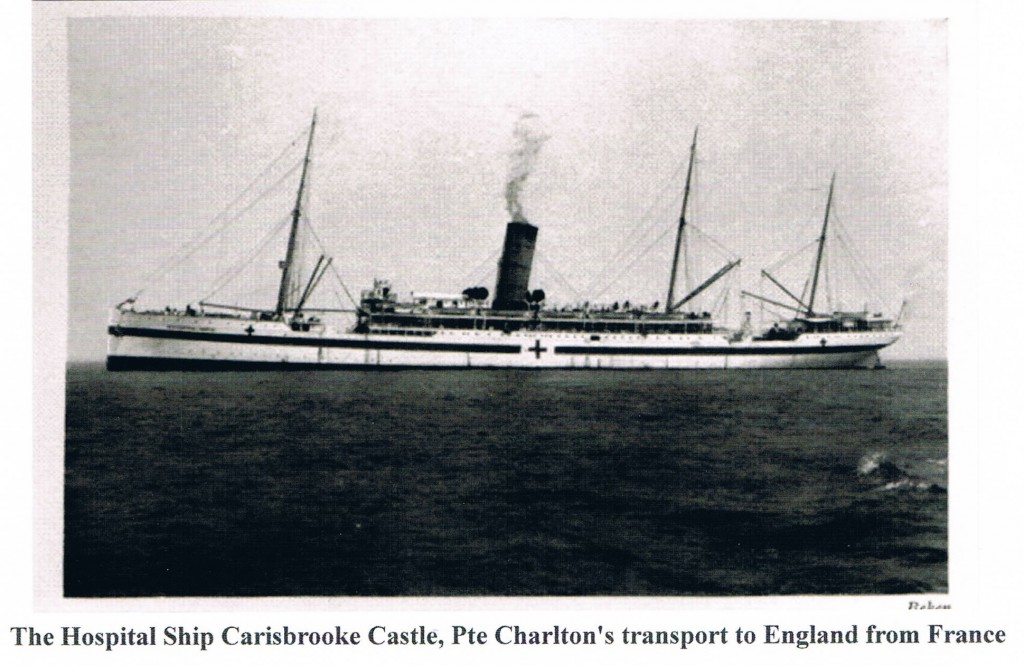 On September 29, 1916 Pte Charlton was transferred to the Canadian Convalescent Assembly Centre (CCAC) at Folkstone, England for evaluation. September 30, 1916 he was taken-on-strength with the CCAC and transferred, on the same day, to No 5 Southern General Hospital (SGH) at Portsmouth, England. Pte Charlton was discharged from the No 5 SGH on October 27, 1916. Upon discharge from the No 5 SGH he was transferred to the Canadian Divisional Convalescent Hospital at Woodcote Park, Epsom. Pte Charlton was discharged from Cdn Div Con Hosp on November 17, 1916 and transferred to the Canadian Convalescent Depot at Shoreham for "full duty".
There are no entries in Pte Charlton's Military File from November 17, 1916, until March 25, 1917. In the 4 months not mentioned in Pte Charlton's records, he would have been assigned to duties at Shoreham. March 3, 1917 Pte Charlton was transferred to Bramshott. On March 25, 1917 there is a note indicating Pte Charlton "is permitted to wear one Good Conduct Stripe". There are no entries in his Military File from March 25, 1917 until June 29, 1917. In the 3 months not mentioned in Pte Charlton's records, he would have been assigned to duties at Bramshott.
On June 29, 1917 Pte Charlton was promoted to Lance Corporal (L/Cpl) without pay on posting to the No 2 Canadian Convalescent Depot (CCD) at Hastings, England where he would stay for the next 3 months. September 14, 1917, he reverts to the permanent grade of Private at Bramshott, England. Pte Charlton ceased to be attached to 2nd CCD on return to 15th Reserve Bn at Bramshott. September 15, 1917, he was taken-on-strength with the 15th Canadian Reserve Bn. Pte Charlton spent the following 4 months at Bramshott where he would have been assigned light duties while convalescing.
January 21, 1918, Charlton was struck-off-strength from the 15th Reserve Bn on transfer to 6th Canadian Reserve Bn. On January 26, 1918, Pte Charlton was taken-on-strength with the 6th Canadian Reserve Bn stationed at Seaford, England. There are no entries from January 26, 1918, until January 7, 1919.The year not covered in Pte Charlton's records would have been spent at Seaford where he would have been assigned to duties.
On January 7, 1919 Pte Charlton is attached to the Casualty Clearing Centre (CCC) at Kimmel Park, North Wales pending return to Canada. January 18, 1919 he embarked from Liverpool, England for Canada, aboard the HMT Aquitania. On January 24, 1919 he disembarked in Halifax, Nova Scotia. Pte Charlton was taken-on-strength with No 3 District Depot on January 31, 1919 at Camp Barriefield, Kingston, Ontario. He was granted a Leave with Subsistence Allowance from February 1, 1919, to February 14, 1919. Pte Charlton was discharged from the Canadian Army CEF upon demobilization on February 28, 1919.
Lawrence Joseph Charlton served with the Canadian Army (Expeditionary Force) a total of 4 years: 5 months in Canada, 3 years in the UK and 7 months in France.
There is no reference, in Pte Charlton's Military File indicating what Military Medals he was awarded but, based on his Military Service, he should have received:
Victory Medal
British War Medal 1914 – 1920
He was also awarded War Service Badge – CEF Class "B".
During his time in the Service Lawrence Joseph Charlton assigned a $20.00 Pay Allotment and a $25.00 Separation Allotment ($45.00) per month of his pay to his mother. He received the War Service Gratuity and Allowances of $600.00.
An excerpt from an article in Maclean's by Barbara Ameil, September 1996:
The Military is the single calling in the world with job specifications that include a commitment to die for your nation. What could be more honorable.
PERSONAL HISTORY
LAWRENCE JOSEPH CHARLTON
Lawrence Joseph Charlton was born October 1, 1892 in Douro Township, Peterborough County, Ontario, son of James Charlton and Sarah Caldwell; he went by the name "Lawrence".
At the time of his enlistment Lawrence Joseph had about 13 years of experience in mixed farming on his father's farm and was learning Gas Engineering just prior to enlisting.
On December 24, 1930 Lawrence Joseph crossed into the USA at Buffalo, New York. His sister Ainslie Bulmer was the arrival contact and his brother George was the departure contact. Apparently he was going to celebrate Christmas with the Bulmer family; personal data provided: 38 years and 2 months old, born in Douro, Ontario about 1892 and he was Irish. Lawrence Joseph married Miss Vera Viola Andrews of Lakefield Ontario on April 11, 1931.
Lawrence and Vera had two children; Shirley Alice, born April 27, 1932 and Lawrence "Larry" Andrew Charlton, born April 26, 1941.
Lawrence Joseph Charlton died July 14, 1968 at 75 years, 9 months old and is buried in Lakefield Cemetery. Vera died August 10, 1988.
THE LAWRENCE JOSEPH CHARLTON FAMILY OF LAKEFIELD
Lawrence Joseph's paternal grandparents are Margaret Steele, born about 1811 in Ireland, and Robert Charlton who died before 1860. Lawrence Joseph's maternal grandparents are Joseph Caldwell and Jane Mary Mahood.
Lawrence Joseph's parents are James Charlton, born March 29, 1846 and Sarah Ann Caldwell, born August 19, 1857. James and Sarah lived on the north side of the Block Road, not great farmland but had a lot of limestone which James supplied to the Portland Cement Company. James & Sarah Ann had 8 children:
George Armour, born November 19, 1876, married Johannah Maloney, born August 29, 1876, on October 1, 1899; William James, born September 1, 1879 married Margaret Ann Hurl, born September 22, 1882 on April 8, 1903; Robert Alexander, born November 11, 1881, married Maggie Armstrong, born November 17, 1882, on August 19, 1903 and later married Mary Jane Pearson, born June 27, 1888; Margaret Jane, born 1884, died April 6, 1905; Mary Janet (Jeanette) Sarah, born June 5, 1885, died May 30, 1908; John Edmond, born August 17, 1888 married Cecilia Alvina Hurl, born August 28, 1891, on May 11, 1910; Lawrence Joseph, born October 1, 1892 in Douro Township, Peterborough County, married Vera Andrews, he died July 14, 1968; and Catherine Ainslie (Kathleen), born in Lakefield on February 12, 1896, married Oscar Alexander Bulmer (a widower), born in Hiawatha in 1895, in Brantford, Ontario on September 7, 1920. James and Sarah retired to the Village of Lakefield living on Regent Street until their death. James Charlton died March 1,1915; Sarah Ann died September 13, 1930; both are buried in Lakefield Cemetery.
Letter from Lawrence J. Charlton to Brother Wm. J.
LETTER FROM THE FRONT
__________
The following letter has been received from Mr. Wm. J. Charlton, of Douro, from his brother, Pte. Lawrence J. Charlton who is with the 5th Batt. Somewhere in Belgium:
Dear Brother,— I have time to write a few lines to let you know that I am well and feeling fine on the little drop of rum I get every morning. I did not like it vey well at first but now I could hardly do without it.
I have just come in from listening post, where I have been for two hours. We have to crawl out about half way between the two firing lines and lie still and listen for two hours at a time, and we have to do that no matter if.it rains or snows. We had a light fall of snow last night, so I was pretty cold until I got my rum.
I am writing this letter.in a dug-out in Flanders. The land around here is very low and the dug-outs are very shallow so Fritz can't see them. The other morning I was on sentry duty and the British sent over a big Jack Johnson shell and it landed in the German front line. I think it struck a dug-out as I could hear iron jingle for about five minutes after.
The Germans must be getting short of shells for they only send over one shell to our seven. I will now draw to a close, hoping you are all well and that I will hear from you soon.
From your brother,
PTE L. J. CHARLTON
5th Battalion