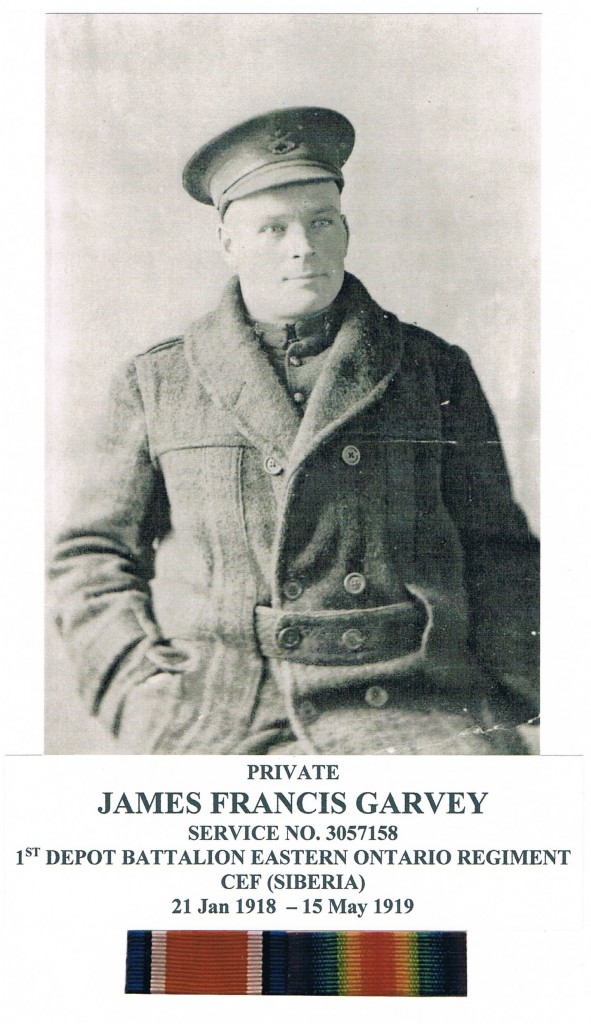 MILITARY HISTORY
Private James Francis Garvey ‑ 3057158 ‑ ACTIVE SERVICE (World War 1)
James Francis was 28 years, 2 months old when, as a single man, he was drafted under the Military Service Act, 1917 at No 3 Military District (MD) Kingston Ontario March 6, 1918 with the Canadian Siberian Expeditionary Force (CSEF). He stated that he was born in Otonabee Township, County of Peterborough on August 21, 1889 and indicated that he had no previous military experience. His previous employment was listed as a farmer. At the time James was 5′ 8″ tall, 40½" chest, weight 165 pounds, had blue eyes, and brown hair and lived in Lakefield Ontario. James Francis's next‑of‑kin was listed as Denis Garvey, his father, living in Lakefield Ontario. Private James Garvey was assigned Service Number 3057158 and his Unit was the Canadian Infantry 1st Depot Battalion (DB) Eastern Ontario Regiment (EOR). James's entry medical was done in Peterborough Ontario, October 15, 1917.
Private Garvey's records show that he was on leave from March 8 to 20, 1918. During this time he would have been posted to the No 3 Section Machine Gun Corps, 1st DB EOR, CEF. On March 22, 1918 Private Garvey was transferred to Machine Gun Corps, 1st DB EOR, CEF No 2 MD. Then on March 26, 1918 Private Garvey had a medical examination at Kingston Ontario and was found fit, an A‑2. On March 28, 1918 he was transferred to the Machine Gun Depot Battalion (DB); 205 Battalion [Hamilton] CEF from the 1st DB EOR.
On March 30, 1918 Private Garvey proceeded from Toronto to Québec. On May 17, 1918 Private Garvey had a medical examination in Québec and was found fit, an A‑2. Then on August 31, 1918 he was transferred to Military District No. 5. The next move for Private Garvey was a transfer to the EOR DB, 20th Machine Gun Company (Siberia) at Niagara Camp, Ontario, on October 2, 1918. After almost two months training and a transfer to the CEF (Siberia) on December 21, 1918 Private Garvey and the men of 20th Machine Gun Company embarked on board the RMS Teesta at 10:00 p.m. At 4:00 a.m. on December 22, 1918 she left Vancouver British Columbia for Vladivostok, Siberia. She stopped at Muroran, Japan on January 8‑9, 1919 to restock with coal. Finally, on January 12, 1919, 21 days after leaving Vancouver, they arrived at Vladivostok, Siberia.
There are no entries in Private Garvey's records for any moves or tasks while in Siberia. He was struck off strength from the CEF on demobilization, April 14, 1919. A little over three weeks after their arrival Private Garvey's Unit was heading home. On April 21, 1919 he was released from the EOR 11 DB, 201 Machine Gun Company (Siberia) and his Unit embarked the SS Monteagle for Canada. Fourteen days later, May 5, 1919, he arrived in Victoria, B.C.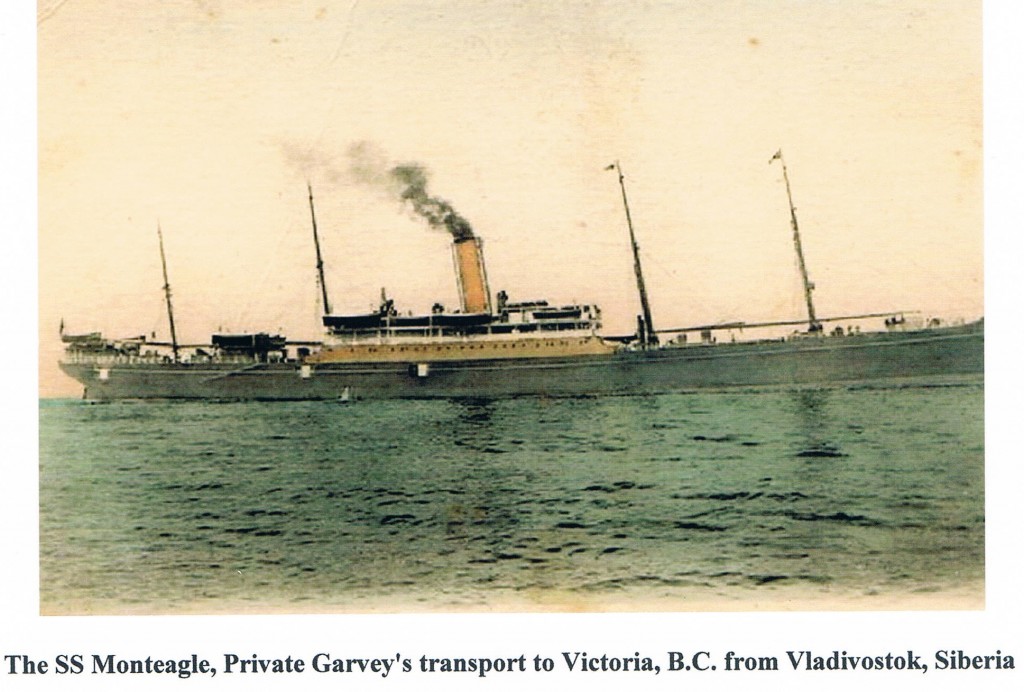 On April 23, 1919 Private James Garvey was posted to the Casualty Company ‑ Park School, Toronto and on April 29, 1919 he transferred to No 2 DD. On May 5, 1919 he was moved to MD No. 2 and discharged from Service in the CEF on May 15, 1919 at MD No 2, Toronto Ontario.
James's records specify that his Theatre of War was Siberia. He earned the British War Medal and the Victory Medal. He would have qualified for the War Service Badge ‑ Class A. James was also entitled to the War Service Gratuity.
An excerpt from an article in McLean's magazine by Barbara Amiel, September 1996:
The military is the single calling in the world with job specifications that include a commitment to die for your nation. What could be more honorable?
PERSONAL HISTORY
JAMES FRANCIS GARVEY
James Francis was born in Otonabee Township, County of Peterborough August 15, 1890 to Denis Garvey and Catherine Sheehan. On April 17, 1920 James Francis, 30 years of age, married Bertha Ann O'Heron, born December 14, 1890 (29 years of age), in Peterborough Ontario. Witnesses were: Frederick J. Garvey of Lakefield and Gen. O'Heron of Peterborough. Bertha Ann's parents are Maurice O'Heron and Mary Ann Welsh. Unfortunately Bertha Ann died May 3, 1925 due to myocarditis and pulmonary problems. It is unknown whether James & Catherine had any children. James Garvey worked at the Quaker Oats Company in Peterborough and later married Margaret Mary McGurty and they resided at the corner of Sophia and Mark Streets in Peterborough and had a daughter Mary.
THE JAMES FRANCIS GARVEY FAMILY OF WARSAW
James Francis' father, Denis Garvey, was born June 15, 1850 in Ireland according to 1901 Census data. Denis, was a farmer who immigrated to Canada in 1855 and married Catherine Sheehan circa 1875 probably in Otonabee Township, Ontario. Denis and Catherine farmed in Otonabee Township near the Village of Indian River until 1927. On a rainy March 13, 1927, the family packed up their belongings and drove their herd of cattle and other livestock along the roads to their new farm in Smith Township located on the northwest corner of the 9th Line and Buckhorn Road
Denis and Catherine Garvey had 12 children; six sons and six daughters all born in Ontario in the following order: Timothy, born September 17, 1876; Johannah, born circa 1878; William J., born January 4, 1880; Catherine born August 26, 1882; Mary, born circa 1883; Joseph, born July 23, 1885;Lora (Lauretta), born March 27, 1886; Ester, born March 17, 1888; James, born August 15, 1890; Frederick, born December 23, 1892; Leo Joseph, born December 21, 1895 and Martha, born February 28; 1896.