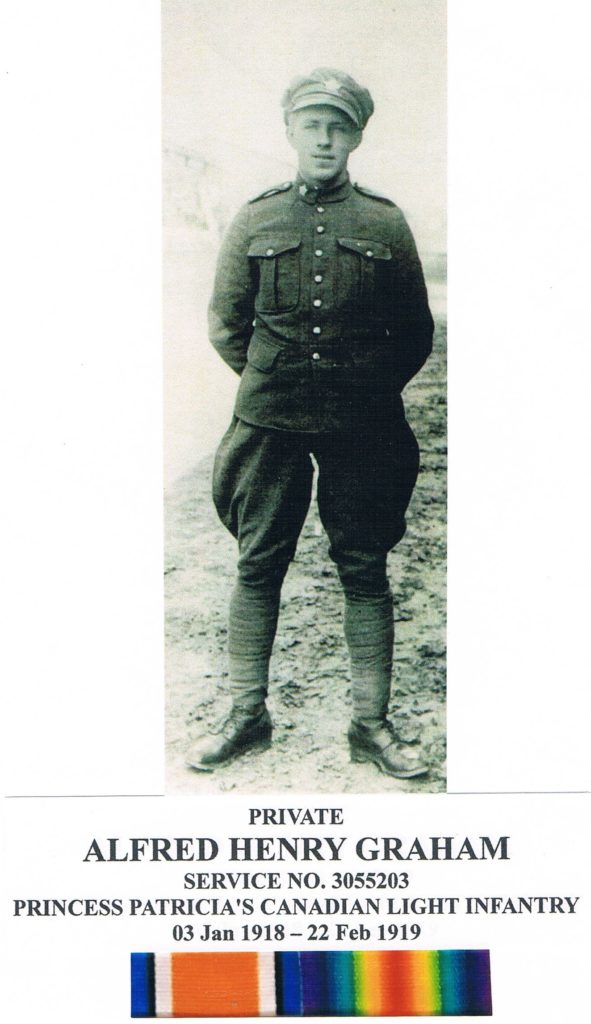 MILITARY HISTORY
Private Alfred Henry Graham – 3055203 — ACTIVE SERVICE (World War I)
Alfred Henry Graham was drafted, as a single man, under the Military Act of 1917 at the age of 20 years, 9 months old. He indicated his date-of-birth as January 19, 1897 and that he was born in Lakefield, Ontario. Alfred Henry lists his Trade or Calling as a Chauffeur. His next-of-kin is shown as his father Robert Graham of Lakefield. His Medical Examination was carried out in Peterborough, Ontario on October 25, 1917. It shows that Alfred Graham was 5′ 2" tall with 34" chest, weighed 115 pounds, had a fair complexion with blue eyes, brown hair and that he had a small scar on the inner side of left elbow. Based on this Examination, Alfred Henry was classified as Category A2 and as such was considered fit for service with the Canadian Expeditionary Force. Alfred Henry Graham indicated on the Declaration of Recruit that he had no previous military experience; he signed the Declaration of Recruit on January 3, 1918 in Kingston, Ontario. Alfred Henry was taken-on-strength, as a Private (Pte) with the 1st Depot Battalion – Eastern Ontario Regiment – Canadian Expeditionary Force, Kingston, Ontario. He was assigned Service Number 3055203.
Pte Graham embarked from Halifax, Nova Scotia on March 21, 1918 aboard the SS Melita.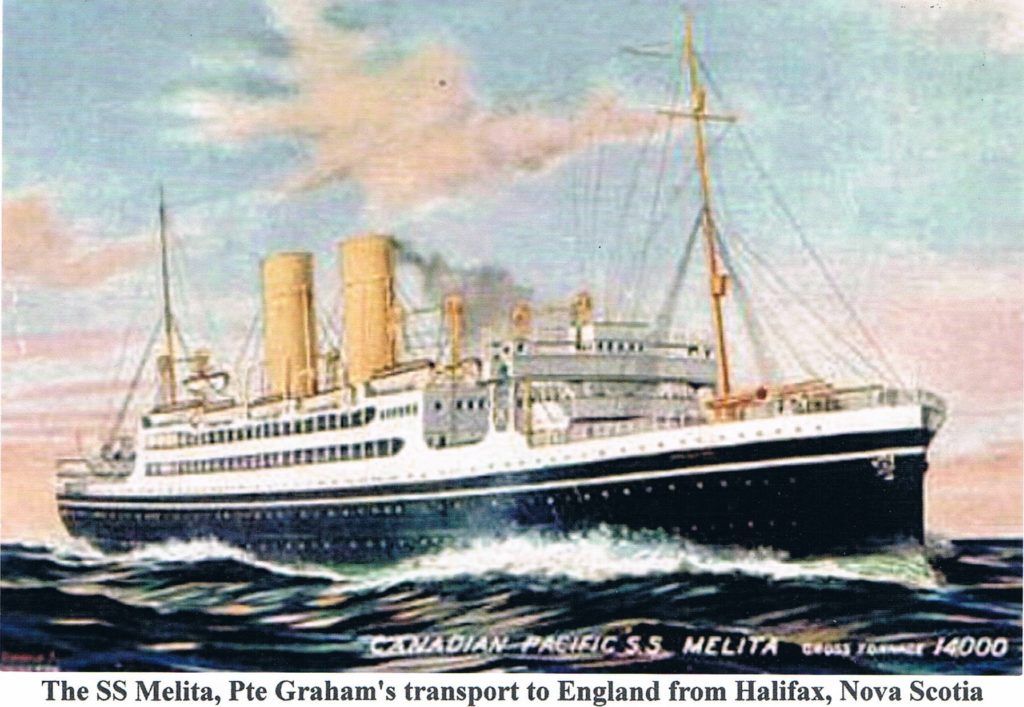 Pte Graham disembarked in England on April 4, 1918. On the same day he was taken-on-strength with the 6th Canadian Reserve Battalion (CRB) stationed at Seaford, England.
There are no entries in his Military Record from April 4, 1918 and August 17, 1918. This time would have been spent in training and becoming familiar with the Military norms.
On August 17, 1918 Pte Graham was struck-off-strength from the 6th CRB on being posted to the Princess Patricia's Canadian Light Infantry Battalion (PPCLI). The next day, August 18, 1918, he was taken-on-strength with the PPCLI at the Canadian Infantry Base Depot, located at Seaford, England. On August 23, 1918 Pte Graham embarked from England for the Canadian Corps Reinforcement Camp (CCRC) in the Field (France), arriving the same day. On August 27, 1918, Pte Graham left for his Unit (PPCLI); he joined his Unit, on August 28, 1918.
The Princess Patricia's Canadian Light Infantry Battalion War Diaries indicate:
From September 1st to September 5th, 1918 the PPPCLI made a series of moves through Haute Avesnes, to an outpost east of Arras, to Vis en Artois and finally to the Drocourt – Queant Line where they were held in Divisional Reserve. They would remain there until September 19, 1918. On September 20th they marched to Croisilles where they entrained at 4:30 PM, they detrained at Dainville and marched to Bernville where they stayed until September 26th. On the night of September 26th the Battalion moved forward from the Dainville area to an assembly position in the forward area. In the early morning of September 27th they marched to the preliminary assembly area slightly to the north of Queant where they remained until 8:20 AM. They again moved forward through the Village of Inchy and crossed the canal, taking up a position near Quarry Wood, where they remained until 6:00 PM. From this point they worked their way forward until 3:30 AM the morning of September 28th. The Battalion assembled in the rear of the 85th Battalion of the 4th Canadian Infantry Division. Following an attack by the Royal Canadian Regiment (RCR), the PPCLI Bn was diverted slightly to the left and ordered to assist in clearing up the situation around the Villages of Raillencourt and Sailly. During the afternoon of the 28th, preparations were made for an assault, by the PPCLI, "across the Cambrai – Douai road, the railway cutting and embankment, towards the Divisional final objective of the Village of Tilloy". The attack was launched at 7:00 PM, "under a most effective Artillery barrage". The attack was successful as far as the heavy wire on the southwest side of the Cambrai – Douai Road. This wire, which was an unforeseen obstacle, proved insurmountable and eventually orders were given that the Battalion should withdraw to the railway embankment. This withdrawal was carried out during the night of September 28th – 29th. No attempt was made by the Battalion to move during the day of September 29th. Orders were received in the early morning hours of September 30th for the Battalion to move forward and prepare to jump off at 6:00 AM. The plan was the PPCLI having crossed the railway, would swing to the east and southeast towards the Village of Tilloy, seizing the railway embankment and high ground. This achieved, Patrols were to be pushed forward with a view of seizing the bridgehead Pont D'Awe. Initially, rapid progress was made to the juncture of the Tilloy – Blecourt road and the railway embankment. Then the Battalion ran into very heavy machine gun fire from the Village of Tilloy and the high ground around it. This resulted in very heavy casualties to the Battalion. The loss of Officers and NCO's resulted in the Battalion being badly disorganized. The Battalion reorganized and after several attempts pushed forward into the Village, but efforts to push through the Village were unsuccessful.
During this assault, the PPCLI suffered 6 Officers killed and 9 wounded and of the Other Ranks 375 were either killed, wounded or missing.
On September 30, 1918 Private Alfred Henry Graham was reported wounded. The wound was described as "a rifle bullet wound to the top right shoulder above outer third of clavicle, exit inner edge of right scapula below spine". Pte Graham returned to England on October 2, 1918. On October 3, 1918 he was posted from the PPCLI to the Eastern Ontario Regiment located at Seaford, England. On October 7, 1918 Pte Graham was admitted to No 2 Western Military Hospital located in Manchester, England. On December 5, 1918 he was transferred to the Military Convalescent Hospital at Woodcliffe Park, Epsom, England. On December 16, 1918 he was discharged and posted to the 6th Reserve Battalion located at Witley Common, Surrey, England.
On January 6, 1919 Pte Graham was "on command at Kimmel Park, pending dispatch to Canada". On January 18, 1919 he embarked from Liverpool, England for Canada aboard the RMS Aquitania, he disembarked in Halifax, Nova Scotia on January 24, 1919.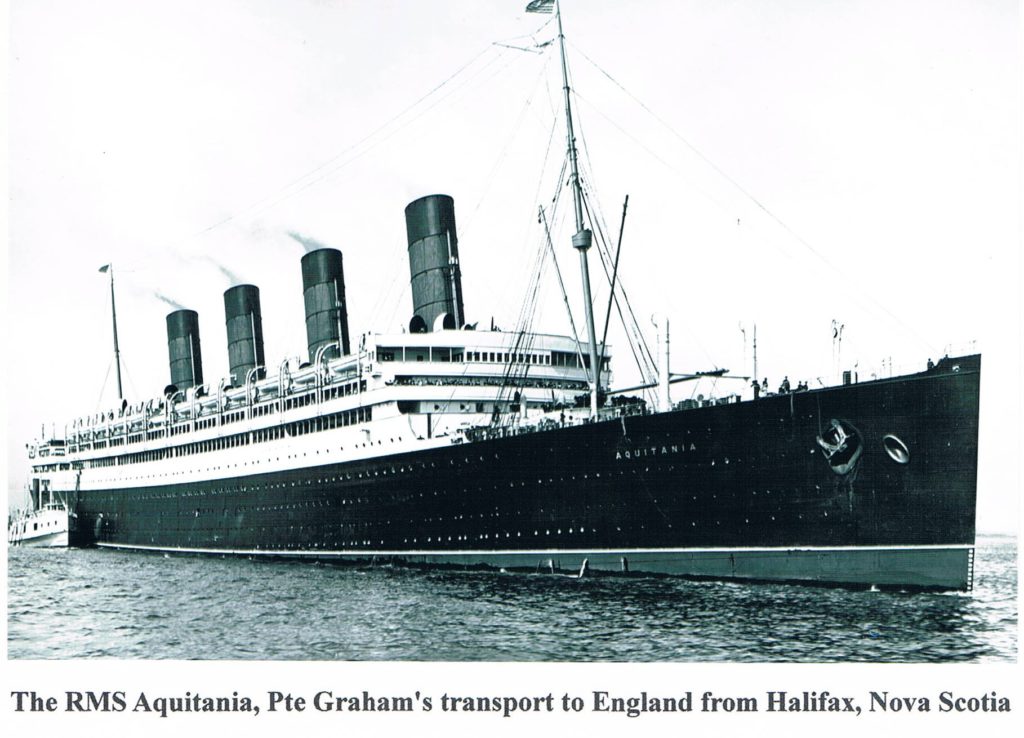 Pte Graham was taken-on-strength with the Canadian Casualty Company No 3 District Depot located in Kingston, Ontario. On February 20, 1919 Pte Graham indicated "he was satisfied to be discharged in Canada". On February 22, 1919 he was discharged from the Canadian Expeditionary Force, No 3 District Depot, Camp Barriefield, Kingston Ontario.The RMS Aquitania, Pte Graham's transport to England from Halifax, Nova Scotia
Private Alfred Henry Graham served a total of 1 year, 1 month, and 19 days with the Canadian Expeditionary Force: 4 months and 3 days in Canada, 8 months and 18 days in England, and 1 month and 9 days in France.
Private Alfred Henry Graham's Military File indicates the Military Medals he was awarded; based on his Military Service, he should have received the:
British War Medal 1914 – 1920; and
Victory Medal.
He also qualified for War Service Badge CEF Class "A".
An excerpt from an article in MacLean's Magazine by Barbara Ameil, September 1996:
"The Military is the single calling, in the world, with job specifications that include a commitment to die for your Nation. What could be more Honourable?"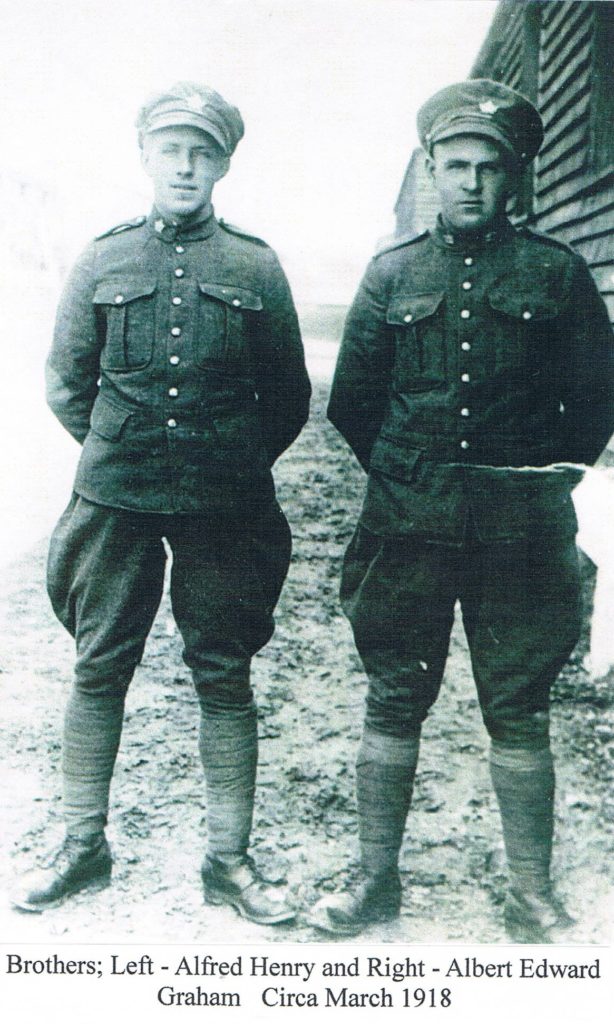 PERSONAL HISTORY
ALFRED HENRY GRAHAM
Alfred Henry was born on the Centre Line of Smith Township, Ontario on January 19, 1894 to Robert Graham and Ellen Maria Sage. Alfred Henry went by the nickname "Fred".
Prior to enlisting Fred worked with his parents who were Hotel Keepers at the Lakefield Commercial Hotel on Queen Street.
Fred was a very good hockey player, a couple financial backers made it possible for Fred to play in Toronto in a higher league.
After WW I ended Fred worked at the Bonnerworth Factory which produced yarn & wool in Peterborough on McDonnel St.
Alfred Henry Graham married Evelyn Armstrong in Peterborough, Ontario on September 20, 1922; they had two children: Joan Graham married Don Laplante and Carl Graham married Gwen Beebe. Evelyn's parents are John Armstrong and Ann Jane Irwin.
Alfred Henry Graham was a proud soldier in WW I; Fred and his brother Albert (Ab) fought with the Princess Patricia's Canadian Light Infantry (PPCLI) in WW I; he was proud to tell people that Princess Patricia inspected their Regiment.
THE ALFRED HENRY GRAHAM FAMILY OF LAKEFIELD
Alfred Henry's parents, Robert Graham, born 1865 and Ellen Maria Sage, born 1867 were married in Lakefield, Ontario on October 15, 1889. Robert and Ellen had 4 children: Ida Victoria, born October 1892; Albert Edward, born June 17, 1894; Alfred Henry, born January 19, 1897 – died in Peterborough July 18, 1978 and James, born 1899. Initially the family lived on the Centre Line of Smith Township; eventually they moved to Regent Street in Lakefield. Robert died August 27, 1945 and Ellen Maria died in 1925; both are interred in the Lakefield Cemetery.