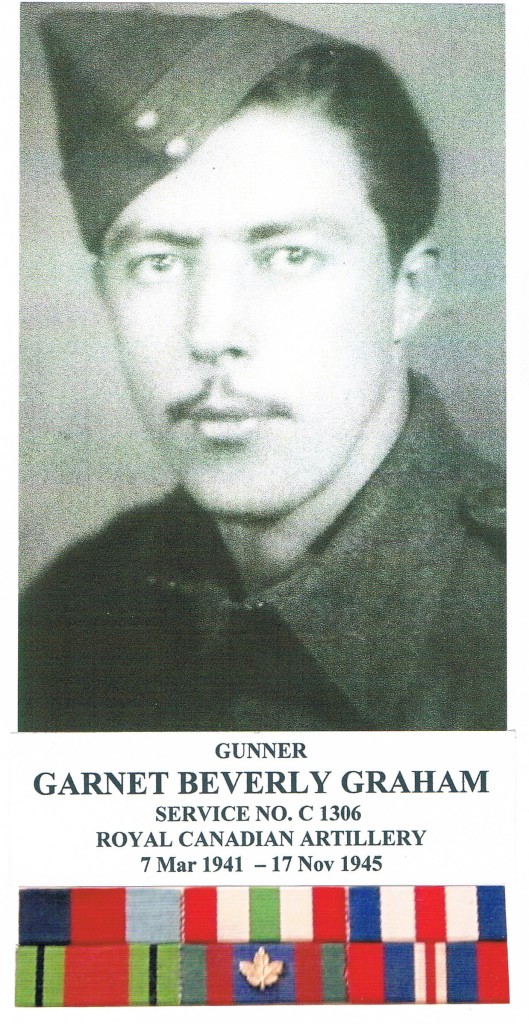 MILITARY HISTORY
Gunner Garnet Beverly Graham – C 1306 — ACTIVE SERVICE (World War II)
Garnet Beverly was 20 years, 8 months old when, as a single man, he enlisted at No. 3 District & Royal Canadian Artillery (RCA) Depot, Kingston Ontario on March 7, 1941 with the Royal Canadian Artillery. He lived in Lakefield, gave his birth‑date as July 26, 1920 and indicate that he had no previous military experience. His previous employment was listed as a painter. At the time he was 5′ 9 3/4″ tall, 37 ½" chest and weighed 145 pounds, brown eyes and dark brown hair. Garnet Beverly had a the tip of his left thumb missing and an appendectomy scar. His next-of-kin was his mother, Clara Graham [his father passed away February 18, 1931]. He entered the RCA as a Gunner with service number C 1306 and was posted to No. 3 District & RCA Depot, Kingston Ontario on March 7, 1941.
Gunner Graham was attached to the Canadian Army (Basic) Training Centre #32 [C.A. (B) T.C.] #32 in Peterborough Ontario on April 4, 1941. On May 19, 1941 he was scheduled to be attached to the Canadian Army Training Centre (A-1) in Petawawa Ontario, and was attached on May 20, 1941. On August 25, 1941 Gunner Graham was admitted to the Petawawa Military Hospital with influenza, he was discharged August 28, 1941. Then, on September 8, 1941 he was granted a furlough to September 16, 1941.
On October 4, 1941 Gunner Graham was transferred from Camp Petawawa and the Canadian Army (October 6, 1941) to the Canadian Army Overseas October 7, 1941. He embarked from Halifax, disembarked at Liverpool, UK on October 18, 1941 and was transferred to 2nd Canadian Artillery Holding Unit (2CAHU) on October 19, 1942. Gunner Graham was granted 5 days leave after landing in the UK October 19, 1941. Then on January 11, 1942 Gunner Graham was moved to 2nd Canadian Artillery Reinforcement Unit (2CARU). On February 5, 1942 he was the transferred to the 1st Medium Regiment (1MedRegt) and was trained on the 5.5 (140mm) Howitzers. On July 28, 1942 he qualified as a Driver Mechanic (MV) Group 3.
On August 3, 1942 Gunner Graham was admitted to 14 General Hospital and was also transferred to 2nd Canadian Artillery Reinforcement Unit (2CARU). He was then transferred from the 14 General Hospital to the 7 General Hospital August 19, 1942 and subsequently discharged August 25, 1942. On September 17, 1942 he was granted 7 days leave after which, on October 26, 1942, he qualified on a Drivers i/c Class C. Course. Gunner Graham was then transferred to 1st Canadian Radio Location Unit (1CRLU) on November 2, 1942. On January 1, 1943 he was granted a Daily Rate of Pay of $1.50 per diem, then on February 19, 1943 Gunner Graham was granted 9 days leave. The next couple moves were to see Gunner Graham located with the 1st Canadian Signal Reinforcement Unit (1CSRU) and then back with the 1st Medium Regiment in preparation for a voluntary re-muster from a Gunner with the RCA to a Lineman with the Royal Canadian Corps of Signals (RCCS) effective June 21, 1943.
September 7, 1943 saw him granted 7 days leave. On October 26, 1943, on embarkation in the UK, he was scheduled to transfer from the Canadian Army (UK) to the Canadian Army (Medium) and this occurred October 27, 1943. He disembarked November 6, 1943 near Napels in Italy. After landing his unit headed south and then back north along the Adriatic coast. They then went south again and back north along the other coast. On January 10, 1944 he was granted the Canadian Volunteer Service Medal with bar (CVSM with Bar). January 20, 1944 he was transferred from 1CSRU to x4 List 3 Bn. Following this, January 27, 1944 he was posted x4 List 3 Bn to x4 List 7 Bn and administration fap to 1RCCS.
In the month of March 1944 there were a number of transfers, postings between Battalions responsibilities reassigned within the 1RCCS. On May 2, 1944 Gunner Graham was posted to 6 Bn, RCA "D" from x4 List 1RCCS. After the administration of the previous punishment Gunner Graham was transferred back to RCA (D) x List on May 29, 1944. Gunner Graham was also transferred to RCA (D) x List who were with the Allied Armies Italy (AAI). In all Gunner Graham spent about 1 year, 4 ½ months fighting in Italy. At one point he was strafed by German fighter aircraft, after diving under a vehicle and huddling by the tires he thought that if the gas tanks were to be hit he could well go up in a ball of fire!
The next move saw Gunner Graham leave the RCA (D) (6 Bn) 4x List to join the 1st Medium Regiment RCA on June 29, 1944. Effective July 25, 1944 Gunner Graham was re-designated as Driver Mechanic (MV) and was attached to 2nd Cdn VDTU October 19, 1944. Then on November 9, 1944 he ceased to be attached to 2nd Cdn VDTU and was transferred to 1st MCR "A", 1st Cdn Med Regt. Gunner Graham embarked at Italy March 11, 1945 and disembarked at France on March 13, 1945. After landing in France Gunner Graham's unit proceeded on almost two months of slugging through Holland. When the Germans bombed the Zuiderzee and Delta Works large areas were flooded which made it very difficult for the troops and citizens. Finally the battle fizzled out; the War was basically over!
The remainder of Gunner Graham's time overseas was spent in the field. On May 22, 1945 he proceeded on leave to the Kwick RA. About this time, he met up with his brother, F/Sgt Graham, in England while on leave from fighting in Italy. August 2, 1945 saw him transferred to Central Registry (CR) 1MedRegt and from there to x3 List RCA (B) on August 24, 1945. After some more moves (on paper) on August 31, 1945 Gunner Graham was moved to 346 Comd. 3 and from there to 5 Cdn. Depot on September 4, 1945. Unfortunately, on September 6, 1945 Gunner Graham was admitted to the 22 Canadian General Hospital (22 CGH) in France. He was transferred to 1 Cdn Repatriation Depot on September 7, 1945
September 9, 1945 Gunner Graham was awarded the following medals:
1939 – 45 Star;
Italy Star;
France & Germany Star;
Defence Medal;
Canadian Volunteer Service Medal with Bar; and
War Medal 1939 – 45.
He also qualified for War Service Badge A.
Gunner Graham embarked to Canada on September 25, 1945 after being released from the hospital. He was posted to #3 DD Kingston Ontario. Gunner Graham was discharged from #3 DD, Kingston Ontario, November 17, 1945. His rate of pay on discharge was $2.75 and he was granted $100.00 Clothing Allowance and awarded a War Service Gratuity of $879.30 for being in the Service for 1,598 total days of which 1,339 days were logged overseas.
Gunner Graham served in Canada from March 7, 1941 to October 6, 1941 (214 days), England from October 7, 1941 to October 26, 1943 (750 days), the Canadian Mediterranean Force (Italy) from October 27, 1943 to March 11, 1945 (502 days) and Northwest Europe (Holland) from March 12, 1945 to May 8, 1945 (57 days). He completed two courses with the Royal Canadian Artillery: a Driver course October 26, 1942 and a Driver Mechanics course in July 28, 1942. In June 1943 Gunner Graham became Signalman Graham; he had decided to try the Royal Canadian Corps of Signals. This endeavour lasted for one year at which time he was able to return to the Royal Canadian Artillery.
Gunner Graham spent about nine months in Canada and two years in England being trained in all aspects of his trade. He then served as second-in-command (2 i/c) Gunner, responsible for loading the gun, in Italy for about 16 months and about two months in Holland. During Gunner Graham's tour of duty he also served as a driver and became very handy with carpentry tools through assisting in construction work on military camps. During his time in the Service he allotted about $20.00 per month of his pay to his mother.
An excerpt from an article in McLean's magazine by Barbara Amiel, September 1996:
The military is the single calling in the world with job specifications that include a commitment to die for your nation. What could be more honorable?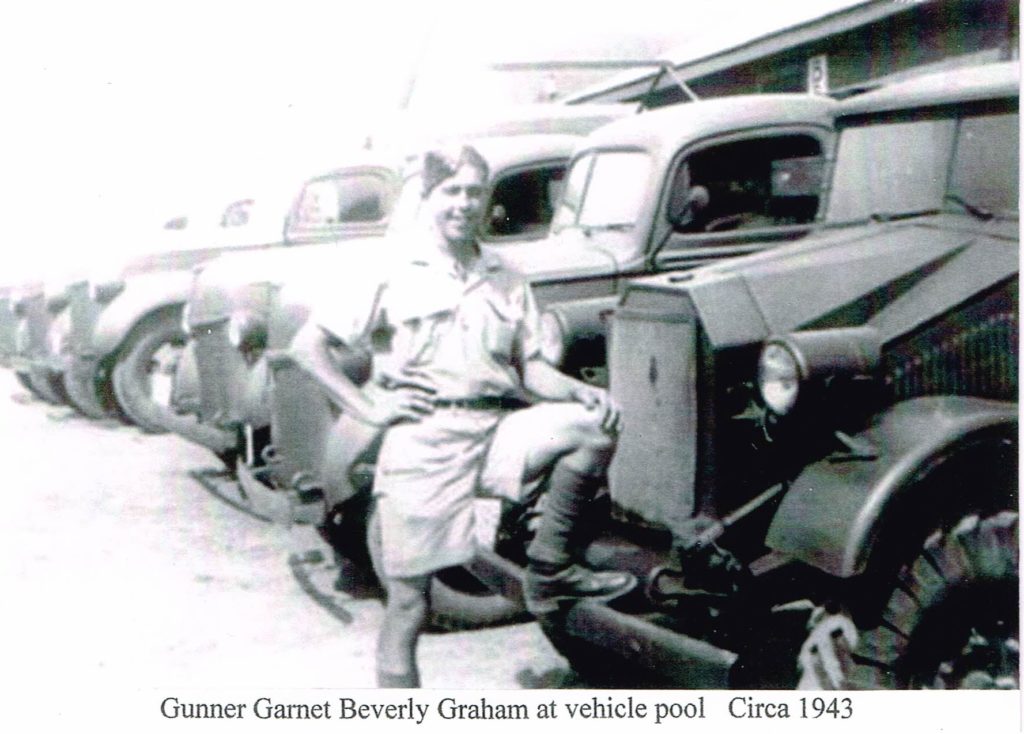 PERSONAL HISTORY
GARNET BEVERLY GRAHAM
Garnet Beverly was born July 26, 1920 in Smith Township, Peterborough County, Ontario, the tenth of 12 children, 10 boys, 2 girls, born to Clara and Isaiah Graham. His father passed away when Sweeney, was 10 years of age. His mother, a remarkable lady, kept the household together in their own home on Nelson St. with the assistance of the older children, and by keeping boarders. To know any of the Graham family was to readily become aware of the love, respect and devotion they shared for their mother, Clara. Garnet Beverly is known by most people as "Sweeney", a nickname which he himself uses as a first name, and which he gained as a youngster from a boarder in their home, Bishop Sweeney.
Prior to enlisting with the Royal Canadian Artillery (RCA) in World War II Sweeney worked at painting and carpentry, mostly as a "rough" carpenter for three years (1937 to 1941) but also including road construction for various employers in Lakefield and Timmins Ontario. Immediately prior to enlisting March 7, 1941 he worked as a painter and carpenter for 9 months, earning $35.00 per week.
Sweeney, like most of his other brothers loved to hunt, fish, curl, golf, and play cards. He was described by family members as one who was fond of argument regardless of the acceptance of his unwavering opinion. As well he was always willing, even hasty, to join in a tussle, but regardless of the outcome was equally willing to resume friendship. He was, and is today at age 92, very humerous, witty, and comes out with extremely funny and entertaining statements in his description of any past event.
Upon his discharge from the RCA Sweeney lived at home with his mother on Nelson St., Lakefield. In civilian life he had several options for employment. One was the poultry business with older brother Walter, in Timmins, and a second, truck driving, as he had army training and experience as a Driver Mechanic. However he reverted to carpentry where he became extremely proficient and widely recognized for his aptitude, speed and skill and that he rarely, if ever, made an error.
On February 18, 1946 Sweeney was accepted for Veterans benefits to begin a 6-month period of Vocational Training in Brockville Ontario. He was to have the Carpentry T & T I course and be provided with $60.00 per month for 6 months. On June 24, 1946, Sweeney received rehabilitation funding; $50.00 per month for a two week period. After completing his training, in October 1946, he accepted a job at the American Nepheline Mines which ended only a couple of months later, December 7, 1946, due to work shortage. This shortage could well have been the result of Sweeney's exceptional ability, as described beforehand.
On January 14, 1947 Sweeney qualified for Out-of-Work Allowance (OWA) and received $50.00 per month for 4 months and a daily OWA of $1.92 per day for 132 days totalling $253.44. Finally,
on May 9, 1949 he was awarded benefit of $314.69 for carpenter tools which were purchased at Leonard's Hardware, Lakefield. They were of excellent quality and with the great care rendered by Sweeney, they lasted for years, several of which were passed down to his grandson, John Freeburn, who presently continues in the trade.
He worked for Art Kingdon, in the Kingdon Homes section, for a long period of time, and was foreman. They built a large number of homes (one of which was for Lakefield boy, Don "Red" Wasson) in what was called the land assembly area, a huge development for the time in the North-East part of Peterborough City. (N. of Hilliard, S. of Barnardo, and from Dumble, on the West to the East city limits). He was a really quick worker, able to do things correctly the first time. He would talk and clown constantly, while never lifting his head from the duties at hand. When you hired Sweeney to do a job you certainly got your money's worth. In later years he went out on his own with contracting and renovation work in Lakefield and area, and became always busy and quite successful, continuing until his retirement.
In the summer of 1950, Sweeney married Jean Allan Smith, born July 22, 1927 in Hamilton, Scotland, died August 19, 2008, a sister of Betty, who had previously married Sweeney's brother, Theodore (Red) Graham. The Smith girls came from Scotland to Timmins when young children, and then as young ladies, came to Peterborough working in the war industries at Genelco, a division of CGE. Jean and Sweeney had 5 girls, no boys. Their daughters are: Charlene Jean, born September 7, 1953, Janice Lynn, born July 31, 1954, Valerie Ann, born August 25, 1957, died September 20, 2012, Laurie Leah, born January 6, 1961 and Carla Jane, born April 8, 1962. All the Graham children live in the Lakefield area.
The marriage and relationship of Jeannie and Sweeney ended about 27 years ago, circa 1985. Never divorcing, they continued to live separately in Lakefield.
After the separation, about 1987, Sweeney suffered a severe, life threatening, brain aneurism, requiring extensive major surgery. Since then he no longer has the zeal to argue. His surgery has left him with little, almost non-existent short term memory, however his long term memory is tremendous, nothing short of amazing, delivered with accuracy and in an entertaining manner on a multitude of subjects. Sweeney lives alone, and at age 92 can be found daily, cruising around our village in his white half ton truck, identified both by the slow speed and the name "SWEEN" on the plate. Having spent almost all his life in Lakefield, he continues to be a source of joy with his companionship during his twice daily trips to Tim's for coffee! He is quite the guy, and he is our guy!
Sweeney purchased Foster's garage from Clarence Foster. It was located between the bridges, on the south side, directly across Bridge Street from old location of the Lakefield Legion.  There is a road, now called Hill St. at the west edge of the property which leads down to the Lakefield Locks, with the canal being on the west side of the street, and Sweeney's old place being on the east side of this street.  He did not have it for very long. I believe he sold City Service gas and oil products. When he bought it he hired Wayne Dracup, as a mechanic, luring him away from Frank S. Coyle.
Garnet Beverly Graham died January 19, 2015 in Peterborough, Ontario and is interred in the Lakefield Cemetery, Lakefield Ontario.
THE GRAHAM FAMILY OF LAKEFIELD
Isaiah Graham, born April 3, 1873 in Smith Township, Peterborough County died Feb 18, 1931 in St. Joseph's Hospital, Peterborough Ontario due to a brain tumour. He married Karen Marie (Clara) Rasmussen, born 1880 in Denmark, on February 2, 1902 in Duluth Minnesota, USA. She died October 25, 1968, in Lakefield Ontario. Isaiah, a farmer, moved his family to Lakefield in 1923/24. Isaiah's father was Henry Graham, born in Ireland; his mother was Annie McConkey, born in Scotland.
Isaiah and Clara Graham had 12 children; ten boys and two girls in the following order: Ena (Annie) Graham, born August 24, 1903 in Duluth Minnesota; George Henry Graham, born April 23, 1905 in Duluth Minnesota; Walter Edward Graham, born April 10, 1907 in Duluth Minnesota; Mary Ellen Graham born June 2, 1909 in Smith Township, Peterborough County; Gerald Graham, born July 17, 1911 in Smith Township, Peterborough County; Norman Graham, born May 27, 1913 in Smith Township, Peterborough County; Theodore Graham, born March 21, 1915 in Smith Township, Peterborough County; Wesley James Graham, born July 15, 1916 in Smith Township, Peterborough County; Allen Ernest Graham, born July 6, 1918 in Smith Township, Peterborough County; Beverly Garnet Graham, born July 26, 1920 in Smith Township, Peterborough County; Elmer Fraser Graham, born June 23, 1923 in Smith Township, Peterborough County; and Arnold Mervin Graham, born December 12, 1925 in Lakefield Ontario.
Their mother, Clara, a remarkable lady, kept the household together in their own home on Nelson St. with the assistance of the older children, and by having boarders. To know any of the Graham family was to readily become aware of the love, respect and devotion they shared for their mother, Clara.
In Lakefield, during the WW II times, it was a common sight to see Mrs. Clara Graham coming out of the Post Office with a bundle of mail. All seven of her sons wrote to her on a frequent basis.