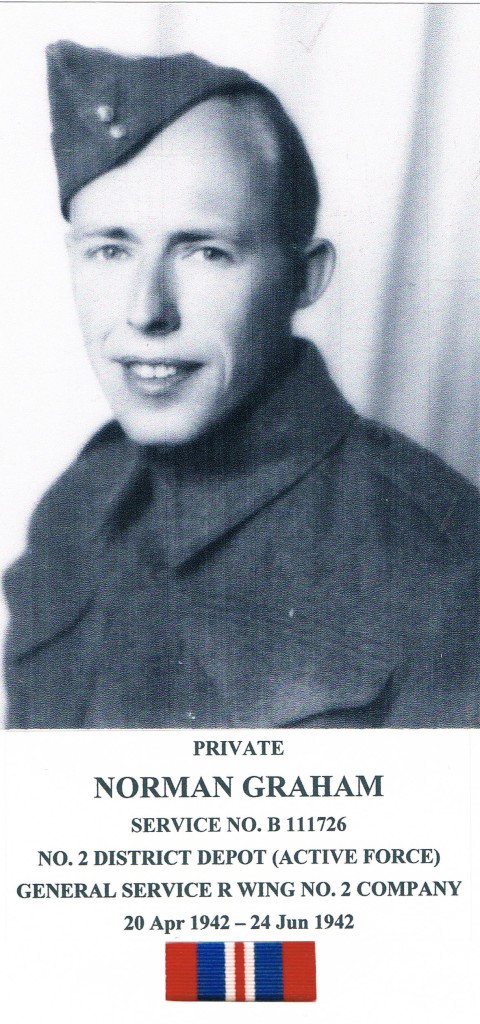 MILITARY HISTORY
Private Norman Graham – B 111726 — ACTIVE SERVICE (World War II)
Norman was 29 years, 1 month old when, as a married man, he enlisted to the No 2 District Depot (Active Force), General Service R Wing No 2 Company at Toronto Ontario on April 20, 1942. He lived on Queen Street, Lakefield Ontario, gave his birth-date as May 27, 1913 and indicate that he had no previous military experience. His previous employment was listed as a welder. At the time he was 5′ 9 ½? tall, blue eyes and brown hair. His next-of-kin was his wife, Mrs. Violet Helen Graham. He entered the Service as a Private with service number B 111726 and was taken on strength to R Wing No 2 Company (Coy), Toronto Ontario on April 20, 1942.
On May 16, 1942 Private Graham was transferred to No 20 Basic Training Centre (BTC), Brantford Ontario. June 24, 1942 he was struck off strength from 20 BTC for all purposes on being discharged due to "Unable to meet the required physical standards" and given a Category "E".
Private Graham was entitled to receive clothing allowance of $17.00 and be paid through the Pay List. He was discharged on June 24, 1942. Private Graham was awarded War Medal 1939 – 45 is qualified for War Service Badge C.
During his time in the Service he would have allotted $20.00 per month of his pay to his wife.
An excerpt from an article in McLean's magazine by Barbara Amiel, September 1996:
The military is the single calling in the world with job specifications that include a commitment to die for your nation. What could be more honorable?
PERSONAL HISTORY
NORMAN GRAHAM
Norman was born May 27, 1913 in Smith Township, Peterborough County, Ontario, the sixth of 12 children, 10 boys, 2 girls, born to Clara and Isaiah Graham. His father passed away when he was about 17 years 9 months of age. Norman was known by most people as "Shiner". Norman left school at 15 years old after completing 8 years of Public School. His employment just prior to enlisting was the Canadian General Electric Company, Peterborough as a welder for about 3 years.
Shiner opened an auto-body shop, in the building which is now (2014) "Debbie's Lakeland Restaurant", at 98 Queen St., Lakefield – Circa 1942. About 1949 he renovated the building and opened a restaurant called "Shiner's Place". Circa 1952 Gordon (Pete) Bowen purchased the restaurant from Shiner and it subsequently ended up with Debbie Dunford. Shiner also worked at the Lakefield Creamery and in the Liquor Control Board of Ontario (LCBO), Lakefield. At one point, after he was married, he transferred to the LCBO in Hagersville.
His interests were many: a gifted hunter for deer, fox and rabbits; a fisherman; an avid and very good Bridge player and very much into horse racing – even owned a harness race horse.
Norman married Violet (Vi) Helen Hudson, born November 21, 1920; they had 4 children: Cindy; Brent Alfred, married Barbra Ring on March 6, 1970 in Peterborough and had 3 children – Jason, John & Kenneth; Peter, married Lynn Loucks on Dec. 3, 1969 and had 3 children: Paul, Karen and Randy; and David. They lived on Queen Street in Lakefield (at least in 1942). Shiner and Vi separated and at that time Shiner relocated to Hagersville to be the Manager of the LCBO store. Shiner and Vi were always on speaking terms but never reunited.
Norman Graham died on October 30, 1995 at the Peterborough Regional Health Centre, at 82 years 5 months of age.
THE GRAHAM FAMILY OF LAKEFIELD
Isaiah Graham, born April 3, 1873 in Smith Township, Peterborough County died Feb 18, 1931 in St. Joseph's Hospital, Peterborough Ontario due to a brain tumour. He married Karen Marie (Clara) Rasmussen, born 1880 in Denmark, on February 2, 1902 in Duluth Minnesota, USA. She died October 25, 1968, in Lakefield Ontario. Isaiah, a farmer, moved his family to Lakefield in 1923/24. Isaiah's father was Henry Graham, born in Ireland; his mother was Annie McConkey, born in Scotland.
Isaiah and Clara Graham had 12 children; ten boys and two girls in the following order: Ena (Annie) Graham, born August 24, 1903 in Duluth Minnesota; George Henry Graham, born April 23, 1905 in Duluth Minnesota; Walter Edward Graham, born April 10, 1907 in Duluth Minnesota; Mary Ellen Graham born June 2, 1909 in Smith Township, Peterborough County; Gerald Graham, born July 17, 1911 in Smith Township, Peterborough County; Norman Graham, born May 27, 1913 in Smith Township, Peterborough County; Theodore Graham, born March 21, 1915 in Smith Township, Peterborough County; Wesley James Graham, born July 15, 1916 in Smith Township, Peterborough County; Allen Ernest Graham, born July 6, 1918 in Smith Township, Peterborough County; Beverly Garnet Graham, born July 26, 1920 in Smith Township, Peterborough County; Elmer Fraser Graham, born June 23, 1923 in Smith Township, Peterborough County; and Arnold Mervin Graham, born December 12, 1925 in Lakefield Ontario.
Their mother, Clara, a remarkable lady, kept the household together in their own home on Nelson St. with the assistance of the older children, and by having boarders. To know any of the Graham family was to readily become aware of the love, respect and devotion they shared for their mother, Clara.
In Lakefield, during the WW II times, it was a common sight to see Mrs. Clara Graham coming out of the Post Office with a bundle of mail. All seven of her sons wrote to her on a frequent basis.