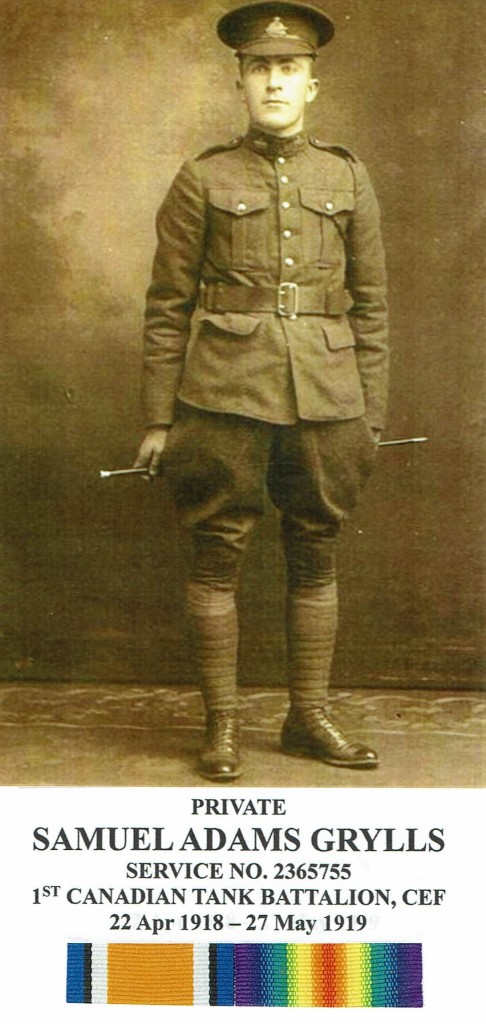 MILITARY HISTORY
Private Samuel Adams Grylls – 2365755 —- ACTIVE SERVICE (World War I)
On April 22, 1918 Samuel Adams Grylls was drafted under the provisions of the Military Act of 1917. Samuel Adams signed the Declaration of Recruit on April 22, 1918 at the University of Toronto (U of T). He gave his date of birth as December 9, 1894 and place of birth as Lakefield, Ontario. Samuel Adams was 24 years and 4 months old when, as a single man, he was drafted for the duration of the War. On his Declaration he indicated "he did not presently belong to an Active Militia and that he had never served in any Military Force". There is nothing on his File to indicate where he was educated or to what level. As far as his Trade or Calling is concerned, he lists Bank Clerk. Samuel Adams was 5′ 5" tall, with a 33" chest (expanded); his weight is listed as 117 pounds. He had a medium complexion, with blue eyes and brown hair. Samuel Adams' Medical Examination indicates that he had no medical issues or physical limitations, and as such he was deemed fit for Overseas duty. His next-of-kin was listed as his mother Sarah Grylls of Lakefield, Ontario. Following his being drafted, Samuel Adams was on a Course at the Non-Commissioned Officer (NCO) Training Depot, U of T from April 22 to 28, 1918. He was transferred from U of T on May 1, 1918 and was taken-on-strength with the 1st Canadian Tank Battalion (CTB) the same day. Private (Pte) Grylls was assigned Regimental Number 2365755.
The development of the Tank in WWI (1915) was meant to break the stalemate that the trench warfare had created and at the same time reduce the heavy casualties associated with War in the trenches. The British were the first to develop and use the tank, followed by the French and to a much lesser degree the Germans. The French actually produced more tanks than the British and Germans combined. The original tanks were plagued by mechanical problems, but eventually these problems were solved and the tank became a useful weapon later in the War. Although they were slow, moving forward at only a walking pace, they could traverse the crater filled battle ground that other vehicles could not, cut through the barbed wire, survive machine gun fire and act as shields for the advancing Infantry.
The idea of creating a Canadian Tank Battalion was first raised in January 1918 in a conversation between Major General H. J. Elles, General Officer Commanding the British Tank Corps and a Canadian Officer on his Staff, Lieutenant Colonel James Edgar Mills who suggested that "Canada should be involved in this new form of warfare". Ottawa was receptive to the idea and appointed Lieutenant Colonel Richard Denison of the Winnipeg Rifles who was to raise and Command this new Unit.
"The 1st CTB was activated in 1918 and was made up of students, chauffeurs, and North West Mounted Police (NWMP) Troopers". The Battalion was made up of 3 Companies; one was raised at the University of Toronto, another at McGill University and the third came from the other Universities in Canada. "Students were informed that if they did not care to go to the 1st CTB they would be drafted as general reinforcements to the Canadian Infantry Divisions".
The 1st CTB, as a whole, came together in Ottawa, Ontario before they were shipped to England. Pte Grylls, with the 1st CTB, embarked probably at Halifax, Nova Scotia aboard the SS Cassandra, around June 12, 1918.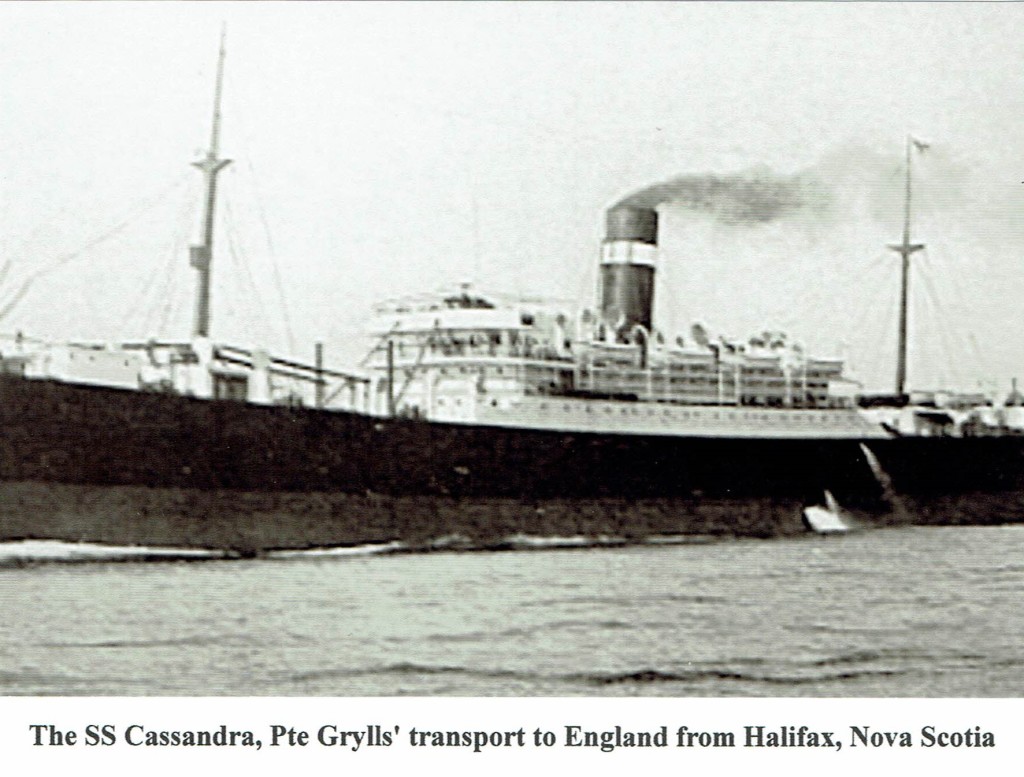 Pte Grylls, with the 1st CTB, arrived in England on June 21, 1918 with a combat strength of 92 Officers and 716 Other Ranks. It is reported that a considerable number of both the Officers and Other Ranks possessed significant mechanical skills which were a benefit to the Unit.
The 1st CTB was transported to the Military Garrison located at Bovington, Dorset County, England, which was the Training Base for Tank Warfare. The Unit trained in the British Mark IV Tank.
"Tank crews were comprised of 8 men with two drivers (one for the gearbox and another for the brakes) and two others controlling the gears of each track. This system needed perfect coordination which was difficult due to the extreme noise inside and the leather protective helmets they used. The other 4 crew men were the gunners, operating the main gun (a 6 pounder) and the machine guns. In addition to the noise, the crew also had to contend with near 50° Celsius inside temperature. As well as the powerful emanations of carbon monoxide, cordite, fuel and oil vapours".
On October 16, 1918 Pte Grylls was admitted to the Bovington Garrison Infirmary suffering from Influenza and was discharged on November 12, 1918.
The 1st Canadian Tank Battalion never saw action; they were still training when the War came to an end.
Pte Grylls and the 1st Canadian Tank Battalion embarked from Southampton aboard the RMS Aquitania on May 25, 1919 and arrived in Halifax, Nova Scotia on May 25, 1919.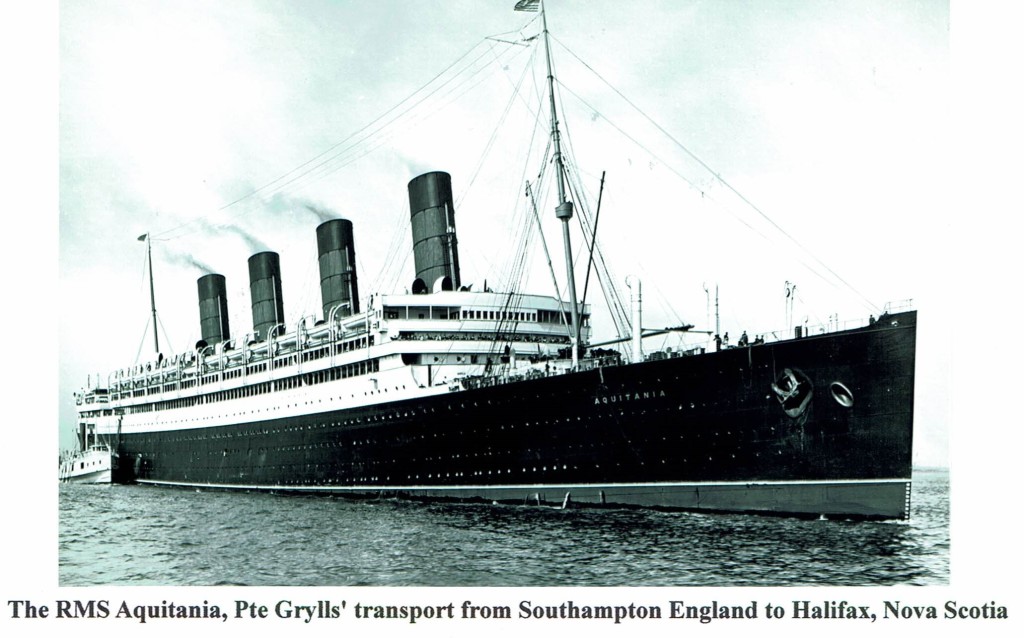 Private Grylls was discharged from His Majesty's Service at Stanley Barracks, No 2 District Depot, Toronto, Ontario on May 27, 1919.
There is no mention in the File with regards to what Military Medals that Private Samuel Adams Grylls was eligible to received or was awarded. Based on his Military Service, he was awarded the:
British War Medal; and
Victory Medal.
He would have also received the CEF Class "C" War service Badge.
Based on his Military File, Private Samuel Adams Grylls served a total of 13 months and 5 days with the 1st Canadian Tank Battalion – Canadian Expeditionary Force: 2 months in Canada, and 11 months in England.
An excerpt from an article in Maclean's by Barbara Ameil, September 1996:
The Military is the single calling in the world with job specifications that include a commitment to die for your nation. What could be more honorable.
PERSONAL HISTORY
SAMUEL ADAMS GRYLLS
Samuel Adams Grylls was born December 9, 1894 in Lakefield, Ontario; son of Charles Henry Grylls and Sarah Ann Scott. Samuel Adams went by the name "Sam". He would have completed Public School (Grade 8) and perhaps High School in Lakefield (Records don't specify his level of education). Initially, Sam worked in Lakefield at the Royal Bank and then, prior to enlisting, in Toronto for the Royal Bank as a Clerk.
After being discharge from the Canadian Army Sam became a Purchasing Agent for the Canada Cement Company in Lakefield.
According to the 1921 Census Sam was a lodger living with Albert and Mammi Collins at 85 Avondale Street, Toronto Ontario. He was 26 years old and working as an Accountant.
Samuel Adams Grylls married Mayme Kathlyn Brown, born August 8, 1903 in Durham, Ontario; on September 1, 1926 in Lakefield. During this time they lived in an apartment over the Royal Bank which was rented from Billy Casement. Samuel and Mayme had a son; John David Grylls. Mayme's parents were Herbert John Brown and Mary Selina (Lena) Nugent. Sam took a job working at the Canada Cement Company in Lakefield.
In 1931 Sam and Mayme Grylls bought their home at 9 King Street, Lakefield. The house had electricity and was first heated with wood and later heated by coal which was purchased from W. J. Charlton Fuels. Then in 1932 the Canada Cement Plant closed but the office staff was kept on for a year at half pay and then they were let go. Then Sam worked for a while at the Gordon Boat Company in Bobcaygeon, and during this time John David and his mother lived there in a tent. Originally, the Gordon Boat Company operated out of Lakefield before re-locating to Bobcaygeon. He next got a job keeping books for a construction company in Parry Sound. During this time, John and his mother stayed in Lakefield and visited Samuel once.
On November 11, 1936 Samuel started working for Ontario Hydro where he remained for 23 years. The first thing Sam did was pay off the mortgage on the house. In 1938 Jack Brown came to Sam and told him to buy a lot on Clear Lake; the price was $150.00. The problem was Sam didn't have $150.00 so he borrowed $150.00 from the Royal Bank and bought the lot on Clear Lake where he first build a cabin and then a cottage.
The Grylls family would travel back and forth on the "Islinda" steamboat, taking it from Lakefield to the cottage on Clear Lake. They would get off the boat at Young's Point and walk down a path through the woods to the cottage. The family cottage was sold in the spring of 1972, shortly before Sam's death, in 1973.
Samuel Adams Grylls passed away on June 16, 1973; Mayme passed away on September 17, 1988; they are interred in Hillside Cemetery in Lakefield with their son John David.
THE SAMUEL ADAMS GRYLLS FAMILY OF LAKEFIELD
The Grylls family came from Egloskerry Cornwall, near Launceston, England. When Charles Henry's father died he was left with two one-way tickets to Canada and a bit of money. In 1853 Charles and his wife, Annie, immigrated to Upper Canada.
Samuel Adams' grandparents are Charles Henry and Sarah Ann (Annie) Downs. Charles, born December 21, 1830 and Annie Down, born October 31, 1835 were married in England. Charles was a labourer and after arriving in the Peterborough County area he rented a farm near Lakefield from Joseph Nelson. Charles and Annie had at least three children: Charles Henry Jr., born February 8, 1856; John Couch A., a teacher, born in Upper Canada, July 7, 1858; and Laura, a teacher, born in Ontario, August 8 1868. Charles died March 14, 1920 and Annie died April 17, 1916; both are interred in Hillside Cemetery in Lakefield.
Samuel Adams' parents Charles Henry Grylls Jr., born February 8, 1856 in Upper Canada and Sarah Ann Scott, born May 1, 1857 in England were married January 28, 1886 in Lakefield, Ontario. Charles Jr., a canoe builder, and Sarah had three children: Frank Vernon, born in Ontario February 12, 1887; Eugenie Ada, born in Ontario February 2, 1893 married Gordon Finlay Northey in Lakefield on July 8, 1916; and Samuel Adams, born in Ontario December 9, 1894. Charles (Jr) was a builder, not a seller so he got his Captain's Licence so he could drive boats in the Summer. This allowed him to get a job maintaining and driving a Launch for Dr. Race, a dentist from Brooklyn, New York.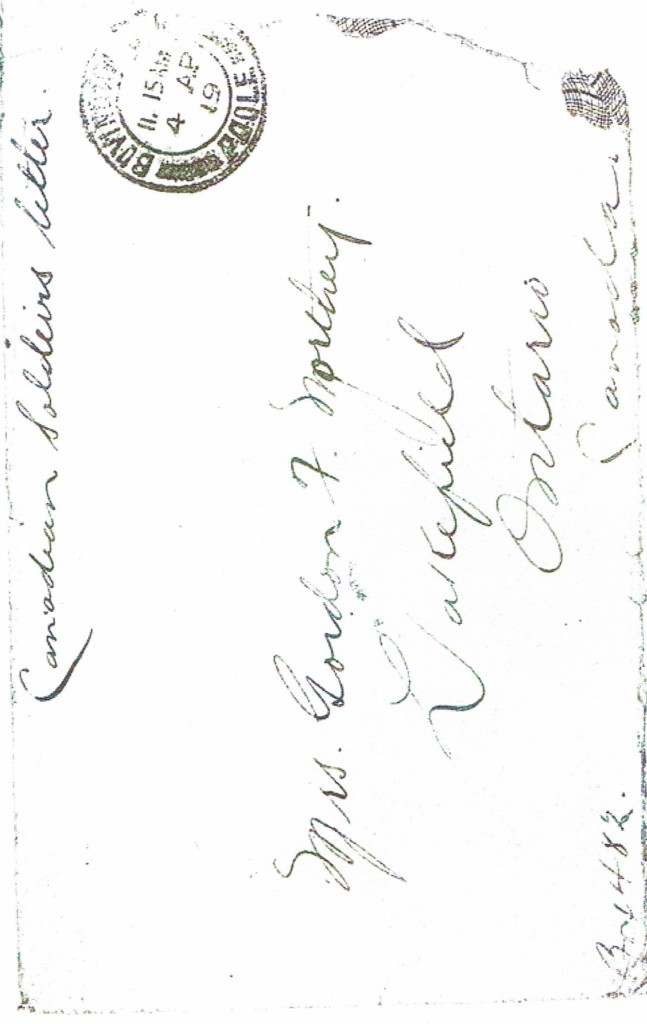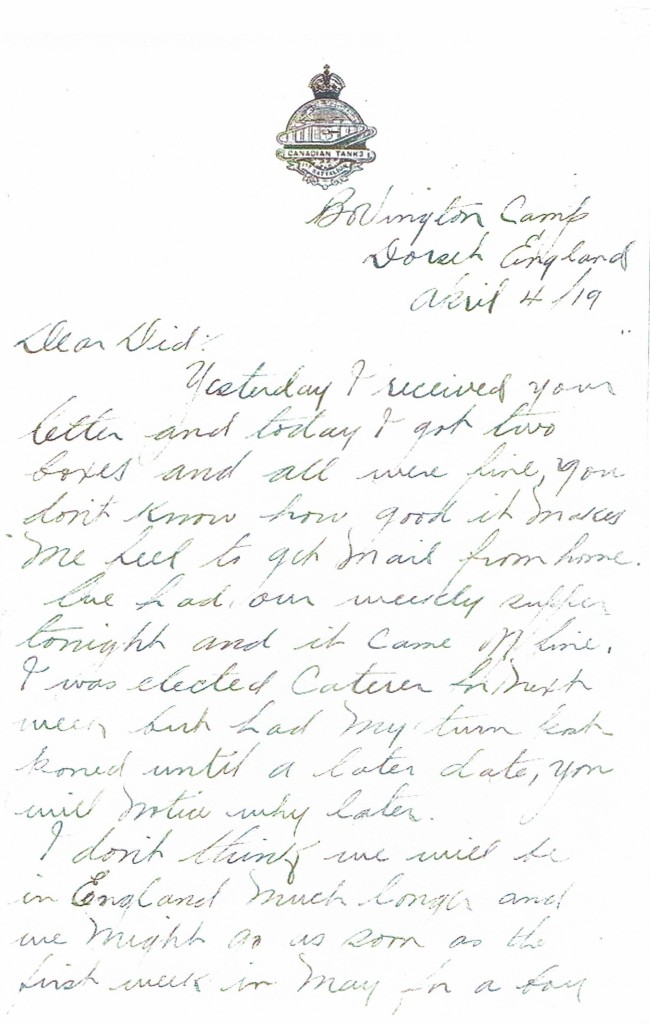 Bovington Camp
Dorset, England
April 4, 1919
Dear Did: (Dad)
Yesterday I received your letter and today I got two boxes and all were fine, you don't know how good it makes me feel to get mail from home.
We had our weekly supper tonight and it came off fine. I was elected Caterer for next week but had my turn postponed until a later date, you will notice why later.
I don't think we will be in England much longer and we might go as soon as the first week in May for a boy wrote down from London that we were dated to sail on May 3rd and as General Turner is going to expect us tomorrow I think it looks like leaving soon and they are also busy around the stores. Orderly rooms and Pay Office and the Main boys are going to London very often, so look out.
I have had an easy week of it as Captain Murray was away and next week Captain Smith goes and as my friend Bastien has only one man now I am going to get him to look after Captain Murray next week and I will take a few days in Plymouth with Uncle John. You spoke of going to send some money well look Did if you haven't as yet I would like some as I will be dead broke when I get back as I have now only 3 pounds but if I land a bed and eats at Uncle John's I will be O.K. and will get a ring for Ruth if I can buy one with what I have left. I take they are rich and if you think you can't get the money here by May 1st or about then, you might better cable some and when I get it I will take a slide to Bournemouth or London and buy candlesticks for the fire place.
I am sending you a silver ring made by my friend Fritz. I ordered it small and said it was for you so he gave it to me and I slipped him a package of tobacco and he was well made up.
Will have to close for now as it is late so with Love and 'XXX' to all.
From Sam
Say Did cable the money &
I might get another leave.