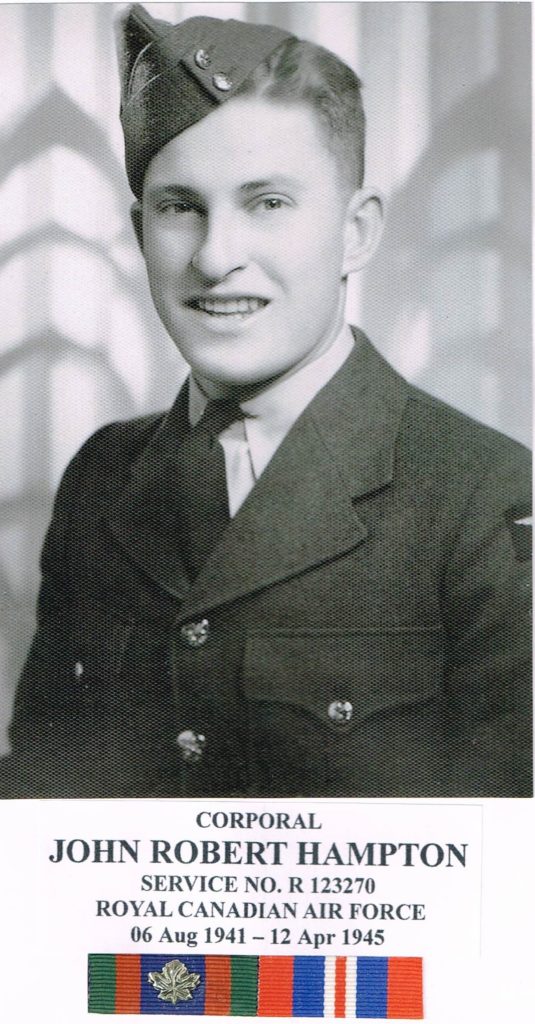 MILITARY HISTORY
Corporal John Robert Hampton – R 123270 – ACTIVE SERVICE (World War II)
On March 30, 1941 John Robert Hampton completed the Attestation Paper for the Royal Canadian Air Force (RCAF) at the RCAF No 11 Recruiting Centre in Toronto, Ontario. He was 19 years and 25 days old when, as a single man, he enlisted for the duration of the War. John Robert indicated that he was born in Lakefield, Ontario and gave his birth-date as June 5, 1921. He indicated that he did not have any previous Military experience. He attended the Lakefield Public School from 1927 to 1936. John Robert lists Labourer as his Trade or Calling. His next-of-kin was his father; Richard John Hampton of Lakefield. There is no indication when or where John Robert's Medical was carried out, but based on the fact that he did serve, it is obvious that he was deemed fit for duty with the RCAF. He was 5′ 6" tall, with a medium complexion, blue eyes, and brown hair. On July 9, 1941 he was tested for the trade of Air Frame Mechanic – metal. John Robert Hampton signed the Oath and the Certificate August 6, 1941 at No 11 Recruiting Centre, Toronto. He was then enrolled as Air Crew in the rank of Aircraftman 2nd Class (AC 2) [Private Recruit equivalent] with Service Number R 123270.
Nothing in the File indicates where AC 2 Hampton was between March 30, 1941 (when he signed the Attestation Paper) and August 6, 1941 (when he signed the Oath and Certificate). His Service Record started August 6, 1941.
On August 6, 1941 AC 2 John Hampton was taken-on-strength with No 1 Manning Depot (MD) in Toronto, Ontario with the Royal Canadian Air Force for basic training. All training was part of the British Commonwealth Air Training Plan (also known as the Joint Air Training Plan [JATP]). His basic training at No 1 MD, which generally lasted 4 to 5 weeks, would have included; "how to bathe, shave, shine boots, polish buttons, maintain his uniform and otherwise behave in the required RCAF manner". In addition there were; "two hours of physical education every day, and instruction in marching, rifle drill, marching, saluting, taking orders, and getting use to other Military routines". They also underwent an endless series of inoculations.
On September 1, 1941, AC 2 Hampton was struck-off-strength from No 1 MD and he was taken-on-strength with the Technical Training School (TTS) located at St Thomas, Ontario, where he began his training as an Air Frame Mechanic. He was admitted to the Station Hospital on December 8, 1941 and discharged on December 13th. No explanation is provided.
On January 17, 1942 AC 2 Hampton was promoted to Aircraftman 1st Class (AC 1). January 21, 1942 he was struck-off-strength from the TTS and was taken-on-strength with the No 11 Service Flying Training School (SFTS) located at Yorkton, Saskatchewan. After six months of training, on July 1, 1942, AC 1 Hampton was promoted in rank to Leading Aircraftman (LAC). October 1, 1942 LAC Hampton received qualification as a Fitter II "A" Class, he had reached the top designation for his trade. November 5, 1942 LAC Hampton was struck-off strength from No 11 SFTS and taken-on-strength at No 1 Y Depot (an Overseas Transit Depot) located at Halifax, Nova Scotia. November 21, 1942 he was struck-off-strength from No 1 Y Depot on transfer to the Royal Air Force Trainees Pool. He embarked from Canada on November 21, 1942 for the UK arriving November 30, 1942. December 1, 1941 he was taken-on-strength with the No 9 Recruit Centre at Blackpool, England. On December 15, 1942 he was struck-off-strength from No 9 RC and taken-on-strength with the 431 "Iroquois" Squadron as part of the Bomber Squadron Ground Crew.
The 431 "Iroquois" Squadron was formed up November 11, 1942 as part of Bomber Command. It began operations as part of No 6 (RCAF) Bomber Group on March 2, 1943. Initially, it was stationed out of Burn, England, where it operated the Vickers Wellington Mk 10 Aircraft. It moved to Tholthorpe, England, when it
converted to the Handley Page Halifax Aircraft. It then moved to Croft, England, where it was converted to the Lancaster Mk X Aircraft.
It was the responsibility of the Ground Crew to keep the aircraft in working order and available for the next mission. Air Frame Mechanics, of which LAC Hampton was one, were responsible for all mechanical components of the aircraft, except for the electronics and the engines. With the Squadron switching through 3 different aircraft (Wellington, Halifax, and Lancaster) each with its on unique characteristics, it would have required the Ground Crew to continuously upgrade their skills.
On July 15, 1944 LAC Hampton was promoted to Temporary Corporal. On September 16, 1944 he was struck-off-strength from the 431 Squadron to RCAF No 64 Operational Base located at Middleton, St. George in England. On September 17, 1944 he attended a two week course at Dowty Hydraulics Equipment Works which he passed
Cpl Hampton was struck-off-strength from RCAF Base 64 on January 23, 1945 to the RCAF "R" Depot. "R" Depot was a place where the men were stationed pending their "Repatriation" return to Canada. February 6, 1945 Cpl Hampton, on embarking from England to Canada, was struck-off-strength from "R" Depot and was taken-on-strength with the No 1 Repatriation Depot (Repat Dep). On February 13, 1945 he is shown at No 1 Repat Dep at Lachine, Québec. On February 14, 1945 he was struck-off-strength from the No 1 Repat Dep on being taken-on-strength at No 1 Air Command (AC) at Trenton, Ontario. He would remain stationed there until March 16, 1945 when he was struck-off-strength from No 1 AC and on March 17 was shown as taken-on-strength with No 4 Release Centre (RC).
On April 11, 1945, as part of the Discharge Process, Cpl John Hampton underwent a Service Interview. Flight Officer W. Grieves conducted the interview. It states, in part: "Age 23. Single with no dependents. An extremely neat, pleasant NCO. Left Public School to become a Grocery Clerk in 1937. Remained as such for 3 years. From 1939 – 40, he worked as a Gas Station Attendant, then became a Plumber's apprentice. Enlisted in the RCAF as Air Frame Mechanic and in just 10 months attained the top trade grouping. During his Service, he was classed as a hard-working, reliable, cheerful NCO who absorbed instruction quickly. Has a fine record of Service. Served in Canada & UK. Says he has a position with Victory Aircraft as packer, but can work himself into a Mechanic position and is quite satisfied at his prospects. This history would indicate he has ability in the Mechanical Field and should have no difficulty in establishing himself at Victory Aircraft. A good type. After the war he will go into grocery business with his brother. Has experience as a Grocery Clerk. On April 12, 1945 Cpl John Robert Hampton was discharged.
The Military File indicates; Cpl John Robert Hampton was awarded the:
Canadian Volunteer Service Medal with Bar; and
War Medal 1939 – 45.
He also qualified for the General Service Badge.
Cpl John Hampton served a total of 3 years, 8 months, and 4 days with the RCAF: 1 year and 6 months days in Canada; and 2 years, 2 months and 15 days in the UK.
An excerpt from an article in Maclean's magazine by Barbara Ameil, September 1996:
"The Military is the single calling in the world with job specifications that include a commitment to die for your Nation. What could be more honourable"?
PERSONAL HISTORY
JOHN ROBERT HAMPTON
John Robert Hampton was born June 5, 1921 in Peterborough, Ontario, son of Richard "John" Hampton and Emma Louise Fairbairn. John attended school in Lakefield and began his working career in 1935 working for B.F. Blake Groceries. He also worked for Millage's Plumbing and in 1941 at the age of 19 years joined the R.C.A.F.
After John returned home to Lakefield, he married Doreen "Peggy" Mackney Holmes, daughter of May Matilda Fowler and Joseph Lewarton Holmes. They made their home on Highway #28 just south of Lakefield and had two daughters Gail and Joan. In 1955 they moved to Burleigh Falls and operated the Trading Post. John had an adventurous career enjoying many jobs over the years. John and Doreen enjoyed many years of travelling the countryside.
John passed away on December 9, 2001 and is buried in Hillside Cemetery in Lakefield.
THE JOHN ROBERT HAMPTON FAMILY OF LAKEFIELD
John Robert Hampton's paternal grandparents were George Hampton and Elizabeth Baigent. His maternal grandparents were Andrew Fairbairn and Sarah McKee. Both families lived in Smith Township.
John Robert Hampton's parents were Richard "John" Hampton and Emma Louise Fairbairn. They were married in Lakefield on February 12, 1913. John was a farmer and they made their home in Smith Township and had a family of eight children – William "Frederick", Donald Ralph, Gordon Kenneth, Eveline Pearl, John Robert, Laura, Myrtle Viola and Albert Hampton.
Emma Louise passed away in 1939 and Richard "John" died on June 11, 1950; both are buried in the Hillside Cemetery in Lakefield.
******************************
We would like to thank John's wife, Peggy 'Doreen', for the following most interesting detailed personal history of the family.
John Robert Hampton
WWII R.C.A.F. 431 Veteran
After the war John worked at Malton for the DeHavilland Company for some months, also Canada Packers in Peterborough and self-employed for some months and spray painted and also worked at the Westclox in Peterborough.
In 1947 he married Peggy 'Doreen' Holmes of Smith Township. They had two daughters, Linda Gail and Joan Carol. He then worked at C.G.E. Peterborough for five years. In 1949 he built a house on Lakefield highway south of the Maples which at that time was a grocery station and gas station, owned and operated by George Fletcher and family Don and Shirley Kells. Don approached John to see if he would be interested in leasing the gas station as they had the grocery store and fish and chips restaurant they owned. John was interested in doing that, so left C.G.E. and leased the gas station for three years. When the Maples changed ownership, the new owners wanted to operate the station so John was forced to make other plans.
The Trading Post in Burleigh Falls was for sale at that time, after a big decision, he purchased the Trading Post and he and family moved in 1955 and were there until 1960. He enjoyed Burleigh Falls so much he built a Panabode log home just south of Burleigh on highway #28. He then owned and operated the King Koin Laudrette in the south end of Peterborough which was one block from where he was born in 1921. After selling the Launderette in 1968 he went to work for Gord Blake doing maintenance for several years and then finished work at Millage's Plumbing – full circle.
He retired at age 60, after spending 20 years travelling north America, camper and travel trailer, a trip to Europe and many trips to Caribbean. John also pursued hobbies of antique hunting, furniture refinishing on primitive items and also enjoyed pressing wild flowers and making occasional gift cards. Most of all he enjoyed time with grandchildren, great-grandchildren, hockey games, skating, school graduation, weddings, and family get-togethers.
He passed away December 9, 2001, at the age of 80 years.
Peggy 'Doreen' Hampton (2016)