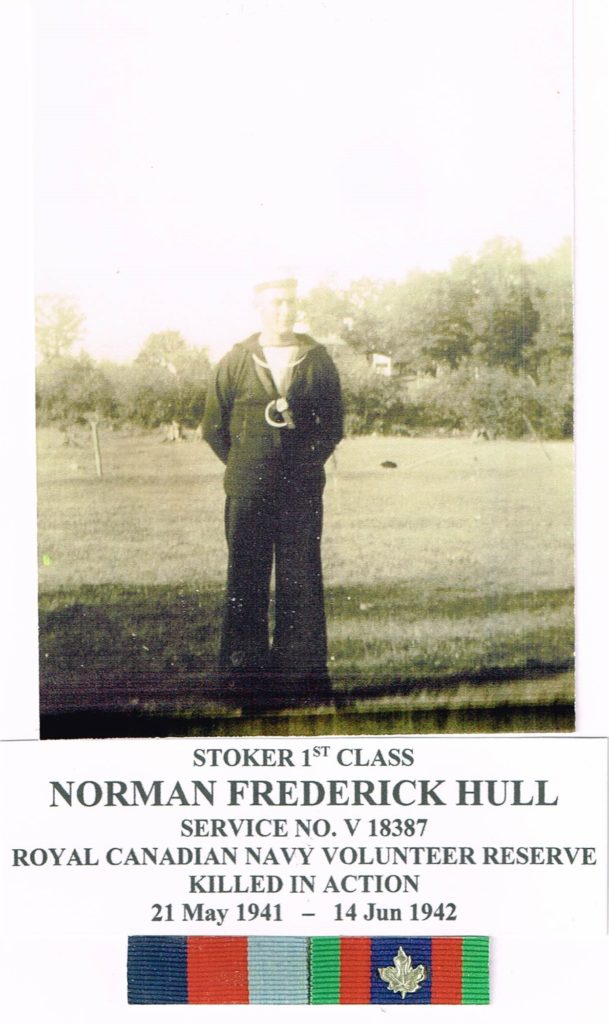 MILITARY HISTORY
Stoker 1st Class Norman Frederick Hull – V 18387 — ACTIVE SERVICE (World War II)
Norman Frederick Hull was 22 years, 4 months old when, as a single man, he enlisted in Kingston Ontario on May 21, 1941 with the Royal Canadian Naval Volunteer Reserve (RCNVR) for the duration of the War. Norman Frederick stated that he was born in Burleigh Township, County of Peterborough, Ontario on July 17, 1919. He completed Grade 7 and then left school to go to work. His previous employer was the American Nepheline Company; he was listed as a quarry blacksmith helper to a steel sharpener in the Blacksmith Shop in Lakefield, Ontario and he had some experience in mixed farming. Norman Frederick was 5′ 3¼" tall, 35″ chest, grey eyes and brown hair; he lived in Burleigh Township. Norman Frederick's entry medical was done in Kingston Ontario, May 21, 1941. His next-of-kin was listed as Mr. Frederick Hull, his father, living in Burleigh Township, County of Peterborough, Ontario. May 21, 1941 Stoker 2nd Class Norman Frederick Hull (a Stoker's place of work is in the engine room) was assigned Service Number V 18387 and taken on to Division Strength at Kingston Ontario.
After three weeks at Division Strength in Kingston Stoker 2nd Class Hull, on June 12, 1941, was placed on duty at Division Headquarters (Div HQ). After two months at Div HQ, on August 12, 1941, he was drafted to His Majesty's Canadian Ship (HMCS) Stadacona at Halifax, Nova Scotia. HMCS Stadacona was a shore establishment which provided training for many facets of the naval profession.
Stoker 2nd Class Hull spent 3 months in training at HMCS Stadacona and then was drafted to HMCS Niobe on November 13, 1941, a shore establishment in Halifax, Nova Scotia. Although it is not stated in Stoker 2nd Class Hull's records he probably would have embarked from Halifax, Nova Scotia about November 4, 1941 and disembarked at Scotland November 13, 1941. HMCS Niobe was a shore establishment which occupied the site which latterly became Ravenscraig Psychiatric Hospital, Greenock, Inverclyde, Scotland. Also, HMCS Niobe was the headquarters of the Royal Canadian Navy (RCN) in Britain and fulfilled a wide range of functions, including the provision of a hospital for wounded Canadian Servicemen and a transit camp for RCN crewmen between postings in the UK.
Three months after arriving at HMCS Niobe Stoker 2nd Class Hull was drafted to His Majesty's Ship (HMS) Liverpool, a Town-type Light Cruiser, on January 31, 1942. January 1942 HMS Liverpool was under refit.
February 1942 there were post refit trials including radar acceptance. On February 6, 1942 HMS Liverpool sailed to work-up at Scapa Flow with Home Fleet ships on completion.
March 1942 HMS Liverpool's work-up with Home Fleet continued. They joined 18th Cruiser Squadron for convoy defence and interception duties in North West (NW) Approaches. They deployed with HM Cruisers TRINIDAD, LONDON and KENT for patrol east of Jan Mayen Island during Home Fleet operations in defence of the passage of Convoy PQ12 in transit to Kola Inlet and under threat from German battleship TIRPITZ.
April 12, 1942 Stoker 2nd Class Hull's ship escorted ships returning with Convoy QP10 with HM Destroyers PUNJABI, ORIBI, MARNE, FURY and ECLIPSE covered by Home Fleet major units. April 15, 1942 Stoker 2nd Class Hull's trade was promoted from Stoker 2nd Class to Stoker 1st Class. April 18, 1942 HMS Liverpool detached from QP10 and resumed Squadron duties in the Home Fleet.
May 13, 1942 Stoker 1st Class Hull's ship was part of the Home Fleet* covering force for return passage of the damaged cruiser HMS TRINIDAD with HM Battleship DUKE OF YORK, HM Aircraft Carrier VICTORIOUS, HM Cruisers KENT, LONDON, NIGERIA and NORFOLK until HMS TRINIDAD was abandoned due to too much damage. The group came under air attacks on return passage. May 23, 1942 HMS Liverpool was provided cruiser cover for passage of Russian Convoy PQ16 and return convoy QP12 with HM Cruisers KENT, NIGERIA and NORFOLK screened by HM Destroyers ICARUS, MARNE, ONSLOW and ORIBI. May 28, 1942 they were detached from covering duties and resumed Home Fleet duties with the Squadron.
*A Fleet consists of the surface warships, submarines and auxiliary vessels operated by the Royal Canadian Navy; a current Fleet consists of 66 vessels.
June 5 HMS Liverpool joined the escort for Convoy WS19S with HM Cruiser KENYA screened by HM Destroyers BEDOUIN, ESCAPADE, ICARUS, MARNE, MATCHLESS, ONSLOW, HM Escort
Destroyers BADSWORTH, BLANKNEY, MIDDLETON and Polish ORP KUJAWIAK. June 11, 1942 the Joined Force was the escort for HM Battleship MALAYA, HM Aircraft Carriers EAGLE and ARGUS with HM Cruisers KENYA and CHARYBDIS to cover passage of Malta relief convoy. (Operation HARPOON). June13, 1942 escorts were refuelled during passage.
June 14, 1942 HMS Liverpool came under air attack by Savoia aircraft, a three-engined Italian medium bomber with a wood-and-metal structure. The ship was hit on the starboard side in the engine room by a torpedo. Major flooding caused a 7-degree list and the steering gear jammed. Speed was reduced to 4 knots and training gear for X and Y-turrets jammed. HMS Liverpool was taken in tow to Gibraltar by HM Destroyer ANTELOPE, escorted by HM Destroyer WESTCOTT. HM Corvettes JONQUIL and SPIREA joined the escort from Gibraltar. June 14, 1942 Stoker 1st Class Hull was declared missing and believed killed in action.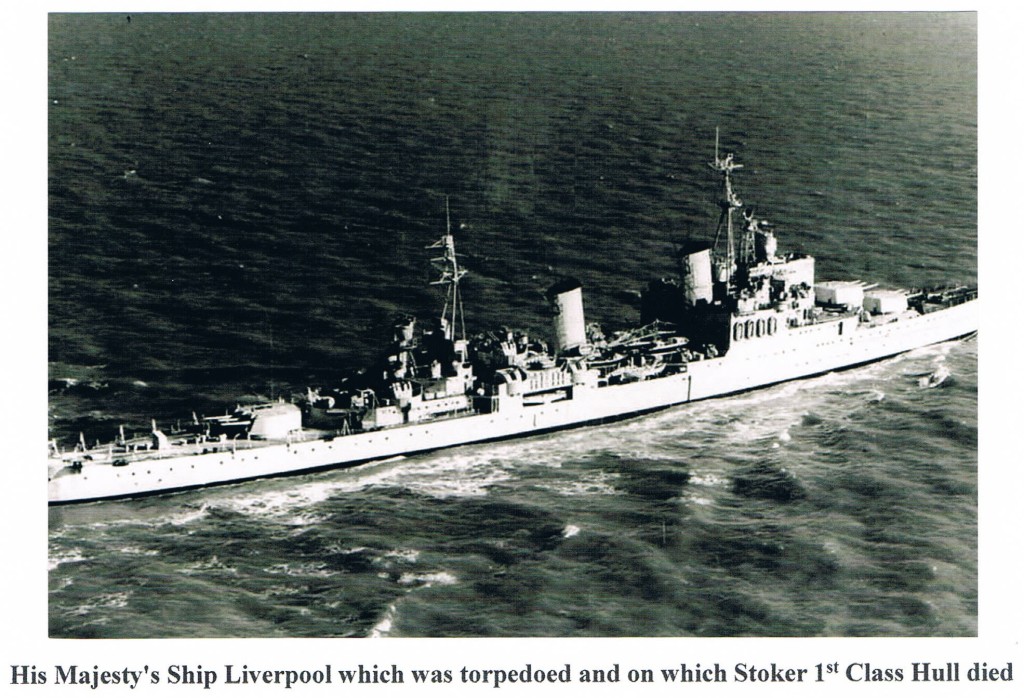 Stoker 1st Class Hull was awarded the following medals:
1939 – 45 Star; and
Canadian Volunteer Service Medal and Bar.
He also qualified for the War Service Badge – Navy Class "AA"
Norman Frederick Hull served for 5 months, 2 weeks in Canada, 2 months, 2 weeks and 4 days in the Scotland and 4 months, 2 weeks on HMS Liverpool for a total time of 1 year, 1 month (including travel time).
His medals and Memorial Plaque would be sent to his father at RR #2, Lakefield Ontario.
An excerpt from an article in McLean's magazine by Barbara Amiel, September 1996:
The military is the single calling in the world with job specifications that include a commitment to die for your nation. What could be more honorable?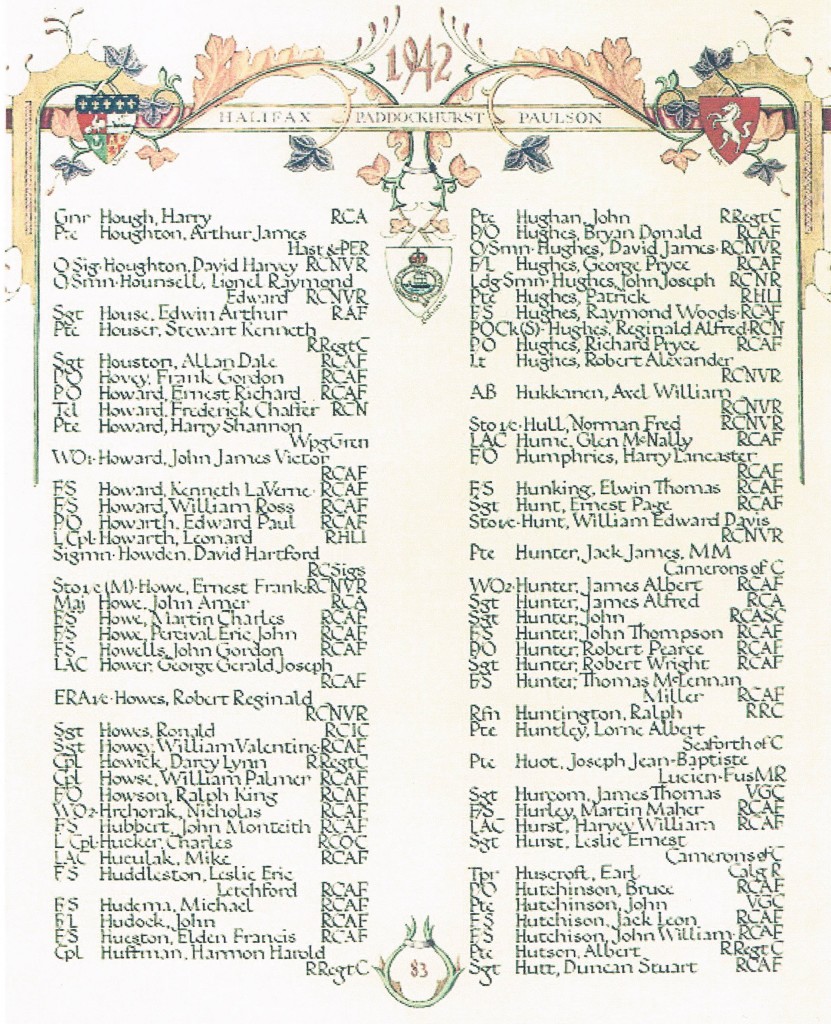 PERSONAL HISTORY
NORMAN FREDERICK HULL
Norman Frederick was born July 17, 1919 in Burleigh Township, County of Peterborough to Frederick Hull and Ethel Rose Davis. Norman Frederick lived at home in Clarina Ontario (RR #2 Lakefield) with his father and children from both his father's marriages.
June 14, 1942 Norman Frederick Hull was declared missing and believed killed in action.
THE NORMAN FREDERICK HULL FAMILY OF NORWOOD
Norman Frederick's great-grandparents were Thomas & Mary Ann Hull.
Norman Frederick's grandparents were Thomas II Renard Hull, born in Cobourg Ontario about 1844 and Eliza Sharp born in Lakefield Ontario about 1847. Thomas & Eliza had the following children: William; Thomas III, Eliza Annie; George E; Emma; Gertrude; John M.; Joseph Reginald, Alkanah and Frederick. Thomas Renard died June 6, 1924 and is interred in Norwood.
Norman Frederick's parents; Frederick Hull, born about 1890 and Ethel Rose Davis, born about 1907 were married in Havelock on December 21, 1910. Frederick & Ethel had the following children: Annie Alzina, Edith Jane; Mrs. Floyd Tyssell, Norman Frederick, Mrs. Jack Edmonston; Bertha and Donald Basil. They also had the following children who had died: Luella died January 25, 1913; Albert died March 11, 1923; Allan Garfield died October 19, 1925 and Shirley Joan died December 25, 1938. Ethel Rose Hull (Davis) died March 7, 1929. Some family members are interred in the Maple Grove Cemetery in Norwood Ontario.
After his wife Ethel died Frederick re-married and they had Vivian and Robert John. They also had Frederick who died September 1933.