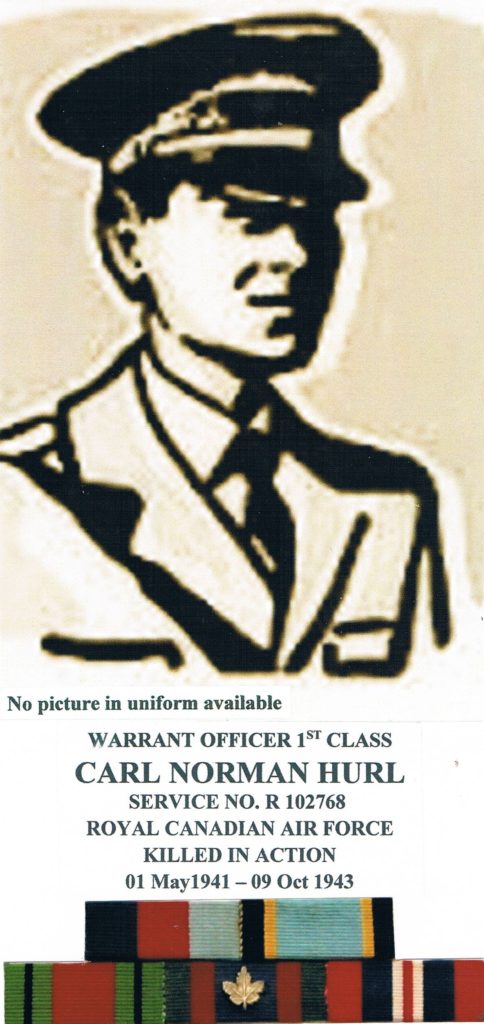 MILITARY HISTORY
Warrant Officer 1st Class Carl Norman Hurl – R 102768 — ACTIVE SERVICE (World War II)
February 24, 1941 Carl Norman Hurl's Attestation Paper to join the Royal Canadian Air Force (RCAF) in Toronto, Ontario for the Special Reserve was completed. Carl Norman was 18 years old, a single man, and a student in High School living at 18 Suffold Street, Toronto Ontario. On March 17, 1923 Carl was born of Welsh origin at Young's Point, Ontario on a farm in Peterborough County, Ontario. He lived at home with his parents at 18 Suffolk Street, Toronto Ontario. Carl Norman's next-of-kin was listed as his mother, Cora Mary Hurl (Cummins) living at 18 Suffolk Street, Toronto Ontario. His father, Norman Douglas Hurl, was a WW I Soldier. He had completed his primary education from 1930 to 1937 at the Young's Point School Section 8 (SS 8) and his High School education from 1937 to 1941 at Jarvis Collegiate Institute (C.I.) In Toronto Ontario. He listed Mr. J. F. Harvey, Principal of Lakefield High School; Mr. Allen, Principal of Jarvis C.I. in Toronto and Mr. R. J. F. Staples, Teacher at the Jarvis C.I. as character references.
On March 24, 1941 Carl Norman Hurl had his medical examination and an interview completed March 24, 1941 at the RCAF Recruiting Centre (RC) in Toronto Ontario. He was shown to be 5′ 7″ tall, weighed 134 pounds, chest 32 ½", brown eyes and light brown hair. Carl Norman had suffered a broken nose in 1938 which required a 10-day stay in the hospital. At his interview he indicated that he expected to complete his Junior Matriculation at the Jarvis Collegiate Institute in Toronto Ontario. A summary of Carl Norman was: "Good clean cut lad, keen and intelligent, should be able to absorb instructions and develop into good material." He was recommended for Pilot or Observer training.
On May 1, 1941 Carl Norman Hurl enlisted for the duration of the War with the RCAF at the RCAF RC in Toronto Ontario. He was assigned Service Number R 102768 and the rank of Aircraftman 2nd Class (AC 2). All training was part of the British Commonwealth Air Training Plan (also known as the Joint Air Training Plan [JATP]). AC 2 Hurl was posted to the BCATP to pursue Pilot or Observer qualifications. His "Particulars of Family" gave his father's name as Norman Douglas Hurl, a soldier, residing at 18 Suffolk Street, Toronto Ontario. His next-of-kin and address were as previously stated. On May 5, 1941 AC 2 Hurl was transferred from the RCAF RC Toronto to No 4 (Army) Military District (MD) at St. Hubert, Québec while waiting to be loaded on his proper courses. He probably did general duties and some basic training which included taking orders, drill, exercises for physical fitness, studies and endless series of inoculations. He was also taken on strength the same day. May 15, 1941 he was admitted to the Station Hospital, St. Hubert, Québec and discharged two days later, May 17, 1941. May 26, 1941 AC 2 Hurl completed an Occupational History which indicated that he left school at 17 years old and that he had his Junior Matriculation. He had worked for a short while for Mrs. F. Brown in her grocery store in Burleigh Falls, Ontario and had two years' experience farming.
On June 30, 1941 AC 2 Hurl struck off strength from No 4 (Army) MD – St. Hubert, Québec and taken on strength July 1, 1941 with No 31 Operational Training Unit (31 OTU) at Debert, Nova Scotia. AC 2 Hurl was most likely sent to Debert to perform guard duties. On July 27, 1941, after 26 days of guard duty he was struck off strength from 31 OTU. July 28, 1941 AC 2 Hurl was taken on strength to No 3 Initial Training School (3 ITS) at Victoriaville, Québec, for training similar to a Manning Depot, to determine whether the trainee was best suited for Pilot training or perhaps Observer. On August 31, 1941, after 36 days training with 3 ITS, AC 2 Hurl was promoted to the rank of Leading Aircraftman (LAC) and struck off strength from 3 ITS to be taken on strength September 1, 1941 with No 3 Elementary Flying Training School (3 EFTS) in London Ontario on a Pilot Course. One month later, on September 30, 1941 Pilot training ceased for LAC Hurl and he was posted, on October 1, 1941, from 3 EFTS to the RCAF Aircraft Squadron Composite Training School (KTS), Trenton Ontario to pursue Air Observer training. As of October 13, 1941 he was training as an Air Observer. LAC Hurl trained here for 5 weeks, to November 9, 1941, when he was struck off strength from KTS Trenton and taken on strength November 10, 1941 with No 10 Air Observer School (10 OAS), Chatham Ontario.
LAC Hurl was granted New Year's Leave from December 30, 1941to January 5, 1942 On February 13, 1942 with over 3 months of training, LAC Hurl was struck off strength from 10 AOS and taken on strength to No 6 Bombing and Gunnery School (6 B&GS) at RCAF Station Mountain View, Ontario on February 14, 1942. March 28, 1942 LAC Hurl was promoted to the paid rank of Sergeant (Sgt) and was authorized to wear his Air Observer's Badge. Also on March 28, 1942, after six weeks of training at the Bombing and Gunnery School, Sgt Hurl was struck off strength March 28, 1942 from Station Mountain View. Then March 29, 1942 he was taken on strength to No 2 Air Navigation School (2 ANS) at Pennfield Ridge, New Brunswick. A month later, on April 28, 1942, Sgt Hurl was struck off strength from 2 ANS and taken on strength with No 1 Y Depot, Halifax, Nova Scotia and granted 14 days Special Leave, with a travel warrant, from April 28 to May 11, 1942. May 12, 1942 Sgt Hurl was struck off strength from No 1 Y Depot, Halifax, Nova Scotia and taken on strength May 13, 1942 with 31 OTU, Debert Nova Scotia and attached to 5 MD, Lachine Québec. At the OTU he was transitioned to aircraft that he would encounter in operational flying.
Sgt Hurl was attached to 5 MD, Lachine Québec from May 13 to June 30, 1942. Then on June 30, 1942 he was struck off strength from 31 OTU, Debert. On July 1, 1942 he was attached and taken on strength to the Royal Air Force Ferry Command (RAF FC) from the 31 OTU. August 15, 1942 Sgt Hurl was struck off strength from the RAF FC. From about August 4 to 21, 1942 Sgt Hurl traveled from Lachine to Boucherville, Québec and perhaps home (Toronto) en-route to the United Kingdom (UK). September 4, 1942 Sgt Hurl's trade was a Navigator. He was granted 4 days Privileged Leave from September 8 to 11, 1942. September 26, 1942 Sgt Hurl transferred from No 1 Y Depot to a Royal Air Force Training Pool (RAF TP). He embarked Canada from Halifax, Nova Scotia September 26, 1942 and disembarked United Kingdom on October 9, 1942. Sgt Hurl joined No 3 Personnel Reception Centre (3 PRC) in England on October 10, 1942 from Int 481. Then, on November 10, 1942 he transferred from 3 PRC to No 22 Operational Training Unit (OTU) Royal Air Force (RAF) at RAF Station Atherstone, Warwickshire England where he trained as a Navigator (Air Nav).
After almost four months of Operational Training at 22 OTU Sgt Hurl was promoted to the rank of Flight Sergeant (F/Sgt) on March 1, 1943 and posted to Bomber Command 427 Squadron (Overseas) RCAF on March 4, 1943. During this period of time F/Sgt Hurl was granted 9 days Privileged Leave with rations and travel allowance from February 24 to March 4, 1943 F/Sgt Hurl trained more as an (Air Nav [B]). On March 28, 1943 F/Sgt Hurl was promoted to the paid rank of Warrant Officer 2nd Class (WO 2). Then about a month later he transferred to Bomber Command 432 (Leaside) Squadron (Overseas), at Skipton-on-Swale, Yorkshire England, on May 1, 1943. WO 2 Hurl was granted 7 days Privileged Leave for May 6 to 12, 1943 and also granted a two day pass for May 26 & 27, 1943. He was granted 5 days Privileged Leave for June 24 to 28, 1943 with rations and travel allowance. Then he was granted 7 days Privileged Leave for August 7 to 13, 1943. WO 2 Hurl was attached to 1679 Conversion Unit (CU) for the period of September 26 to October 8, 1943 Effective September 28, 1943 WO 2 Hurl was promoted to the paid rank of Warrant Officer 1st Class (WO 1).
At about midnight on October 8/9, 1943 WO 1 Hurl's Halifax* DK 265 and crew went missing after Air Operations over Hanover, Germany. October 9, 1943 432 Bomber Squadron RAF reported a War Casualty with the crew presumed dead. 432 Squadron was transferred to RCAF UK on October 10, 1943. WO 1 Hurl is interred at the Hanover War Cemetery, which adjoins the Hanover Military Cemetery, in Germany. *Details about the type of aircraft are very vague, however since only six persons were found and the Luftwaffe identified the wreck as a Wellington; a Wellington is assumed correct.
The Wellington had been hit and went down on fire crashing in the village of Holtensen near Weetzen, Germany. The remains that were recovered of six men were interred in the local cemetery. On October 21, 1946 the bodies were exhumed and re-interred in the British Military Cemetery, Hanover – Limmer, Germany.
The Wellington Bomber, a two engine aircraft, was built by Vickers and was in service mostly from 1939 to 1941 but were still used in 1943. They could carry a maximum of 4,500 pounds for 2,200 miles at 18,000 feet altitude. They cruised at 235 miles per hour, had one rear gun-turret and an aircrew of 6 persons.
From the "Thou Shall Grow Not Old" — A Book Of Remembrance – Thanks to F/Sgt Arnold Graham
HURL, CARL NORMAN Warrant Officer First Class Navigator R 102768. From Young's Point, Ontario. Killed in Action October 9, 1943 age 20. # 432 Leaside Squadron (Saevitir Ad Lucem). Wellington aircraft # LN 451 missing, presumed over the target Hanover, Germany. Warrant Officer Second Class Douglas Charles Baker Pilot R 107959, Warrant Officer Second Class George Welland Thompson Bomb Aimer R 146160, and Sgt J. Taylor (RAF) were killed. Two other members of the crew, not Canadian, were missing and believed killed. Warrant Officer Class 1 Navigator Hurl is buried in the Limmer British Cemetery at Hanover, Germany.
…………………………………………….
WO 1 Hurl's Military File gives the following list of the Aircrew:
Carl Norman Hurl – Navigator
Taylor J.
R. M. (Initials)
Three others
WO 1 Hurl was awarded the following medals:
1939 – 45 Star;
Air Crew Europe Star;
Defence Medal;
Canadian Volunteer Service Medal with Bar; and
War Medal 1939 – 45.
He also qualified for the General Service Badge. In 2013 Canada started to issue a "Bomber Command Bar" for qualified Royal Canadian Air Force aircrew members. This Bar may be received by a qualified family member of deceased aircrew qualifiers by contacting Veteran's Affairs Canada.
Carl Norman Hurl served for 1 year, 5 months in Canada and 1 year in the United Kingdom for a total of 2 years 5 months.
An excerpt from an article in McLean's magazine by Barbara Amiel, September 1996:
The military is the single calling in the world with job specifications that include a commitment to die for your nation. What could be more honorable?
INVESTIGATION REPORT
FROM: NO. 23
TO: Air Ministry S.7 Cas. 73/77 Oxford St., London, W.1
COPIES TO: No. 4 M.R.E.U., R.A.F. and R.C.A.F. H.Q. Ottawa, Canada.
DATE: 23rd October 1946
YOUR FILE OR FOLDER REFERENCE:
YOUR CASUALTY INQUIRY NUMBER:
OUR REFERENCE: 1119/14/33/P .4
NAME OF SEARCH OFFICER: F/O Lee
TARGET: Assumed Hannover
AIRCRAFT TYPE AND SERIAL NUMBER: Claimed as We11ington "See below"
DATE REPORTED MISSING: Assumed 8/9th October, 1943
PLACE OF CRASH, WITH MAP REFERENCE: Holtensen B/Weetzen (L. 53 x 2909)
PLACE OF BURIAL, WITH MAP REFERENCE: Village Cemetery Holtensen (L.53 x 2909)
CREW: As far as known: Taylor J.
Carl Hurl – R.C.A.F.
R.M. (Initials)
and three others
RESULT OF INVESTIGATION AND FINDINGS:
Whilst carrying out investigations in the area of Kreis Hannover in an endeavour to establish the fate and burial particulars of the seven missing members of Halifax DK. 265 missing on the night of 8/9th October, 1943. I proceeded to the village of Holtenson near Weetzen (Map Ref L.53 x 2909) where it was reported that the crew of an aircraft which crashed on the night in question were buried in the local cemetery.
AIRCRAFT: According to Herr Kaleske – one of the local policemen who was present at the scene of the crash – the aircraft approached from the direction of Hannover and was burning in the air. It eventually crashed in front of the village church removing a portion of the roof of this building. The time of the incident was given as approximately midnight on the 8/9th October, 1943. The aircraft did not explode on impact and therefore it was thought that the bomb load had been discharged prior to the crash. Attempts were made to extinguish the flames pending the arrival of the Luftwaffe detachment who immediately took over and supervised the removal of the wreckage. Details concerning the type of a/c etc., are very vague, but the assumption that the plane concerned was a Wellington bomber was stated as the result of remarks made by the Luftwaffe detachment.
AIRCREW: The bodies of six men were recovered from the wreckage but so mutilated and burned were these that it was impossible to establish the identity of any of them. According to Herr Kriemeyer – the local Burgermeister – he was ordered by the Luftwaffe detachment from Brunswick to provide sufficient coffins for the burial of the remains. Two coffins were ordered from Herr Schroder of Bredenbreck (Map Ref. L. 53 x 2908) and the remains of the crew were interred in the local cemetery on 14th or 15th October 1943. Although the ceremony was performed by members of the Luftwaffe from Brunswick, it is not certain whether the local pastor was in attendance or not, since he has recently died and confirmation of his attendance could not be obtained.
The grave is situated in the south-west corner of' the cemetery in a plot known as the "Auslander Graben" and was marked by a cross inscribed "Here lie English Soldiers killed 8/9 October, 1943."
EXHUMATION: Exhumation and concentration of the bodies was carried out by S/Ldr Cade and members of 85 G.C.U. on 21st October 1946. The grave when opened revealed two coffins and these in turn disclosed the badly mutilated and burned remains of six men. So violent had been the explosion that pieces of fuselage with small parts of the bodies still attached had been buried with the crew. It was absolutely impossible to ascertain the member of the crew to which the various small pieces of clothing found belonged, and it was only by sorting the larger bones into separate heaps that the actual number of bodies interred in the two coffins could be determined.
Amongst the remains a silver bracelet bearing the R.C.A.F. crest and the name Carl Kurl was found and from a gloved hand a gold coloured signet ring was removed. As far as could be determined no initials had been inscribed on it, and it was impossible to determine whether or not the few scratches which appear on it were intentional or otherwise. An officer type collar attached to an O.R. type shirt was also recovered and this yielded the name and number of "1239660 Taylor J." A "Ronson" type cigarette case and lighter was inscribed with the initials "R.M." This was so badly damaged that it was reinterred with the remains. Pieces of battle-dress blouse carried the ranks of Sgt and F/Sgt but nothing was recovered to give any indication that there were any officer members in this crew. (Ring and bracelet enclosed).
Although individual exhumation reports are attached, they are only completed for ease of reference and the fact that six men were found to have been buried in this grave.
At the completion of the exhumation the remains were wrapped in six blankets and removed to the British Military Cemetery of Hannover – Limmer where they were reinterred as follows:-
British Military Cemetery Hannover – Limmer (Map Ref L.53 x 306218)
Plot 2. Row B. Graves 8 – 12 (inclusive)
The grave is a communal one and due to the impossibility of establishing individual identities, It is presumed that one cross bearing the Service particulars of these six men will be erected on receipt of this information from your office.
(signed) J. B. Lee F/O
Investigating Officer.
Remarks: –
It is requested that this office be advised if any further action
is considered necessary in connection with this case.
(signed) A. S. Cade S/Ldr
Officer i/c 23 Section
No. 4 M.R.E.U., R.A.F.
COPY:/G.F.B.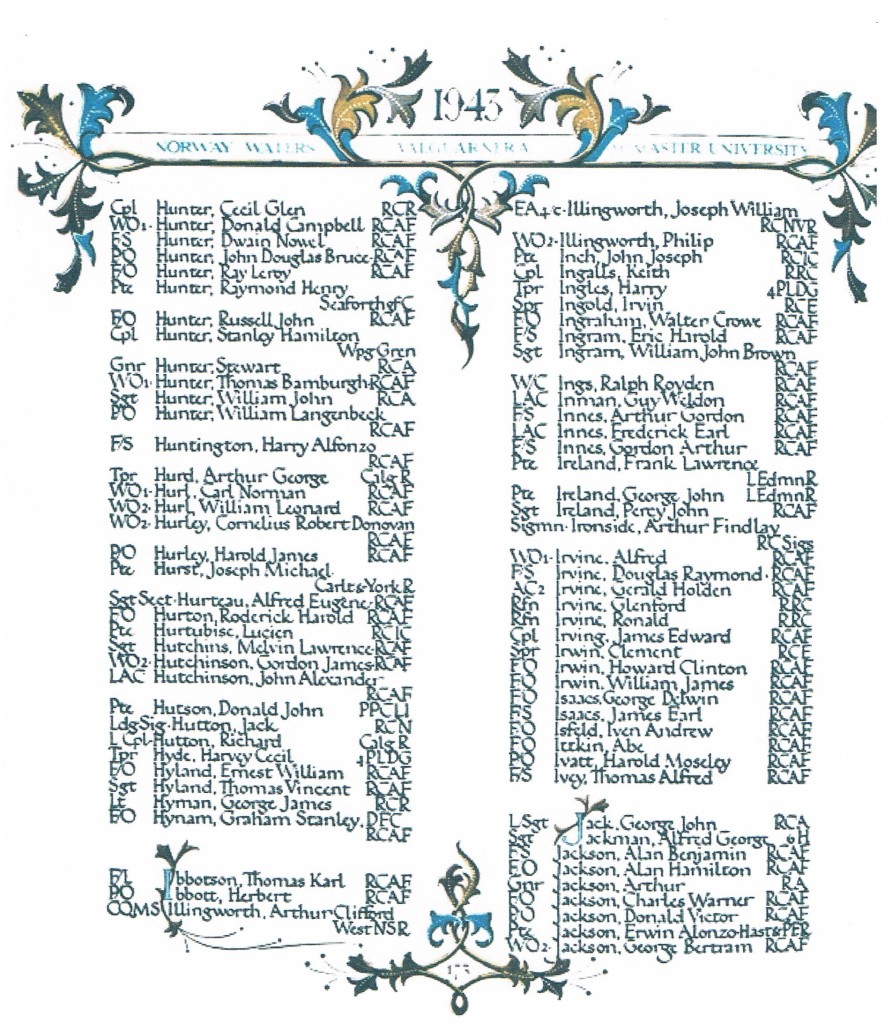 PERSONAL HISTORY
CARL NORMAN HURL
Carl Norman Hurl was born March 17, 1923 at Youngs Point, Ontario to Norman Douglas Hurl and Cora Mary Cummings. Carl attended Youngs Point School Section (SS) No. 8 from 1930 to 1937. Then he attended the High School at the Jarvis Collegiate Institute from 1937 to 1941 in Toronto Ontario where he attained his Junior Matriculation. He worked for a short period for Mrs. Brown in her grocery store in Burleigh Falls, Ontario. Carl also had two years experience in farming.
Carl Norman built model airplanes and enjoyed playing rugby, hockey and baseball on an occasional basis.
When Carl Norman Hurl died on October 9, 1943 he had a motorcycle left at home in Toronto, Ontario.
The following note was written on the document by Mrs. Cora M. Hurl.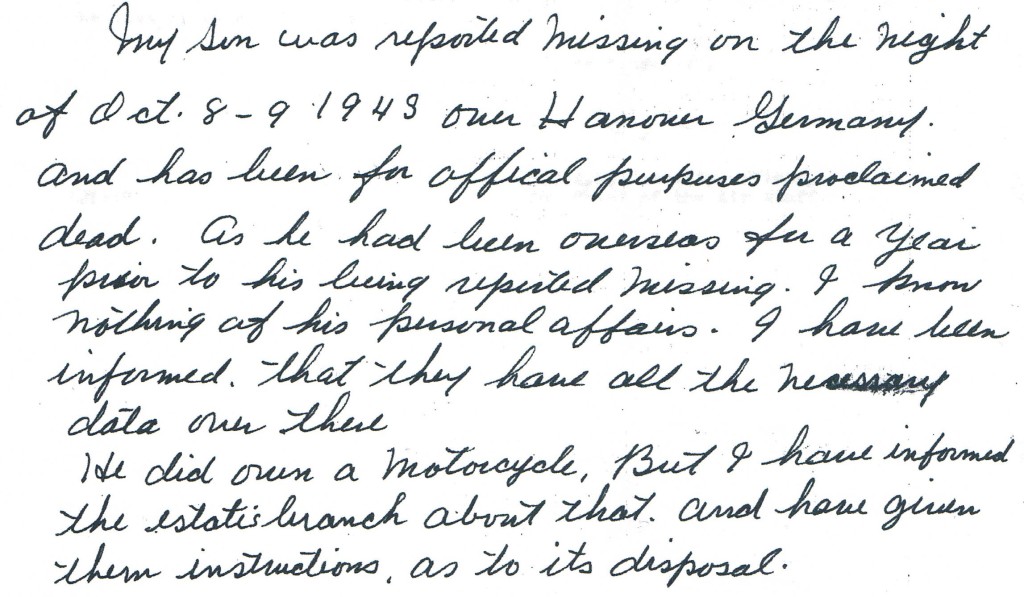 THE CARL NORMAN HURL FAMILY OF YOUNGS POINT
Carl Norman's paternal great-grandparents are Joseph Hurl (English), born 1827 of Dummer Township and Ann Jane Hatton (Irish), born 1836. Joseph & Ann Jane were married by Rev. Hooper August 25, 1852; witnesses were Jane Hurl and Edward Barrie. His maternal great-grandparents are John Curtain & Harriet Blanco.
Carl Norman's paternal grandparents are William James Hurl, born May 30, 1853 in Smith Township and Margaret Curtain, born January 27, 1854. William & Margaret were married by Rev. Alexander Richard February 16, 1875; witnesses were Samuel Hatton and Mary Curtain, both of Lakefield. William James & Margaret had 14 children: Levina Jane, born November 26, 1875; John (Johnnie) Curtain, born November 8, 1877; Bernice Angeline, born June 8, 1879; William (Willie) James, born June 10, 1881; Margaret (Maggie) Ann, born September 22, 1882; Harriet Mellica, born April 6, 1884; Elizabeth (Lizzy) May, born May 29, 1885; Sarah Delilah, born March 22, 1887; George Samuel, born September 14, 1888; Joseph (Josey) Stanley, born April 25, 1890; Cecillia (Cecil) Levina, born August 28, 1891; Bertha Phyllis, born September 4, 1893; Norman Douglas, born July 1, 1895 and Lillian (Lily) Louella, born June 27, 1899. Carl Norman's maternal grandparents are George Cummings and Jessica Devers.
Carl Norman's parents; Norman Douglas Hurl, a carpenter, and Cora Mary Cummings were married in Lakefield Ontario on September 15, 1920 by Rev. S. F. Dixon. Norman Douglas Hurl family lived in Lakefield after their marriage. Carl had a sister Dorothy M. born in 1921, she married a Brown. Carl was born March 17, 1923 in Lakefield. By 1930 they had moved to Young's Point where they remained until 1937 when they moved to 55 Huntley Street, Toronto. In 1941 they lived at 18 Suffolk Street in Toronto and when the Estate Branch documents were filled out September 14, 1944 it was indicated they were residing at 103 Pembroke Street, Toronto. However, the return address on the document was to Young's Point, Ontario. The Memorial Cross and Ministerial Card were sent to Carl's parents at Young's Point in October 1944.
September 22, 1944 Mrs. Cora M. Hurl completed three pages of personal information for the Department of National Defence, Estates Branch, Ottawa Ontario at Lakefield Ontario. On the last page she made a Declaration that she is Carl's mother and the information is true. The Declaration was signed by E. H. Northey, Municipal Clerk, Lakefield Ontario.
R102768 (R.O.)
Ottawa, Canada, 2nd January, 1947.
Mr. N.D. Hurl,
Young's Point,
Ontario.
Dear Mr. Hurl
Information has been received from the authorities Overseas regarding your son, Warrant Officer Class 1 Carl Norman Hurl.
Your son's aircraft crashed at midnight October 8, 1945 in the village of Holtensen approximate1y seven miles South West at Hanover, Germany. The entire crew lost their lives at this time. Due to the severe nature at the crash individual identification could not be effected. They were laid to rest in the village cemetery at Holtensen.
Your son and his crew have now been re- interred in the British Military Cemetery at Hanover-Limmer Plot 2, Row B, Graves 8 to 12 inc1usive. These graves have been registered as a communa1 grave in the names of your son and his crew. This cemetery is one of the permanent Military Cemeteries in Germany and will be turned over shortly to the Imperial War Graves Commission who will be responsible for reverent and perpetual care of the resting places of our dead. The cemeteries will be beautified by landscaping and the planting of shrubs and flowers. A stone wall will be erected around the cemetery and a headstone placed on each grave. The task of preparing and erecting these headstones will naturally take considerable time. It is not necessary to write to the Imperial War Graves Commission, as you will be contacted by them before the stone is prepared.
May I again offer my sincere sympathy at the loss of your gallant son.
Yours sincerely,
(Signed)
R.C.A.F. Casualty Officer,
LJL: GB for Chief of the Air Staff.