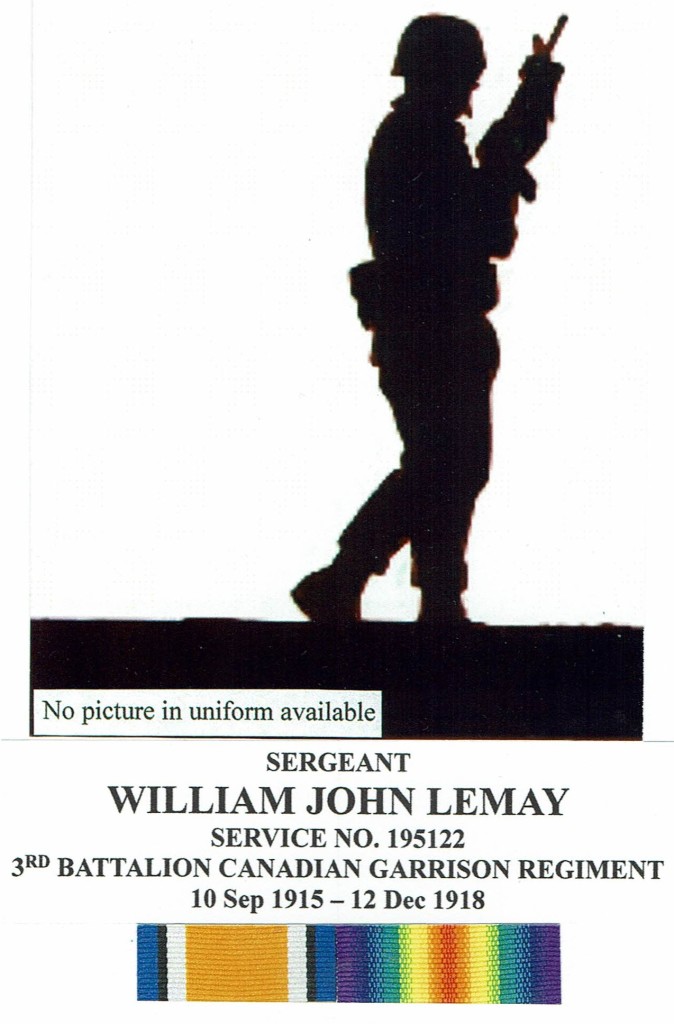 MILITARY HISTORY
Sergeant William John Lemay – 195122 – ACTIVE SERVICE (World War I)
On September 10, 1915 William John Lemay completed the Attestation Paper for the Canadian Army Canadian Expeditionary Force (CEF). He was 19 years, 6 months old when, as a single man, he enlisted for the duration of the War. William John was born in Dummer Township, Ontario, and gave his birth-date as February 27, 1896. William John indicated he had 1 year of service with the 46th Regiment. There is nothing on his File to indicate where he was educated or to what level. As far as his Trade or Calling is concerned he lists Student. William John Lemay was 5′ 8" tall, with a 35" chest (expanded). His weight is listed as 115 pounds. He had a dark complexion, with hazel eyes and dark brown hair. His Medical Examination was completed August 31, 1915 in Peterborough. He had no medical issues or physical limitations and as such he was deemed fit for Overseas duty with the CEF. His next-of-kin was listed as his father, Mr. John Lemay of Lakefield, Ontario. William John signed the Oath and Certificate of Attestation on September 10, 1915, in Peterborough, Ontario. The Certificate of Magistrate was signed by the Justice on September 10, 1915. William John Lemay was taken-on-strength with the 46th Regiment as a Private (Pte) and was assigned Service Number 195122. Pte Lemay was transferred to the 93rd Bn (Peterborough) when it was authorized and formed up on December 22, 1915.
The 93rd Bn, after training through the winter of 1915 and spring of 1916 at 5 different area Centres, departed by train from Peterborough on May 29, 1916. The 93rd Bn made a short stop at Camp Barriefield located at Kingston, Ontario before moving on to the main CEF Training Centre located at Valcartier, Québec to complete Basic Infantry training before being transported overseas, to the UK. The 93rd Bn embarked from Halifax, Nova Scotia on July 15, 1916 aboard the SS Empress of Britain.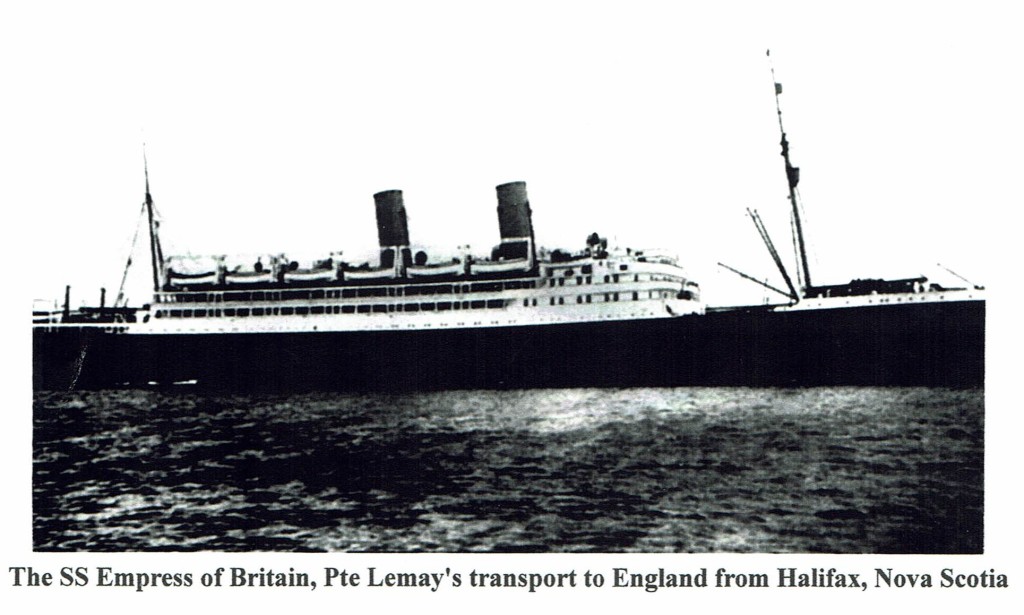 Pte Lemay disembarked in Liverpool, England on July 25, 1916. His File indicates that Pte Lemay was to be promoted to Acting Sergeant (A/Sgt) on arrival in England. On September 14, 1916 A/Sgt Lemay reverts to the Ranks (returned to the rank of Private) at his own request in order be sent to France. On September 16, 1916 Pte Lemay was transferred to and taken-on-strength with the 20th Infantry Battalion. On September 29, 1916 Pte Lemay left for the 2nd C E Battalion, embarked for France about October 1, 1916 and arrived October 2, 1916 in France. Also on October 2, 1916 he left to join the 20th Bn, arriving on October 10, 1916 in the Field.
There are no entries in Pte Lemay's File from October 3, 1916 to March 4, 1917.
The War Diary for the 20th Battalion indicates: that in general, the weather during this period of time could be categorized as wet and cold, with some snow thrown in for good measure. There were only a few references to bright, warm weather.
On October 3rd, the day Pte Lemay joined his Unit, the 20th Battalion (Bn) had just moved from the Front-Line trenches to a bivouac position in Sausage Valley. The 20th Bn now began a series of daily marches, from one billet destination to another, finally ending up at Hersin, France on October 16th. On October 17th, they relieved the 13th Battalion on the Front-Line in the Calonne II Sector. It was reported that the enemy were very quiet, and the next 6 days were spent improving the trenches, due to the heavy rain. On October 23rd, the 20th Bn was relieved on the Line and moved to billets in the area of Bully Grenay, where they underwent Special Training. October 30th, the 20th Bn moved to the Maroc Sector of the Front-Line trenches. It was reported "The gas alert was on, but everything was very quiet. A few 'Rum Jars' were thrown into the Company Front-Line, causing little damage".
"Rum Jar" is trench slang for a German homemade trench mortar. It looked like a piece of stove pipe on a wooden base. The projectile was filled with all kinds of metal bits and was fitted with a time fuse.
November 1st, 1916 shows the 20th Battalion in the Calonne II Sector. Based on the fact that the enemy was still quiet, and the gas alert was relaxed, the next 10 days were spent working on improving the trenches. On November 10th, the Unit was moved back to the Maroc Sector, where they stayed until November 16th, at which time they moved to the Brigade Reserve position at Bully Grenay. November 22nd, they were back to the Calonne II Sector. On November 24th, they moved, once again, to the Maroc Sector, where they stayed to the end of the month.
December 1, 1916 the Unit moved to the Calonne I Sector, followed by a move to the front-line trenches in the Callone II Sector on December 4th. On December 11th the 20th Bn moved back to Bully Grenay, where they spent 6 days in general training. December 17th, they were back to the Front-Line in the Callone II Sector, where they stayed until the end of the month.
January 1, 1917 found the 20th Bn once again back at the billets at Bully Grenay, where they stayed until January 17th. On January 18th, they moved to the Canadian Corps Training Centre at Bruay, France. On January 30th, they moved to billets at Auchel, where they stayed to February 10th 1917. On February 10th, they moved to Hallicourt, followed by a move to Bois de Bray on February 11th and the Front-Line in the Thelus Sector (Roclincourt) on February 12th. On February 19th, they were relieved on the Line, and moved to the Divisional Reserve area at Ecoivres, France. On February 25th, it was back to the Front-Line in the Thelus Sector, where they stayed until March 4, 1917 when they moved to Maison Blanche.
On March 4, 1917 Pte Lemay was at the 6th Canadian Field Ambulance, where he was admitted with Influenza. March 17, 1917 he was admitted to St John's Army Brigade Hospital, at Étaples with Acute Bronchitis. April 10th, 1917 he was invalided to England aboard the HS Stad Antwerpen.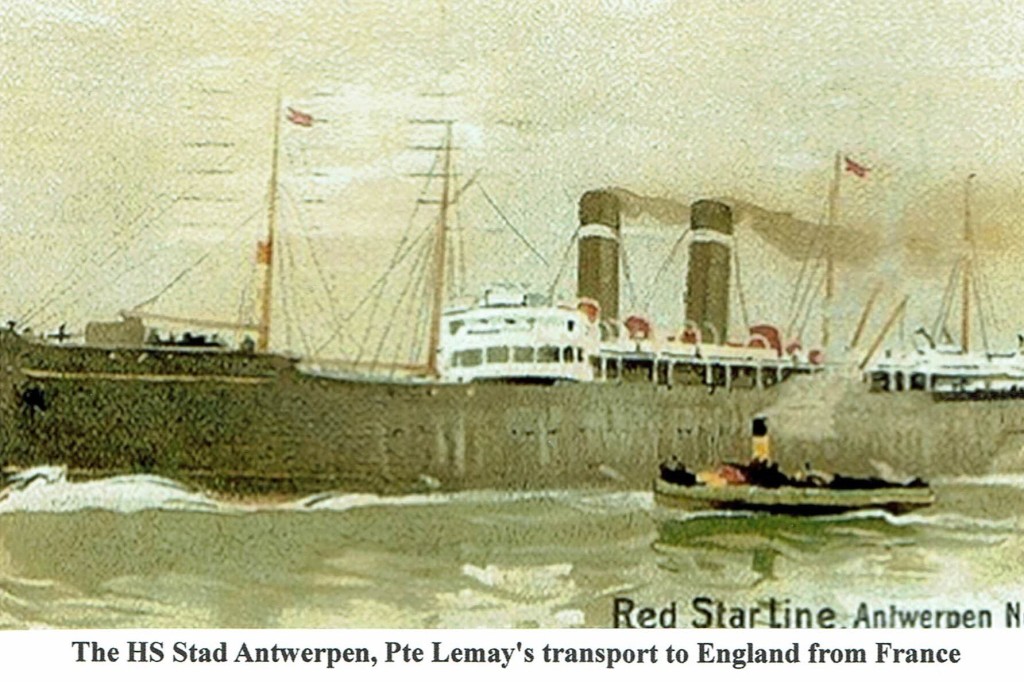 Upon disembarking in England Pte Lemay was posted to 1st Central Ontario Regiment Depot (CORD) at Shorncliffe, England. April 11, 1917 he was admitted to the 1st Southern General Hospital at Birmingham, England. May 13th, 1917 Pte Lemay was sent to Moore Barracks Convalescent Hospital at Shorncliffe, England. May 27, 1917 Pte Lemay was transferred to the Canadian Convalescent Hospital (CCH) at Monks Horton, Kent County. After 4 months at the CCH at Monks Horton, Kent County, on September 27, 1917 he was admitted to Kings Canadian Red Cross Hospital at Hampton Hills, England. Pte Lemay was discharged from this Hospital on November 14, 1917 and attached to the 1st Canadian Convalescent Depot (CCD), at East Sandling, England.
On January 13, 1918 Private Lemay was examined at the 1st CDD; the Report reads, in part: "Evacuated from France April 11, 1917 after seven months service with marked Trench Fever. Since then has been in various Hospitals and Convalescent Hospitals. Came here six weeks ago and has been unable to do any physical training because of shortness of breath. His pulse after physical training is 120 to 140, at present it is 115 per minute. There is a slight systolic murmur in the heart. Do not consider him fit for any heavy labour, and appears debilitated. Status B111 – D.A.H (Disorderly Action of the Heart)".
February 8, 1918 Pte Lemay ceases to be attached to 1st CCD. On February 10, 1918 Pte Lemay was examined by another Doctor at East Sandling, England. The findings were: "Fit for Duty – No, Fit for Base Duty – Yes – B 111 – likely to be raised in six months, Invalid to Canada – No". The File shows him "On Command CCD" February 13, 1918. February 19, 1918 Pte Lemay ceases "On Command with CCD" and is On Command with the 1st Canadian Discharge Depot (CDD), Buxton at Shorncliffe, England. On February 26, 1918 Pte Lemay ceases to be attached to the 1st CDD and is struck-off-strength on embarkation from Liverpool to Canada.
The File does not indicate which ship Pte Lemay was on or when he disembarked in Canada, but based on other Files it would have been approximately March 7, 1918 in Halifax. There are no entries for the next month.
On April 9, 1918 Private Lemay was taken-on-strength with the No 3 Special Service Company, Kingston, Ontario. On June 6, 1918 Private Lemay was promoted to the rank of Corporal (Cpl). On July 5, 1918 Cpl Lemay was promoted to the rank of Sergeant (Sgt).
Research indicates there were 11 Special Service Companies formed in 1917. The Companies were made up of men who: were overage or underage for Overseas Service, had recovered from injuries or wounds received Overseas or were marginally unfit for duty Overseas. These men performed Garrison duties and provided guards for vulnerable points, as well as Military Police duties. The 11 Special Service Companies were reorganized on April 4, 1918 and absorbed by the Battalions of the newly formed Canadian Garrison Regiment which was comprised of 13 Battalions, one for each Military District. Sgt Lemay was in the 3rd Battalion.
On December 12, 1918 Sergeant William John Lemay was discharged and struck-off-strength from the 3rd Battalion, Canadian Garrison Regiment, CEF, Kingston, Ontario, as being Medically Unfit.
There is no mention in the File with regards to what Military Medals Sergeant William John Lemay was eligible to receive or was awarded. Based on his Military Service, he was awarded the:
British War Medal; and
Victory Medal.
He would have also received the CEF Class "A" War service Badge.
Based on his Military File, Sergeant William John Lemay served a total of 3 years, 3 months and 2 days with the Canadian Expeditionary Force: 7 months and 10 days in Canada, 1 year and 22 days in England, 6 months and 8 days in France plus 22 days travel.
An excerpt from an article in Maclean's by Barbara Ameil, September 1996:
The Military is the single calling in the world with job specifications that include a commitment to die for your nation. What could be more honorable.
PERSONAL HISTORY
WILLIAM JOHN LEMAY
William John Lemay was born February 27, 1896 in Dummer Township, Peterborough County, Ontario to John Louis Lemay and Mary Etta Snelgrove. He went by "Bill" and was educated in the Rural Public School System. Nineteen year old William Lemay went to Peterborough and enlisted in the Military on September 10, 1915.
After he returned from the war, William went back to school and became a dentist. He practiced in the Peterborough and Lakefield area until about 1926 when he was diagnosed with tuberculosis. As his condition grew worse, William entered the Mountain Sanatorium in Hamilton, Ontario where he died on January 3, 1934 from pulmonary tuberculosis. William Lemay never married and is buried in the Lakefield Cemetery.
THE WILLIAM JOHN LEMAY FAMILY OF LAKEFIELD
William John's paternal grandparents are Francis Lemay, born about 1794 and Mary Elizabeth Tates, born about 1830. Francis and Mary Elizabeth had seven children: John, born about 1860; Elizabeth, born about 1861; Harriette, born about 1863; Agnes, born about 1865; Francis (Jr), born about 1867, Joseph, born about 1870 and Margaret, born about 1872. His maternal grandparents are James and Emma Snelgrove.
William John's parents, John Louis Lemay, 33 years old and Elizabeth (Lizzie) Ann Snelgrove, 21 years old married in the Lakefield Methodist Church in Lakefield, Ontario on March 29, 1893. In 1901, the family was living in Dummer Township where John had taken up farming but by 1911 the family had moved to Lakefield and John was working at a local sawmill. John and Elizabeth Ann had six children: William John, born February 27, 1896; Amelia, born May 26, 1898; Myrtle Alice, born July 18, 1901; Mable Irene, born January 16, 1905; Lottie Evylin, born May 20, 1907 and Joseph Norman, born December 9, 1909.
Initially, William John's father, 26 year old John Louis Lemay married 18 year old Mary Etta Snelgrove in Peterborough, Ontario on October 28, 1885. John and Mary had three children: Emma Liddel, born October 23, 1886; Percy Melville, born December 26, 1888 and Mary E., born May 8, 1892. Emma Liddell died of Appendicitis at 18 years old on August 14, 1905.
After the birth of Mary E. on May 8, 1892, Mary Etta died a week later on May 15, 1892 at 25 years of age; no information has been found as to the cause of her demise. John, a widower with three small children then married Mary Etta's youngest sister, Elizabeth Ann Snelgrove.
William John and his half-brother, Percy Melville, are cousins of Cephas Melville Lemay and nephews of Joseph Lemay. William John is also a grandson of Francis and Mary Elizabeth Lemay.