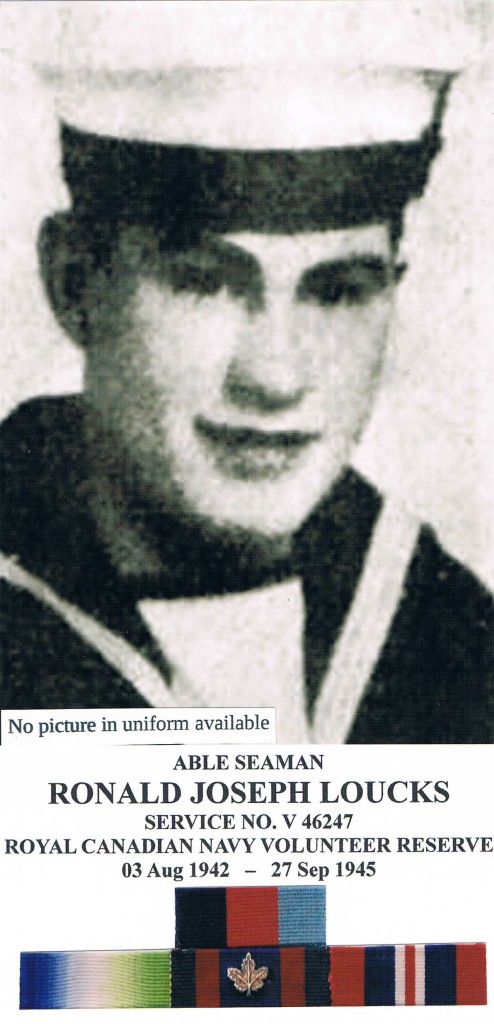 MILITARY HISTORY
Able Seaman Ronald Joseph Loucks – V 46247 — ACTIVE SERVICE (World War II)
On August 3, 1942, Ronald Joseph Loucks completed the Attestation Paper for the Royal Canadian Naval Volunteer Reserve (RCNVR), in Kingston, Ontario. He was 21 years and 14 days old when, as a single man, he enlisted for the duration of the War. Ronald Joseph was born in Peterborough, Ontario and gave his birth-date as July 20, 1921. He indicated that he did not have previous Military experience. Ronald completed Grade VII, in the Peterborough Public School System and left school; he started to work in 1938. He lists his previous employment with Canada Packers (2 months), Peterborough Carpet (2 months), Grocery Deliveryman (18 months), and Dominion Woolens (2 years). Ronald was 5′ 8" tall, 36" chest, had green eyes, brown hair and weighed 121 pounds. His Medical Examination indicates he had a scar on the back of his right shoulder. Ronald lists, his mother, Mrs. Florence Loucks as his next-of-kin living at 457 Murray Street, Peterborough. He was deemed fit for service with the RCNVR. Ronald Joseph Loucks signed the Oath and Certificate of Attestation on August 3, 1942. He was then enrolled as an Ordinary Seaman (O/S) with Service Number V 42647.
Note of clarification: His Majesty's Canadian Ship (HMCS), was not only a designation used for ships but also as a shore establishment which provided training for many facets of the naval profession.
Having completed the Attestation process, on August 3, 1942, O/S Loucks was assigned to HMCS Cataraqui, a shore establishment Training Base (TB), at Kingston, Ontario. He was placed on Active Service October 3, 1942. His next assignment was to HMCS York a shore establishment TB located at Toronto, Ontario from October 9, 1942, to December 19, 1942. On December 20, 1942, O/S Loucks was assigned to HMCS Cornwallis a shore establishment TB, located at Deep Brook, Nova Scotia, on the southern shore of the Annapolis Basin. From January 19, 1943, to January 23, 1943, (5 days), he was aboard the HMCS Vision (S11), an armed Yacht. This Yacht was launched and commissioned into the Royal Canadian Navy (RCN) October 5, 1940. Based on it's speed and maneuverability, it was a useful coastal patrol vessel, used mostly in the Bay of Fundy.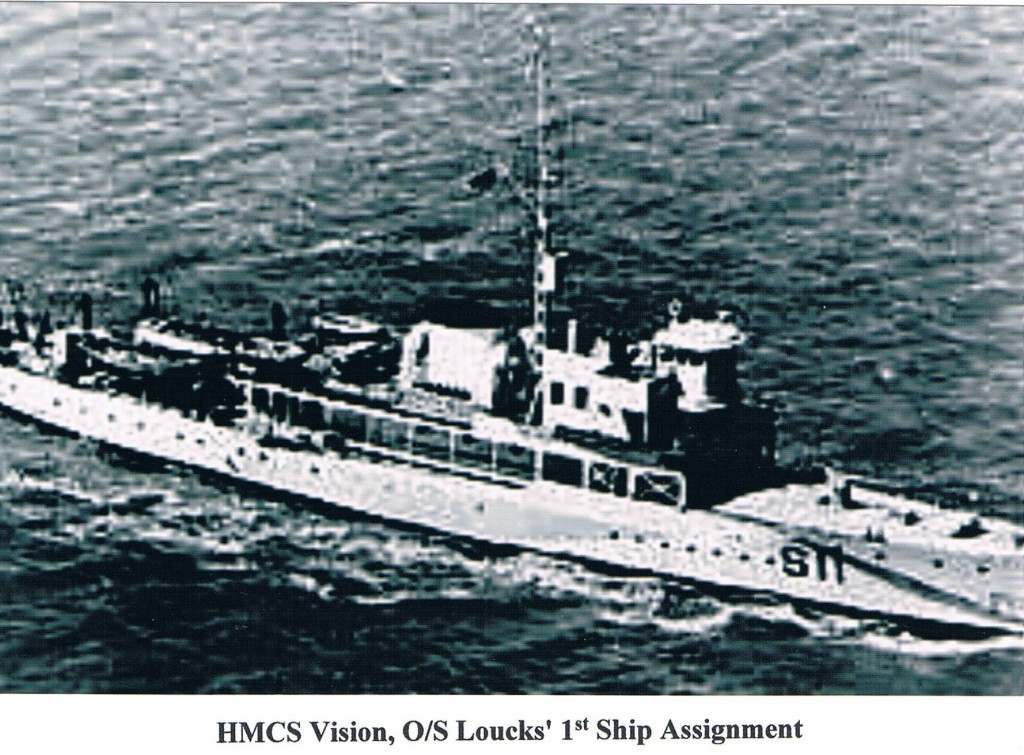 HMCS Vision, O/S Loucks' 1st Ship Assignment
Following this "on ship" experience, O/S Loucks was back at HMCS Cornwallis, from January 24, 1943 to April 8, 1943. His next assignment was to HMCS Stadacona a shore establishment TB located in Halifax, Nova Scotia from April 9, 1943 to April 12, 1943. From April 13, 1943 to May 5, 1943, (23 days), O/S Loucks was aboard the HMCS Stratford (J310), a Bangor-Class Minesweeper, commissioned into the RCN August 29, 1942, and operating out of St. John's, Newfoundland. This vessel patrolled the Bay of St. Lawrence, and the Atlantic Ocean, off the coast of Newfoundland.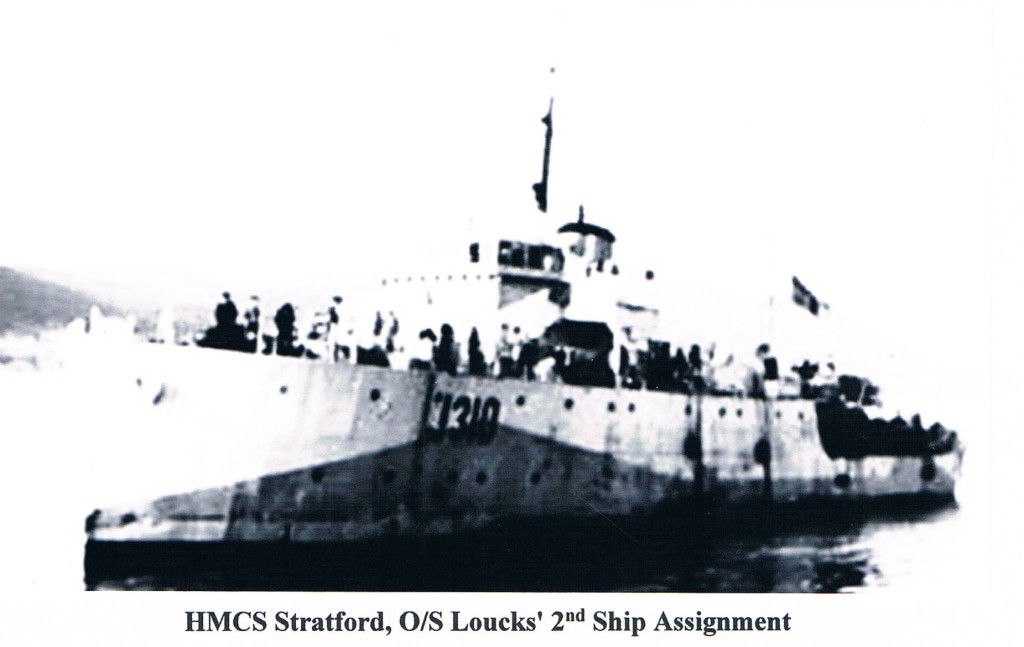 HMCS Stratford, O/S Loucks' 2nd Ship Assignment
His next assignment, on May 6, 1943, was to HMCS Avalon, a Royal Canadian Naval Shore Station (Signal Establishment), located in St. John's, Newfoundland. He would remain there until January 6, 1944. From January 7 to January 8, 1944, (2 days), he was aboard the HMCS Summerside (K141), a Flower-Class Corvette commissioned into the RCN September 11, 1941.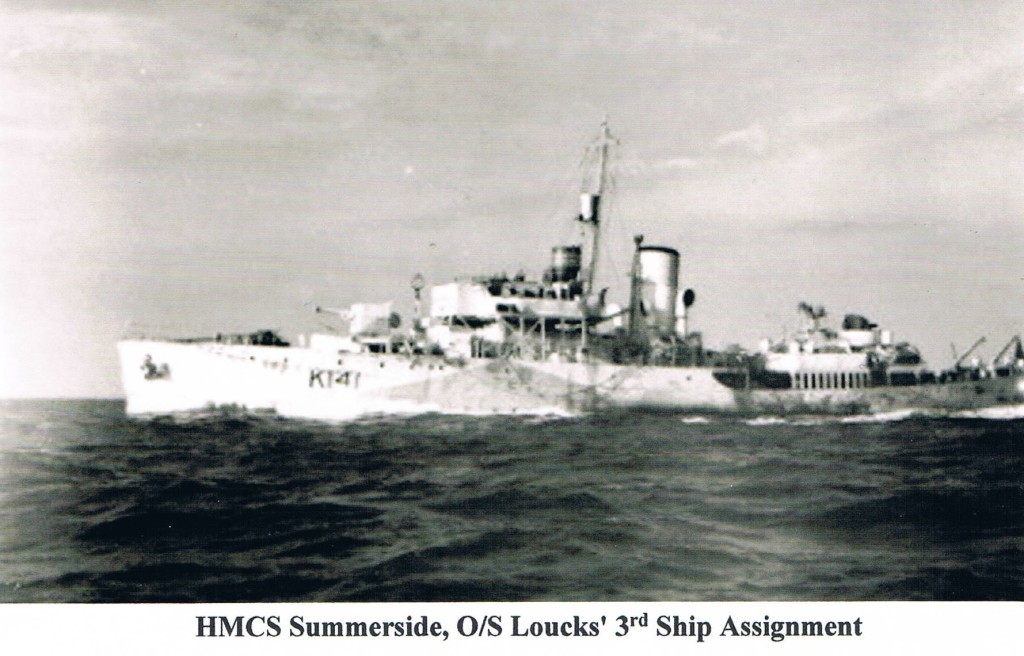 HMCS Summerside, O/S Loucks' 3rd Ship Assignment
After this short stint at sea, O/S Loucks' next assignment was back at HMCS Avalon, from January 9, 1944, to June 25, 1944. There is a possibility, but not indicated on his Military File, that part of this time may have been at sea. His Service Record gives him credit for 13 months at sea, whereas his Discharge Record gives him credit for 17 months, a difference of 4 months.
O/S Loucks was now assigned aboard HMCS Fredericton (K245), a Flower Class Corvette, commissioned into the RCN December 1941. He would serve aboard this vessel, operating out of HMCS Avalon, St. John's Newfoundland, from June 26, 1944, to December 11, 1944 and out of HMCS Stadacona, Halifax, Nova Scotia, from December 12, 1944 to June 15, 1945 (355 days). It should be noted, that records indicate the HMCS Fredericton, after departing Londonderry, Northern Ireland on September 30, 1944, and sailing across the North Atlantic, underwent a major refit, during the Fall of 1944, at the shipyards in Saint John, New Brunswick (NB). During this refit the crew remained assigned to HMCS Fredericton (K 245) performing various duties, both on and off the ship. Following the refit HMCS Fredericton underwent extensive sea trials off Bermuda. In February 1945 she joined Escort Group C-9 and resumed her duties as an ocean escort. The Fredericton was known as the "luckiest ship in the Royal Canadian Navy", based on the fact that during it's entire time at sea, it was never fired upon by the enemy nor used it's weapons against the enemy. The ship was nicknamed, by her crew, as "the Freddie"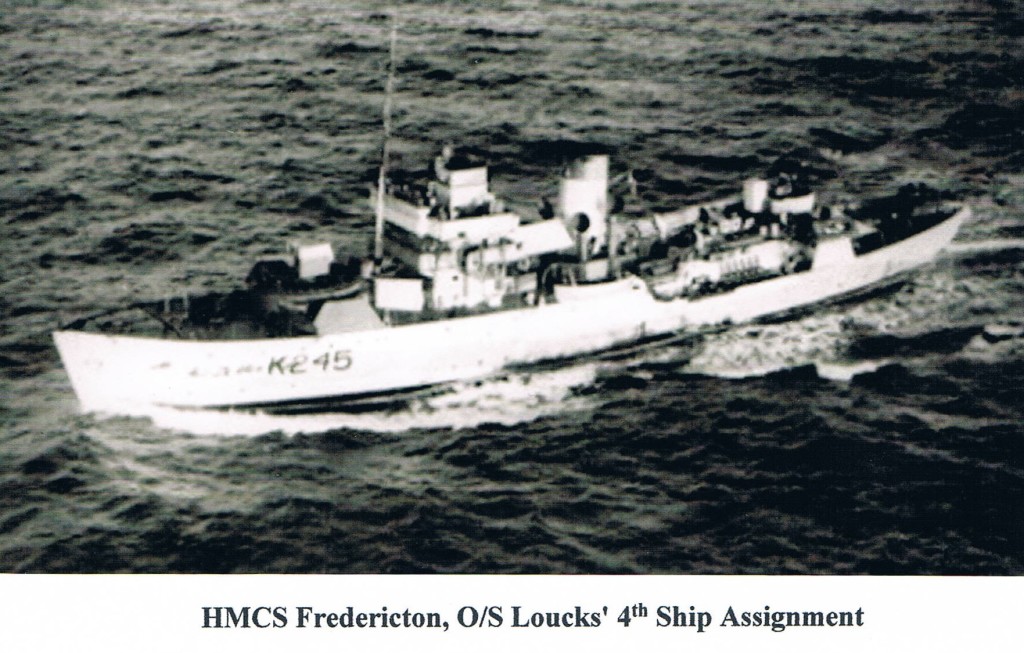 HMCS Fredericton, O/S Loucks' 4th Ship Assignment
In-spite of the designation "Ordinary Seaman", there was nothing ordinary about life aboard a Flower-Class Corvette. They were designed for inshore patrol and harbour anti-submarine defense, not Open-Ocean Service. In Service, they were used mostly in the North Atlantic, as convoy escorts, in an anti-submarine capacity. Flower-Class Corvettes were slow for a warship with a maximum speed of 16 knots (30 km/h), with a range of 7,400 nautical miles at 10 knots. They were very lightly armed, as they were intended solely for anti-submarine warfare. Armament consisted of a 4" (102mm) deck gun mounted on the bow, a 2 pounder (40mm) pom-pom gun on a "bandstand" over the engine room, and depth charge racks carrying 40 depth charges. In early 1943, upgrades were made in armaments with the addition of twin 20 mm anti-aircraft guns mounted on each wing of the bridge, and the "Hedgehog" depth charge delivery system. For hunting submarines HMCS Fredericton was equipped with Type 123A – ASDIC Fixed Dome Detection System. This system could detect the distance to underwater sounds but could not determine the depth. ASDIC was generally described as "Allied Submarine Detection Investigation Committee" although the acronym grew from "Active Sound Detection + IC (for material used)".
Service aboard a Flower-Class Corvette for O/S Loucks and his ship-mates often was not pleasant. The North Atlantic was typically cold, wet, often monotonous, and very uncomfortable. Men at Action Stations were constantly drenched with spray, water entered the living quarters through open hatchways, interior decks were constantly wet and condensation dripped from overhead. Although Corvettes were extremely sea-worthy, they had poor sea-handling characteristics resulting in severe pitching and rolling. It was said: "Corvettes would roll on wet grass". As a result, of this characteristic, many of the crew suffered severely from seasickness, until, if they ever did become use to the constant motion of the vessel. Corvettes, in action, typically carried a crew of 85 including 6 Officers, twice as many crewmen as anticipated in the original design. When all the bunks were full, the rest of the crew, would sleep where they could find a spot, on lockers, on table tops, or in any dark place that offered a little warmth. Based on this overcrowding, storage of food was very limited. There was no room for perishable food items, as such they ate a constant diet of preserved or canned food such as corned-beef, powdered potato and eggs for all meals. The head (toilet), of which there was only one, for 85 men, was connected by a pipe directly to the ocean. Using the head, when the ship hit a backwash, added a whole new dimension to the experience. The men like O/S Loucks and his shipmates, who served aboard Corvettes, in the North Atlantic, were a tough breed.
A fully restored Corvette, the HMCS Sackville, is permanently docked at the Halifax Waterfront and is open for visitors during the summer months.
June 16, 1945, O/S Loucks was back on dry land, at HMCS Avalon, where he would be stationed until June 19, 1945. It was here that he received a promotion (Rated) to Able Seaman (AB). June 20, 1945, AB Loucks was next assigned to HMCS Cornwallis, where he would remain until September 12, 1945. His journey came full circle when on September 13, 1945, he was assigned back to HMCS Cataraqui, in Kingston. He would remain there until September 27, 1945, when he was discharged due to demobilization. AB Loucks was paid a Personal Clothing Allowance (PCA) and a Rehabilitation Grant (RG).
While in the Service, Able Seaman Loucks would receive three efficiency ratings (December 31, 1942, December 31, 1943 and December 31, 1944. On each occasion his character is described as very good, and efficiency as satisfactory.
As a result of his Service, Able Seaman Ronald Joseph Loucks was awarded the following Medals:
1939 – 1945 Star;
Atlantic Star;
Canadian Volunteer Service Medal and Clasp; and
War Medal 1939 – 1945.
He also qualified for the War Service Badge – Navy Class "AA"
Over the course of his Service with the Royal Canadian Navy, Ronald Joseph Loucks was assigned to the following: Shore Establishments – HMCS Cataraqui (twice), HMCS York, HMCS Cornwallis (twice) and HMCS Stadacona; Royal Canadian Navy Shore Station (Signals Establishment – HMCS Avalon (three times); and Ships – HMCS Vision, HMCS Stratford, HMCS Summerside and HMCS Fredericton.
On September 27, 1945, as part of his Discharge Interview, Lieutenant Marvin W. Farrell, of the RCNVR stated the following: "Service – 35½ months with 17 months at sea, Canada, Newfoundland, North Atlantic. Joined as Ord Seaman, discharged as Able Seaman. Took basic seamanship course, commenced a gunnery course. Has done guard duty ashore, regular seaman duties at sea. Duties – general such as cleaning and painting, sentry duty, acting as lookout, splicing rope, steering, assisting in working parties, manning sea boats, and signaling". It goes on to indicate that he (Able Seaman Loucks) is now married. There is a note (not dated) on the Record completed at HMCS Cataraqui requesting: name and address of nearest relative or friend; to which the response is "wife, Mrs. Theresa K. Loucks, Box 597, Lakefield, Ontario". Lt Farrell closes with: "this young man seems like an average fellow with a fair degree of competence, confidence in meeting the public. He has entered a service station enterprise with another returned man, says there is a good business. He mentions that he is picking up the garage repair business. He mentions a desire for vocational training in carpentry if the repair business falls through. He will probably be quite content with the garage business".
Upon his discharge Ronald Joseph Loucks lived in Lakefield with his wife. He died April 15, 1983 and was interred in Hillside Cemetery, Lakefield Ontario.
Ronald Joseph Loucks died suddenly at his residence, 61 Coyle Crescent, Lakefield on Friday, April 15, 1963.
An excerpt from an article in Maclean's magazine by Barbara Ameil, September 1996:
The Military is the single calling in the world with a job specification that includes a commitment to die for your nation. What could be more honorable.
PERSONAL HISTORY
RONALD JOSEPH LOUCKS
Ronald Joseph Loucks was born July 20, 1921* in Peterborough, Ontario, he went by the nickname "Ron". He was educated in the Peterborough Public School System from 1938 to 1943 and completed Grade 7. At 14 years of age Ron left school and went to work.
Ronald Joseph Loucks married Theresa Mc Fadden. Ron & Theresa had the following children: Lynn (Mrs. Peter Graham); Mary (Mrs. Garrett); Margaret (Mrs. Robert Pogue); Ronald and Donald. – Where did they live?
Ronald Joseph Loucks died suddenly at his residence, 61 Coyle Crescent, Lakefield on Friday, April 15, 1983; he is interred in Hillside Cemetery, Lakefield Ontario.
*Ron's date of birth when he enlisted was given as July, 20, 1921; his date of death (in the newspaper) is April 15, 1983. According to these dates Ron would have been 61 years, 8 months and 26 days old when he passed away. His headstone has his age as 58 years?
THE RONALD JOSEPH LOUCKS FAMILY OF LAKEFIELD
Ronald Joseph's paternal grandparents
Ronald Joseph's parents, Mr. & Mrs. Loucks, had five children: Ronald Joseph; Margaret, married Lawrence Farley; Jean, married a Phillips; Douglas and Jack.