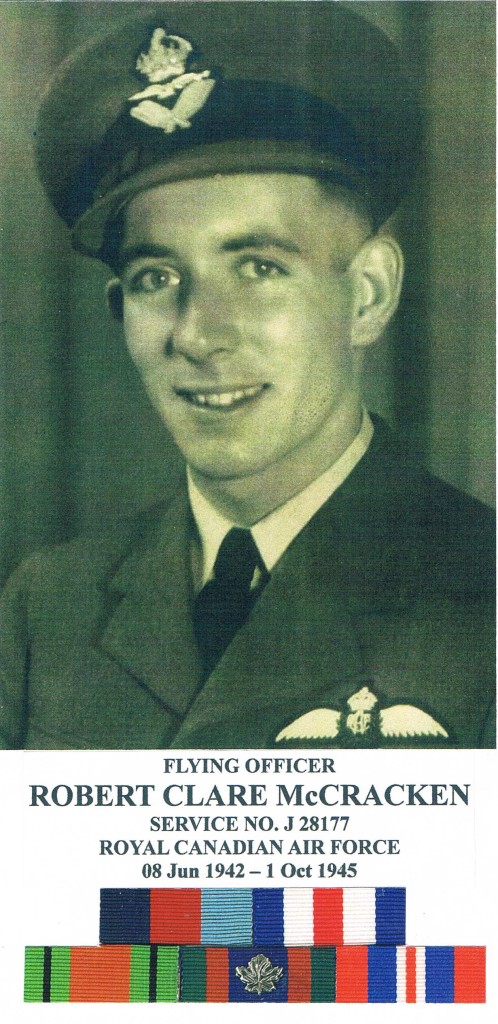 MILITARY HISTORY
Flying Officer Robert Clare McCracken – J 28177 – ACTIVE SERVICE (World War II)
On June 8, 1942 Robert Clare McCracken completed the Attestation Paper for the Royal Canadian Air Force (RCAF) at the RCAF No 11 Recruiting Centre in Toronto, Ontario. He was 20 years, 5 months and 16 days old when, as a single man, he enlisted for the duration of the War. Robert Clare was born in Lakefield, Ontario and gave his birth-date as December 22, 1921, he did not have previous Military Reserve experience. He attended the Lakefield Public School from 1926 to 1935; graduated Grade 8 and then completed 4 years of High School from 1935 to 1939 at Lakefield. Robert Clare's previous employer was W.W. Leonard, owner of the Leonard Hardware Store where he was employed as a Hardware Clerk from 1939 to 1942. Robert Clare was 5′ 9" tall, 36" chest, weighed 120 pounds and had blue eyes and brown hair. His next-of-kin was listed as his father; William Hilliard McCracken of Lakefield. Included in the references on his Attestation Paper were: Minister Rev H.L. Roberts of Water St., Peterborough; School Teacher, Head, Mathematics – Peterborough Collegiate, C.S. Browner; Manager, Royal Bank, H.C. Sootheran of Gilmour St., Peterborough and manager of Chex Radio Station, H. Cooke of Peterborough. On October 3, 1942 Robert Clare's medical was done in Toronto, Ontario; it indicated that he was fit for duty with the RCAF. Robert Clare McCracken signed the Oath and the Certificate June 8, 1942 at No 11 Recruiting Centre, Toronto. He was then enrolled as Air Crew in the rank of Aircraftman 2nd Class (AC 2) [Private Recruit equivalent] with Service Number R 170610.
On June 8, 1942 AC 2 McCracken was taken-on-strength with No 1 Manning Depot (MD) in Toronto, Ontario with the RCAF for basic training. All training was part of the British Commonwealth Air Training Plan (also know as the Joint Air Training Plan [JATP]). His basic training at No 1 MD, which generally lasted 4 to 5 weeks, would have included; "how to bathe, shave, shine boots, polish buttons, maintain his uniform and otherwise behave in the required RCAF manner". In addition there were; "two hours of physical education every day and instruction in marching, rifle drill, saluting, taking orders and getting use to other Military routines". He also underwent an endless series of inoculations. On June 15, 1942 he spent one day in the Station Hospital, no reason is given, and was released on June 16, 1942. On August 1, 1942 AC 2 McCracken was struck-off-strength from No 1 Manning Depot, Toronto.
On August 2, 1942 he was taken-on-strength with No 6 Bombing and Gunnery School (BGS) located at the Mountain View RCAF Base. This Base was located in Prince Edward County near Picton, Ontario. Bombing and Gunnery Schools (BGS) offered instruction in the techniques of bomb aiming and machine gunning. Based on the nature of the training, these schools required large areas to accommodate their bombing and gunnery ranges and were often located near water. On September 26, 1942 AC 2 McCracken completed his BGS training and was struck-off-strength from No 6 BGS.
On September 27, 1942 he was taken-on-strength with No 5 Initial Training School (ITS) located at Belleville, Ontario. This School was housed in what is now the Ontario Provincial School for the Deaf. Pilot candidates began their training at an Initial Training School (ITS). They studied theoretical subjects and were subjected to a variety of tests. Theoretical studies involved "navigation, theory of flight, meteorology, duties of an Officer, Air Force Administration, algebra and trigonometry". Tests included "an interview with a Psychiatrist, a 4 hour long M2 physical examination, a session in a decompression chamber and a test flight in a Link Trainer, as well as academics". On December 5, 1942 AC 2 McCracken was promoted to Leading Aircraftman (LAC) [Lance Corporal equivalent]. He was granted 14 days Special Leave from December 10, 1942 to December 24, 1942. This was followed by a 5-day Christmas Leave from December 24, 1942 to December 29, 1942. On December 29, 1942 LAC McCracken, having completed the ITS training, was struck-off-strength from No 5 ITS and granted 13 days Semi Annual Leave from December 29, 1942 to January 11, 1943.
On December 30, 1942 LAC McCracken was taken-on-strength with No 13 Elementary Flying Training School (EFTS) located at St. Eugene, Ontario. The School was in East Hawkesbury Township, in Eastern Ontario along the Québec border and the Ottawa River. An EFT School provided the candidates 50 hours of basic flight instruction in a simple trainer, such as a Tiger Moth. Elementary Schools were operated by Civilian Flying Clubs under contract to the RCAF and most of the Instructors were civilian. On March 20, 1943 LAC McCracken, having graduated from the EFTS, was struck-off-strength from No 13 EFTS. Graduates of the EFTS "Learn to Fly" Program went on to Service Flying Training School (SFTS). Candidates in the Fighter Pilot stream were sent to the appropriate School.
On March 21, 1943 LAC McCracken was taken-on-strength with No 2 Service Flying Training School (SFTS) at Uplands RCAF Base located in Ottawa, Ontario. Candidates would spend 16 weeks, in training, the first 8 weeks was as part of an Intermediate Training Squadron, the next 6 weeks with an Advanced Training Squadron and the remaining 2 weeks at a Bomber and Gunnery School (BGS). Service Schools were Military establishments run by RCAF Personnel. LAC McCracken spent June 24, 1943 to July 2, 1943 training in a Harvard Trainer.
The Harvard Trainer Mk IIB was a two seater aircraft, built in Canada, and was used as an Advanced Trainer, by the RCAF. This aircraft helped Pilots make the transition from the lowered powered primary trainers to higher performance aircraft. The Harvard Trainer Mk IIB specifications were: length 28′ 11", wingspan 42′, powered by 1 – 600 hp Pratt Whitney Wasp engine, max speed 180 mph, cruising speed 140 mph, service height 22,400 feet, range 800 miles.
On July 8, 1943 LAC McCracken was "discharged from RCAF Special Reserve (SR) under paragraph 392 (18) KR (Air) on appointment as an Officer". On July 9, 1943 he was promoted to Flight Sergeant (F/Sgt) (paid) [Staff Sergeant equivalent].
On July 9, 1943 F/Sgt McCracken was taken-on-strength (as an Officer) with No 10 Operational Training Unit (OTU) located at Bagotville, Québec, in the Saguenay District. The OTU was the last stop for Pilots in training. Candidates spent 8 to 14 weeks learning to fly operational aircraft, which in the case of McCracken, was the Hawker Hurricane.
The Hawker Hurricane was a single seat high performance fighter aircraft. Although over shadowed by the Supermarine Spitfire, it accounted for 60% of the RAF Air Victories during the Battle of Britain. The aircraft specifications were: length 32′ 3", wingspan 40′, powered by 1 – 1,185 hp Rolls-Royce Merlin engine, max speed 390 mph, service ceiling 36,000 feet, range 600 miles, armament 4 x 20 mm Hispano Mk II cannon and 2 x 250 or 500 pound bombs.
The Instructors, at No 10 OUT, had experience in actual combat operations and were posted to OTUs after completing their operational tour. F/Sgt McCracken was granted a 7-day Special Leave from July 10, 1943 to July 16, 1943. On October 2, 1943, after completing training, he was struck-off-strength from No 10 OTU.
On October 3, 1943 F/Sgt McCracken was taken-on-strength with RCAF Eastern Air Command, located at Halifax, Nova Scotia. Eastern Air Command (EAC) was part of the RCAF Home War Establishment responsible for air operations on the Atlantic coast of Canada during WW II. It played a critical role in Anti-submarine operations in Canadian and Newfoundland waters. On October 4, 1943 F/Sgt McCracken was struck-off-strength from EAC on transfer to 128 Squadron at Sydney, Nova Scotia.
On October 5, 1943 he was taken-on-strength with 128 Squadron. 128 Squadron flew the Hawker Hurricane aircraft. On October 6, 1943 F/Sgt McCracken and 128 Squadron were posted to RCAF Station Torbay, Newfoundland. On January 9, 1944 he was promoted to the rank of Temporary Flying Officer (T/F/O) [Lieutenant equivalent] and assigned Service Number J 28177. From October 6th until April 5th, 1943 T/F/O McCracken would have spent his time patrolling the waters off the Atlantic Coast.
On April 5, 1943 at 0900 hours T/F/O McCracken proceeded on temporary duty (T/D) by air to Scoudouc, New Brunswick. This temporary duty ceased upon return to RCAF Station Torbay, Newfoundland on April 6, 1943 at 2300 hours. T/F/O McCracken was granted a 5-day Leave from April 23 to 28, 1944. On May 7, 1943 he was granted a 6-day Leave from May 7 to 13, 1944. He was granted a further 7-day Embarkation Leave from May 14 to 21, 1944.
On May 21, 1944 F/O McCracken was struck-off-strength from Station Torbay, Newfoundland and on May 22, 1944 he was taken-on-strength at No 1 YD 3 Personnel Reception Centre (PRC) Lachine, Québec, pending reposting overseas. On June 2, 1944 F/O McCracken was struck-off-strength from No 1 YD 3 PRC on embarkation from Halifax, Nova Scotia. On June 10, F/O McCracken disembarked in the United Kingdom and on June 11, 1943 he reported to No 3 Personnel Reception Centre (PRC), located at Innsworth, England.
August 3, 1944 F/O McCracken was posted to "Charter Hall"; Charter Hall was an RAF airfield located at Berwickshire, England very near the Scottish border. It was here that fighter pilots learned night fighting skills. Based on the number of accidents and casualties that occurred at the Base it was nicknamed "Slaughter Hall". On August 15, 1944 F/O McCracken was struck-off-strength from Charter Hall upon being transferred to and taken-on-strength with No 61 Operational Training Unit (OTU). On October 24, 1944 F/O McCracken was struck-off-strength from No 61 OTU and on the same day was taken-on-strength with No 83 Group Support Unit (GSU). This Unit provided fighter support for bomber raids over occupied Europe. On December 1, 1944 he was struck-off-strength from No 83 GSU upon being transferred to RCAF 411 Squadron – 126 Wing. This Squadron was nicknamed "the Grizzly Bears". Its Motto was "Inimicus Inimico" which translates to "Hostile to an enemy". The 411 Squadron operated out of an RAF Base located near Digby in Lincolnshire, England and flew Supermarine Spitfires.
The Spitfire was the premier front line fighter aircraft used by the British Commonwealth Air Forces, including the RCAF. The aircraft specifications were: length 31′ 5", wingspan 36′ 10", powered by 1 – 1,790 hp Rolls Royce Merlin supercharged V-12 engine, max speed 408 mph, cruising speed 324 mph, service ceiling 43,000 feet, range 1,800 miles, armament 4 – 20 mm cannon or 2 – 20 mm cannon and 4 – 303" machine guns.
It is stated that the development of the Spitfire type Mark IX aircraft in late 1942 allowed the RAF and RCAF to go back on the offensive over occupied Europe and resume "the Circus, Ramrod, Rhubarb and Rodeo raids". "Circus raids were bomber attacks with fighter escorts executed during the day time. The attacks were against short range targets with the intention of keeping enemy fighters occupied and in the area. "Ramrod raids" were similar to circus raids and were meant to destroy ground targets. Rhubarb & Rodeo raids" were massed fighter sweeps over northern Europe looking for targets of opportunity.
Within twenty-four hours of the Normandy Invasion, the 411 Squadron – No 126 Wing was operating from forward airstrips near the invasion beaches. It is worth noting that No 126 Wing did supply air support over Juno Beach during the landing of the Canadians. From the D-Day Invasion and breakout, through Falaise Gap, Operation Market Garden, the winter offensive in the Ardennes and the crossing of the Rhine River into Germany, the 126 Wing was in the thick of the action. It is reported that it was the most successful of the Wings operating over northern Europe. From June 6th, 1944 to VE Day the 90 Spitfires of the No 126 Wing were responsible for shooting down 333 enemy aircraft. During his many Operations and Special Missions, F/O McCracken was given credit for one of the "Kills". They also destroyed numerous freight trains carrying munitions and supplies to and from the Front-Line, as well as truck convoys. Their operational objective was providing close air support and armed reconnaissance flights for the advancing British/Canadian Armies.
During his Service, F/O McCracken would have encountered the Messerschmitt Bf 109 single-engine fighter (also known as the Me 109); the Messerschmitt Bf 110 twin-engine heavy fighter/bomber (also known as the Me 110), and the Focke-Wulf Fw 190. In the air the Spitfire Mk IX was the equal, in performance, to the Me 109 and Fw 190. Often the advantage, in aerial combat, went to which aircraft had the better initial position, numbers, tactics, and Pilot skill. It would appear that F/O McCracken was equal to the task.
"As a self-contained Unit, the 5 Squadrons of No 126 Wing were self-sufficient in everything they did. When the order came to move men, fuel, ammunition and everything vital for its operation they just picked up and drove to the next farmers field or suitable meadow. Often traveling in the dark on bombed out roads. These ground Units did an amazing job of not only finding their next Base of Operation, but preparing the field for the Fighters to be ready for the next day's flights. Every landing strip was temporary and often just miles from the front line. Home was a tent and a slit trench a place of safety. Dysentery was common, leaving some pilots too weak to fly. Often they were shelled by German Artillery and mortars and on occasion they found themselves operating from behind enemy lines".
"By the beginning of September the Wing was operating out of an airfield designated B4, its seventh airfield since transferring to France. Airfield B4 was located near Amiens, France allowing the fighters and fighter-bombers to give close support to the 2nd British Army as it closed up to the Albert Canal east of Antwerp. Just as the Wing began to settle into B4 on September 5th, 1944 it received orders to move again, this time to airfield B56 at Evere, Belgium just north of Brussels. Even this stay was brief. On September 20, 1944 the Wing transferred to B68, near Le Culot", France.
"Monty Berger, the Wing's Intelligence Officer would say of B68: "The barracks were badly damaged. The new quarters were damp, unheated and overcrowded. The lack of indoor plumbing and flush toilets was also keenly felt. Pilots drove 16 kilometres to a nearby town just to bathe. Respiratory afflictions increased and morale was affected".
"Morale was especially affected by the daily grind of Flying Operations, especially missions against ground targets. Attacking a ground target was one of the most dangerous tasks a Pilot could attempt. Ground fire from the enemy, friendly fire, Pilot error, bad weather and mechanical malfunction all took their toll. When a Spitfire was diving on a target at close to 450 kilometres per hour anything could go wrong and in a split second, the aircraft could plunge out of control. There was little room for error almost no time for recovery or bail out. Even when there was no battle men died".
The Military File indicates that on March 24, 1945 and March 25, 1945, F/O McCracken was on air patrol in a Spitfire over the province of Gelderland, Netherlands in the area of the Towns of Zutphen and Winterswijk. On March 26, 1945 he was on an armed reconnaissance (RECCE) mission, over Germany in a Supermarine Spitfire type Mark IX.
On March 26, 1945 F/O Bob McCracken was listed as "missing-in-action". It was reported that his aircraft was struck by heavy flak while he was flying over the target. Although his aircraft burst into flames, F/O McCracken successfully bailed out of the plane. In doing so he was awarded, at a later date, the Gold Caterpillar Pin (the Pin is awarded to a Pilot who uses his parachute; the parachute is made from silk produced by a moth caterpillar or silkworm). Having injured his leg on landing he was not able to make a speedy escape and was quickly captured by the Germans.
On March 27, 1945 F/O McCracken was struck-off-strength from 411 Squadron and placed on the Non-effective Unit (NEU) List.
March 29, 1945 Mr W.H. McCracken (father) received notification that his son, Flying Officer Robert Clare McCracken, "is reported missing on Active Service". The notification goes on to state: "Advice has been received from the Royal Canadian Air Force Casualties Officer, that your son was the sole occupant of an aircraft which failed to return to its base after taking off to carry out armed reconnaissance operations over the area of Dorsten,
Hamm, Halton and Musnter, Germany, on March 26th, 1945. Your son was seen to abandon his aircraft by parachute at 7:08 A.M. approximately twelve miles north west of Hamm, Germany, and was later seen to be gathering up his parachute near a wood. His Squadron reports he is believed to be a Prisoner of War but no further information is available".
April 10, 1945 Mr. W.H. McCracken received another notification which stated: "Further to our letter of March 29th concerning your son, Flying Officer Robert Clare McCracken, reported missing on Active Service Overseas on the morning of March 26th, 1945. Flight Lieutenant J.G. Burchill states that your son is a Prisoner of War. He last seen him on March 30th about 30 miles from Bremen on the march to that city. No further information has been received and it cannot be confirmed that he is a Prisoner of War. This, as you will understand, is due to the chaotic conditions that exist at the present time in Germany. As your son's whereabouts are not known, he will still continue to be classified as 'missing".
During his time as a Prisoner of War, at Stalag Luft 1 – north-west of Bremen, Flying Officer McCracken was beaten and had his teeth knocked out. This was in retaliation for the devastating impact that the Spitfires Pilots, flown by the RCAF and RAF, were having on the Germans, both in the air and on the ground.
On May 12, 1945 he was listed as safe and flown back from the Prison Camp to England aboard a Flying Fortress aircraft. On May 12, 1945 he was struck-off-strength from the Non-effective Unit and then F/O McCracken was taken-on-strength with the No 3 Personnel Reception Centre (PRC), England.
May 31, 1945, F/O McCracken was struck-off-strength from No 3 PRC and on June 1, 1945 he was taken-on-strength with No 1 Repatriation Depot from Canada Overseas. He was then granted 42 days Special Leave (ITT) from June 11, 1945 to July 24, 1945. On June 11, 1945 he was struck-off-strength from No 1 Rep Depot located at Lachine, Quebec. On June 12, 1945 he was taken-on-strength with No 1 Composite Training School (KTS) located at Toronto. On June 19, 1945 he was struck-off-strength from No 1 KTS.
October 1, 1945 upon completion of his Active Service, Flying Officer Robert Clare McCracken was "honourably released" from the Royal Canadian Air Force, and was transferred to the Reserve, General Section, Class "E". There is no mention as to when FO McCracken was discharged from the Reserve.
F/O McCracken's Military File indicates; under "Orders, Medals, Mentions and Commendations awarded during his service, were the:
1939 – 45 Star;
France and Germany Star;
Defence Medal;
Canadian Volunteer Service Medal and Clasp; and
War Medal 1939 – 45.
He also was awarded his Pilot's Flying Badge.
Flying Officer Robert Clare McCracken served for 2 years, 3 months, and 23 days in Canada, and 1 year in England plus 47 days as a Prisoner of War for a total of 3 years, 5 months and 10 days.
An excerpt from an article in Maclean's magazine by Barbara Ameil, September 1996:
"The Military is the single calling in the world with job specifications that include a commitment to die for your Nation. What could be more honorable"?
Scores Quick Victories in Short Scrap
First Success Comes With Record Bag For Pilot – by Stan Helleur
Holland – December 31
Dick Audet, the young Canadian who made air war history in a Spitfire over Germany by destroying five German aircraft in a single dogfight, failed to claim a fifth kill at first interrogation.
It wasn't until he and his squadron mates returned from a subsequent mission and retraced the battle Hun by Hun that the 22-year-old Lethbridge, Alta, pilot claimed "two Me 109s and three FW 190s destroyed."
It was all the more remarkable in that it was his first success in the air. He had no luck at all on his first operational tour from English bases.
Audet's five-to-seven minute dream battle materialized 14,000 feet over Osnabruck where, leading a section of the high scoring "Grizzly Bear" squadron, he spotted a mixed "gaggle" of 12 Mes and FWs.
The Canucks were at 16,000 feet on sighting. Audet said he closed on the trailing Hun aircraft, an Me 109, and opened fire from 200 yards with 30 degree deflection.
"I saw strikes all along the fuselage and wing roots," he said. "It broke into flame and then went down."
Both sides were milling around by the time Audet broke off that encounter and so he flew around in what he described as "defensive Circles," making sure nobody got on his tail and waiting for another chance to attack. It came in the form of a FW 190 on whose tail he closed from 250 to 100 yards.
His fire hit the enemy cockpit and as Audet flew over the now downward gliding Jerry kite he looked down and saw the pilot slumped over the control column, the cockpit enveloped in flames.
Victim No. 3 went down seconds later, although Audet isn't sure his solitary brief burst of fire hit home. But he and some of his mates observed the German kite's coupe-top come off and the pilot attempt unsuccessfully to bale out. The parachute had opened prematurely and caught in the cockpit. The Canadians saw the aircraft go straight into the ground.
Looking around, Audet saw F/O R.C. McCracken, Lakefield, Ont., hard on the tail of a 190 with another 190 on McCracken's tail. So he went after McCracken's pursuer, closed in to 250 yards line astern and hammered in many strikes along the fuselage.
"It went straight in and burned," he said.
McCracken also knocked down his prey.
After all that joy, as the fliers call it, Audet said he was ready to call it a day. He was rounding up his section again when he spotted a FW at 2,000 feet and went down after it. The Hun, after various manoeuvres, half-turned towards the Canadian as if planning a more or less head-on attack.
"I slowed down to let him pass before firing," Audet related, "and when he was about 200 yards off and at 20 degrees deflection I fired a short burst. He flicked violently to the right and continued to do so until he crashed into the ground."
Normally shooting down its 200th Hun aircraft since D-Day would have been the major topic of conversation within a Canadian Spitfire wing. But this still impressive fact was submerged yesterday by the feat of Audet.
The Canadians went one better than the 200 mark in their 11-for-the-day effort and became the first British Empire wing to do so.
Credit for the 200th is difficult to attribute, for Audet and McCracken were on the tails of FW 109s simultaneously and whose victim hit the dirt first is hard to determine.
PERSONAL HISTORY
ROBERT CLARE McCRACKEN
Robert Clare McCracken was born to William Hilliard McCracken & Whipple Mary Fairbairn on December 22, 1921 at Lakefield, Ontario. Robert Clare was known as "Bob", he lived in Lakefield, Ontario. Bob attended the Lakefield Public School from 1927 to 1935 and graduated from Grade 8. He then went on to High School from 1935 to 1939
Robert Clare McCracken married Eileen Armstrong on June 12, 1945 in Montréal, Québec. They returned to Lakefield where Bob and Eileen had two children: William Alexander, born November 14, 1947, died November 30, 1947 and Sandra Dawn born May 19, 1946.
Bob sold hardware supplies before working full time at Leonard's Hardware Store. Wes Leonard died and his son Jack passed away leaving Mrs. Wes Leonard to run the Store. Bob was given a very good offer so he purchased the business in the late 1950's and operated it until 1977 when he retired. He also operated R.C. McCracken Explosives until 1986. Eileen passed away on May 5, 1989.
Bob had always lived life to the fullest. Bob will be remembered for his generosity & his desire to help the needy. Bob enjoyed travelling & spent most winters lately in Florida. When he was younger Bob was active in many sports. He played hockey, lacrosse, football and more moderately baseball, tennis and badminton. In later years he enjoyed hunting, fishing, golfing, & curling but most of all he just wanted to be active with his friends. Over the years Bob had been active in many clubs and groups e.g. RCAF Squadron #411 Grizzly Bears, POW RCAF Life Member, Canadian Fighter Pilots' Association, Lakefield Lions Club, Legion Branch #77, Peterborough Golf Club, Centre Lake Rod & Gun Club, Lakefield Curling Club, and Katchiwano Golf Club. Bob had been an enthusiastic member of the Lakefield Volunteer Fire Department He was a lifelong member of the Lakefield United Church.
Robert Clare McCracken died February 23, 1992 in St. Joseph's Hospital, Peterborough Ontario.
THE ROBERT CLARE McCRACKEN FAMILY OF LAKEFIELD
Robert Clare's grandparents were James McCracken & Mary Ann Crowe, they lived in Lakefield, Ontario. James, born August 6, 1857 in Dummer Township married Mary Ann Crowe, born April 3, 1865 in Ireland. They were married in Warsaw, Ontario on January 21, 1889 and continued to live in Dummer Township, Ontario. Both were members of the Methodist faith. James and Mary Ann had the following children:
Lorne Edgar (Lawrence), born October 23, 1890, died 1982;
Frances Amy, born June 26, 1894, died September 28, 1898;
William Hilliard, born December 9, 1896, died December 3, 1977;
Stella Ann (Lila), born January 25, 1899, died 1991;
Chester Henry, born December 24, 1900, died February 16, 1993; and
Alma Violette (Violet), born July 28, 1910, died 1971.
James died in 1936, Mary Ann died in 1952.
Robert Clare's parents, William Hilliard McCracken, born December 9, 1896 in Dummer Township, Ontario and Mary Whipple Fairbairn, born January 26, 1903 in Smith Township, Ontario were married in Peterborough June 8, 1921. They had 4 children:
Robert Clare, born December 22, 1921 in Lakefield, died February 23, 1992;
Bethel Elizabeth, born November 3, 1926 in Lakefield, died July 1, 1931;
Richard Wilbert (Dick), born December 18, 1931 in Lakefield, died March 2, 1995; and
John Wayne (Jack), born February 20, 1937 in Lakefield, died March 8, 2000.
William Hilliard died at home on Clementi Street, Lakefield on December 3, 1977. Whipple Mary Fairbairn died December 5, 1982 at St. Joseph's Hospital, Peterborough.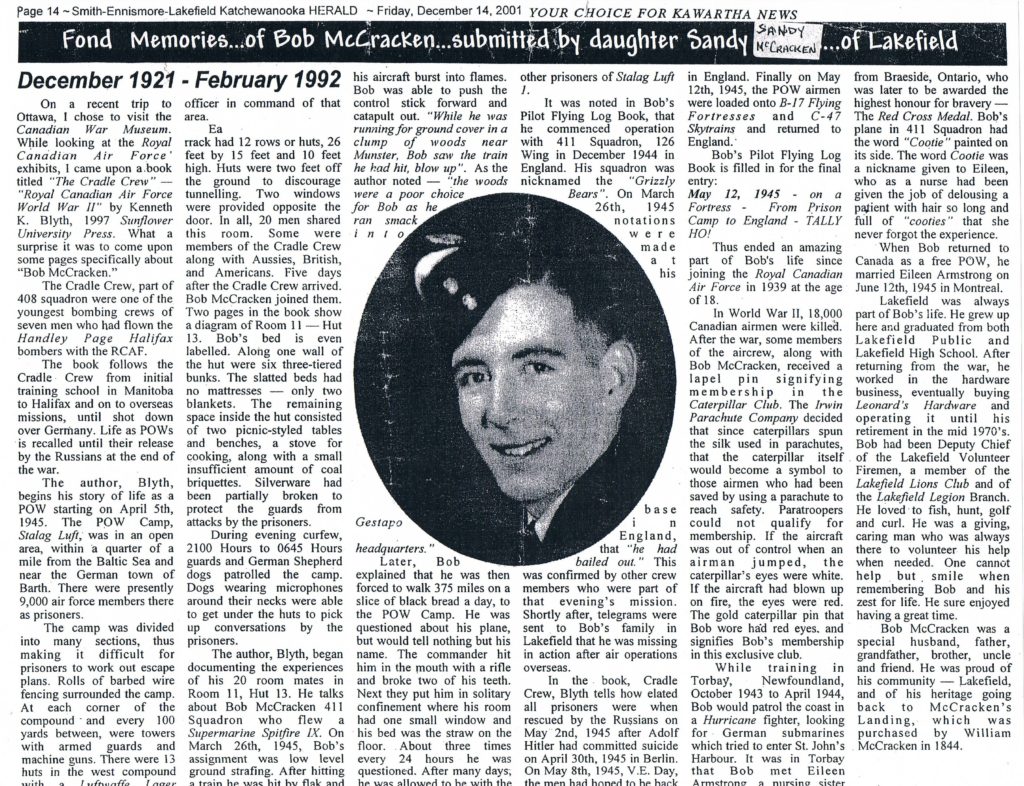 From the Smith-Ennismore-Lakefield Katchewanooka – Friday, December 14, 2001
Fond Memories… of Bob McCracken…submitted by daughter Sandy McCracken…of Lakefield
December 1921 – February 1992
On a recent trip to Ottawa, I chose to visit Canadian War Museum. While looking at the Royal Canadian Air Force exhibits, I came upon a book titled "The Cradle Crew" – "Royal Canadian Air Force World War II" by Kenneth K. Blyth, 1997 Sunflower University Press. What a surprise it was to come upon some pages specifically about "Bob McCracken".
The Cradle Crew, part of 408 squadron were one of the youngest bombing crews of seven men who had flown the Handley Page Halifax bombers with the RCAF.
The book follows the Cradle Crew from initial training school in Manitoba and on to overseas missions, until shot down over Germany. Life as POWs is recalled until release but the Russians at the end of the war.
The author, Blyth, begins his story of life as a POW starting on April 5th, 1945. The POW camp Stalag Luft, was in an open area, within a quarter of a mile from the Baltic Sea and near the German town of Barth. There were presently 9000 air force members there as prisoners.
The camp was divided into many sections, thus making it difficult for prisoners to work out escape plans. Rolls of barbed wire fencing surrounded the camp. At each corner of the compound and every 100 yards between, were towers with armed guards and machine guns. There were 13 huts in the west compound with Luftwaffe Lager officer in command of that area.
Each barrack had 12 rows or huts, 26 feet by 15 feet and 10 feet high. Huts were two feet off the ground to discourage tunneling. Two windows were provided opposite the door. In all, 20 men shared this room. Some were members of the Cradle Crew along with Aussies, British, and Americans. Five days after the Cradle Crew arrived, Bob McCracken joined them. Two pages in the book show a diagram of Room 11 – Hut 13. Bob's bed is even labelled. Along one wall of the hut were six three-tiered bunks. The slatted beds had no mattresses – only two blankets. The remaining space inside the hut consisted of two picnic-styled tables and benches, a stove for cooking, along with a small insufficient amount of coal briquettes. Silverware had been partially broken to protect the guards from attacks by the prisoners.
During evening curfew, 2100 Hours to 0645 Hours guards and German Shepherd dogs patrolled the camp. Dogs wearing microphones around their necks were able to get under the huts to pick up conversations by the prisoners.
The author, Blyth, began documenting the experiences of his 20 room mates in Room 11, Hut 13. He talks about Bob McCracken 411 Squadron who flew a Supermarine Spitfire IX. On March 26th, 1945, Bob's assignment was low level ground strafing. After hitting a train he was hit by flak and his aircraft burst into flames. Bob was able to push the control stick forward and catapult out. "While he was running for ground cover in a clump of woods near Munster, Bob saw the train he had hit, blow up". As the author noted – "the woods were a poor choice for Bob as he ran smack into Gestapo headquarters".
Later, Bob explained that he was then forced to walk 375 miles on a slice of black bread a day, to the POW Camp. He was questioned about his plane, but would tell nothing but his name. The commander hit him in the mouth with a rifle and broke two of his teeth. Next they put him in solitary confinement where his room had one small window and his bed was the straw on the floor. About three times every 24 hours he was questioned. After many days, he was allowed to be with the other prisoners of Stalag Luft 1.
It was noted in Bob's Pilot Flying Log Book, that he commenced operation with 411 Squadron, 126 Wing in December 1944 in England. His squadron was nicknamed the "Grizzly Bears". On March 26th, 1945 notations were made at his base in England, that "he had bailed out". This was confirmed by other crew members who were part of that evening's mission. Shortly after, telegrams were sent to Bob's family in Lakefield that he was missing in action after air operations overseas.
In the book, Cradle Crew, Blyth tells how elated all prisoners were when rescued by the Russians on May 2nd, 1945 after Adolf Hitler had committed suicide on April 30th, 1945 in Berlin. On May 8th, 1945, V.E. Day, the men had hoped to be back in England. Finally on May 12th, 1945, The POW airmen were loaded onto B-17 Flying Fortresses and C-47 Skytrains and returned to England.
Bob's Pilot Flying Log Book is filled in for the final entry:
May 12, 1945 – on a Fortress – From Prison Camp to England – TALLY HO!
Thus ended an amazing part of Bob's life since joining the Royal Canadian Air Force in 1939 at the age of 18.
In World War II, 18000 Canadian airmen were killed. After the war, some members of the aircrew, along with Bob McCracken, received a lapel pin signifying membership in the Caterpillar Club. The Irwin Parachute Company decided that since caterpillars spun the silk used in parachutes, that the caterpillar itself would become a symbol to those airmen who had been saved by using a parachute to reach safety. Paratroopers could not qualify for membership. If the aircraft was out of control when an airman jumped, the caterpillar's eyes were white. If the aircraft had blown up on fire, the eyes were red. The gold caterpillar pin that Bob wore had red eyes, and signifies Bob's membership in this exclusive club.
While training in Torbay, Newfoundland, October 1943 to April 1944, Bob would patrol the coast in a Hurricane fighter, looking for German submarines which tried to enter St.John's Harbour. It was in Torbay that Bob met Eileen Armstrong, a nursing sister from Braeside, Ontario, who was later to be awarded the highest honour for bravery – The Red Cross Medal. Bob's plane in 411 Squadron had the word "Cootie" painted on its side. The word Cootie was a nickname given to Eileen, who as a nurse had been given the job of delousing a patient with hair so long and full of "cooties" that she never forgot the experience.
When Bob returned to Canada as a free POW, he married Eileen Armstrong on June 12th, 1945 in Montreal.
Lakefield was always part of Bob's life. He grew up here and graduated from both Lakefield Public and Lakefield High School. After returning from war, he worked in the hardware business, eventually buying Leonard's Hardware and operating it until his retirement in the mid 1970's. Bob had been deputy Chief of the Lakefield Volunteer Firemen, a member of the Lakefield Lions Club and of the Lakefield Legion Branch. He loved to fish, hunt, golf and curl. He was a giving, caring man who was always there to volunteer his help when needed. One cannot help but smile when remembering Bob and his zest for life. He sure enjoyed having a great time.
Bob McCracken was a special husband, father, grandfather, brother, uncle and friend. He was proud of his community- Lakefield, and of his heritage going back to McCracken's Landing, which was purchased by William McCracken in 1844.