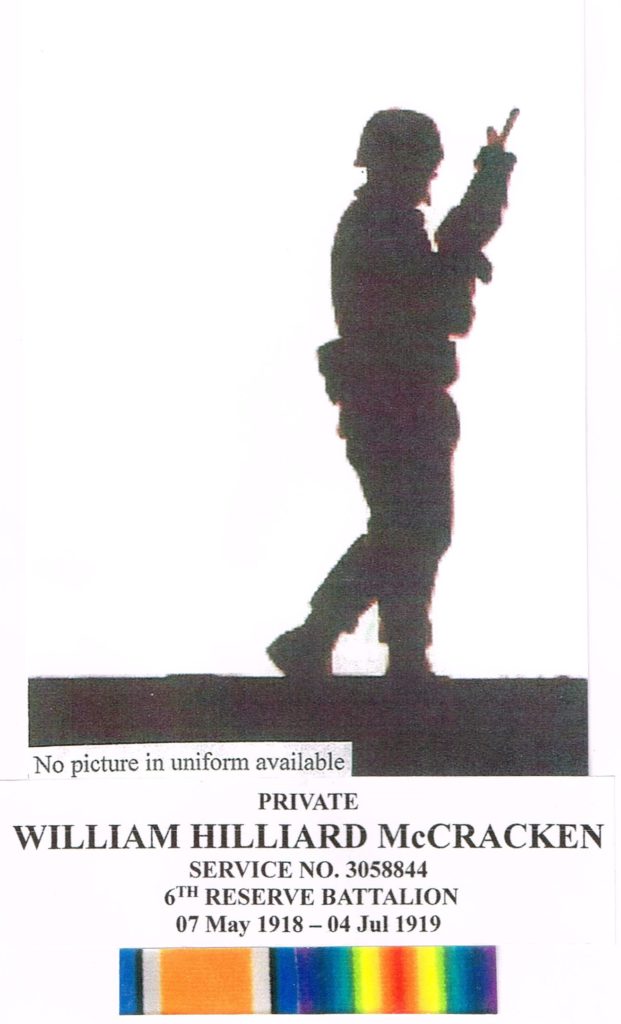 MILITARY HISTORY
Private William Hilliard McCracken – 3058844 – ACTIVE SERVICE (World War I)
On May 7, 1918, William Hilliard McCracken completed the Particulars of Recruit Drafted Under Military Service Act, 1917. He was 21 years, 6 months old when, as a single man, he enlisted for the duration of the War. William Hilliard was born in Warsaw, Ontario and gave his birth-date as December 9, 1897. He indicated that RR #2 Lakefield, Ontario was his address at the time of enlistment. On his Particulars of Recruit William Hilliard indicated "he did not presently belong to an Active Militia and that he had never served in any Military Force". There is nothing on his File to indicate where he was educated or to what level. As far as his Trade or Calling is concerned he lists Farmer. William Hilliard was 5′ 5'½" tall, with a 35" chest; he weighed 135 pounds. He had a dark complexion, with grey eyes and brown hair. William Hilliard's Medical Examination was completed May 7, 1918 at Barriefield, Ontario; he was given an A 2 Category; had no medical issues or physical limitations and was deemed fit for Overseas duty with the Canadian Expeditionary Force (CEF). His next-of-kin was listed as his father, Mr. James McCracken, of RR #2 Lakefield. William Hilliard McCracken signed the Declaration of Recruit on May 7, 1918, in Barriefield. William Hilliard was taken-on-strength on May 9, 1918, as a Private (Pte) with the 1st Depot Battalion, Eastern Ontario Regiment (Depot Bn, EO Regt) CEF at No 3 Military District (MD) in Kingston, Ontario and was assigned Service Number 3058844. May 11 to 12, 1918 Pte McCracken was granted Leave.
Although not stated in his File, Pte McCracken and his Unit most likely moved to the main CEF Training Centre (TC) located at Valcartier, Québec, so as to complete Basic Infantry training, before being shipped Overseas to the UK. Pte McCracken embarked Canada (Montréal), on July 6, 1918, aboard the SS Tunisian.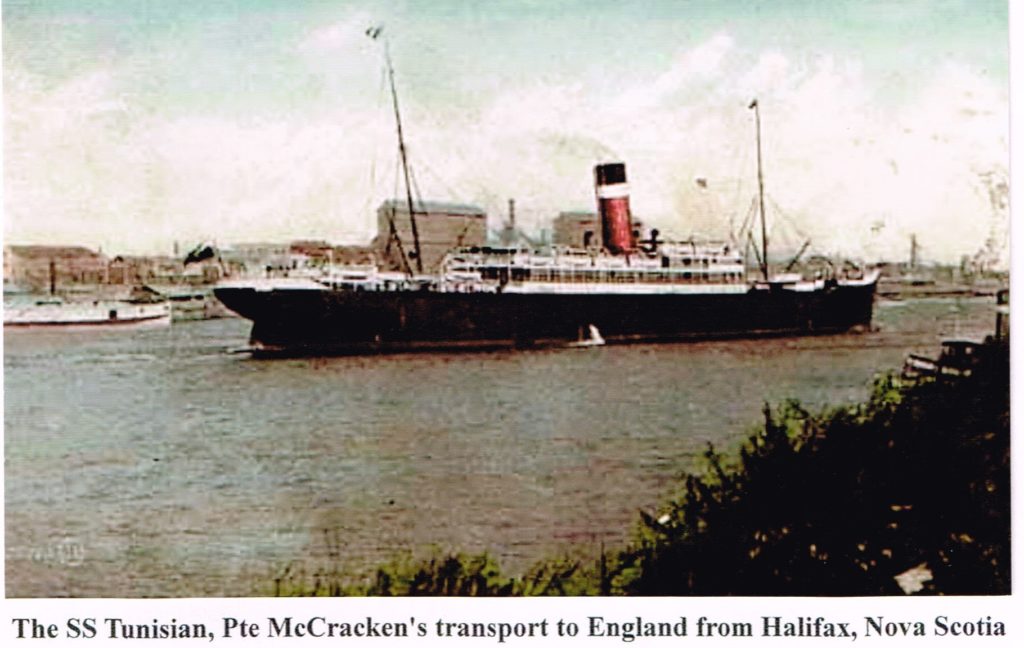 Pte McCracken and his Unit were transferred with Overseas Draft No 79 on July 7, 1918. Although not documented; Pte McCracken would have been struck-off-strength from Canada (Active Force) to the 6th Reserve Battalion (Res Bn). Pte McCracken disembarked in England on July 22, 1918 and the same day he was taken-on-strength with the 6th Res Bn at Seaforth, England. July 23, 1918 he was struck-off-strength from the 6th Res Bn to the CEF Canada.
On June 23, 1919 Pte McCracken embarked Liverpool for Canada aboard the SS Belgic. Although not documented he would have been taken-on-strength the same day with No 3 District Depot (DD) for Discharge. July 1, 1919 Pte McCracken disembarked at Halifax, Nova Scotia, he would have then traveled by train to Kingston. On July 4, 1919 Private William Hilliard McCracken was discharged, due to demobilization, from the Dispersal Area Station, Kingston.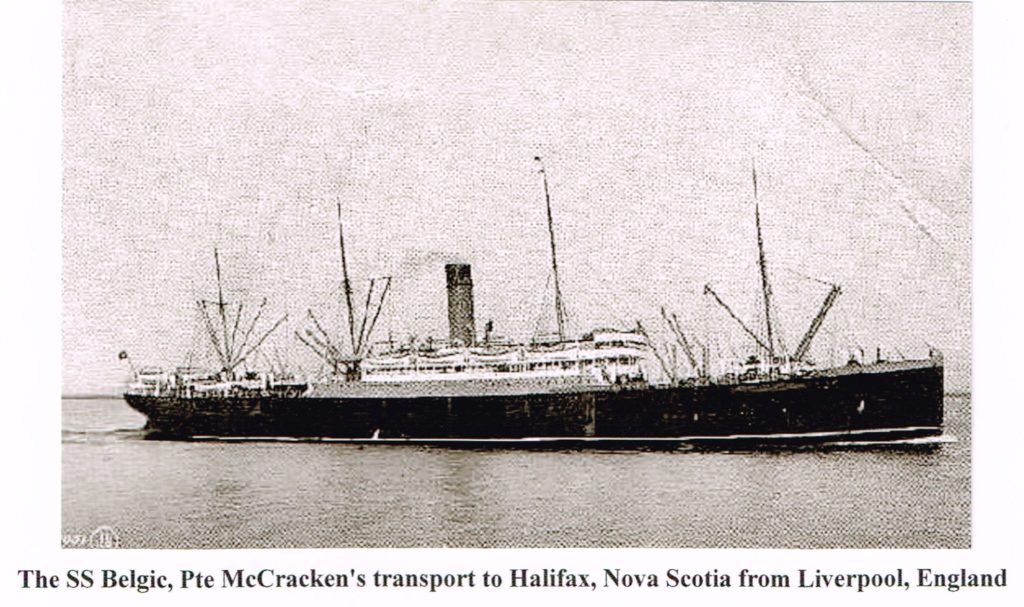 Pte McCracken made a monthly assignment of $18.00 to his mother, Mrs. James McCracken at RR #2 Lakefield, Ontario. It is interesting to note that his Medical on being discharged has his at 22 years old at 5′ 7″ with a fair complexion and brown eyes; somewhat different from his first Medical.
There is no reference, in Private William Hilliard McCracken's Military File indicating what Military Medals he was awarded. Based on his Military Service, he should have received:
British War Medal 1914 – 1920; and
He also qualified for War Service Badge Class "C".
Based on his Military File; Private William Hilliard McCracken served a total of 1 year, 4 months, and 27 days with the Canadian Expeditionary Force: 2 months and 2 days in Canada; 11 months in England; and 24 days Travel Time.
An excerpt from an article in Maclean's by Barbara Ameil, September 1996:
"The Military is the single calling in the world with job specifications that include a commitment to die for your nation. What could be more honorable".
PERSONAL HISTORY
WILLIAM HILLIARD McCRACKEN
William "Hilliard" McCracken was born December 9, 1986 in Dummer Township, Ontario, the son of William "James" McCracken and Mary Ann Crowe. Hilliard received his education in the local school and grew up helping out on the family farm. In May 1918 he went to Kingston and enlisted to serve his King and Country.
After he returned home from the war, he married Mary "Whipple" Fairbairn on June 8, 1921 in Peterborough. She was born January 26, 1903 in Smith Township, Ontario, daughter of Richard Fairbairn and Elizabeth Charity Pearson. They made their home in Dummer Township and had 4 children: Robert Clare, born December 22, 1921 in Lakefield, died February 23, 1992; Bethel Elizabeth, born November 3, 1926 in Lakefield, died July 1, 1931; Richard Wilbert (Dick), born December 18, 1932 in Lakefield, died March 2, 1995 and John Wayne (Jack), born February 20, 1937 in Lakefield, died March 8, 2000. Hilliard worked at Lakefield Hydro and operated McCracken's Landing. Hilliard passed away at his home on Clementi Street on December 3, 1977 and Whipple died in St. Joseph's Hospital on December 5, 1982; both are buried in Lakefield Cemetery.
THE WILLIAM HILLIARD McCRACKEN FAMILY OF LAKEFIELD
William Hilliard McCracken's paternal grandparents were William McCracken born in 1812 in Dummer Township and Frances "Ann" McKoernan born in Ireland in 1821. They married in 1840 and resided in Dummer Township. They had a family of six children – William Henry, Mary Jane, Robert, William "James", Josephine and Sarah McCracken. William passed away in 1885 and Ann died in 1894; both are buried in St. Mark's Cemetery in Warsaw, Ontario.
William Hilliard McCracken's maternal grandparents were William Francis "Hatch" Crowe born in Dummer Township in 1842 and Martha "Mattie" Mathews born in Ireland in 1847. They married in the Wesleyan Methodist Church in Lakefield on June 17, 1864 and had a family of thirteen children. Martha passed away in 1928 and William Francis died in 1932; both are buried in St. Mark's Cemetery in Warsaw, Ontario.
William Hilliard McCracken's parents were William "James" McCracken born in Dummer Township on August 6, 1857 and Mary Ann Crowe born in Ireland on April 3, 1865. They married in Warsaw, Ontario on January 2, 1889. They made their home in Dummer Township and had a family of six children – Lorne Edgar (Lawrence) born October 23, 1890; Frances Amy, born June 26, 1894; William Hilliard, born December 9, 1896; Stella Ann (Lila), born January 25, 1899; Chester Henry, born December 24, 1900; and Alma Violette (Violet), born July 28, 1910. James passed away in 1936 and Mary Ann died in 1952; both are buried in St. Mark's Cemetery in Warsaw, Ontario.