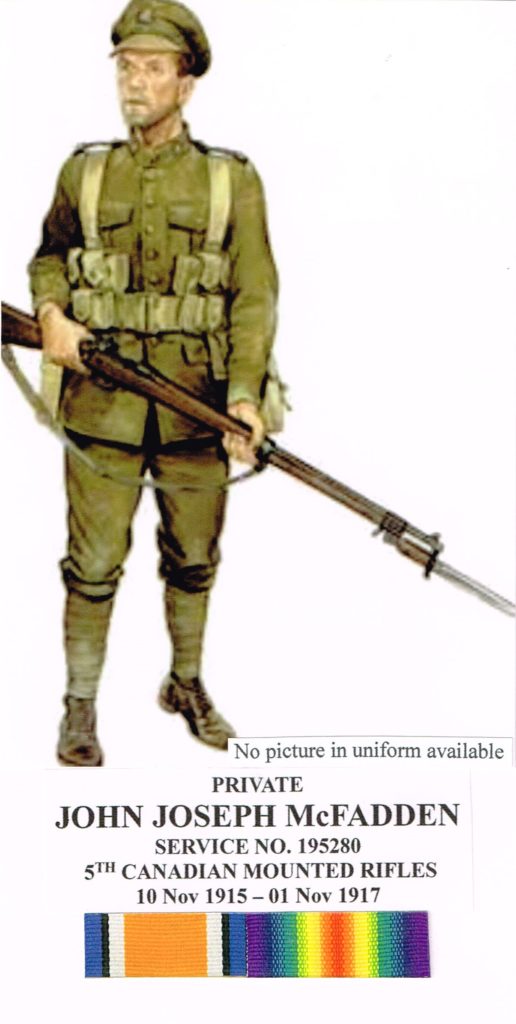 MILITARY HISTORY
Private John Joseph McFadden – 195280 – ACTIVE SERVICE (World War I)
On November 10, 1915, John Joseph McFadden completed the Attestation Paper for the Canadian Army, Canadian Expeditionary Force (CEF). He was 28 years, 10 months old when, as a married man with 5 children, he enlisted for the duration of the War. John Joseph was born in Young's Point, Peterborough County, Ontario, and gave his birth-date as January 16, 1887. He indicated that Lakefield, Ontario was his address at time of enlistment. On his Attestation Paper, John Joseph indicated "he did not presently belong to an Active Militia and that he had never served in any Military Force". There is nothing on his File to indicate where he was educated or to what level. As far as his Trade or Calling is concerned, he lists Labourer. John Joseph was 5′ 9" tall, with a 39" chest. There is no indication of his weight. He had a fair complexion, with blue eyes and light brown hair. His Medical Examination was completed November 10, 1915 in Peterborough and he had no medical issues or physical limitations and was deemed fit for Overseas duty with the CEF. His next-of-kin was listed as his wife, Mrs. Minnie McFadden, of Lakefield. John Joseph McFadden signed the Oath and Certificate of Attestation on November 10, 1915, in Peterborough, Ontario. The Certificate of Magistrate was signed by the Justice on December 1, 1915. John Joseph was taken-on-strength, as a Private (Pte) with the 57th Infantry Regiment and assigned Service Number 195280. Pte McFadden was transferred to the 93rd Battalion (Bn) [Peterborough] CEF when the 93rd Bn was authorized and formed up on December 22, 1915.
The 93rd Bn, after training through the winter and spring at 5 different area Centres, departed by train from Peterborough, on May 29, 1916. The Battalion made a short stop at Camp Barriefield located at Kingston, Ontario, before moving on the main CEF Training Centre (TC) located at Valcartier, Québec, so as to complete Basic Infantry training, before being transported Overseas, to the UK, by ship. The Battalion embarked from Halifax, Nova Scotia, on July 15, 1916, aboard the SS Empress of Britain.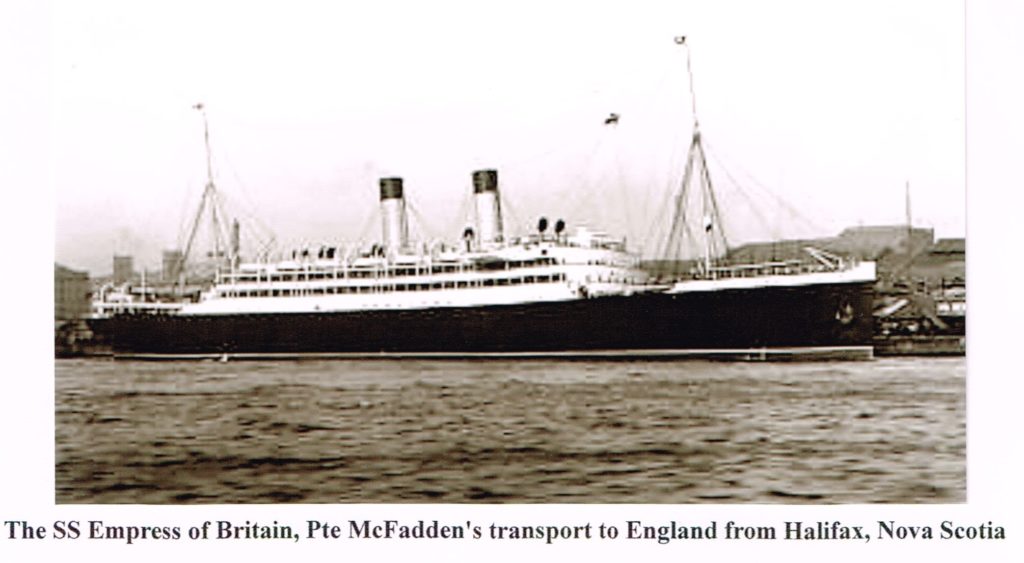 Pte John McFadden disembarked in Liverpool, England on July 25, 1916. He was admitted to Hospital on July 27, 1916 and was discharged on July 31, 1916. September 7, 1916 he was struck-off-strength from the 93rd Battalion on transfer to the 5th Canadian Mounted Rifles (5th CMR). September 8, 1916 embarked from England and disembarked in France, on the same day. He left for the 3rd Echelon Bn on September 25, 1916 arriving September 28, 1916. On October 2, 1916 he departed for his Unit, the 5th CMR, arriving the same day.
Point of interest with regards to the 5th Canadian Mounted Rifles. It was a Québec Regiment raised in the Eastern Townships from volunteers of the 7th and 11th Hussars. On January 1, 1916, it was converted to an Infantry Unit and attached to the 8th Canadian Infantry Brigade, 3rd Division.
October 1916 – When Pte McFadden joined his Unit, the 5th CMR were part of a major offensive of the Canadian Corps along the entire Front-Line, which had started October 1st. During the early morning, of the 1st, an artillery barrage was laid on with the intention of cutting the enemy wire in front of their trenches. Patrols were sent out, in front of the 5th CMR, and established that in most cases a 5 yard apron of wire remained uncut. The artillery were notified and another barrage was laid on effectively cutting the wire. Zero hour is planned for 3:15 PM. At 3:15 PM artillery opened up "full blast" on enemy trenches and guns. Following an artillery barrage, the 5th CMR started its advance in waves. The Bn objective was to attack and capture Regina Trench. The 5th CMR Bn disposition for the attack is; "B" Company with 1 Platoon from "C" Company to attack on the right. "A" Company to attack on the left. "C" Company less 1 Platoon is to move forward and occupy the Front-Line trench when the advance starts. "D" Company is to be held in close support and await orders. A communication trench was to be immediately dug back to the Front-Line trench, once Regina Trench had been captured and consolidated. At 3:23 PM, "C" Company entered Regina Trench and found it mostly abandoned. The retreating enemy were caught in the open and suffered heavy casualties. "B" Company had run into uncut wire and had suffered heavy casualties. Very few made it to the objective. The survivors were forced to return to their original position. A Platoon from "D" Company went forward to assist "B" Company to hold its original position. With "B" Company unable to capture their objective, at 4:10 PM, strenuous fighting was going on in the occupied portion of Regina Trench. The Units on the left and right of the 5th CMR had been held up leaving the hold on Regina Trench by "A" Company, tenuous at best. 20 men from "D" Company were rushed forward to help "A" Company hold on. At 5:20 PM, it was reported that "A" Company were holding on and had blocks in place at each end of the occupied portion of Regina Trench. At 5:30 PM, the remainder of "D" Company was ordered forward. Bn artillery were firing shrapnel 50 yards beyond Regina Trench and on enemy positions to the rear in an attempt to stop the enemy from mounting a counterattack. Throughout the evening, reinforcements were sent forward and the men pushed both ways along Regina Trench, bombing enemy dug outs, as they went. By 4:00 AM on the 2nd, the Germans had been cleared from Regina Trench. Shortly after, the Germans counterattacked in overwhelming numbers and by 7:00 AM, the situation became untenable for the Bn and it was forced to withdraw bringing the majority of the wounded with them. Reinforcements arrived a few minutes too late to retain the Trench, which had been so stubbornly held. At 8:35 AM, the Bn was in possession of Hessian Trench, where the Bn held on to throughout the day. At 10:00 PM, the Bn was relieved by the Royal Canadian Regiment (RCR) and moved back to billets at Albert. During this attack, the Bn had suffered: 10 Officers and 213 other ranks killed or wounded. The 3rd was spent resting and cleaning up. On the 4th, the Companies spent the day straightening out their establishments and re-equipping what men there were left, about 450. The 5th and 6th were spent in work parties working in roads in the Poizeres area. Word was received on the 7th that the Bn was to move forward tomorrow to Tara Hill. In light of this move, every effort was put forward to obtain some sort of skeleton establishment in the Bn in readiness to go back into the Line.
Pte McFadden was shown, through no fault of his own, as wounded on October 7, 1916 as a result of "receiving an accidental discharge of a machine gun at the Bn Machine Gun Training School". He was struck in the left buttocks and groin. He was initially treated at a Canadian Casualty Clearing Station before being sent to the No 5 General Hospital at Rouen, France. On October 9, 1916 Pte McFadden was reported "dangerously ill" when he was admitted to the No 5 General Hospital in Rouen, where he was operated on. October 27, 1916 he was transferred to the Canadian Casualty Assembly Centre (CCAC) at Shoreham, England. He was admitted to the Royal Victoria Hospital in Witley, where he was operated on a number of times. Pte McFadden was removed from the dangerously ill List.
On January 24, 1917 Pte McFadden was transferred to the Bear Wood Canadian Convalescent Hospital at Wokingham, Berkshire. He was discharged on March 12, 1917 and sent to Liverpool, where he embarked aboard the SS Letitia.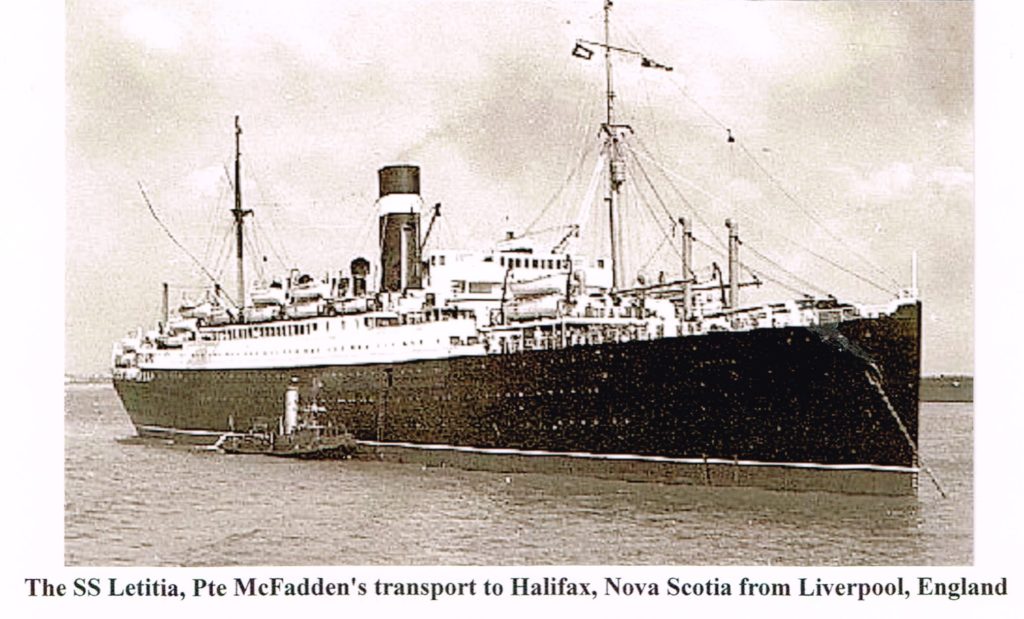 The Ship arrived in Halifax on March 24, 1917. On March 31, 1917 he left Québec. There is a Medical Record from the Québec Military Board indicating: Pte John Joseph McFadden has a large depressed scar on the left buttocks and groin area, which was the result of an extensive loss of soft tissue. He has great weakness and impairment of movement of the left thigh. He is unable to bear his weight on left leg and gets around with the aid of crutches. April 1, 1917 Pte McFadden is shown with the Military Hospitals Commission of Canada Command (MHCC) Kingston "C", Ontario where he was taken-on-list of the Elmhurst Convalescent Home.
The Military Hospitals Commission of Canada Command, cared for the sick and wounded soldiers of the First World War.
April 3, 1917 Pte McFadden was taken-on-list as an outpatient. He would remain at Elmhurst Convalescent Home for 6 months until his discharge from His Majesty's Service on November 1, 1917.
On August 17, 1917 a Medical Board assessed his condition and stated: "Man walks with a cane. Can walk a couple of hundred yards without using it. Movement of hip normal, except it is still weak.
On July 7, 1918 Pte McFadden was sent to Queens Military Hospital in Kingston, Ontario by the Inter Service Committee (ISC) Representative. The assessment was: Patient has a discharging sinus, on admission, about 2" deep, running inwards and upwards in an old scar 9" long running transversely across left gluteal region. A fair sized piece of bone (loose) was removed from this sinus. An antogenous vaccine was made and given. Wound was drained and dressed daily until healed". "Man was returned to civil life with same disability as on previous discharge.
There is no reference, in Private John Joseph McFadden's Military File indicating what Military Medals he was awarded but based on his Military Service, he should have received:
British War Medal 1914 – 1920; and
Victory Medal.
He also qualified for War Service Badge CEF Class "A".
Based on his Military File; Private John Joseph McFadden served a total of 1 year, 11 months, and 20 days with the Canadian Expeditionary Force: 1 year, 3 months and 12 days in Canada; 5 months and 26 days in England; 1 month and 19 days in France and 23 days Travel Time.
An excerpt from an article in Maclean's by Barbara Ameil, September 1996:
"The Military is the single calling in the world with job specifications that include a commitment to die for your nation. What could be more honorable".
PERSONAL HISTORY
JOHN JOSEPH MCFADDEN
John Joseph McFadden was born in Youngs Point on January 16, 1885. Prior to his marriage John worked as a lumberman and was living with his grandparents in Youngs Point. On December 5, 1906, John married Gertrude Mary "Minnie" Garland in Youngs Point. They made their home in Lakefield and raised a family of ten children – six sons and four daughters. John and Minnie McFadden's family consisted of Francis Leo, Mary Loretta, John "Jack" Joseph, Helen Margaret, Jerome, Martin "Patrick", Theresa, Veronica, William Edward and Bernard Leonard McFadden. On November 10, 1915, John left his Lakefield home and went to Peterborough to enlist in WW I joining the 57th Regiment and later joining with the 93rd Battalion.
After his return from the War, John became lockmaster for Lock #26 and was lockmaster for 32 years before retiring on January 18, 1950. John was a member of St. Paul's R.C. Church in Lakefield and a member of the Royal Canadian Legion Branch #77 in Lakefield. In their later years, John and Minnie McFadden lived at 518 O'Connell Road in Peterborough. John passed away in 1951 and is buried in St. Mary's Cemetery, Youngs Point, ON.
John and Minnie McFadden would see five of their six sons enlist in World War II. All but one son returned home safely – Bernard Leonard McFadden was killed in action on August 27, 1944.
THE JOHN JOSEPH McFADDEN FAMILY OF DOURO TOWNSHIP
John McFadden's maternal great grandparents were Henry "Joseph" Ayotte and Mary Ann Leahy of Youngs Point, Ontario.
John McFadden's paternal grandparents were John and Hannah McFadden. John McFadden's maternal grandparents were Henry "Joseph" Ayotte and Bridget O'Brien of Youngs Point, Ontario.
John McFadden's parents were William McFadden and Mary Ann Ayotte. William was a farmer living in the Youngs Point area and had a family of three children – John Joseph, Florence and Lottie McFadden.