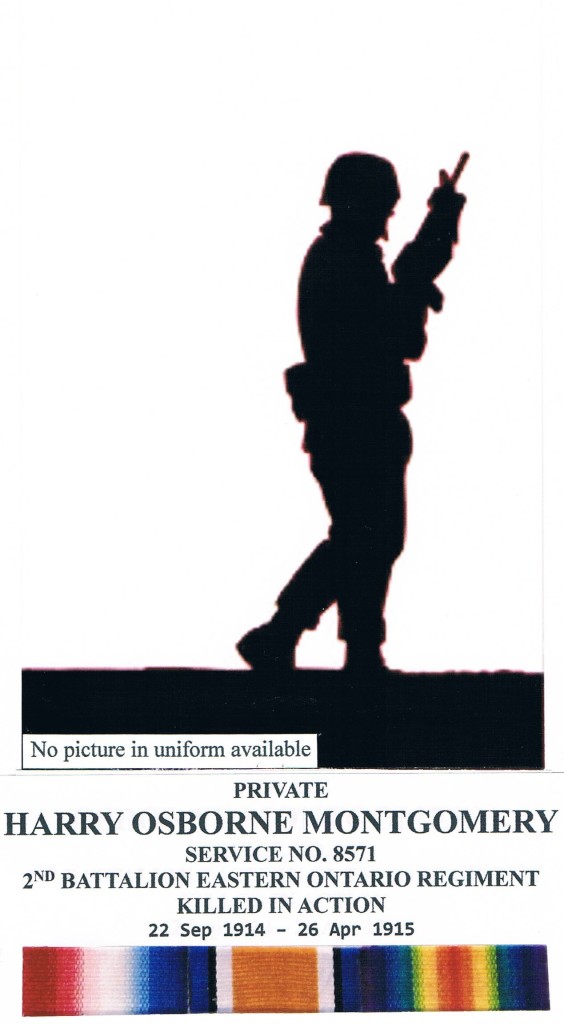 MILITARY HISTORY
Private Harry Osborne Montgomery – 8571 — ACTIVE SERVICE (World War I)
On September 22, 1914, Harry Osborne Montgomery completed the Attestation Paper for the Canadian Army Expeditionary Force. He was 22 years, 6 months old, when as a single man he enlisted for the duration of the War. Harry Osborne was born in Peterborough, and gave his birth-date as February 26, 1892. On his Attestation Paper, he indicated "he had never served with a Military Force", but he was active with the 57th Regiment – Peterborough Rangers, prior to enlisting. There is nothing in his Records to indicate where he was educated or to what level. As far as employment is concerned, he lists Laborer. Harry Osborne was 5′ 3½" tall, 33½" chest. It should be noted; that the minimum height was 5′ 3", and minimum chest measurement was 33½"; Harry Osborne barely met the minimum physical requirements. Harry Osborne's weight is not listed, his next-of-kin was listed as his sister, Mrs. John Hays of Lakefield, Ontario. He was deemed fit for Overseas duty with the Canadian Army. Harry Osborne Montgomery signed the Oath and Certificate September 22, 1914, at Valcartier, Québec and was taken-on-strength from the 57th Regiment to the 2nd Canadian Infantry Battalion (CIB), Eastern Ontario Regiment (EOR) as a Private (Pte) with Regimental Number 8571.
Valcartier was originally constructed as a military training camp (referred to as Camp Valcartier) in August 1914, as part of the mobilization of the Canadian Expeditionary Force (CEF), at the outset of World War I. The camp was located approximately 25 kilometres (16 miles) north of Québec City. Training, which was pretty rudimentary, consisting of marching, rifle, and bayonet drills. The officers were trained in the correct use of a pistol and practiced swordsmanship. The main goal of the Base was to form the men into Units and ship them off to England as quickly as possible, where their training would be completed. Pte Montgomery embarked, from Québec City, for England on October 4, 1914, aboard the SS Cassandra having completed just 10 days of training. Pte Montgomery served with the 2nd CIB (EOR) – 1st Canadian Infantry Brigade – 1st Canadian Division. The Unit's Motto was "Semper Paratus" or "Always Prepared".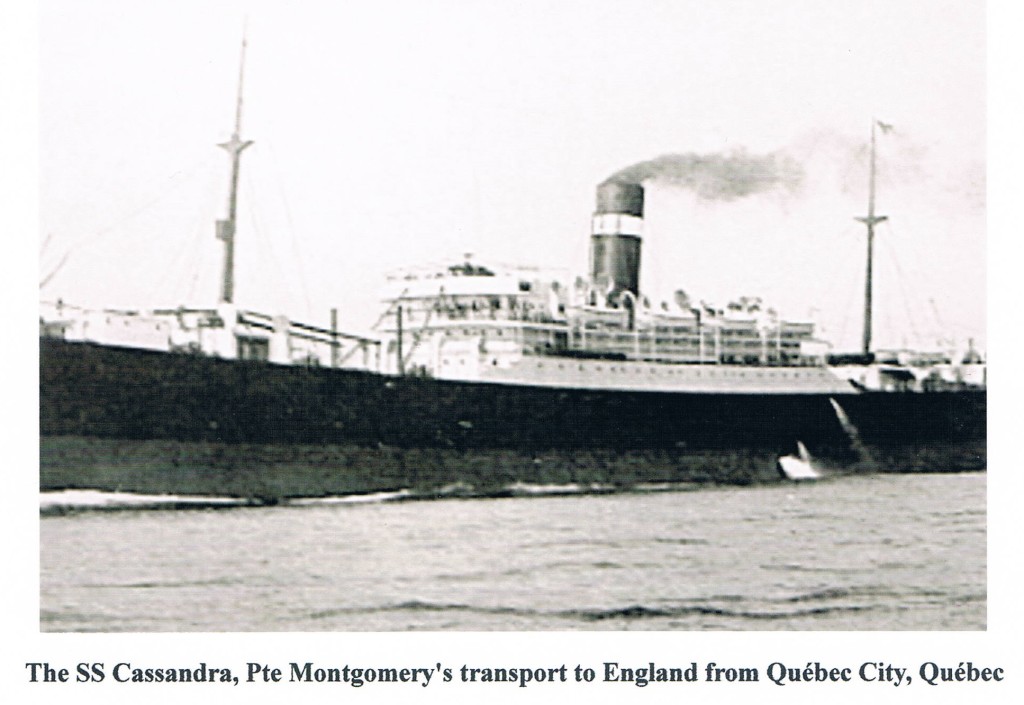 Although not recorded in his documents, Pte Montgomery would have disembarked the United Kingdom (UK) and been employed in training until embarking the UK for France a couple days before disembarking France and being assigned to his post.
February 14, 1915, the 1st Canadian Division arrived in France and after a period of time in reserve near Hazelbrouck, France, around the first of March, the Division was assigned to replace the 7th British Division, in the trenches, on the Belgium – French border, near Fleurbois.  This section of the Front Line was relatively quiet, during this period of the War. Their first real exposure to battle would come on April 24, 1915, when Private Montgomery, with the 2nd Bn EOR were engaged in the 2nd battle of Ypres. Although, this battle raged from April 24 to May 4, 1915, the first 4 days were critical. Life in the trenches was a horror for Pte Montgomery and his comrades-in-arms; conditions that they would have never have experienced before. The trenches were dirty, smelly, riddled with disease and rats, full of mud and water, and surrounded by the decaying bodies of soldiers from previous battles. Added to this, the men huddled, in these trenches, in constant fear of sudden death from a snipers bullet, trench mortars, or artillery.
April 22, 1915 was a warm, sunny spring day, when the Germans opened up with a heavy artillery barrage, shortly after the Canadians noticed a yellowish-green cloud drifting slowly across the ground towards the French Lines. The 2nd Battle of Ypres was the first use of gas by the Germans. The French and Algerian troops, broke in terror, as the effects of the gas took hold. The Germans, fearful of the lingering effects of the gas, failed to immediately follow-up the attack with an infantry assault, during this time, the Canadian soldiers rushed in to fill the gap created by the retreating French troops. When the Germans did attack the line, they were met by a hail of bullets and mortar rounds, from the Canadian troops. In the end, the German assault failed and they withdrew. This process was repeated again on April 23, 1915, but once again the Line held.
On April 24, 1915, the Germans, once again released poison gas, preceded by an artillery barrage, this time on the Canadian lines, but the Canadians were somewhat prepared. Following the initial use of gas, a Canadian, working behind the Lines taking water samples had identified the gas as Chlorine. He contacted the Canadian Officers and explained to them a simple way of mitigating the effects of the gas. His suggestion was for the men, in the trenches, to urinate on a handkerchief or piece of cloth and to hold it over their mouth and nose.
For the next 100 hours, life in the trenches, would be hell for Pte Montgomery, his Unit and all other Canadians from April 22, 1915. They faced and repelled numerous attempts by the Germans to take advantage of the gas attack and breakthrough the Lines, but for the most part the Canadians, through sheer resolve and determination, held the Line of the Ypres Salient. This in-spite of the use of gas, the ineffectual leadership of some of the senior Canadian officers, poorly communicated and coordinated battle plans, outright superiority of German artillery and machine guns (both in accuracy and numbers), and the serious design faults of the Ross rifle.
As a result of the courage, heroics, and valor exhibited by the officers and men of the Front Line trenches, the Canadians won the respect of the English, French, and even the German armies. For their bravery, during this battle, 4 Canadians were awarded a Victory Cross: Captain Edward Donald Bellew, Royal Irish Regiment, 7th (1st British Columbia) Battalion, Canadian Expeditionary Force; Lance Corporal Frederick "Bud" Fisher, 13th Battalion, Canadian Expeditionary Force (awarded posthumously); Company Sergeant-Major Frederick William Hall, Canadian Infantry (Manitoba Regiment) 8th Battalion, Canadian Expeditionary Force (awarded posthumously) and Lieutenant Colonel Francis Alexander Scrimger, Canadian Army Medical Corps attached to 14th Battalion, Canadian Expeditionary Force. At the end of this battle on May 3, 1915, Lieutenant Colonel McCrae wrote his famous poem "In Flanders Field".
In the end, there were 6,000 Canadian casualties, of which 2,000 were killed. For the 2nd Battalion, with an initial combat strength of 44 officers and 1083 others ranks, by the time the battle was over, there were: 5 officers and 302 other ranks missing, 4 officers and 158 other ranks wounded, and 6 Officers and 68 other ranks killed, for a total battle casualty count of 15 officers and 528 other ranks.
Private Montgomery was one of the missing. Notations, on his file, dated May 29, May 31, and November 30, 1915 lists him as missing. A final casualty report of June 16, 1916 reports Private Montgomery: "previously reported missing now for official purposes to have died on or since April 26th, 1915". It took over a year to advise Pte Montgomery's next-of-kin that he indeed was dead; an excessive length of time for the family to wait.
As best that can be established, based on the date of death, April 26, 1915, and Unit deployment, Private Montgomery was probably killed in the trenches, in the vicinity of what was known as Kitchener's Wood, in front of the town of St. Julien, Belgium.
Private Harry Osborne Montgomery is interred in the New Irish Farm Cemetery, Leper, Ypres, Belgium.
Based on his Military Service, Private Montgomery was awarded, posthumously, the:
1914 – 1915 Star;
British War Medal; and
Victory Medal.
His medals were sent to his sister, Mrs. John Hayes, while Plaques and Scroll were sent to his brother: Walter Montgomery, in Duluth, Minnesota, USA. These were released March 21, 1922.
An excerpt from an article in Maclean's magazine by Barbara Ameil, September 1996:
The Military is the single calling in the world with job specifications that include a commitment to die for your Nation. What could be more honorable?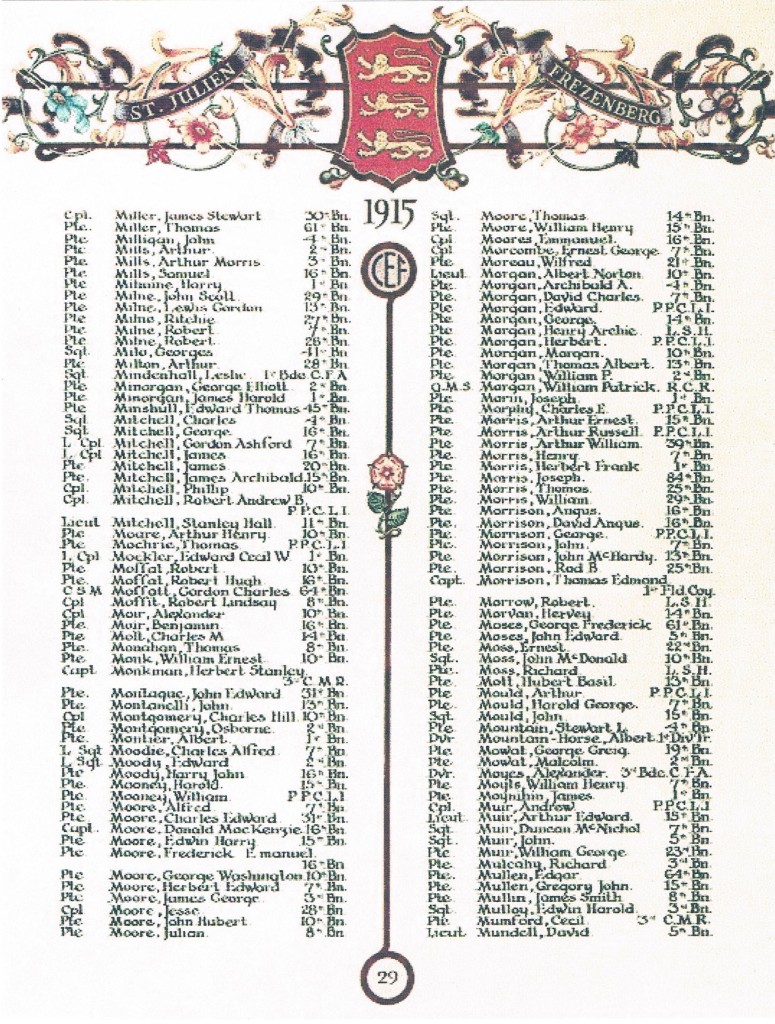 PERSONAL HISTORY
HARRY OSBORNE MONTGOMERY
Harry Osborne Montgomery was born in Harvey Township, Peterborough County, Ontario on February 26, 1892 into a large family of 13 children. Harry Osborne went by the nickname, Ozzie"; his parents are Hugh James Montgomery and Mary Jane Armstrong.
As a young child Ozzie lived on Nelson St. in Lakefield with his mother and father, as well as in the Buckhorn and Lakehurst regions of Harvey Township. Several of his siblings and their connections were more known in the Lakefield area.
Ozzie was the older brother to Clayton Montgomery, who also served in WW I; was the lockmaster of several Lakefield area locks and father to Don Montgomery. Ozzie was brother to Emily Ann (Annie) who, after marriage, was mother to Tom and Dick Junkin; she lived all her adult life in Lakefield. He was brother to James David, the father of Arthur, and grandfather to Keith; the excellent hockey player who lives in Lakefield.
Ozzie never married, being one of the many unfortunate youths who gave their life in battle before marriage, career, and notable civil achievement passed their way.
Harry Osborne Montgomery lost his life in WW I on April 26, 1915; he is interred in the New Irish Farm Cemetery, Leper, Ypres, Belgium.
THE HARRY OSBORNE MONTGOMERY FAMILY OF LAKEFIELD
Harry Osborne Montgomery's paternal grandparents are William and Sarah Montgomery; his maternal grandparents are James and Lizzie Armstrong.
Harry Osborne Montgomery's parents are Hugh James Montgomery, born about 1834 in Ontario and Mary Jane Armstrong, born January 27, 1850 in Québec. They were married in Peterborough on January 6, 1866. Hugh Osborne and Mary Jane had 13 children, all born in Ontario:
Walter, born about 1867, in 1891 he was a farm labourer;
Agustus, born about 1869;
James David, born about 1871;
Edward Nelson, born March 22, 1872 in Smith Township, he married Maud May Higgins in Peterborough on December 25, 1903;
Myra Dollie, born about 1874;
Angus M. and Elizabeth Maud, twins, born December 9, 1875 in Harvey Township;
Emily Anne, born about April 1878;
Beatrice, born August 31, 1880 in Smith Township;
Cora J., born August 4, 1883;
Susan Rose, born July 10, 1886 in Harvey Township;
Clayton Francis, born April 20, 1889 in Harvey Township; and
Harry Osborn, born February 26, 1892 in Harvey Township.
In the 1901 Census Mary Jane, a widow, was in Harvey Township with three sons and two daughters: Edward Nelson; Cora J.; Susan Rose; Frances Clayton and Harry Osborne. The Montgomery family lived in Smith Township, Peterborough County until about the 1880s and then lived in Harvey Township, Peterborough County. In their latter years Hugh James and Mary Jane lived on Nelson Street in Lakefield. Hugh James passed away in 1898; Mary Jane passed away in 1914.