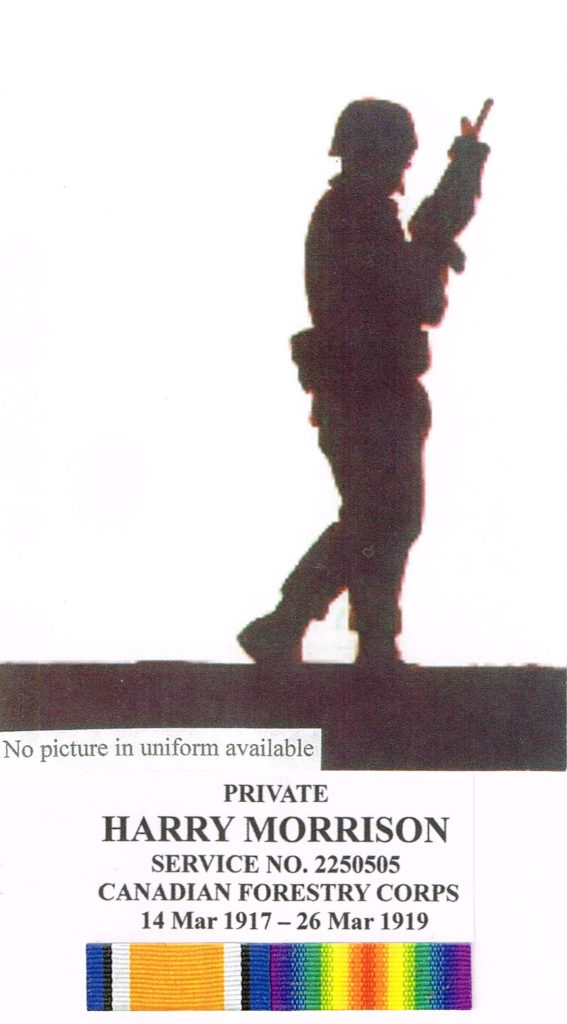 MILITARY HISTORY
Private Harry Morrison – 236297 — ACTIVE SERVICE (World War I)
On March 14, 1917 Harry Morrison completed the Attestation Paper for the Canadian Army, Canadian Expeditionary Force (CEF). He was 37 years, 9 months and 11 day when, as a widower, he enlisted for the duration of the War. Harry was born in Lakefield, Ontario and gave his birth-date as June 3, 1879*. He indicated that he did not presently belong to a Militia Force and had no previous Military experience. There is nothing on Harry's File to indicate where he was educated or to what level (it is expected that he was educated in Lakefield). As far as his Trade or Calling is concerned, he lists Bushman. Harry was 5′ 5½" tall, with a 36½" chest (expanded) and he weighed 136 pounds. He had a dark complexion with blue eyes and black hair. Harry's Medical Examination was completed March 14, 1917 in Sudbury, Ontario. Other than a scar on his right calf and a stiff left shoulder, due to a fracture which didn't affect the decision that he had no significant medical issues or physical limitations; he was deemed fit for Overseas duty with the CEF. Harry's next-of-kin was listed as his daughter, Mamie Morrison of Whitefish, Ontario. His mother had passed but his father, James, was alive (his residence was not given). Harry Morrison signed the Oath and Certificate of Attestation on March 14, 1917 in Sudbury, Ontario. He was taken-on-strength at Camp Borden, Ontario with the Depot Forestry Unit, Canadian Forestry Corps (CFC) as a Private (Pte) and was assigned Service Number 236297. * May 31, 1877 is believed to be Harry's actual birth date.
Pte Morrison was enlisted specifically to work in a Forestry Unit, he already was qualified in the sawyer field in his civilian career. He would have undergone Basic Military Training in his first 3 to 4 months before being sent Overseas. On June 25, 1917 Pte Morrison, with the No 5 Forestry Draft, embarked from Halifax, Nova Scotia aboard the SS Justicia and disembarked Liverpool, England on July 3, 1917. July 1, 1917 Pte Morrison made a Pay Assignment of $15.00 monthly to Miss Mamie Morrison. Mr. William Craig was named as a Guardian for Mamie. Also, on July 1, 1917 he made a Subsistence Allowance of $20.00 monthly (increased in 1918) to Mr. William Craig. July 4, 1917 Pte Morrison and the No 5 Forestry Draft was taken-on-strength with the Base Depot (BD), CFC at Sunningdale, England. On July 27, 1917 he was struck-off-strength from BD, CFC Sunningdale on posting to No 58 Company (Coy), CFC, France. Although not stated in his File, Pte Morrison would have embarked England (no ship mentioned) July 28, 1917. Pte Morrison disembarked at Le Havre, France on July 28, 1917 and was appointed to an Acting Sergeant (A/Sgt) in the Field with pay.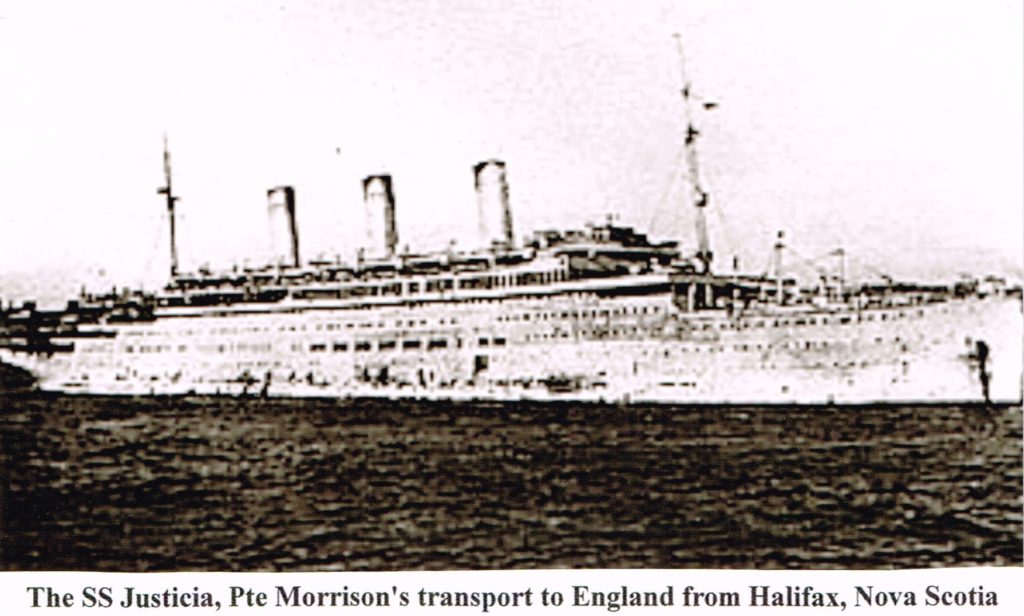 October 15, 1917 A/Sgt Morrison was deprived of the appointment of A/Sgt in the Field, due to drunkenness. November 1, 1917 Pte Morrison was appointed Sawyer in the Field at the rate of $3.00 per diem.
On March 1, 1918 Pte Morrison was granted 14 days Leave in the United Kingdom (UK). On December 30, 1918, in the Field, he ceased to draw working pay as a Sawyer.
January 25, 1919 Pte Morrison was struck-off-strength from Canada (UK) at Le Havre for demobilization to the CFC Depot, Sunningdale, Concentration Camp; Pte Morrison would have embarked France for England. January 26, 1919 he was taken-on-strength to Base Depot, CFC, Sunningdale from CFC, France. February 3, 1919 Pte Morrison was examined by a Medical Board at Sunningdale, Ankylosis (damage) in the left shoulder joint was determined. February 13, 1919 Pte Morrison was struck-off-strength from BD, CFC Sunningdale on transfer to MD No 2, Canadian Camp, Rhyl, England. The same day Pte Morrison was attached to the Casualty Clearance Centre (CCC), Kinmel Park for return to Canada. He ceases to be attached to CCC, Kinmel Park on embarking for Canada.
February 22, 1919 Pte Morrison is struck-off-strength from MD No 2, Canadian Camp, Rhyl and taken-on-strength to Canada (AF). February 23, 1919 he embarks England for Canada aboard the HMT Belgic and is taken-on-strength from Canada (AF) to No 2 District Depot, Toronto Ontario. Pte Morrison was posted to the Casualty Company (Ex Camp) and disembarks at Halifax, Nova Scotia March 2, 1919. On March 6, 1919 he was granted Leave and a Subsistence Allowance to March 20, 1919.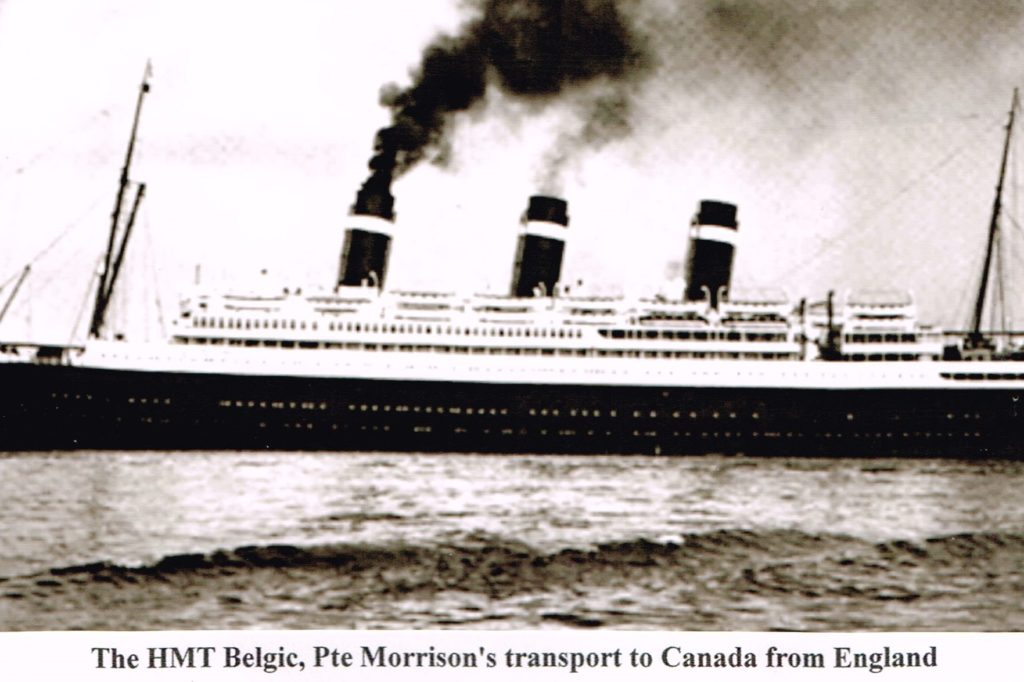 March 22, 1919 Pte Morrison was examined by a Discharge Medical Board at Toronto; it was determined that he had a stiff left shoulder which he had when he enlisted. On March 26, 1919 Private Harry Morrison was discharged, due to demobilization, from the Canadian Army at No 2 District Depot, Toronto Ontario. Transportation to Sudbury was issued and he was entitled to a War Service Grant.
There is no mention in the Private Harry Morrison's File with regards to what Military Medals he was eligible to receive or was awarded. Based on his Military Service, he was awarded the:
British War Medal; and
Victory Medal.
He would have also received the CEF Class "C" War service Badge.
Based on his Military File, Private Harry Morrison served a total of 2 years, 12 days with the Canadian Expeditionary Force: 4 months, 5 days in Canada, 1 months, 25 days in England, 1 year, 5 months, 27 days in France plus 15 days of travel time.
An excerpt from an article in Maclean's Magazine by Barbara Ameil, September 1996:
The Military is the single calling in the world with job specifications that include a commitment to die for your country. What could be more honourable?
PERSONAL HISTORY
HENRY "HARRY" MORRISON
Henry "Harry" Morrison was born in Lakefield on May 31, 1877, the son of James Morrison and Jane Donaldson. Harry received his schooling in Lakefield then ventured north to the Sudbury area as his older brother John was living in the area.
Harry found work as a bushman working in the lumber camps. He met Margaret Ininiwish who was born near Lake Panache near Sudbury in June of 1883. Harry married Margaret Ininiwish in 1907 and they lived on the Whitefish Lake Indian Reserve southwest of Sudbury. They had a daughter Mary "Mamie" Morrison born January 25, 1905 and at least two other children.
By 1917, Harry's wife Margaret had passed away and on March 14, 1917, Harry went to Sudbury and enlisted to serve his country. He listed his daughter Mamie as his next-of-kin. After the War, Harry returned home in 1919.
THE HENRY "HARRY" MORRISON FAMILY OF LAKEFIELD
Harry Morrison's paternal grandparents were John Morrison and Agnes Percy. His maternal grandparents were William and Sarah Donaldson.
Henry "Harry" Morrison was the son of James Morrison born in 1842 and Jane Donaldson born in 1846. They married in Port Hope, Ontario on June 28, 1874. James was a lumberman and they had a family of five children: John, Berta, Harry, Roland and Jane Charlotte "Mabel" Morrison. By 1901 James was widowed and living in the village of Lakefield with his son Roland and daughter Mabel and also had his sister, Jane, living with them. In 1911 James was living on Caroline Street in Lakefield with his sister Jane and his brother Hugh. James died on October 28, 1928 and is buried in Lakefield Cemetery.