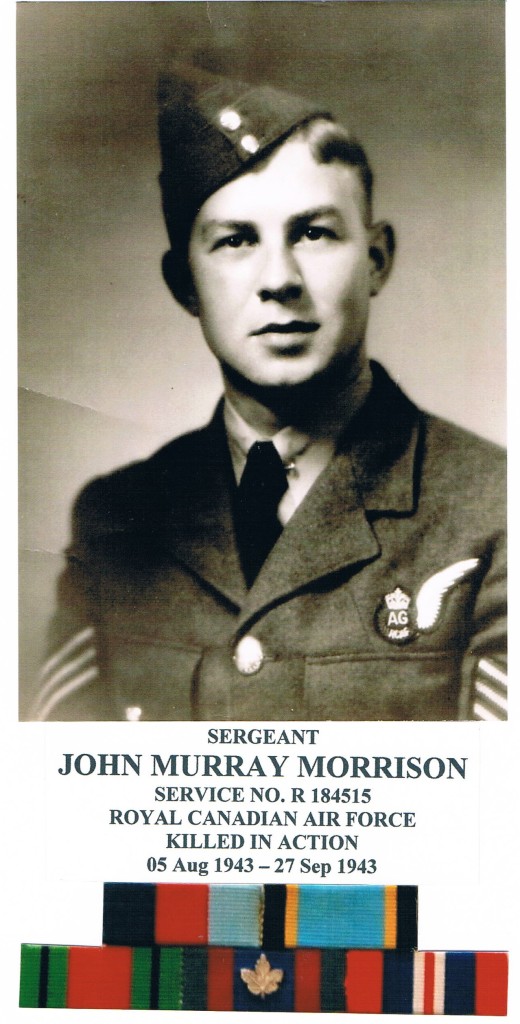 MILITARY HISTORY
Sergeant John Murray Morrison – R 184515 — ACTIVE SERVICE (World War II)
On July 7, 1942 John Murray Morrison's medical was done in Peterborough, Ontario; it indicated that he had broken his nose in 1938 and he had previously contacted measles. He was deemed fit for duty with the Royal Canadian Air Force (RCAF). August 5, 1942 John Murray Morrison was attested in Toronto, Ontario for the RCAF, Special Reserve. He was 20 years, 3 months and 2 weeks old when, as a single man, he enlisted for the duration of the War. John Murray was born in Lakefield Ontario and gave his birth-date as April 18, 1922, he did not have previous Military Reserve experience. John Murray's previous employment included a Hardware Clerk for F. L. Erskine of Lakefield and as a Mechanic for the Western Clock Company of Peterborough. John was 5′ 7″ tall, 37½" chest, weighed 137 pounds, had brown eyes and brown hair. John Murray's next-of-kin was listed as his mother, Alice May Morrison; his father Wilbert George and mother resided in Lakefield. Included in the references on his Attestation Paper, were: Foreman, R. S. Simmons; Superintendent, H.T. Granford at Western Clock Company (both from Peterborough); Lakefield School Principal, J. F. Harvey and Rev. G. Kelly from Lakefield. John Murray was enlisted as Standard Air Crew in the rank of Aircraftman 2nd Class (AC 2) [Private Recruit equivalent] with Service Number J 184515.
On August 5, 1942 AC 2 Morrison was taken-on-strength to the No 11 Recruitment Centre (No 11 RC) at Toronto, Ontario and assigned as Air Crew to train as an Air Gunner. From August 6 to August 19, 1942 he was placed on leave without pay. On August 19, 1942 he was struck-off-strength from No 11 RC and on August 20, 1942 he was taken-on-strength to the No 1 Manning Depot (No 1 MD), Toronto, Ontario with the Royal Canadian Air Force, Special Reserve for basic training. His basic training at No 1 MD would include taking orders, drill, exercises for physical fitness, studies and endless series of inoculations.
AC 2 Morrison did not follow the standard training plan as given in the British Commonwealth Air Training Plan (BCATP). He didn't go through the Initial Training School (ITS) since a lot of Air Crews were being lost and there was a dire need for some new recruits to bypass pilot training and proceed directly to other aircrew positions. Since the availability of Air Gunners was low AC 2 Bullock was channeled into that trade.
December 15, 1942 AC 2 Morrison was admitted to hospital, the CSH, and on December 31, 1942 he was discharged. January 1 to January 7, 1943 (inclusive) he was placed on sick leave. Effective January 5, 1943 AC 2 Morrison was confined to quarters due to sickness (in Lakefield). January 13,
1943 the confinement ceased and he returned to No 1 MD. Then on January 21, 1943 he was struck-off-strength from No 1 MD to join No 6 Service Flying Training School ( No 6 SFTS) at Dunnville,
Ontario. January 22, 1943 AC 2 Morrison was taken-on-strength with No 6 SFTS. February 23, 1943 AC 2 Morrison was granted 14 days leave to March 6, 1943. March 7, 1943 AC 2 Morrison was struck-off-strength from No 6 SFTS and transferred to the University of Toronto for further
training. The SFTS provided him about 6 weeks of familiarity with aircraft that were being flown in combat operations. March 8, 1943 AC 2 Morrison was taken-on-strength to No 23 PAE, Toronto.
Then, on April 3, 1943 he was struck-off-strength from No 23 PAE, Toronto and on April 4, 1943 he was taken-on-strength to No 2 Air Gunners Ground Training School (No 2 AGGTS) Trenton, Ontario.
On May 15, 1943 AC 2 Morrison was struck-off-strength from No 2 AGGTS Trenton and taken-on-strength May 16, 1943 with No 3 Bombing & Gunnery School (No 3 B&GS) at MacDonald, Manitoba. Also on May 15, 1943 AC 2 Morrison was qualified as Air Gunner and also promoted to the rank of Leading Aircraftman (LAC) [Private Trained equivalent]. Then on June 25, 1943 LAC Morrison was qualified as Air Gunner, Specialist Group; was promoted to the rank of Temporary Sergeant (T/Sgt); authorized to wear his Air Gunner Badge and was granted 14 days Embarkation Leave to July 8, 1943. On July 9, 1943 after 36 days of training, he was struck-off-strength from No 3 B&GS and taken-on-strength to No 1 Y Depot, Halifax, Nova Scotia. July 15, 1943 T/Sgt Morrison was struck-off-strength from No 1 Y Depot and taken-on-strength with the Royal Air Force (RAF) Tp Intake C. 106. July 16, 1943 he embarked at Halifax, Nova Scotia for the United Kingdom (UK).
Sgt Morrison disembarked the UK July 22, 1943 and on July 23, 1943 he was struck-off-strength from Intake C. 106 and taken-on-strength to No 3 RCAF Personnel Reception Centre (3 PRC). August 3, 1943 Sgt Morrison was posted from 3 PRC and taken-on-strength to No 1659 Conversion Unit (CU). A month later, September 5, 1943, he was struck-off-strength from No 1659 CU and taken-on-strength with the 428 Ghost Squadron; part of No 6 Group RCAF, located at RAF Dalton in Yorkshire. On September 27, 1943 Sgt Morrison's aircraft was reported missing. Sgt John Murray Morrison was declared dead as of September 27, 1943. September 28, 1943 Sgt Morrison was transferred from 428 Ghost Squadron to the War Casualty Accounts Department.
Sgt Morrison was awarded the following medals:
1939 – 45 Star;
Air Crew Europe Star;
Defence Medal;
Canadian Volunteer Service Medal with Bar; and
War Medal 1939 – 45.
He also qualified for the General Service Badge. In 2013 Canada started to issue a "Bomber Command Bar" for qualified Royal Canadian Air Force aircrew members. This Bar may be received by a qualified family member of deceased Air Crew qualifiers by contacting Veteran's Affairs Canada.
John Murray Morrison served for 11 months and 2 weeks in Canada and 2 months, 1 week in the United Kingdom for a total of 1 year 1 month and 3 weeks.
Halifax aircraft LK915 with crew as follows:
J. 22487 F/O. Butcher C. M.
R.169017 Sgt. Driscoll E. S.
1337232 Sgt. Jackson F. C.
R.184515 Sgt. Morrison, J. M. Air Gunner
1432236 Sgt Jones J. R.
RAF crew member – unknown
RAF crew member – unknown
Sgt Jones's remains could not be found so it was assumed that they were disintegrated in his aircraft. It was requested that Sgt Jones be registered as having "NO KNOWN GRAVE".
From the "Thou Shall Grow Not Old — A Book Of Remembrance" – Thanks to F/Sgt Arnold Graham
MORRISON, JOHN MURRAY Sergeant, Air Gunner R 184515. From Lakefield, Ontario. Killed in Action September 27, 1943 age 21. # 428 Ghost Squadron (Usque Ad Finem). Target – Hanover, Germany. Halifax aircraft # LK 915 was shot down at Huelshagen, Germany during night operations against Hanover, Germany. Flight Officer Charles Merton Butcher Navigator R 121567, Sergeant E. S. Driscoll, and two RAF members of the crew were killed. Flight Officer Higgins and Flight Lieutenant M. G. Whalley were taken Prisoners Of War. Sergeant, Air Gunner Morrison was buried at Wunstorf, Germany, exhumed and reburied in the Limmer British Cemetery at Hanover, Germany.
An excerpt from an article in McLean's magazine by Barbara Amiel, September 1996
The military is the single calling in the world with job specifications that include a commitment to die for your nation. What could be more honorable?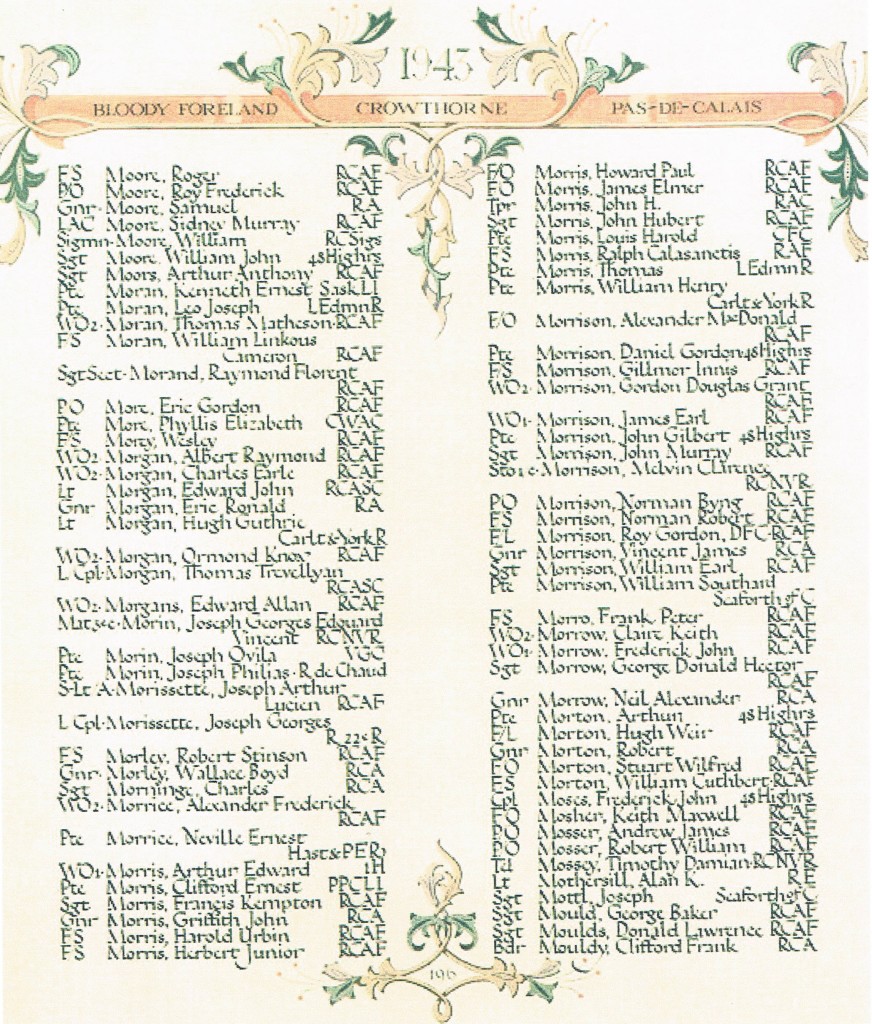 PERSONAL HISTORY
JOHN MURRAY MORRISON
John Murray Morrison was born April 18, 1922 at Lakefield, Ontario, he went by the nickname "Jack". He was educated in the Lakefield Public School System from 1927 to 1935. He then attended the Lakefield High School System from 1935 to 1938.
On completion of school John Murray worked for F. L. Erskine, Lakefield as a Hardware Clerk from 1938 to 1940. Then he worked at the Western Clock Company Limited in Peterborough as a mechanic and Clock Inspector from 1940 to 1942.
John's interest in sports included rugby and hockey.
John Murray had life insurance with the Canadian Order of Foresters worth $2,000.00 ($1,000.00 was put on after the War started). The beneficiary was his mother Alice May Morrison. John left a RCAF Will dated August 20, 1942; he had $90.38 in the Royal Bank of Canada in Lakefield and had authorized a pay allotment of $76.00 to his account. He also had War Saving Certificates worth $155.00 and a Victory Loan Bond of $50.00.
John Murray Morrison died September 27, 1943 in Germany.
THE JOHN MURRAY MORRISON FAMILY OF LAKEFIELD
John Murray's grandparents were Hugh Morrison & Sarah Ann Kent, they lived in Northumberland County, Dummer Township, Ontario. Hugh, born about 1842 in Ireland married Sarah Ann Kent, born June 13, 1845 in England; immigrated in 1866. Both were members of the Congregational faith. They had the following children: Robert; Wilbert George, Charlie, Arthur, Edith and Frank. Hugh died about 1899.
John Murray's parents, Wilbert George, born July 10, 1884 in Plainfield, Ontario & Alice May Davis, born September 3, 1891 in Young's Point, Ontario were married in Young's Point, Ontario on March 11, 1913 by Rev. G. B Brown. Witnesses at their wedding were Andrew Wiem and Maggie Davis, both of Young's Point. Wilbert & Alice had the following children: Phyllis Margaret, born September 24, 1913, married to Harold Wilbert Hamblin; Hugh Wilbert, born April 11, 1916,* married to Lillian Louise Mason; Elizabeth Mabel, died May 18 1920; John Murray, born April 15, 1922 and Aubrey William, born February 28, 1932, married to Helen Briggs. John's parents and brother Aubrey William were living in Lakefield in 1942, his father was employed as a Brewery Representative.
*In July/August 1944 F/Sgt Hugh Wilbert Morrison, R 65963, is stationed at Uplands RCAF, Ottawa Ontario, he was not deployed overseas.