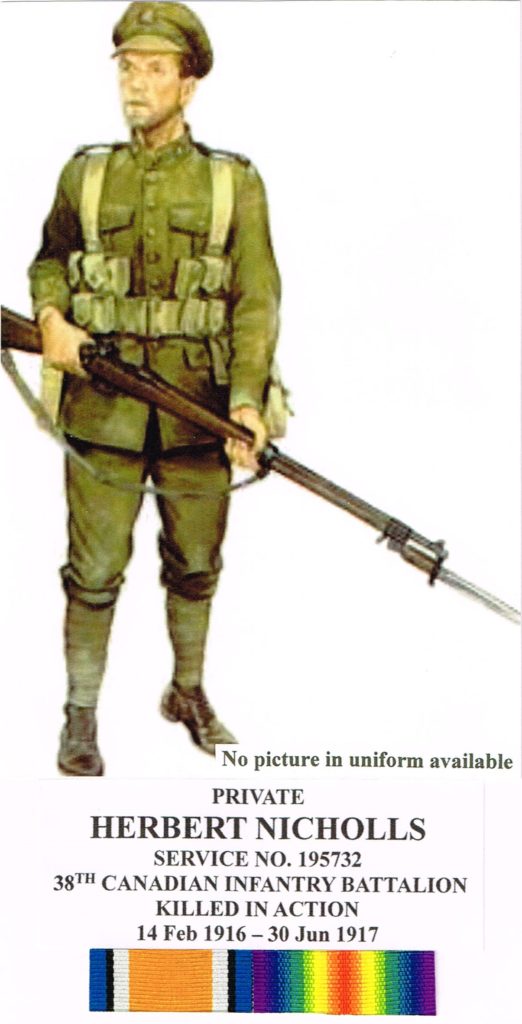 MILITARY HISTORY
Private Herbert Nicholls – 195732 – ACTIVE SERVICE (World War I)
On February 14, 1916 Herbert Nicholls completed the Attestation Paper for the Canadian Army, Canadian Expeditionary Force (CEF). He was 17 years, 11 months old when, as a single man, he enlisted for the duration of the War. Herbert was born in Peterborough*, Ontario and gave his birth-date as March 10, 1898*. He indicated that Lakefield, Ontario was his address at the time of enlistment. On his Attestation Paper, Hebert indicated "he did not presently belong to an Active Militia and that he had never served in any Military Force". There is nothing on his File to indicate where he was educated or to what level. As far as his Trade or Calling is concerned, he lists Farmer. Herbert was 5′ 5" tall, with a 33½" chest (expanded). There is no indication of his weight. He had a fair complexion, with gray eyes, and light brown hair. His Medical Examination was completed February 14, 1916, in Peterborough and other than "a small red birth mark on his back" he had no medical issues or physical limitations and as such he was deemed fit for Overseas duty with the CEF. His next-of-kin was listed as his mother, Mrs. Maud Nicholls, of Peterborough. Hebert Nicholls signed the Oath and Certificate of Attestation on February 14, 1916, in Peterborough. The Certificate of Magistrate was signed by the Justice on February 14, 1916. Hebert Nicholls' Attestation Paper is stamped the 57th Regiment, but he was actually taken-on-strength as a Private (Pte) with the 93rd Battalion (Bn) [Peterborough] CEF which was authorized and formed up on December 22, 1915, Pte Nicholls was assigned Service Number 195732. *Actually Herbert was born in Grey County on June 8, 1898.
The 93rd Bn, after training through the winter and spring at 5 different area Centres, departed by train from Peterborough on May 29, 1916. The Bn made a short stop at Camp Barriefield located at Kingston, Ontario, before moving on the main CEF Training Centre (TC) located at Valcartier, Québec, so as to complete Basic Infantry training, before being transported Overseas, to the UK, by ship. The 93rd Bn embarked from Halifax, Nova Scotia on July 15, 1916, aboard the SS Empress of Britain.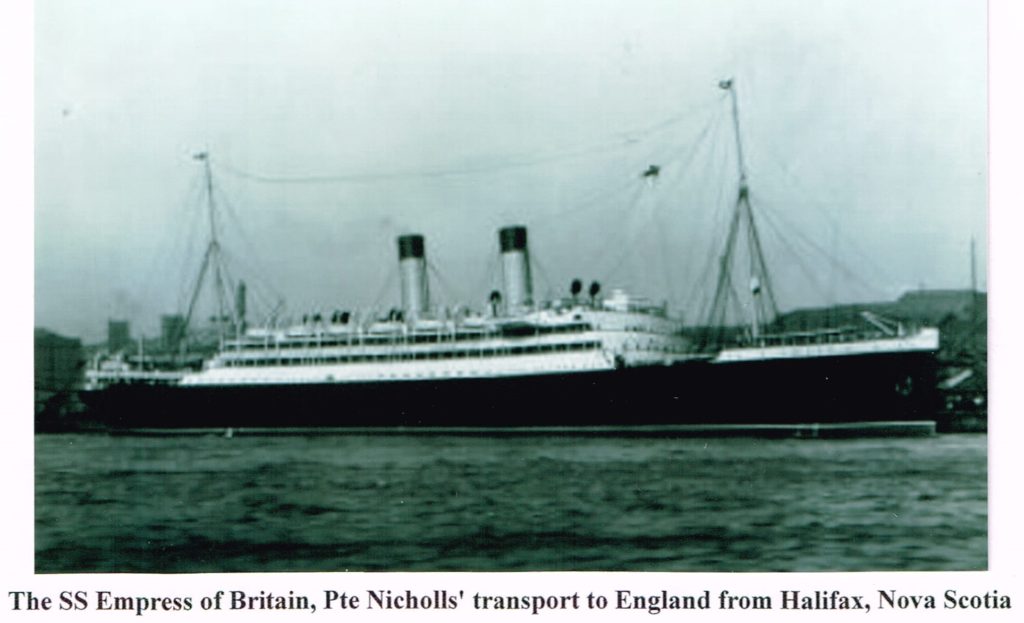 Pte Hebert Nicholls disembarked in Liverpool, England on July 25, 1916. On September 10, 1916, he was admitted to the Military Hospital in Otterpool, England with what was diagnosed as Measles. He was discharged on September 29, 1916. On October 6, 1916 Pte Nicholls was transferred from the 93rd Battalion to the 39th Canadian Infantry Battalion (Cdn Inf Bn) at West Sandling, England. On the same day he was taken-on-strength with the 39th Bn.
January 4, 1917 Pte Nicholls was struck-off-strength from the 39th Cdn Inf Bn on transfer to the 6th Canadian Reserve Battalion (Cdn Res Bn) at Shorncliffe, England. On the same day he was taken-on-strength with the 6th Cdn Res Bn. January 31, 1917 Pte Nicholls was struck-off-strength from the 6th Cdn Res Bn on transfer to the 156th Cdn Inf Bn at West Sandling. On the same day he was taken-on-strength with the 156th Cdn Inf Bn at Witley, England. On May 17, 1917 Pte Nicholls filed a Military Will, which stated: "In the event of my death I give the whole of my property and effects to my mother, Mrs. Maud Nicholls of Peterborough". May 23, 1917 Pte Nicholls was struck-off-strength from the 156th Cdn Inf Bn, on transfer to the 38th Cdn Inf Bn. On May 24th, 1917 he was taken-on-strength with the 38th Cdn Inf Bn at the Canadian Base Depot at La Havre, France. June 10, 1917 Pte Nicholls left for his Unit in the Field. On June 11, 1917 he joined his Unit (38th Cdn Inf Bn) in the Field.
There are no entries in his Military File between June 11, 1917 and June 30, 1917; to track the movement of Pte Herbert Nicholls during this time period, the War Diary of the 38th Cdn Inf Bn was used.
June 1917 – When Pte Nicholls joined the 38th Cdn Inf Bn in the Field, they were located at billets at Berthonval Wood. It was raining heavily on the 11th, when a draft of Pte Nicholls and 134 other ranks arrived during the evening. The Bn moved to billets at Carency, in preparation for a move to the Front-Line. The night of 12th/13th, the Bn relieved the 75th Cdn Inf Bn in the centre sector of the Front-Line. The 13th was spent with both sides exchanging artillery barrages and machine gun fire. Bn Lewis guns and snipers were vary active. On the 14th, in the rear, a Division Competition was held between Bn Transport Lines. The 38th Bn won the "best turned out kitchen", as well as the "best heavy draught team". The night of the 14th/15th, the Bn was relieved in the centre sector by the 72nd Cdn Inf Bn. Upon relief, it moved to the right and relieved the 78th Cdn Inf Bn in the right sector of the Front-Line. "D" and "C" Companies were on the Front, "B" Company in close support, and "A" Company was on the Red Line in reserve. A number of Honours were awarded to the Bn, including: a Distinguished Service Order, a Military Cross, and a number of Military Medals. On the 16th, Bn artillery heavily shelled Enemy Front and Support Lines. Bn trench mortars, machine guns, and rifles were also very active through the day. Bn trench strength was shown as: 44 Officers and 1004 other ranks. The 17th was another day of heavy bombardment of enemy positions. Enemy positions were once again hit on the 18th with artillery fire. This time with high explosive shells and shrapnel. Bn Stokes mortars were also active. Bn snipers claimed a number of "kills". Bn artillery was active throughout the day of the 19th, firing high explosives and shrapnel on enemy positions around La Coulotte, Avion, and Lens. Stokes mortars and Lewis guns also active. Orders were received that on the night of 19th/20th, the Bn was to be relieved by the 44th Cdn Inf Bn and moved to Divisional reserve where they were billeted in Canada Camp, Chateau de la Haie. During its stay on the Front, the Bn had carried out numerous work parties improving Partridge, Lloyd, Clarke, and Irish trenches; as well as digging a new assembly trench. The Bn spent the 20th resting and cleaning up. On the 21st, a Major MacDowell DSO was awarded the Victoria Cross, with a special banquet held to honour Maj MacDowell. The Bn spent the 21st to 24th training for the next "over the top" show. At 4:00 PM, on the 25th the Bn marched to Berthonval Wood, where they were served a hot meal. At 8:30 PM the Bn moved forward, by Companies, at 5 minute intervals to Zouave Valley. At 9:30 PM, the Companies moved forward, by Platoons, at 5 minute intervals. One Platoon from each Company was to take up a position in the Front-Line. One Platoon from each Company was in close support, with one Platoon was in reserve in the Red Line. The Bn was settled into their positions on the 26th. Bn artillery fired continuously on enemy positions throughout the day. Bn patrols established the enemy had retired to the Avion-Maricourt Line. There is no indication in the War Diary, if or when the Bn went over the top on the 28th to 30th. What is indicated that both sides exchanged artillery bombardments over the two days, with the enemy focusing on the Bn Front-Line on the 30th Bn outposts had been established in the Village of Avion.
On June 30, 1917 Pte Hebert Nicholls was received at No 7 Canadian Casualty Clearing Station (CCCS) as having been "dangerously wounded". It is reported he died the same day of "wounds received in action". The wounds were described as "gunshot wounds to his head, side, and hand".
There is no reference, in Private Herbert Nichols' Military File indicating what Military Medals he was awarded but based on his Military Service, he should have received:
British War Medal 1914 – 1920; and
Victory Medal.
He also qualified for War Service Badge CEF Class "A".
The Memorial Cross was dispatched to Private Hebert Nicholls' mother on September 18, 1920. The Memorial Scroll followed on December 24, 1920 and the Memorial Plague on February 25, 1922.
Private Herbert Nicholls is commemorated on page 301 of the First World War Book of Remembrance in Ottawa. He is buried in Noeux-Les-Mines Communal Cemetery, Pas de Calais, France. Noeux-Les-Mines is a Town 6 km south of Bethune on the main road to Arras. The cemetery is located on the northern side of the Town on the road to Labourse.
Based on his Military File, Private Herbert Nicholls served a total of 1 year, 4 months, 6 days with the Canadian Expeditionary Force: 5 months, 1 day in Canada; 9 months, 28 days in England, 1 month, 6 days in France and 11 days Travel Time.
An excerpt from an article in Maclean's by Barbara Ameil, September 1996:
"The Military is the single calling in the world with job specifications that include a commitment to die for your nation. What could be more honorable".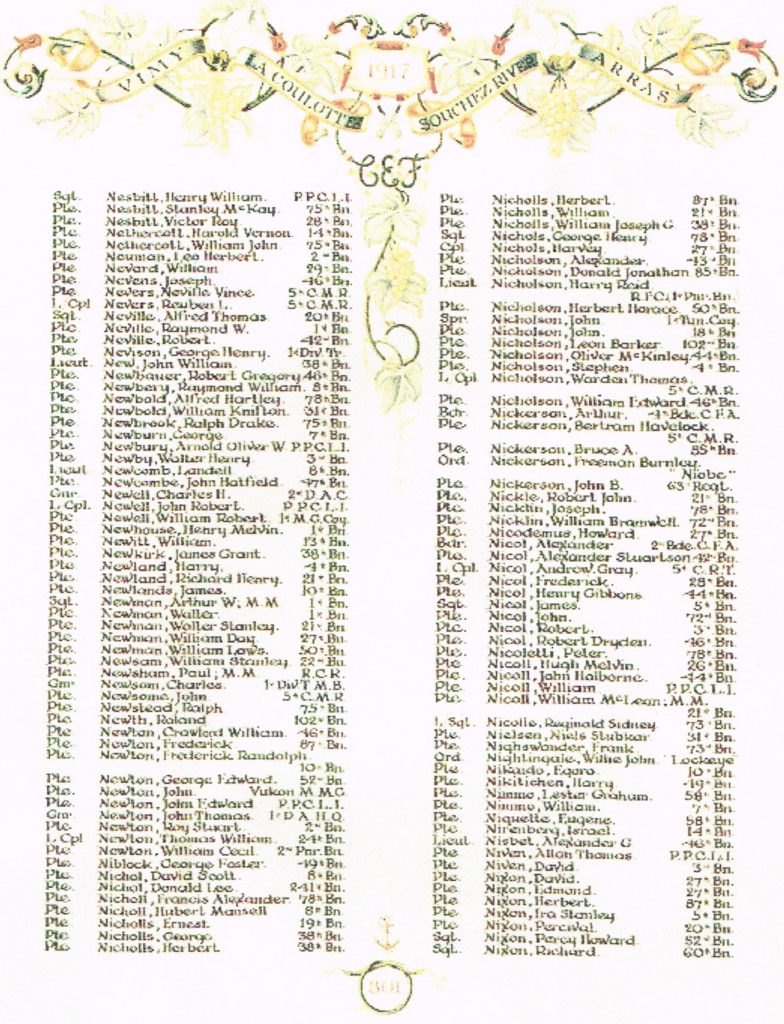 PERSONAL HISTORY
HERBERT NICHOLLS
Herbert Nicholls, known as "Herbie" was born in Peterborough on March 25, 1898. He was the son of William Isaac Nicholls and Maud Pascal. By the age of 12 years, Herbie was living and working on the farm of Herbert John Abbott and his wife Susan Lillian Smith in Douro Township.
In February 1916 at the age of 17 years, Herbie went to Peterborough and signed up to join the Canadian Over-Seas Expeditionary Force. Sadly in just over a year later, Private Herbert Nicholls was killed in France in action on June 30, 1917 and buried in the Noeux-les-mines Communal Cemetery in Pas de Calais, France
THE HERBERT NICHOLLS FAMILY OF LAKEFIELD
Herbert Nicholls' paternal grandparents were James and Hannah Nicholls of Peterborough and his maternal grandparents were Frank Pascal and Jane Donovan.
Herbert Nicholls' parents were William Isaac Nicholls born in Peterborough, Ontario in 1876 and Maud Pascal born in Hastings, Ontario in 1876. They married on March 25, 1898 and made their home at 272 Charlotte Street in Peterborough. Herbert's siblings included Percy born in 1901, Janet Genevieve born in 1904 and twins Harold and Roy William born in 1906.
By 1911 the Ontario Census has Maud Nicholls listed as a widow living with her son Harold at 470 Reid Street in Peterborough. In 1921 Maud and her son Harold were living at 547 George Street in Peterborough.