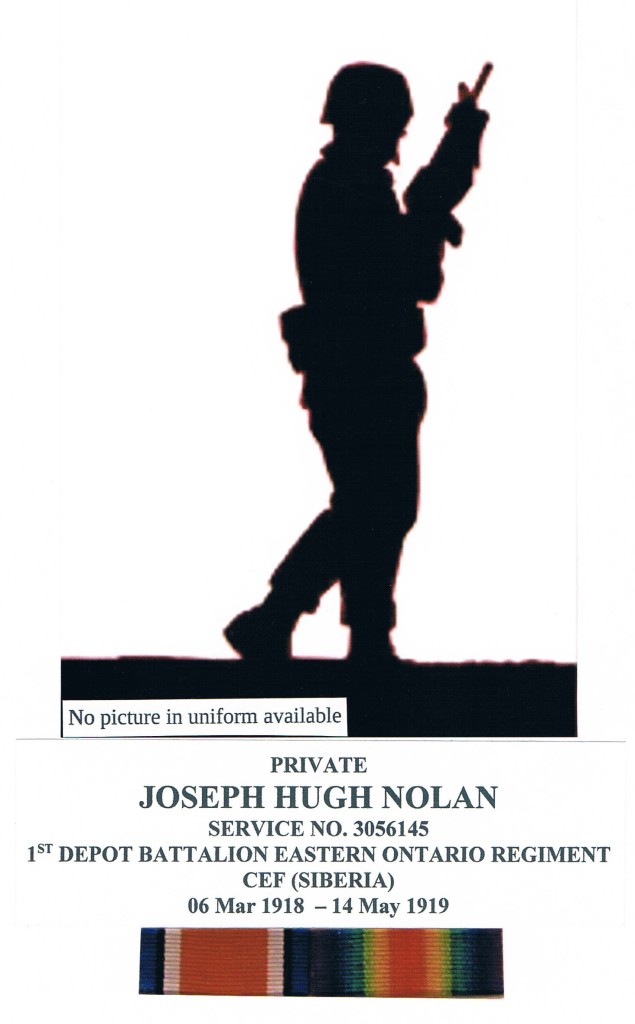 MILITARY HISTORY
Private Joseph Hugh Nolan – 3056145 — ACTIVE SERVICE (World War I)
Hugh was 31 years, 10 months old when, as a single man, he was drafted under the Military Service Act, 1917 at No 3 Military District (MD) Kingston Ontario March 6, 1918 with the Canadian Siberian Expeditionary Force (CSEF). He stated that he was born in Lakefield Ontario on March 11, 1886 and indicated that he had no previous military experience. His previous employment was listed as a farmer. At the time Hugh was 5′ 7½" tall, 43″ chest, weight 190 pounds, grey eyes, and black hair; he lived at RR #4 Lakefield Ontario. Hugh's next-of-kin was listed as Edward Nolan, his father living at RR #4 Lakefield Ontario. Private Hugh Nolan was assigned Service Number 3056145 and his Unit was the Canadian Infantry 1st Depot Battalion (DB) Eastern Ontario Regiment (EOR). Hugh's entry medical was done in Peterborough Ontario, November 8, 1917.
Private Nolan's records don't show details for the period from enlisting (January 21, 1918) to March 25, 1918. He would have been posted to the No 3 Section Machine Gun Corps, 1st DB EOR, CEF. These two months would have been used to teach basic military knowledge which would include rifles and machine guns plus the normal disciplinary practices. On March 26, 1918 Private Nolan had a medical examination at Kingston Ontario and was found fit, an A-2. On March 28, 1918 he was transferred to the Machine Gun Depot Battalion (DB); 205 Battalion [Hamilton] CEF from the 1st DB EOR.
On March 30, 1918 Private Nolan proceeded from Toronto to Québec. On May 17, 1918 Private Nolan had a medical examination in Québec and was found fit, an A-2. Then on August 31, 1918 he was transferred to Military District No. 5. The next move for Private Nolan was a transfer to the EOR 1st DB, 20th Machine Gun Company (Siberia) at Willows Camp, Victoria British Columbia, on October 31, 1918.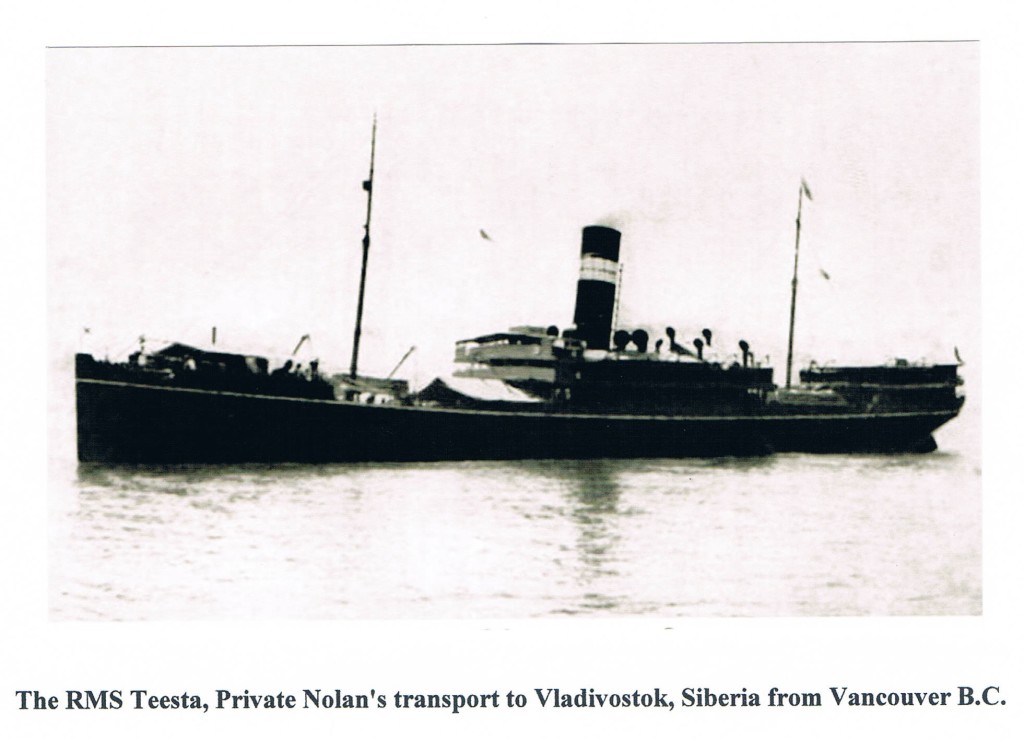 After almost two months training and a transfer to the CEF (Siberia) on December 21, 1918 Private Nolan and the men of 20th Machine Gun Company embarked on board the RMS Teesta at 10:00 p.m. At 4:00 a.m. on December 22, 1918 she left Vancouver for Vladivostok, Siberia. She stopped at Muroran, Japan on January 8-9, 1919 to restock with coal. Finally, on January 12, 1919, 21 days after leaving Vancouver, British Columbia they arrived at Vladivostok, Siberia.
There are no entries in Private Nolan's records for any moves or tasks while in Siberia. He was struck off strength from the CEF on demobilization, April 14, 1919. A little over three weeks after their arrival Private Nolan's Unit was heading home. On April 21, 1919 he was released from the EOR 1st DB, 20th Machine Gun Company (Siberia) and his Unit embarked the SS Monteagle for Canada. Fourteen days later, May 5, 1919, he arrived in Victoria, B.C.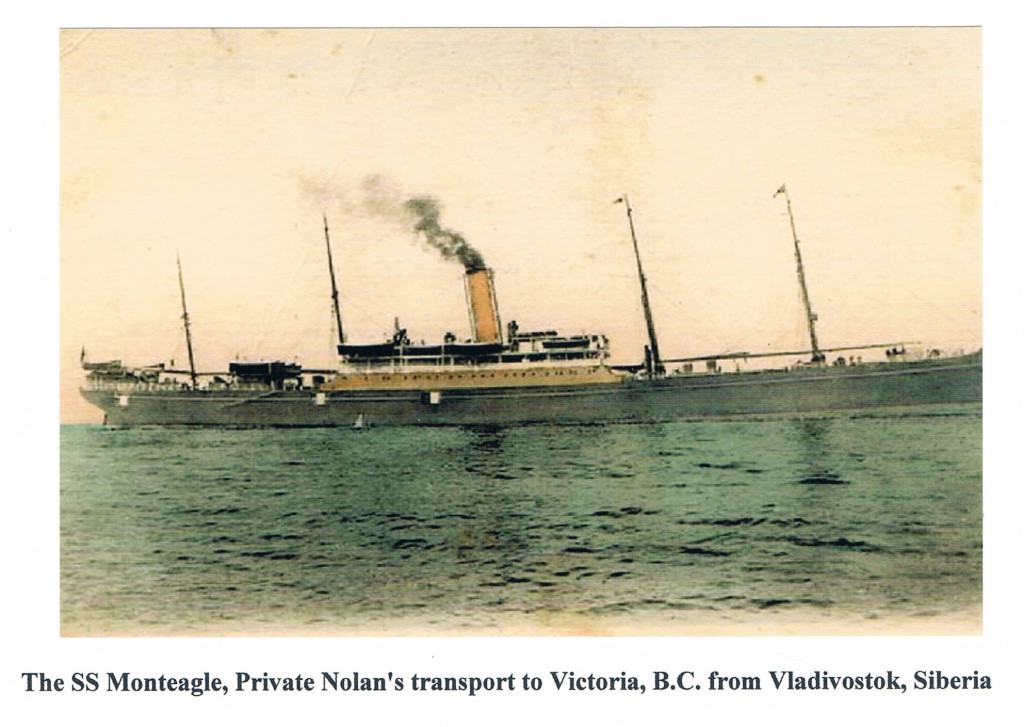 On April 23, 1919 Private Hugh Nolan was posted to the Casualty Company – Park School, Toronto and on April 29, 1919 he transferred to No 2 DD. On May 5, 1919 he was moved to MD No 2 and discharged from Service in the CEF on May 14, 1919 at MD No. 2, Toronto Ontario.
Hugh's records specify that his Theatre of War was Siberia. He earned the British War Medal and the Victory Medal. He would have qualified for the War Service Badge ‑ Class A. Hugh was also entitled to the War Service Gratuity.
An excerpt from an article in McLean's magazine by Barbara Amiel, September 1996:
The military is the single calling in the world with job specifications that include a commitment to die for your nation. What could be more honorable?
PERSONAL HISTORY
JOSEPH HUGH NOLAN
Joseph Hugh Nolan was born March 11, 1886 in the Village of Lakefield, Ontario of parents Edward Nolan and Ellen Caldwell. He was known by his middle name "Hugh". After serving in WWI, Hugh came home to the family farm at Lot 12 Conc 6 in Douro Township located on what is now known as Highway #28. In the summer he worked on the farm and in the winter he went to the lumber camps. Hugh never married. Hugh Nolan, who lived on the sixth line of Douro by Sawers Creek, was one of the last in the area to drive a horse and buggy to town. On Sundays, he would leave his horse and buggy in the Baptist Church shed while he attended mass at St. Paul's Church.
THE JOSEPH HUGH NOLAN FAMILY OF DOURO
Joseph Hugh's paternal grandparents were James Nolan and Ellen Burke and his maternal grandparents were Hugh Caldwell and Agnes "Ann" McDonald.
Joseph Hugh's parents; Edward Nolan, born on April 2, 1852 married Julia Sullivan, born in 1850. Unfortunately after four years with consumption, Julia died in October 1879 – they had no children. On May 1, 1883, Edward Nolan married Ellen Caldwell in Douro, Ontario. She was born on November 16, 1857. They had three children James Robert, born in April 24, 1884 and a sister Mary Ellen, born November 22, 1890 but sadly she passed away on April 13, 1903, age 12 years. Neither Hugh nor James ever married. Edward Nolan passed away August 6, 1934 and Ellen passed away July 24, 1921; Hugh passed away in 1967 and James Robert passed away in 1968. All are buried in the family plot in St. Joseph's Cemetery in Douro, Ontario.