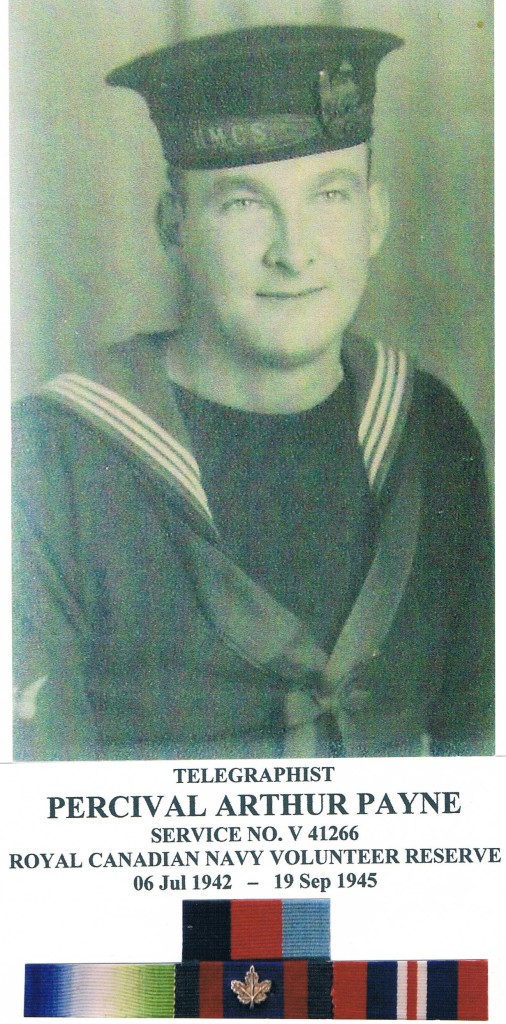 MILITARY HISTORY
Telegraphist Percival Arthur Payne – V 41226 — ACTIVE SERVICE (World War II)
Percival Arthur Payne was 27 years, 1 months and 19 days old when, as a single man, he enlisted in Kingston Ontario on July 6, 1942 with the Royal Canadian Naval Volunteer Reserve (RCNVR) for the duration of the War. Percival Arthur stated that he was born in Warsaw, County of Peterborough, Ontario on May 18, 1915. He went through the Lakefield Public and High School System from 1921 to 1934 completing Grade 11 and then left school at 19 years old to go to work for financial reasons. Percival Arthur worked as a clerk in a grocery store from 1934 to 1935 then in underground work in the Toburn Gold Mine at Kirkland Lake, Ontario from 1935 to 1937. His next job was as a Stock Keeper for the Warick Brothers, Stationary Wholesalers in Toronto from 1937 to 1938. From 1938 to 1942 Percival Arthur's employer was the Canada Bread Company in Peterborough, Ontario where he was a Salesman and Stock Keeper. Percival Arthur was 5′ 10½" tall, 35½" chest, blue eyes, light-brown hair, slightly bald and weighed 165 pounds. He lived in Lakefield, Ontario and enjoyed canoeing and motor boating. Percival Arthur's entry medical was done in Kingston Ontario, July 6, 1942. His next-of-kin was listed as Mrs. Catherine Payne, living in Lakefield, Ontario. His father, Arthur Thomas Payne, born in Warsaw, has a disability, he doesn't have good mobility. July 6, 1942 Ordinary Seaman (OS) Wireless Telegrapher (WT) Payne was assigned Service Number V 41226 and taken on Divisional Strength on His Majesty's Canadian Ship (HMCS) Cataraqui, Kingston, Ontario. HMCS Cataraqui was a shore establishment which provided training for many facets of the naval profession. After one month of training, on August 9, 1942, OS/WT Payne was taken off Divisional Strength and placed on Active Service on August 10, 1942 still with HMCS Cataraqui.
Four days later, August 14, 1942, OS/WT Payne was drafted to HMCS York in Toronto, Ontario another shore establishment which provided training. On August 15, 1942 he joined HMCS York and remained there for 2 months when he was transferred to St. Hyacinthe, Québec on October 13, 1942. St. Hyacinthe was the Royal Canadian Navy's Communications School during the Second World War and was situated 35 miles east of Montreal. OS/WT Payne embarked on training at St. Hyacinthe October 14, 1942 and remained there just over 3 months to January 22, 1943 when he qualified as an Ordinary Telgraphist (O/Tel). O/Tel Payne continued at St. Hyacinthe for another 3 months, from January 23, 1943 to April 26, 1943.
On April 27, 1943 O/Tel Payne joined HMCS Stadacona, also a shore establishment which provided training, in Halifax until May 2 1943when he was drafted to HMCS Nanoose. Then on May 3, 1943 O/Tel Payne joined HMCS Nanoose (a local Mine Sweeper) and on August 10, 1943 after just over 3 months of training, he was qualified as a Telegraphist (Tel). Tel Payne remained on HMCS Nanoose for just over 1 year, 5 months, until October 18, 1944 when he was drafted to HMCS Peregrine, a shore establishment -0 a Manning Depot in Halifax, Nova Scotia. Tel Payne's Military Records do not show any details of what he was doing nor is there much information about the ships to which he was assigned. Some literature suggests that there were many secret or top-secret assignments having to do with radar, new technology. October 19, 1944 he joined HMCS Peregrine until October 24, 1944 and was drafted to HMCS Sea Cliff (a River-class Frigate) in Halifax. Tel Payne joined HMCS Sea Cliff on October 25, 1944 for five days and was then drafted back to HMCS Peregrine October 30, 1944. Tel Payne joined HMCS Peregrine on October 31, 1944 where he stayed for almost 2 months until December 28, 1944 when he was drafted to HMCS Avalon, a shore establishment at St. John's Newfoundland. After 7 months at HMCS Avalon, to July 30, 1945, Tel Payne was sent to HMCS Peregrine on July 31, 1945 for discharge. On September 19, 1945 he was with HMCS Cataraqui and discharged due to demobilization.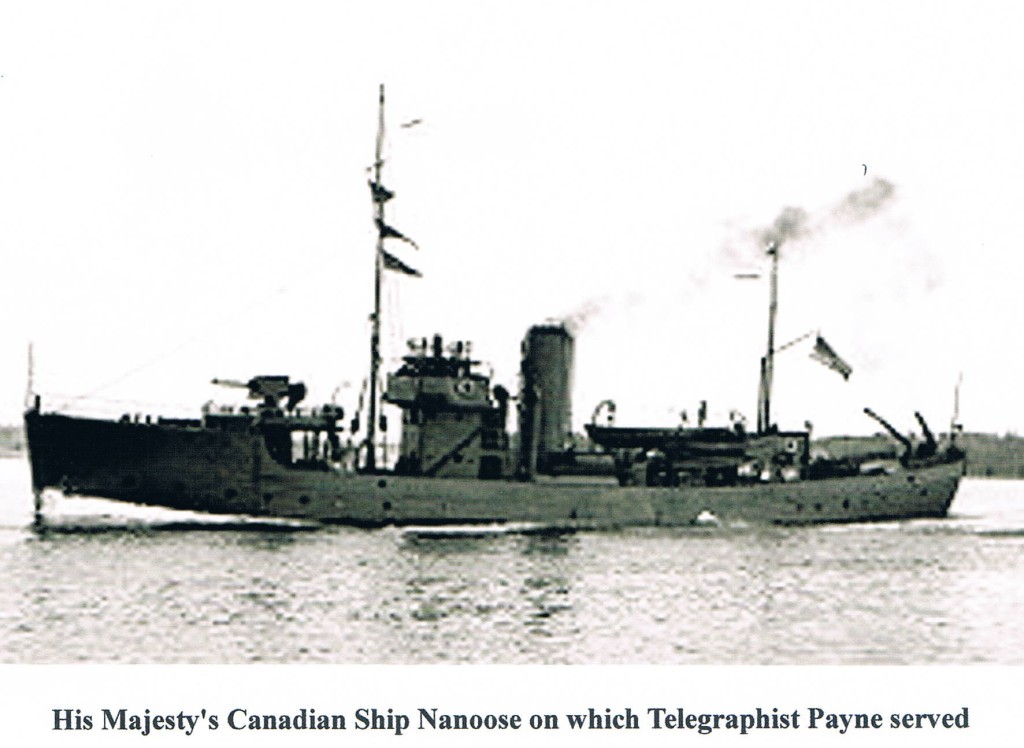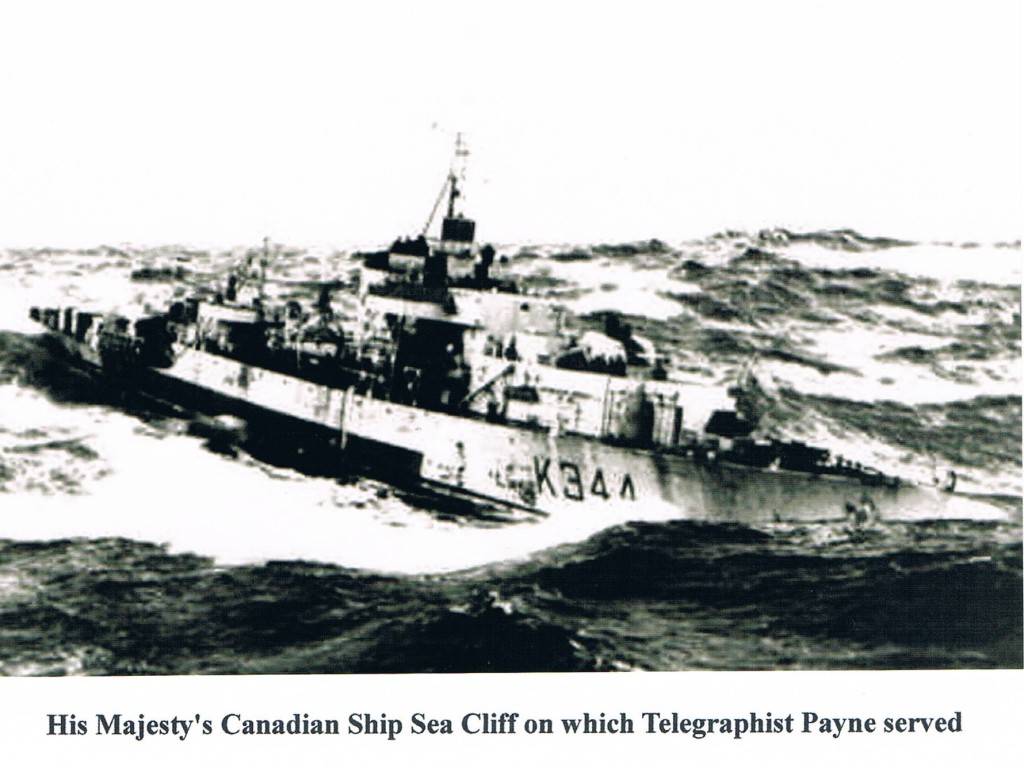 Tel Payne was interviewed by the Personnel Selection Officer (PSO) at 300 King St. E. Kingston (Department of Veterans Affairs) for training employment. After discussions it was decided that he would be recommended for instructional and on-the-job training as a salesman. Tel Payne was paid a clothing and rehabilitation grant on discharge.
Tel Payne served in the North Atlantic Theatre he carried out regular telegrapher duties indicated as follows: duties at sea; sends and receives signals by radio telephony and wireless telegraphy, stands watches and is responsible for all signals passed by telegraphy and telephony on his radio wave. He also, when required, assists the coders, repairs aerials and carries out minor repairs on the ship's radio sets. Duties in harbour; preforms same telegrapher duties and does a bit of practical maintenance of Wireless Telegraphy (W/T) equipment. Also responsible for the cleanliness and upkeep of his section of (W/T) department. Much of the Canadian Naval responsibilities entailed patrolling, escorting and protecting convoys of troop and cargo ships from the dreaded German Submarines (U-Boats) and air attacks in the North Atlantic Ocean.
Telgraphist Payne was awarded the following medals:
1939 – 45 Star;
Atlantic Star;
Canadian Volunteer Service Medal and Bar; and
War Medal 1939 – 45.
He also qualified for the War Service Badge – Navy Class "AA" and received No. 309941.
Percival Arthur Payne served for 3 years, 2 months and 13 days. Due to the lack of data it cannot be determined specifically where he served. He had 37 months Active Service with 26 months sea-time service.
An excerpt from an article in McLean's magazine by Barbara Amiel, September 1996:
The military is the single calling in the world with job specifications that include a commitment to die for your nation. What could be more honorable?
PERSONAL HISTORY
PERCIVAL ARTHUR PAYNE
Percival Arthur Payne was born May 18, 1915 in Warsaw, Ontario to Thomas Arthur Payne and Catherine Davis. He went by the nickname "Percy". Percy was raised, and educated in Lakefield, the youngest of the three sons of Arthur and Catherine Payne.
Percy may best be remembered as the owner of his upscale men's clothing store in Lakefield at 28 Queen Street which he purchased from Wes Graham, and operated until his retirement. He sold the premises to Martin Hollend who owned/operated his store at 28 Queen Street then later he purchased 26 Queen Street to expand his clothing store. Now 24-26-28 Queen Street is home to Kawartha Home Hardware Store.
Percy and Romaine Shirley Millward were married later in life; believed to be in the mid to late 1950s. They didn't have any children. Percy Payne died on May 8, 1993 and is buried in Lakefield Cemetery.
THE PERCIVAL ARTHUR PAYNE FAMILY OF LAKEFIELD
Percival's paternal great-grandparents are George Payne & Sarah Edwards. His maternal great-grand parents are Thomas Russel & Isabella Hursburgh.
Percival's paternal grandparents; Paul Payne, born about January 31, 1853 and Mary Ann Russel, born about January 31, 1855 were married in Dummer Township December 29, 1880. His maternal grandparents are John James Crowe and Mary Ann Taylor (Catherine was adopted).
Percival's parents and family; Thomas Arthur Payne, born June 16, 1882 in Warsaw, Ontario and his wife Catherine Davis, born July 1882 in England, lived at 30 William St., Lakefield Ontario in 1911. They were married in Dummer Township December 8, 1903. In the 1911 Census Thomas Arthur, 30 years of age, is listed as an engineer on a steamboat. There were three children in the home; two sons, Francis Henry A. 4 years of age born in Ontario September 2, 1906 and Paul Russel 2 years of age born in Ontario September 17, 1908 plus Marion Allison their daughter who was nine months old born in Ontario September 20, 1910. Also living with them was Alice Gilbert a 15 year old girl from England and working as a domestic. Seven years later there were two more children, Percival was born in Dummer Township May 18, 1915 and Florence Willene, born in January 8, 1918.
Percival's brother Francis Henry A., called Frank, also known as Mackey, had an insurance business in Lakefield; Paul Russel, was a banker and lived in Toronto. Their sister, Marion Allison, always called Billie, was married to Stanley Jay Hislop and the younger sister, Florence Willene, was married to Thomas Carson Webster.