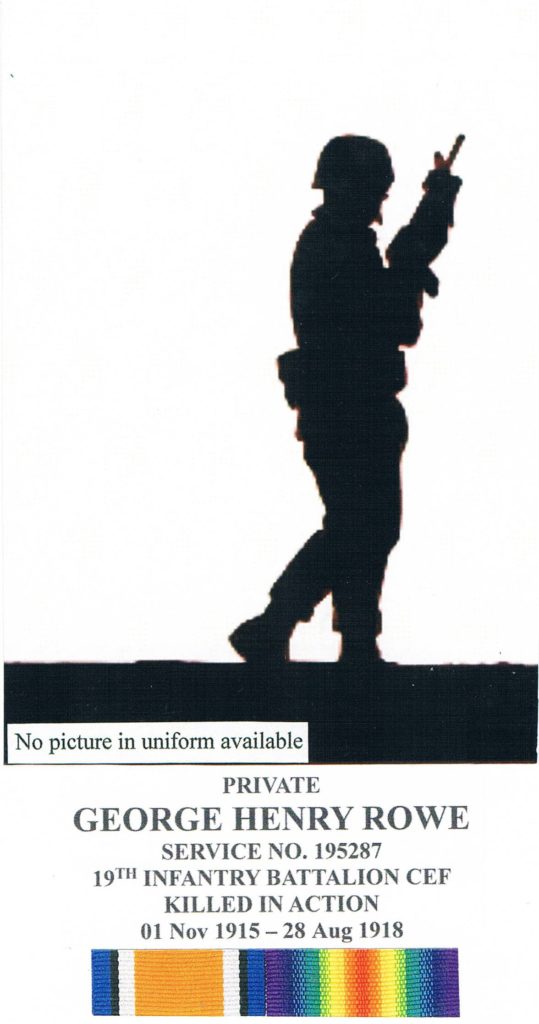 MILITARY HISTORY
Private George Henry Rowe – 195287 – ACTIVE SERVICE (World War I)
On November 1, 1915 George Henry Rowe completed the Attestation Paper for the Canadian Army (Expeditionary Force). He was 24 years and 6 months old when, as a married but separated man, he enlisted for the duration of the War. George Henry was born in Smith Township, Ontario and gave his birth-date as March 5, 1891. On his Attestation Paper, George Henry indicated "he did not presently belong to an Active Militia and that he had never served in any Military Force". There is nothing on his File to indicate where he was educated or to what level. As far as his Trade or Calling is concerned, he lists Farm Labourer. George Henry was 5′ 8" tall, with a 35" chest (expanded). His weight is listed as 148 pounds. He had a dark complexion, with dark eyes and dark hair. His Medical Examination was conducted in Lakefield on October 25, 1915 and it indicates that he had no medical issues or physical limitations and as such he was deemed fit for Overseas duty with the Canadian Expeditionary Force. George Henry's next-of-kin was listed as his father, Mr. John Rowe of Young's Point, Ontario. George Henry signed the Oath and Certificate of Attestation on November 1, 1915 in Peterborough, Ontario. The Certificate of Magistrate was signed by the Justice on November 12, 1915. George Henry Rowe was taken-on-strength with the 57th Regiment (Peterborough) Canadian Expeditionary Force. Private (Pte) Rowe was assigned Regimental Number 195287. When the 93rd Battalion (Bn) (Peterborough) was authorized and formed up on December 22, 1915, Pte Rowe was taken-on-strength with this new Unit.
The 93rd Bn, after training through the winter and spring at 5 different area Centres, departed by train from Peterborough on May 29, 1916. They made a short stop at Barriefield Camp located at Kingston, Ontario before moving on to the main Canadian Expeditionary Force Training Centre located at Valcartier, Québec, to complete Basic Infantry training, before being transported overseas to the UK, by ship. The Battalion embarked from Halifax, Nova Scotia, on July 15, 1916 aboard the SS Empress of Britain.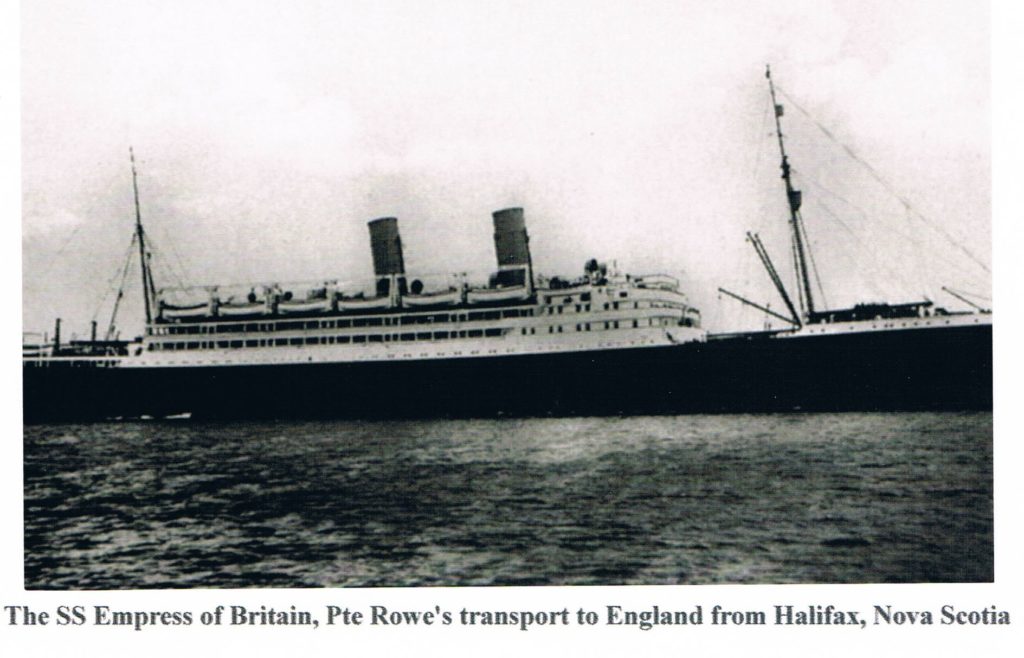 Pte Rowe disembarked at Liverpool, England on July 25, 1916. On September 15, 1916 Pte Rowe was transferred to the 19th Bn stationed at Otterpool, England. The 19th Bn was a Central Ontario Unit that was attached to the 4th Canadian Infantry Brigade and part of the 2nd Canadian Division. He embarked at England and disembarked at France where he was taken-on-strength with the 19th Bn in the Field on September 24, 1916. Between September 24, 1916 and November 7, 1916 the 19th Bn was on rotation to and from the Front-Line trenches. November 7, 1916 Pte Rowe reported to No 18 Casualty Clearing Station with Influenza. He was admitted to No 13 General Hospital in Boulogne, France on November 11, 1916 still suffering from Influenza. Pte Rowe was transferred to No 1 Convalescence Depot November 14, 1916. He was discharged to Base details as fit November 23, 1916. On November 29, 1916 he was admitted classified "A" fit at the Canadian Base Depot. On December 10, 1916 Pte Rowe left to join the 2nd Canadian Division Entrenching Battalion (Cdn Ent Bn) and joined them on December 12, 1916.
Note: The Entrenching Battalions were set up to replace the Canadian Corps Reinforcement Camps, (CCRC or alternately CC Rein C) and acted as holding Unit for troops scheduled to proceed to the front. While there the members were employed on work parties doing various tasks behind the lines.
On January 1, 1917 Pte Rowe was "awarded and has permission to wear one Good Conduct Badge". He left to join his Unit (19th Bn) on March 5, 1917 and joined the 19th Bn on March 6, 1917. From March 6, 1917 to March 22, 1917 the 19th Bn was on normal rotation to and from the Front-Line. From March 22, 1917 to April 7, 1917 the 19th Bn were resting, regrouping and training in new attack tactics including: jumping out of trenches, timed leapfrog advancing techniques and cutting wire. On April 8, 1917 the 19th Bn moved to the Front-Line. On April 9, 19170 they attacked enemy positions on Vimy Ridge.
The Battle of Vimy Ridge was from April 9 to April 12, 1917. "Attacking together for the first time, the four Canadian Divisions, backed by 1,000 artillery pieces laying down a withering creeping barrage, stormed the Ridge at 5:30 AM on April 9, 1917. More than 15,000 Canadian Infantrymen overran the German positions all along the Front. Incredible bravery and discipline allowed the Canadians to continue to move forward under heavy fire, even when their Officers were killed. There were countless acts of sacrifice as the Canadians charged machine gun nests and forced the surrender of Germans in protective dugouts. Hill 145, the highest and most important feature on the Ridge, where the Vimy Monument now stands, was captured in a frontal bayonet attack against German machine gun positions. For the next 3 days the costly battle raged on before the final victory was achieved. The victory came at a very heavy price: of the 15,000 Canadians, who went into battle, by April 12, 1917; 3,598 were killed and 7,000 were wounded. Pte Rowe was one of the survivors.
April 13, 1917 the 19th Bn was relieved on the Front-Line. On May 14, 1917 Pte Rowe was processed at No 12 Canadian Field Ambulance (CFA) with Mumps. On May 15, 1917 he was admitted to No 7 General Hospital at St Omer, France. June 6, 1917 he was at No 7 Convalescence Depot at Boulogne, France. On June 23, 1917 he was discharged to No 3 Rest Camp at Marlboro, France. June 26, 1917 Pte Rowe is listed as classified "A" fit from details and transferred to No 2 Canadian Infantry Base Deport (CIBD). On July 18, 1917 he left for the 2nd Cdn Ent Bn arriving on July 20, 1917. On July 21, 1917 he left for and joined his Unit (19th Bn). November 14, 1917 Pte Rowe was admitted to the No 1 Canadian Hospital at Étaples, France, with Trench Foot. On November 17, 1917 he was invalided to England aboard the Hospital Ship Ville-de-Liege and was posted to the No 1 Canadian Central Ontario Regimental Depot at Shorncliffe, England. He was taken-on-strength at East Sandling, England on the same day. Also on November 17, 1917 he was admitted to the Berrington War Hospital at Shrewsbury, England. December 26, 1917 Pte Rowe reported to the Military Convalescence Hospital at Epsom, England with what is listed as severe Trench Foot.
On February 1, 1918 Pte Rowe was discharged from the Military Hospital at Epsom. On this day he was transferred to the No 1 Canadian Convalescent Depot (CCD) at East Sandling, England. At this location his time would have been spent getting back into shape for his eventual return to the 19th Bn. On April 9, 1918 he was struck-off-strength from the No 1 CCD on transfer to the 3rd Reserve Bn at Witley, England. On May 29, 1918 Pte Rowe was struck-off-strength from the 3rd Reserve Bn to the 19th Bn. On May 30, 1918 he arrived in France and was taken-on-strength with the 19th Battalion. On June 23, 1918 he left for and arrived at the Canadian Corps Reinforcement Camp (CCRC). August 11, 1918 Pte Rowe left for his Unit (19th Bn) in the Field. He arrived at his Unit on the Front-Line in the trenches on August 12, 1918.
Sixteen days later, on August 28, 1918, Private Rowe was initially reported missing after action and then later on the same day he was reported as killed-in-action. The Military Record indicates that Private George Henry Rowe was buried on August 31, 1918 at N24 – B2-8 Sheet 51B. Research indicates that this designation refers to the Wancourt British Cemetery, Pas de Calais, France. His name appears on page 494 of the First World War Book of Remembrance in Ottawa, Ontario.
Based on the date of August 28th, 1918 Pte Rowe was killed during the 2nd Battle of the Somme which took place between August 21 and September 3, 1918.
What follows is a paraphrased excerpt of the events of August 28, 1918 taken from the 19th Battalion War Diaries:
"Zero hour is 12:30 PM. The 19th Battalion advanced immediately behind the 21st Battalion. The whole Brigade is in a weakened condition, troops are tired and not fully equipped. The Artillery barrage had not sufficiently dealt with the strong opposition in Olive Trench, Ocean House and the ridge opposite Advance held up by a strong system of wire in front of the trenches. The Brigade on the right was also held up and the Division on the left was unable to come forward. Many attempts were made at different points to bomb a way through the wire, but without success. Machine gun fire from Ocean House and from the left flank was very severe and caused tremendous casualties. The position in front, at the wire was maintained for many hours, but later they withdrew to a line of banks and sunken roads. Due to heavy losses a composite Unit was being formed from the remaining Officers and men of the 9th and 21st Battalions. During the evening the enemy put down a very heavy barrage on the Sensée River, mingled with gas. During the early evening hours enemy troops were seen advancing and an SOS was put up, but it would appear that the enemy's intentions were to occupy Olive Trench and the trenches on the flank in strength. Another SOS was called".
Battle casualties for the 19th Battalion on August 28, 1918 were: Officers – 5 killed, 7 wounded, 1 gassed; other ranks – 25 killed (of which Private George Henry Rowe was one), 180 wounded, 26 gassed, and 40 missing.
There is no reference in Pte George Henry Rowe's Military File indicating what Military Medals he was awarded but based on his Military Service, he should have received:
British War Medal 1914 – 1920; and
Victory Medal.
He also qualified for War Service Badge CEF Class "A".
The Memorial Cross was sent to his mother Mrs. J.J. Rowe of Young's Point, Ontario. The Record indicates that the Memorial Scroll and Memorial Plague appear to have been sent January 11, 1920 and resent June 2, 1924 and November 20, 1924. The Record does not indicate to whom they were sent. A War Gratuity of $80.00 was sent to Mrs. Doris Rowe (widow) of 533 College Street, Toronto, Ontario on August 25, 1920.
Based on his Military File, Pte George Henry Rowe served a total of 2 years, 9 months and 27 days with the Canadian Expeditionary Force: 7 months, 14 days in Canada, 8 months, 22 days in England and 1 year, 7 months in France.
An excerpt from an article in Maclean's by Barbara Ameil, September 1996:
The Military is the single calling in the world with job specifications that include a commitment to die for your nation. What could be more honorable.
GEORGE HENRY ROWE
George Henry Rowe was born March 5, 1891 in Smith Township, Ontario, son of John James Rowe and Susan Sutton. William Thomas worked as a labourer; he was the 3rd eldest of 6 children.
On April 16, 1902 George Henry Rowe married Elizabeth "Lizzie" May Hurl, born April 29, 1885 in Harvey Township. They had two sons: Edwin Adrian, born November 6, 1902 and Sherman John, born January 1904.
Elizabeth May Hurl's parents are Margaret Curtin & William James Hurl.
THE GEORGE HENRY ROWE FAMILY OF YOUNG'S POINT
George Henry's paternal grandparents are Thomas and Susan Rowe. His maternal grandparents are James and Ann Sutton.
George Henry's parents; John James Rowe, born February 18, 1862 in England (Immigrated in 1862), married Susan Sutton, born December 26, 1858 in Ontario, on February 27, 1883. They had six children:
Albert J. Rowe, born December 28, 1884;
William Thomas Rowe, born August 6, 1887 in Wollaston Township, Hastings County, Ontario;
George Henry Rowe, born March 5, 1891 in Smith Township, Ontario;
Charlotte A, Rowe, born September 5, 1892;
Emma S. Rowe, born March 31, 1895; and
Florence M. Rowe, born September 16, 1897.
Susan Sutton's parents are James and Ann Surtton.
George Henry Rowe, born February 16, 1880 in Lakefield and James Howard Rowe, born June 9, 1891 in Lakefield are sons of William Rowe born about 1861 in England. (actually ½ brothers)
and
George Henry Rowe, born March 5, 1891 in Smith Township and William Thomas Rowe born August 6, 1887 in Hastings, Ontario are sons of John James Rowe, born February 18, 1862 and Susannah Sutton.
It sure appears that William and John James are brothers making the sets of brothers, cousins.