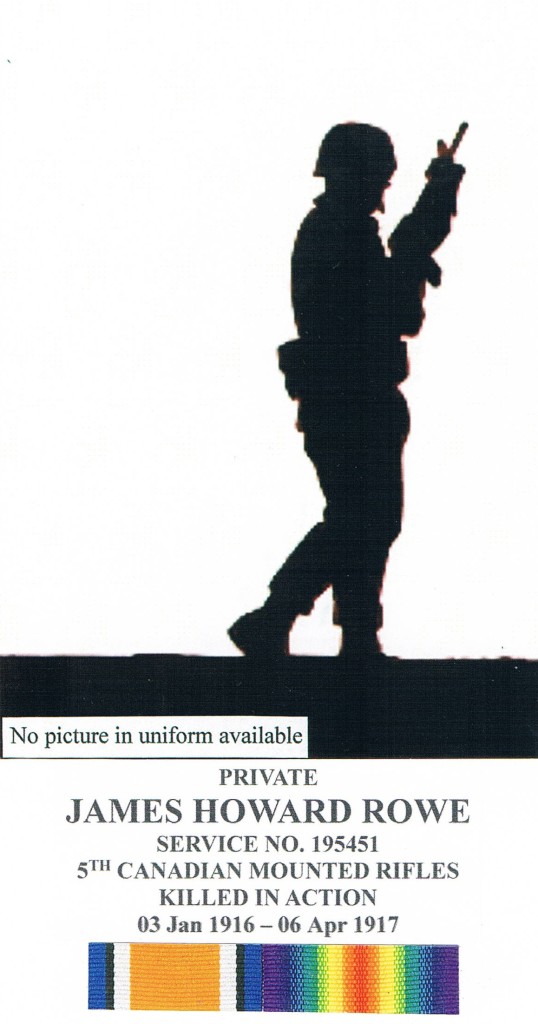 MILITARY HISTORY
Private James Howard Rowe – 195451 – ACTIVE SERVICE (World War I)
On January 3, 1916 James Howard Rowe completed the Attestation Paper for the Canadian Army (Expeditionary Force). He was 24 years and 6 months old, when as a single man, he enlisted for the duration of the War. James Howard was born in Lakefield, Ontario, and gave his birth-date as June 9, 1891. On his Attestation Paper James indicated "he did not presently belong to an Active Militia and that he had never served in any Military Force". There is nothing on his File to indicate where he was educated or to what level. As far as his Trade or Calling is concerned, he lists Laborer. James Howard was 5′ 6¼" tall, with a 35" chest (expanded). His weight is listed as 130 pounds. He had a dark complexion, with blue eyes, and dark brown hair. His Medical Examination was completed December 28, 1915 in Peterborough and other than "a brown birth mark on the front and centre of left thigh" he had no medical issues or physical limitations, and as such he was deemed fit for Overseas duty with the Canadian Expeditionary Force. His next-of-kin was listed as his father, Mr. William Rowe of Lakefield, Ontario. James Howard signed the Oath and Certificate of Attestation on January 3, 1916 in Peterborough, Ontario. The Certificate of Magistrate was signed by the Justice on January 4, 1916. James Howard Rowe's Attestation Paper is stamped the "57th Regiment", but he was actually taken-on-strength as a Private (Pte) with the 93rd Battalion (Bn) (Peterborough) Canadian Expeditionary Force which was authorized and formed up on December 22, 1915 Pte Rowe was assigned Service Number 195451.
The 93rd Bn, after training through the winter and spring at 5 different area Centres, departed by train from Peterborough on May 29, 1916. They made a short stop at Barriefield Camp located at Kingston, Ontario before moving on to the main Canadian Expeditionary Force Training Centre located at Valcartier, Québec, to complete Basic Infantry training before being transported overseas to the UK, by ship. The 93rd Bn embarked from Halifax, Nova Scotia on July 15, 1916 aboard the SS Empress of Britain.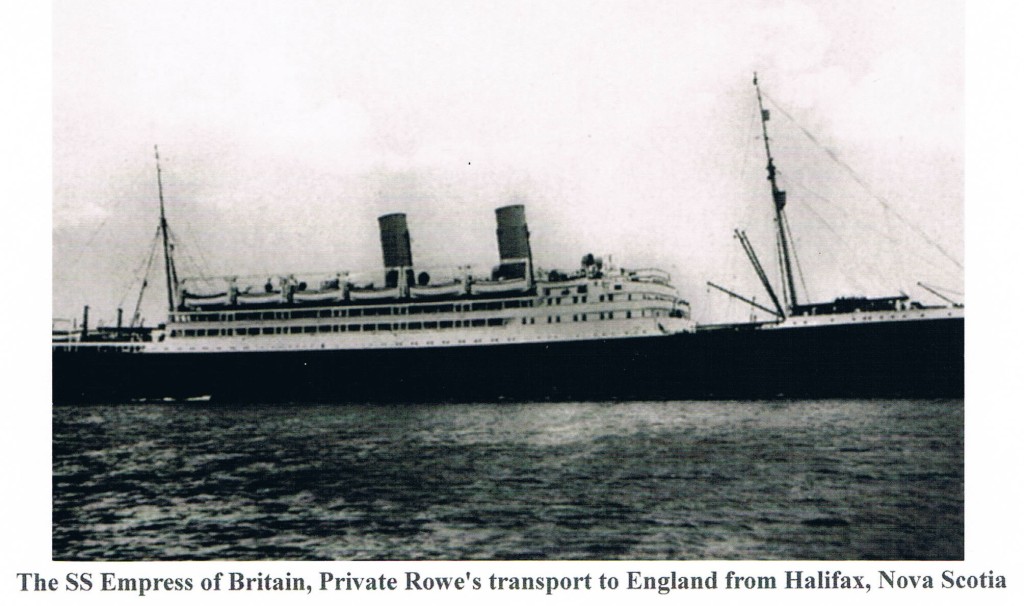 Pte Rowe disembarked at Liverpool, England on July 25, 1916. On September 7, 1916 he was struck-off-strength from the 93rd Bn on transfer to the 5th Canadian Mounted Rifles (CMR) stationed at Otterpool, England. Pte Rowe embarked from England and disembarked at France where he was taken-on-strength with the 5th CMR in the Field (France) on September 8, 1916. On September 25, 1916 he left for the 3rd Echelon Battalion (E Bn) arriving September 28, 1916. Pte Rowe left for and joined his Unit October 2, 1916 which, according to the 5th CMR War Diaries, was on the Front-Line. He was admitted to the 8th Canadian Field Ambulance on October 26, 1916, suffering from "frequent Micturation" (urination problems) and was discharged on November 4, 1916. He rejoined his Unit on November 18, 1916.
It is interesting to note that the Military Records for the 4 Rowe Veterans show that they all embarked at Halifax, Nova Scotia on the SS Empress of Britain on July 15, 1916. In the paragraph above the dates, up to October 2, 1916, for Pte James Howard Rowe coincide exactly with those for Pte William Thomas Rowe. Both were with the 5th CMR and it is believed that they are cousins.
On February 6, 1917 Pte Rowe made out his Will stating: "In the event of my death, I give the whole of my property and affects to my father, Mr. William Rowe – 385 Mark Street, Peterborough".
According to the 5th CMR War Diaries, the Unit spent the time from November 18, 1916, to April 5, 1917, in a series of rotations to and from the Front-Line.
Private James Howard Rowe was killed-in-action on April 6, 1917 and is buried in the La Chaudiere Military Cemetery at Vimy, France. This date indicates that he was killed during the build up to Battle of Vimy Ridge April 9 to 12, 1917. An entry in the 5th CMR War Diaries on April 5, 1917, states: "Operation Orders and Instructions received for the pending attack on Vimy. The 8th Infantry Brigade is to relieve 9th Brigade on the Line, tonight". The entry for April 6, 1917 states "GOOD FRIDAY, the night was showery, morning is fine and bright, afternoon showery – developed into a steady rain. Heavy artillery bombardment developing into drum fire". It would appear that Pte Rowe may have been a casualty of the bombardment. Based on this, Pte Rowe would have been, during this rotation, on the Line one day when he was killed. His name appears on page 320 of the First World War Book of Remembrance in Ottawa, Ontario.
Point of interest with regards to the above reference to the 8th Infantry Brigade: the 5th Canadian Mounted Rifles was a Québec Regiment raised in the Eastern Townships from volunteers of the 7th and 11th Hussars. On January 1, 1916, it was converted to an Infantry Unit and attached to the 8th Canadian Infantry Brigade, 3rd Division.
There is no reference, in Pte James Howard Rowe's Military File, indicating what Military Medals he was awarded but based on his Military Service, he should have received:
British War Medal 1914 – 1920; and
Victory Medal.
He also qualified for War Service Badge CEF Class "A".
The Memorial Cross was sent to his mother: Mrs. A. Rowe of Peterborough, followed by the Memorial Scroll on June 20, 1921 and the Memorial Plaque on October 19, 1921.
Based on his Military File, Private James Howard Rowe served a total of 1 year and 3 months with the Canadian Expeditionary Force: 6 months and 12 days in Canada, 1 month and 14 days in England, and 2 days short of 7 months in France.
An excerpt from an article in Maclean's by Barbara Ameil, September 1996:
The Military is the single calling in the world with job specifications that include a commitment to die for your nation. What could be more honorable.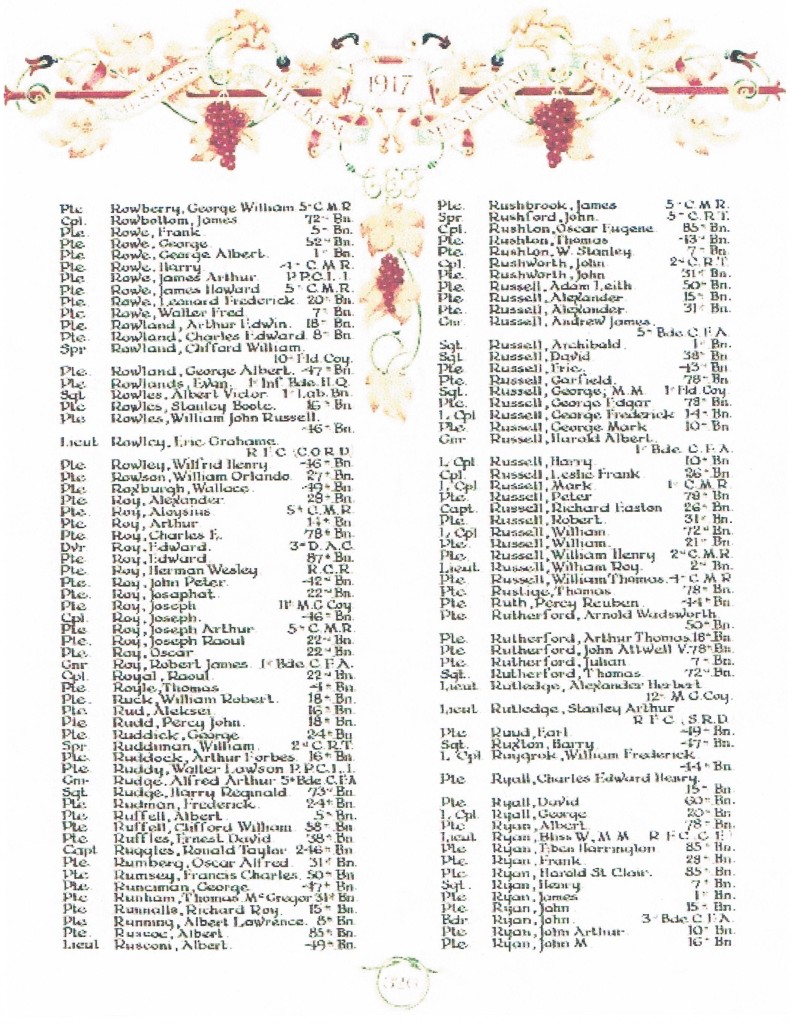 PERSONAL HISTORY
JAMES HOWARD ROWE
James Howard Rowe was born June 9, 1891 in Lakefield, Peterborough County, Ontario, son of William Rowe and Sarah Ann Pearce. He was the 2nd oldest of 3 children, his mother was his father's second wife. His father's first wife, Emma Grace, died April 12, 1884.
THE JAMES HOWARD ROWE FAMILY OF DUMMER TOWNSHIP
James Howard's paternal grandparents are George and Maria Rowe. His maternal grandparents are unknown.
James Howard's father; William Rowe, born July 24, 1854 in England (Immigrated in 1862), married Emma Grace Jory, born August 10, 1858 in England (Immigrated in 1872), in Lakefield on April 23, 1879. They had four children:
George Henry Rowe, born February 16, 1880 in Lakefield, Ontario – married Elizabeth May Hurl, born April 29, 1885 in Harvey Township, on April 16, 1902;
John Alexander Rowe, born December 15, 1881 in Lakefield – married Lillian Jean Jewell, born June 18, 1881 in Lakefield, in Lakefield on December 5, 1905;
Bertha B. Rowe, born about 1883, married James Spencer, born about 1882, in Lakefield on June 7, 1905; and
Emma Grand Rowe, born April 3, 1884. Unfortunately, William's wife, Emma Grace Rowe, age 26, died April 12, 1884 due to complications after giving birth, nine days after their daughter little Emma Grand was born on April 3, 1884.
Emma Grand Rowe, at 18 years old, died on February 20, 1903 due to blood poisoning; she was past her 3rd Stage of labour. Research has not found her marriage.
James Howard's parents; William Rowe, born about 1861 in England married Sarah Ann Pearce, born about 1864 in England, on October 5, 1887 in Lakefield. They had three children:
William Oscar Rowe, born April 22, 1888, married Catherine (Katie) Burke, born April 8, 1890, in Lakefield on November 6, 1912;
James Howard Rowe, born June 9, 1891 in Lakefield – died in WW I; and
Gertrude Edith Rowe, born December 26, 1892, married Charles Edward Nicholson, born about 1878, on February 14, 1912 in Lakefield.
The family lived in Lakefield on Oxford Street, near the end of Nicholls Street.
George Henry Rowe, born February 16, 1880 in Lakefield and James Howard Rowe, born June 9, 1891 in Lakefield are sons of William Rowe born about 1861 in England. (actually ½ brothers)
and
George Henry Rowe, born March 5, 1891 in Smith Township and William Thomas Rowe born August 6, 1887 in Hastings, Ontario are sons of John James Rowe, born February 18, 1862 and Susannah Sutton.
It sure appears that William and John James are brothers making the sets of brothers; cousins.