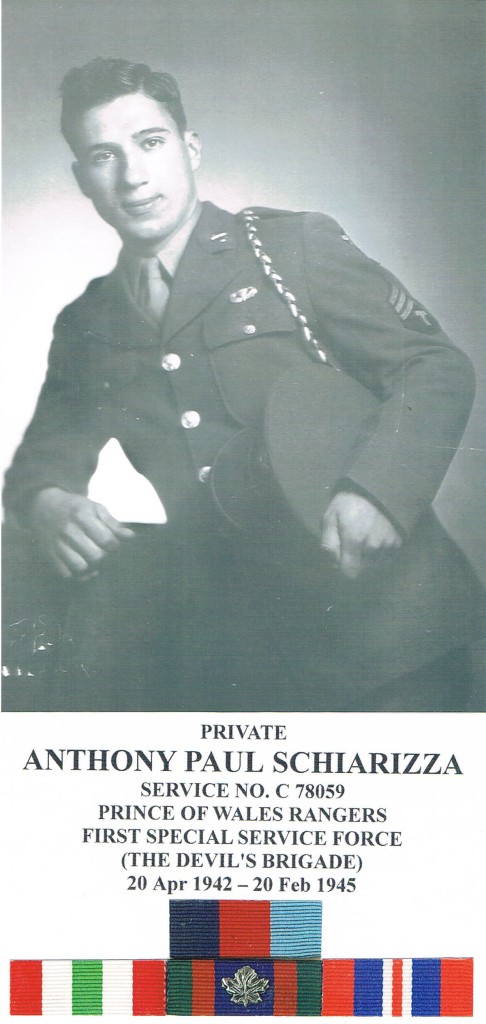 MILITARY HISTORY
Private Anthony Paul Schiarizza – C 78059 – ACTIVE SERVICE (WW II)
On April 20, 1942 Anthony Paul Schiarizza completed the Attestation Paper, for the Royal Canadian Army, in Peterborough, Ontario. The date-of-birth indicated on the Attestation Paper, of October 2, 1920, is incorrect, he was actually born one year later on October 2, 1921. Based on this date-of-birth, he was 20 years, 6 months and 18 days old when, as a single man, he enlisted for the duration of the War. Anthony Paul was born in Peterborough, Ontario. He indicated upon enlistment, that he had no previous Military experience, and lists Lathe Hand as his Trade or Calling. His Personnel Selection Record, dated February 20, 1945 indicates that he completed 2 years of High School at the Peterborough Collegiate Institute, and left school at the age of 16 to work. Anthony Paul's Discharge Certificate shows his height as 5′ 8½", being of a dark complexion, with brown eyes and dark brown hair. His next-of-kin was listed as his mother Mrs. Concetta Schiarizza of 582 Bethune Street, Peterborough. Anthony Paul Schiarizza signed the Oath and Certificate of Attestation on April 20, 1942. He was taken-on-strength as a Private (Pte) with the Prince of Wales Rangers Active Force (AF), and was assigned Regimental Number C 78059.
On April 20, 1942, with the Prince of Wales Rangers, Pte Schiarizza was authorized to draw a Subsistence Allowance. May 10, 1942 he ceased to draw the Subsistence Allowance on proceeding to Niagara-on-the-Lake. Pte Schiarizza would train at Niagara-on-the-Lake until August 11, 1942, when he was struck-off-strength on being attached, for all purposes (fap), to No 13 District Depot, Calgary, Alberta "pending final selection".
With regards to the preceding reference to "pending final selection"; on July 18, 1942 notices went out across Canada and England calling for volunteers for a new Unit that was being formed. The notices read: "volunteers needed, single men between the ages of 21 and 35 who have completed three or more years of Grammer School, and who had previous experience within the occupations of lumberjacks, forest rangers, hunters, north woodsmen, game wardens, prospectors, and explorers". Pte Schiarizza had volunteered for this new Unit, had passed the first selection and the final selection took place in Calgary, Alberta.
On August 12, 1942 he was attached to A16 Canadian Infantry Training Camp (CITC), fap. On August 18, 1942, Pte Schiarizza ceased to be attached to A16 CITC fap, on transfer to the 2nd Canadian Parachute Battalion (CPB). For administrative purposes, the Canadian Contingent of the First Special Service Force was designated the 2nd CPB. On August 19, 1942 Pte Schiarizza reported for selection to the 2nd CPB, (USA) HQ Ottawa, and was accepted; taken-on-strength to the 2nd CPB fap except Rations and Quarters and promoted to Lance Corporal (L/Cpl). Also, on this date, by an Amendment to an August 26, 1942 Order he was "entitled to draw Parachute Pay" of $0.75; per day the men were issued their silver jump wings, which they affectionately referred to as "the buzzard claws". At this point, L/Cpl Schiarizza was transported, by train, to Fort William Henry Harrison located near Helena, Montana USA, where he was assigned to the 2nd Regiment, 2nd Battalion, 5th Company. His training with the First Special Service Force (FSSF) would now begin.
At Fort William Henry Harrison, the day began at 4:45 AM and ended at 9:30 PM. The First Special Service Force's keystone in the combat missions to come was versatility. This versatility came about as a result of the training they would undergo. To say the training was intense is an understatement. Physical conditioning was used to both upgrade the endurance of the Forcemen but also to weed out individuals who were not up to the task. On another level, this training would improve and increase the survival possibilities of the Forcemen in the upcoming planned operation. The Forcemen double-timed between each training session, which began at 4:45 a.m. each morning and ended at 9:30 p.m. Four nights of the week Forcemen attended a lecture on some aspect of warfare. They engaged in daily regimens of calisthenics, obstacle course, treks on "muscle mountain" and long marches. They undertook regular 20-mile marches with 60 lb packs and long wooden poles. In the spirit of competition these marches were often conducted between Regiments. For instance, a 60-mile march course was laid out to see which Regiment could march it the quickest. Forcemen were trained in hand-to-hand combat, parachute jumping, weapons (both U.S. and German), rock climbing, skiing, cold weather fighting, amphibious landings and demolitions.
As far as weapons were concerned, Force weaponry was to include: the V-42 Stiletto Knife; 45 calibre Pistol; Thompson submachine gun; M 1 Garand 30 calibre rifle; Browning light machine gun; Browning automatic rifle; Johnson light machine gun; rocket launcher (Bazooka); 60 mm mortar and portable flamethrower. They were also equipped with the new RS explosives. The Forcemen were required to "qualify" in the use of all of these weapons.
Skiing training was completed under Norwegian Army Instructors. It is also worth noting that ski training took place well away from the Base, where the men slept overnight in boxcars, with temperatures reaching minus 35° to minus 45°F. One Forcemen would relate that the Instructors would have us strip to the waist, in these temperatures, and have us rub snow on the back of the Forcemen in front of us. The idea was to get us use to the cold.
Training mishaps were regular occurrences, with strains, sprains, and sore feet. Based on the realistic nature of the hand-to-hand combat, including knife fighting, there were also the occasional knife and bayonet wounds. In the case of serious injuries such as broken limbs, the individual was immediately returned to his original unit.
On November 13, 1942, L/Cpl Schiarizza was admitted to the Station Hospital, and on November 24, 1942, he was discharged from the Hospital, no reason is given for his stay.
L/Cpl Schiarizza was AWL starting December 21, 1942 and that he returned on January 1, 1942, there are no indications of disciplinary action. On March 31, 1943, he was appointed Acting Corporal (A/Cpl). According to L/Cpl Schiarizza's "Soldier's Service and Pay Book", he qualified on the M-1 Garand Rifle on February 11, 1943, the RT Rocket Launcher (Bazooka) on February 15, 1943, and Machine Gun by April 1, 1943. May 28, 1943, for administrative purposes, the Canadian contingent designation was changed from the 2nd Canadian Parachute Battalion (CPB) to the 1st Canadian Special Service Battalion (CSS Bn). On June 26, 1943, A/Cpl Schiarizza was promoted to Acting Sergeant (A/Sgt). After training in Virginia and Vermont, on June 26, 1943, the Force entrained for San Francisco. The Force embarked from San Francisco on July 9, 1943, destination Amchitka, Alaska, and the invasion of the Aleutian Islands.
The First Special Service Force's initial assignment would be to lead the invasion of Kiska Island. The 1st Regiment was to be the lead Unit. On August 15th, 1943, rafts emerged from the cold fog and the men aboard them fought the currents, paddling their way to the rocky coast of Kiska Island to surprise the Legion of Japanese defenders, who according to intelligence sources, were entrenched there. The same sources indicated that Kiska Island was defended by a Japanese Force of 12,000.
They disembarked at Amchitka on July 24, 1943. The invasion of the Aleutian Islands occurred August 15 and 16, 1943, when the 1st and 3rd Regiments went ashore. The 2nd Regiment (A/Sgt Schiarizza's Unit) was held in reserve, prepared to parachute in wherever and whenever they were needed. As a result of no Japanese defenders being found on the island, the 2nd Regiment was not deployed. On August 22, 1943, the Force embarked Amchitka destined for San Francisco, arriving September 1, 1943. After returning to Fort Ethan Allen in Vermont, A/Sgt Schiarizza was granted a Special Leave from September 18 to 24, 1943. Based, on the fact that he did not return on the 24th, he was placed on Absent Without Leave (AWL). He returned at 23:59 hours on September 29, 1943. As a result, he was demoted to rank of Private and forfeited 6 days pay.
The Force embarked the RMS Empress of Scotland at Newport News, Virginia on October 27, 1943 and disembarked in Casablanca, French Morocco on November 5, 1943. On the trip by rail from Casablanca to Oran an interesting occurrence with wine took place. A train carrying wine in casks parked right beside the coaches carrying the Forcemen; that was just too much to resist. Many later sipped it from their helmets. The train travelled 300 miles on the last land portion of the trip from Amchitka Island in the Aleutian Islands to Italy, where the Brigade saw action. Eight days after leaving Casablanca, November 13, 1943, the Force embarked at Oran Algeria and headed for Italy where they disembarked at Naples 5 days later on November 18, 1943.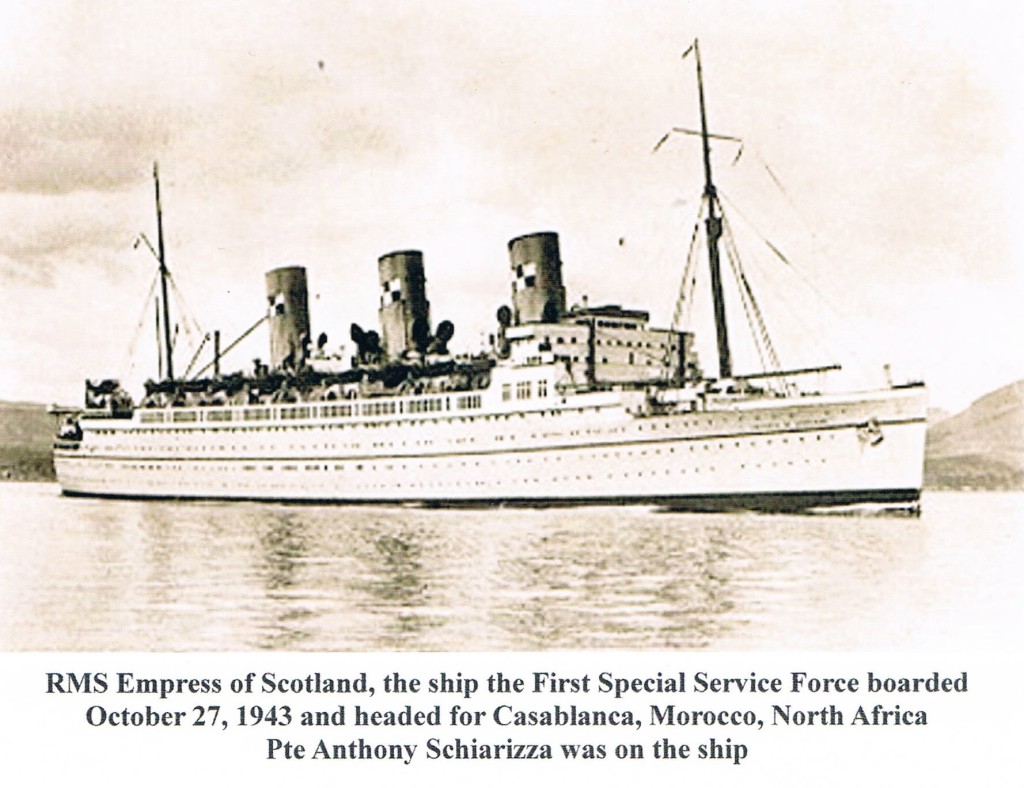 November 19, 1943 the FSSF joined the Fifth Army's push up Italy. The Force joined Operation Raincoat with the objective being to break through the "Winter Line". The Allied advance had stalled. The Germans were well dug in. The twin peaks of Monte La Difensa & La Remetenea and surrounding hills formed part of the German defensive position. The Germans had successfully repelled the Allied advance for over a month. Over 20,000 Allied soldiers had tried to break through but to no avail. That was until the First Special Service Force arrived on the scene. As a result of the 2nd Regiment not being deployed in the Aleutians, it had been promised the first battle engagement in Italy. That would turn out to be the storming and taking of Mont La Difensa.
Following a daring plan, developed by General Frederick, the 600 men of the 2nd Regiment scaled the sheer cliff on the north side of La Difensa, in the dead of night, and attacked the German positions from above and behind. In very heavy fighting, the men of the 2nd regiment, took the crest of the mountain in two hours. The 2nd Regiment continued on to take Hill 907 (La Remetanea) where the fighting was no less difficult. The Regiment would spend the nights of the December 5th to 8th, on the mountain top; cold, wet and hungry, while fighting off repeated German counterattacks. On December 9, 1943, the 2nd Regiment was relieved on the Line and withdrawn for an 11 day rest at their base at Santa Maria. On December 10, 1943, Pte Schiarizza was struck-off-strength from the 1st CSS Bn and placed on the X-3 List (a List of individuals evacuated on Medical Grounds). Pte Schiarizza was suffering from "frozen feet". Frozen feet and trench foot was a common occurrence experienced by the Forcemen while fighting in the mountains. In some cases, the individual's feet were so bad, they had to be carried off the mountain. On December 14, 1943, he was admitted to No 14 Canadian General Hospital, followed by a transfer to No 58 US General Hospital on December 19, 1943. December 29, 1943, he was transferred to No 103 US General Hospital.
On January 10, 1944, Pte Schiarizza was awarded the Canadian Volunteer Service Medal and Clasp. January 14, 1944, he was admitted to No 7 Convalescence Depot. On January 18, 1944, he was admitted to No 59 General Hospital. January 24, 1944, he was, once again, admitted to No 14 Canadian General Hospital. On February 17, 1944, upon being discharged from No 14 Cdn Gen Hosp. Pte Schiarizza was struck-off-strength from the X-3 List and was taken-on-strength with the 1st CSS Bn.
It was standard procedure, upon discharge from a Hospital that it was left up to the individual to make his way back to his Unit. Some individuals walked, some hitchhiked, some used bicycles, while others actually commandeered vehicles. There is no indication as to how or when Pte Schiarizza made it back to his Unit, but based on the fact that the Force was now on Anzio Beachhead, a voyage on a ship was involved.
February 2, 1944 at 10 a.m. the Force was given permission to dock and unload at Anzio Beach, it would be the Anzio Beachhead that would make the Force "a legend". For the Forcemen the Anzio Beachhead was a complete reversal of their previous combat experience. Flat country instead of mountains and hilltops; defensive positions instead of assaulting dug in Germans. In front of the Force was the Mussolini Canal and German troops. The Force was assigned 13 kilometres of the 52-kilometre Front Line, or one-quarter of the Beachhead. At this juncture, through reinforcements, the Force combat strength stood at 68 officers and 1,165 enlisted men. The remaining 39-kilometre Front Line was assigned to 36,000 Allied soldiers which became close to 100,000 by the day of the breakout.
Initially after the Anzio landing occurred the Germans saw it as a heaven sent opportunity to snatch victory and destruction of an Allied amphibious force. On two occasions, Hitler publically ordered General Kesselring, "to push the Allies on Anzio back into the sea". What the Anzio landing did achieve was that both sides tied up a lot of troops in a somewhat static four-month standoff.
After first securing its position on the Line, the first night up, the 1st Regiment pushed three Platoon Patrols deep into the enemy front. Probing patrols continued for a week pushing the enemy out of one outpost after another. This pattern of aggressive night patrols would continue for the next three months. Depending on the assignment, these patrols could be Company, Platoon or Section strength and in some cases one or two Forcemen would go out by themselves. The prelude to these Patrols was the blackening of their faces with black shoe polish (S/Sgt Morin would use the residue from burnt wine bottle corks).
February 15, 1944 after a fire-fight between the Force and elements of the Hermann Goering Division, a Commander had been killed and a diary had been found on his body. This officer had made an entry on February 11, 1944 which stated: report from Sessuno of "schartzer teufel" (Black Devils) raid last night. On February 13, 1944 he made another entry which stated: there were many sharp attacks on Vesuv last night and he finished with; "we never hear the Devils when they come, they are all around us".
The Force now had a nickname; "The Black Devils" [they were also called: The Devil's Brigade; The Black Devil's Brigade and Freddie's Fighters (after Lieutenant Colonel Robert Frederick who built the FSSF). The 1st Regiment nightly Combat Patrols were aggressively pursued in a bid to put the fear of the Force in the Germans. The concept of these Patrols was to move quietly in behind enemy outposts and then strike ruthlessly, eliminating soldiers and their weapons. When circumstances allowed, the Force brought back their own dead, which ratcheted up the terror and mystic of the Force. The enemy would find German dead in the aftermath of a raid but rarely Forcemen.
On one Night Patrol, Lieutenant Gus Heilman, Headquarters,1st Battalion, 1st Regiment lead a patrol of 32 Forcemen across Bridge 1 below the Village of Borgo Sabotino. After an intense fire-fight the Germans, at a canal lock-house, high-tailed it out of there! The Patrol on its return took a shine to Sabotino and duly declared it the new home of the 2nd Company, 1st Regiment. Heilman was declared Mayor and the town renamed Gusville. News of Gusville's founding spread down the line and boosted morale. Such esprit de corps had to be permitted and Colonel Marshall saw the stunt as an opportunity. He crossed the canal and set up positions on the east bank of the waterway where the 1st Regiment stayed.
When the Force landed on Anzio Beachhead on February 2, 1944, it's combat strength was down to 68 Officers and 1,165 other ranks. In-spite of this, the Force was assigned 13 kilometres, or one-quarter of the Front Line. The 3rd US Division, on their left, with 15,000 men, was responsible for the same amount of Front Line. Upon taking up their positions, along the banks of the Mussolini Canal, the German Front Line was only 150 metres away. Through aggressive night patrols, which would continue for the next 98 days, the Germans were pushed backed to 1,500 metres. It was these night patrols, with blackened faces that would result in the Forcemen being referred to, by the Germans, as the "Schartzer Teufel" (the Black Devils). German prisoners would say, after capture, that "they were afraid of the night because when darkness came, so did the Black Devils".
While on Anzio, the 2nd Regiment was held in reserve for the extensive raid and patrol duties, planned by General Frederick. Every night, Forcemen would go out in small groups to gather intelligence and disrupt German activities. On average, a Forcemen went out every other night on a patrol into enemy territory.
The end of March 1944, with the pending breakout from Anzio Beachhead, General Frederick brought about a change in tactics by the Force. The patrols were now conducted during the daylight hours, and were carried out "in strength". General Frederick wanted to apply more pressure against enemy outposts and main-line defenses in the south. "On March 31, 1944, 2nd Regiment pushed an extended outpost toward the Fogliano Lockhouse, with 5 Company, taking shelter in what was known as House 13 on the beach, two houses or 100 yards short of the German holding. Early on April 1, 1944, a patrol set out to probe the German Lines. The Force presence this close to the enemy Lines held until afternoon, when the Germans spotted the occupation and attacked House 13, and the surrounding area. In this close-quarter engagement the enemy was repulsed".
General Frederick was aware of the usefulness of Psy-ops, early in the Anzio campaign, he had small card-size stickers printed. They bore the Force's red spearhead emblem complete with national identities USA.- Canada and a personal message to every German soldier along the Beachhead: Das Dicke Ende Kommet Noch, which translates roughly to "The Worst Is Yet To Come". These flyers proliferated at Anzio. The Forcemen carried them in their cargo pockets, and deposited them on the foreheads of the German corpses or on the bunker thresholds of the living enemy they wanted to unnerve.
It was on April 1, 1944, that Pte Schiarizza was wounded in the right leg. The circumstances were that during a fire-fight, Pte Schiarizza's patrol took cover in a hay stack, which was soon fired upon by the enemy, wounding Pte Schiarizza and another Forceman, apparently with the same bullet. On April 1, 1944, Pte Schiarizza was admitted to No 94 Evacuation Hospital. April 2, 1944, Pte Schiarizza was struck-off-strength from the 1st CSS Bn to the X-3 List. April 6, 1944, he was admitted to No 45 US General Hospital. The following day, April 7, 1944, he was admitted to No 36 US General Hospital, which was located in Caserto, Italy, north of Naples. On June 20, 1944, he was admitted to No 74 US Station Hospital. On July 4, 1944, Anthony Paul was struck-off-strength from the X-3 List. On July 5, 1944, he was discharged from No 74 US Station Hospital, and was take-on-strength with the 1CCSB. July 12, 1944, Pte Schiarizza was promoted to Acting Sergeant (A/Sgt).
Once again, upon discharge from the Hospital, A/Sgt Schiarizza, had to make his way back to his Unit. This time it was to Naples, where the Force was stationed, getting ready for its next combat mission, and where the Force had started out 8 months before, when they arrived in Italy.
The Force now invaded southern France at Iles d'Hyeres on August 15, 1944. "On the evening of August 24, 1944, 2nd Regiment was advancing on the left through Chateauneuf and Le Collet. From Le Collet to Les Maillans, 2nd Regiment moved swiftly, by truck, where they dismounted and continued to march on Villeneuve-Lobert, near Nice, at a point about two kilometres west of the town, they ran into a definite enemy Line preparing to hold the Loup River. An enemy mortar round hit the concrete highway square in the middle of the leading 2nd Battalion, 2nd Regiment inflicting 17 casualties"; A/Sgt Schiarizza being one of them. At this point he lost his left eye. It is noted that on the following day a Force patrol took out the German Mortar positions. August 26, 1944, A/Sgt Schiarizza was struck-off-strength from the 1st CSS Bn to the X-3 List. August 27, 1944, he was admitted to No 37 US General Hospital and on August 31, 1944, A/Sgt Schiarizza was take-on-strength with the Canadian Army Overseas, Central Mediterranean Forces (CMF). On September 16, 1944, he was struck-off-strength from the X-3 List to the X-8 List (a List all non-effective personnel held at Base Reinforcement Units whose return to the UK has been authorized). On the same date, he ceased to draw Parachutists Pay. On October 11, 1944, A/Sgt Schiarizza was struck-off-strength from the X-8 List and Canadian Army Overseas (CMF) on evacuation to the UK. He would have embarked at France on October 26, 1944.
On October 27, 1944, A/Sgt Schiarizza disembarked in the UK and was taken-on-strength with the No 1 Canadian Reserve Depot (CRD). November 20, 1944, he was struck-off-strength from the No 1 CRD, and taken-on-strength with the Canadian Non-effective Transit Depot (NETD). On November 21, 1944, A/Sgt Schiarizza was admitted to No 1 Canadian Specialist Hospital. For an unstated reason, his rank is now shown as a Private. On November 29, 1944, he was discharged from the No 1 Canadian Special Hospital. December 7, 1944, Pte Schiarizza was struck-off-strength from the Canadian Army Overseas and No 1 NETD, UK. On December 25, 1944, Pte Schiarizza was take-on-strength from Canadian Army Oversea, for all purposes at 3A DD, Kingston, Ontario on embarkation aboard the Empress of Scotland. Pte Schiarizza probably disembarked at Halifax, Nova Scotia January 5, 1945. On January 6, 1945 Pte Schiarizza was granted Disembarkation Leave with Ration Allowance from January 6, 1945 to February 4, 1945. February 20, 1945, Pte Schiarizza was struck-off-strength on Discharge as he was unable to meet the required military physical standards due to the permanent loss of his left eye. He was authorized to draw a Clothing Allowance of $100.00 and the Rehabilitation Grant.
The following are some comments made about Pte Schiarizza, by a Lt AP de Mengden, upon his Discharge: "Schiarizza has a pleasant business-like personality and manner. He is single, sensible, and mature for his age. He likes swimming, hunting, and fishing for sport and recreation. Mixes well with people and has a cheerful attitude".
Based on his Military Service, Private Anthony Paul Schiarizza was awarded the following Medals:
1939 – 45 Star;
Italy Star;
Canadian Volunteer Service Medal and Clasp; and
War Medal 1939 – 45.
He was also issued the General Service Badge Class B, Number 113002 on February 20, 1945 at DD 2A, Kingston Ontario .
Anthony Paul Schiarizza's Military Service totaled 2 years and 10 months: 6 months in Canada, 1 year, 2 months and 2 weeks training in the US (including the Aleutian Islands), 17 days in transit to and in North Africa, 9 months in Italy, 2 months, 2 weeks in France, and 2 months in the UK, before returning to Canada.
The Regiment formally termed "The First Special Services Forces" has been the subject of several books, with a movie made of their exploits, starring William Holden. It was the first fighting force of that style. However, since then, most nations have recognized the benefit, of organizing and training similar groups. The US Navy Seals, successfully involved in the delivering of justice to Osama Bin Laden, has many similarities of the Regiment.
What follows are a few comments, by individuals who knew the men who served in the First Special Service Force:
"When you talked to them, you had no idea whether you were speaking to a Canadian or an American, they were Forcemen. They are soft in speech, gentle in manner, but fierce in battle".
"The men of the Force never took a backward step in battle. They prized, beyond the fear of death, the dignity which came from belonging to the Devil's Brigade. They are warriors".
"The men of the First Special Service Force are the best God damned fighters in the world".
It was said of the First Special Service Force: "Few Units, in World War II, equaled the glowing reputation established by the First Special Service Force. It never met defeat in battle. It accomplished the most difficult of missions with an eagerness and proficiency that astonished outside observers, including the German's. In size, the Force was equal to an Infantry Regiment, and yet the Force consistently accepted tasks more appropriate to a regular Division. Moreover, the Force remained effective even after it had sustained causalities that would have incapacitated another unit".
During 251 days, in combat, the Force suffered 2,314 causalities, or 134%, of its authorized strength of 1,800. It is reported that: for every Forceman killed they killed 25 of the enemy, for every Forcemen captured they captured 235.
It was based on their success in combat and their reputation as an elite fighting force, that "the 114th Congress of the United States of America, on February 3, 2015, granted the Congressional Gold Medal, collectively, to the First Special Service Force, in recognition of its superior service during World War II". It was said during the presentation: "The United States is forever indebted to the acts of bravery and selflessness of the troops of the Force, who risked their lives for the cause of freedom".
An excerpt from an article in McLean's magazine, by Barbara Ameil, September 1996:
The Military is the single calling in the world with job specifications that include a commitment to die for your Nation. What could be more honorable?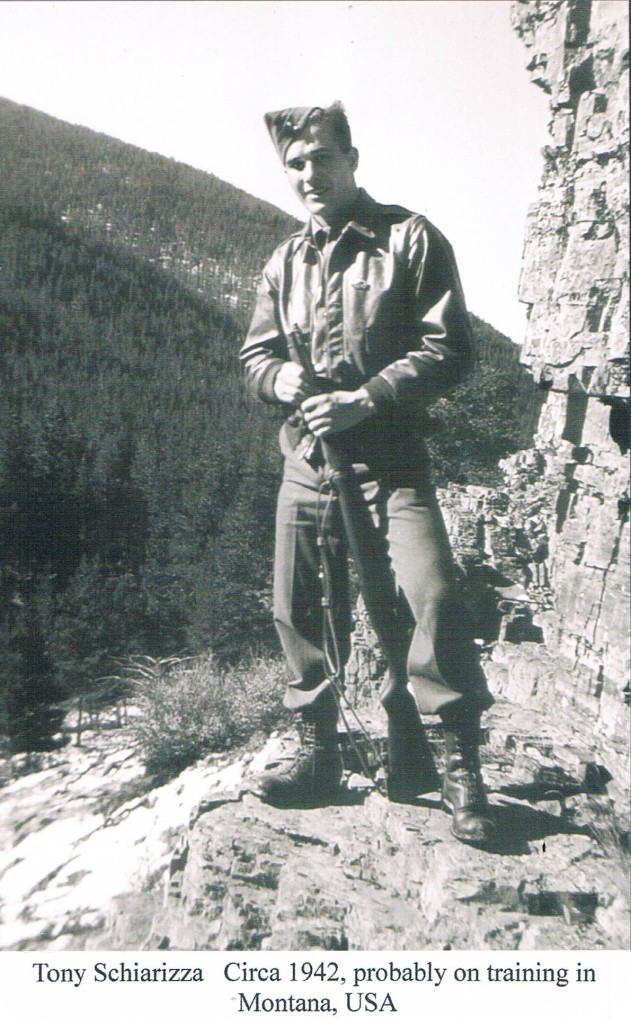 PERSONAL HISTORY
ANTHONY PAUL SCHIARIZZA
Anthony Paul Schiarizza was born on October 2, 1921, in Peterborough, Ontario, to Frank and Concetta Schiarizza. He was the 6th of 10 children, with 8 sisters and a younger brother. His sisters and brothers were: Therese Ridley, Hazel Marino, Helen English, Anne Gannon, Mary Marchen, Grace Strauch, Phylis Holroyd, Betty Cavers, and Ernie Schiarizza. Anthony Paul went by the nickname "Tony".
Tony was educated in the Peterborough School System, completing the 2nd year of High School at Peterborough Collegiate Institute. At the age of 16 he left school and went to work. Tony would work as a Delivery Boy in a Drugstore for 1 year, with his father for 1½ years, before getting a job as a Machine Operator with the DeLaval Company.
After the War Tony would work as an Orderly in a TB Sanatorium and as a Carpenter before landing a job with Outboard Marine.
On May 26, 1951 Anthony Schiarizza would marry Patricia Anne Gannon, at St Martin's Catholic Church in Ennismore. Tony and Patricia would have 3 children: Anthony Paul, Elizabeth, and Douglas Gerard. In 1951 with assistance from the VLA, they would build a house on what is now the 7th Line of Selwyn, just south of Lakefield. It was here that they would live and raise their family. Patricia still lives in their house. Douglas Gerard passed away September 30, 1979; his father Tony passed away January 31, 2002.
Anthony Paul Schiarizza is married to Lori Kennedy. There are 3 children: Megan, Alison and Kelly. Megan Schiarizza married Dean Bowers and they have a son Breyden. Alison and Kelly Schiarizza are not married. They all live in Victoria, British Columbia.
Elizabeth Schiarizza married Bill Cockburn. They have 3 children: Darrel, Jennifer, and Matt. Darrel married April and they have 3 children: Nahla, Jayda and Talon (twins born in Denmark). These 3 children were born in Norway, where the family lived, thus the Norwegian first names. They now live in Ann Arbor, Michigan, USA where Talon was born. Jennifer married Todd Behun and they have 2 children: Aedan, and Ella; Matt married Cara. They live in Orillia. Matt married Carol.
PERSONAL MEMORIES (courtesy of Ted Morin)
What I remember of Tony was his smile, his gentle manner and easy going personality. Not only did Tony and my father Eddie Morin serve together in the First Special Service Force; they both worked at Outboard Marine, they were friends and hunting companions. What follows are two memories that I have of Tony and Eddie.
Many years ago, when I was in my early teens, Tony, Eddie and myself were day hunting for deer in the area of the Nephtan Mines. We had stopped on a ridge overlooking a large marsh for lunch. It was a bright, warm fall day. Reaching into his haversack, Tony pulled out a Colt 45 – semiautomatic pistol. He looked at Eddie and said: "when was the last time you fired one of these". Tony proceeded to put a clip in it. While we sat there eating lunch, Tony and Eddie took turns firing the weapon. I did get to fire it once. During this lunch break, Tony and Eddie reminisced about their times in the Force. If my memory serves me right, the bond between these two men and their shared experiences, went way beyond their friendship. In many ways, like other men who served in the Force, Tony and Eddie were bonded for life. A few years after Tony's passing Patricia was cleaning out some of Tony's stuff when she came upon this weapon in a drawer. She never even realized that Tony had it. She had a friend disassemble and dispose of it.
In the Fall of 1962 Tony would be the victim of a hunting accident that almost cost him the vision in his right eye. The circumstances were related to me by my father. Tony and Eddie had been hunting around Stoplog Lake – south-west of Apsley. On a ridge between Stoplog and Compass Lakes they were approached by two men wanting a lift across the Lake. My father agreed and when he turned to pick up his haversack a weapon discharged with rock shards hitting his haversack and the back of his right leg. When he looked around Tony was on the ground with a hand over his right eye. Eddie looked at the eye and could see there were shard marks in the eye. Knowing the potential seriousness of the situation, the injury was to Tony's good eye, he immediately got Tony into the boat and got him to Louck's Lake as quickly as possible. When they got there he discovered that the boat the other two men had was larger and far faster than his boat, so he "commandeered it", and rushed Tony to the Peterborough Hospital. The Emergency Doctor looked at the eye and ascertained that there were rock shards and bullet fragments in the eye. When the eye was further examined by another Doctor, based on the fact that Tony only had one eye, this Doctor decided not to take the chance and attempt to remove the debris. Although the Doctor was not optimistic about Tony's vision, overtime, Tony's eye sight did improve but never to anywhere near a normal level. As a result of this accident Tony could no longer work and had to surrender his Driver's License. Patricia, his wife, now had to learn how to drive and get her Driver's License. She also had to go back to teaching in the Fall of 1963 at Young's Point Elementary School where she would teach until 1979 when she retired.
There was an investigation into the incident. When asked why he had pointed the weapon in the direction of Tony and Eddie and not away from them towards the woods, he responded "I didn't know who might be in the woods that I couldn't see". In the end the incident was deemed a "hunting accident". The circumstances of the discharge of the weapon were as follows: the individual was carrying a 303 rifle with a round in the chamber. What this person could have and should have done, beyond pointing the weapon away, knowing they were getting into a boat, was to remove the clip from the rifle, and cleared the chambered round. What he did, instead, was to pull the trigger and holding the action, tried to slowly lower the action against the cartridge. It appears what happened is that the action slipped during this process and as a result the rifle discharged. I know this accident weighed heavily on my father for years after.
THE ANTHONY PAUL SCHIARIZZA FAMILY OF LAKEFIELD
Anthony Paul's parents are