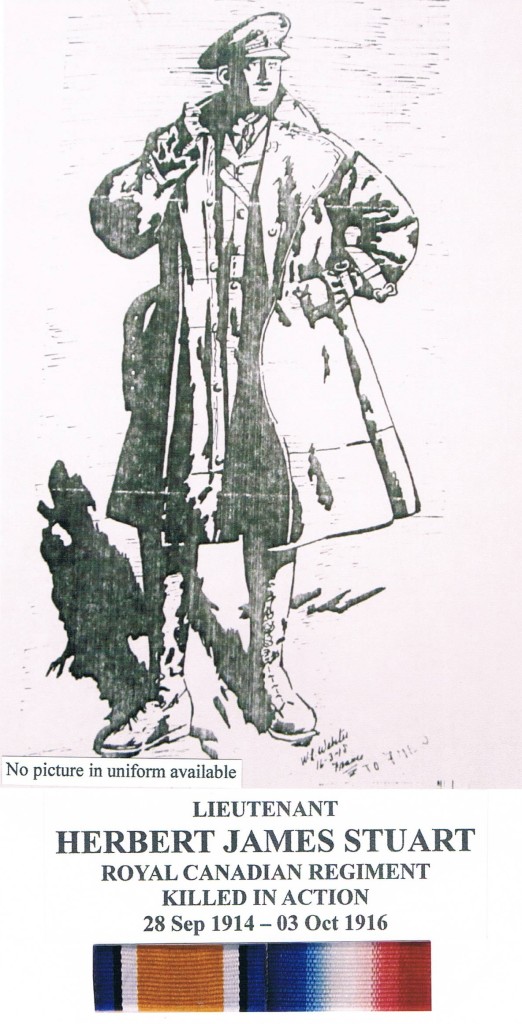 MILITARY HISTORY
Lieutenant Herbert James Stuart — ACTIVE SERVICE (World War I)
Herbert James Stuart was 27 years, 11 months and 8 days old when, as a married man, he was Attested, on September 28, 1914, into the 12th Infantry Battalion, Canadian Overseas Expeditionary Force (CEF) at Valcartier, Québec. Herbert James indicated that he was born September 20, 1886 in Norwood, Ontario and had 6 years previous Military Service in the 15th Light Horse Regiment, Canadian Militia and 18 months in South Africa with the 3rd Canadian Mounted Rifles. His medical examination was done in Valcartier, Québec and he was considered fit for duty. Herbert James was 6′ 2″ tall, brown eyes, a 43½" chest, brown hair, has a tattoo of an Elk's head on his right forearm. Herbert James lived in Toronto, Ontario; he indicated that his trade was a Private Secretary to the Honourable Mr. Hoyle, Speaker of the Ontario Legislature. Herbert James' next-of-kin was listed as his wife, Mrs. Grace M. Stuart, of 44 Kenneth Ave., Toronto, Ontario. On September 28, 1914 Herbert James was assigned Regimental Number 23340 and appointed Pay Sergeant (Sgt) with the 12th Battalion (Bn).
September 30, 1914 Sgt Stuart embarked in Québec City, Québec for England aboard the SS Scotian. He disembarked October 20, 1914 in Plymouth, England. Then the 12th Bn proceeded to the camp on the Salisbury Plain; while there the 12th Bn was renamed the 12th Reserve Bn.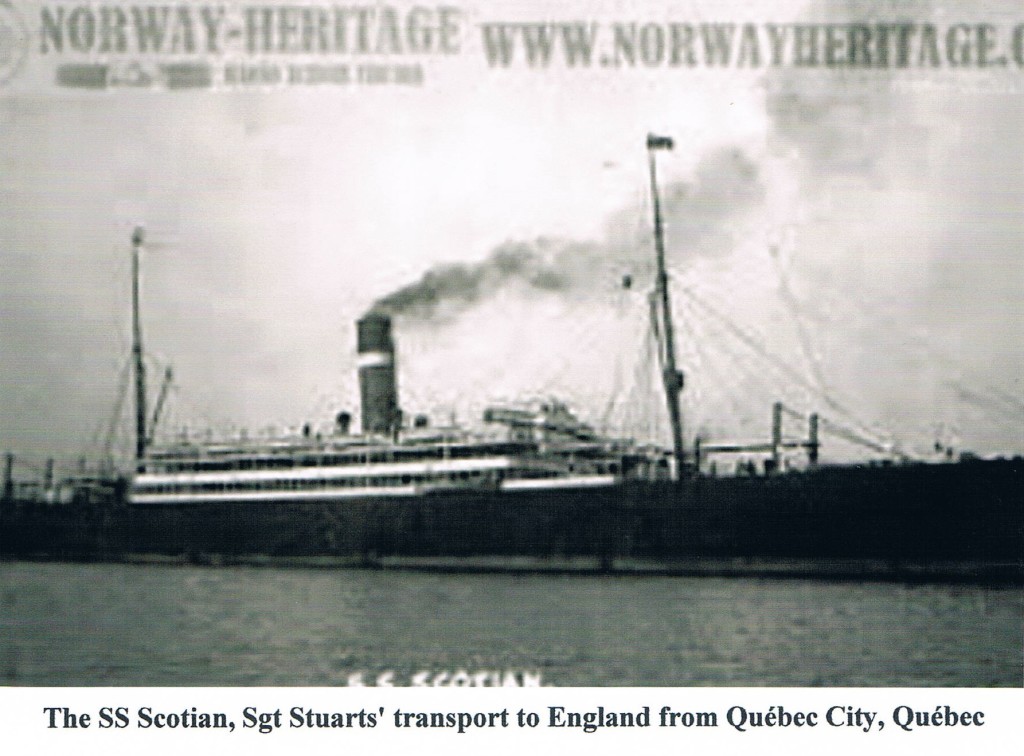 Although not stated he in his records, in excess of 4 months went by without any notations in Sgt Stuart's records. It is assumed that he was exercising the duties of a Sgt and involved in some training. On June 24, 1915 Sgt Stuart was in London, England as he was reprimanded for being 5 hours late for duty. Then on August 6, 1915 Sgt Stuart was severely reprimanded for being 1½ hours late for duty. On August 28, 1915 Sgt Stuart was Commissioned as a Lieutenant (Lt) and he was taken on strength to the Pay and Records Office, London. The next entry, on October 11, 1915, states that from Canada, he had returned to duty with the 12th Res Bn at Shorncliffe. On November 8, 1915 Lt Stuart proceeded on a Machine Gun Course.
December 4, 1915 he is qualified as 2nd Class Machine Gun Instructor appointed as a Gun Instructor from August 11 to 13 and September 12 to 15, 1915 at Shorncliffe, England. December 31, 1915 Lt Stuart embarked England for Canada aboard the SS Scandinavian in Liverpool for duty on-command, 12th Reserve Battalion (Res Bn). He disembarked January 10, 1916 in St. John, New Brunswick and proceeded to Toronto, Ontario.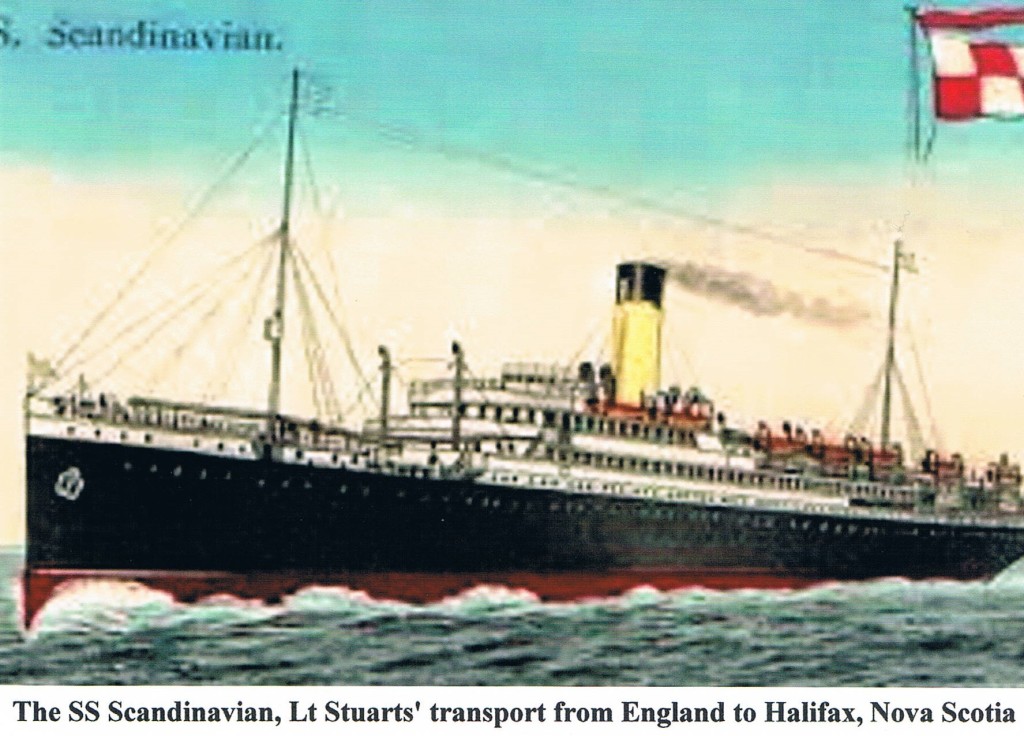 On April 1, 1916 Lt Stuart is transferred to the General List of Officers from the 12th Res Bn. While in Canada he was granted leave, which was extended to February 21, 1916. This was further extended to April 20, 1916 under the General Officer Commanding (GOC). May 13, 1916 Lt Stuart arrived in England from Canada. May 25, 1916, Lt Stuart and reported for duty at the Canadian Training Depot (CTD). July 22, 1916 he ceases to be attached to 12th Res Bn and is attached to the Royal Canadian Regiment (RCR) and Princes Patricia Canadian Light Infantry (PPCLI) Depot. July 25, 1916 Lt Stuart ceases to be attached to the RCR and PPCLI Depot. August 29, 1916 Lt Stuart proceeded overseas to France and the RCR; was taken-off-strength from GOC, CTD and taken-on-strength with the Canadian Infantry Base Depot (CIBD) RCR. August 30, 1916 arrived at the CIBD in the Rouelles Camp, Havre, France as part of a draft of 51 Officer reinforcements who arrived from England and taken-on-strength to the RCR.
September 10, 1916 he joined the RCR in billets in Cramont, France located north-west of Amiens. September 15, 1916, reported that Lt Stuart wounded and suffering from Shell Shock and was evacuated to the No 11 Casualty Clearing Station (CCS); then on September 16, 1916 he was reported wounded on List 749 from the Field. September 16, 1916 he was reported wounded in action and September 16, 1916 from the OC RCR Lt Stuart was reported missing after action. It isn't indicated that Lt Stuart was admitted to No 11 Casualty Clearing Station (CCS) after being wounded with symptoms of Shell Shock however he was probably discharged to duty October 1, 1916 although his records state that he was discharged on December 1, 1916 [after his date of death]. On October 3, 1916 Lt Stuart is now reported missing. Then, from the Central Records Office (CRO), previously reported missing, now for official purposes presumed to have died on or since October 3, 1916. Then, Lt Stuart, previously reported missing, now for official purposes presumed to have died on or since October 3, 1916; now reported killed in action. October 26, 1916 it was reported that Lt Stuart was wounded and an enquiry has been made. November 4, 1916 more enquiries have been made. November 16, 1916, previously reported wounded, is now reported missing October 3, 1916. January 17, 1917 – a full inquiry has been made to Base December 12, 1916. As soon as information is received it will be forwarded. (No knowledge about the outcome of the inquiry is given). After all of the reports it was stated that Lt Stuart was declared dead on October 3, 1916. According to the War Diary of the Royal Canadian Regiment, Lt Stuart was most likely killed in action very near Fabeck Graben which is just south-west of Courcelette, France.
Lieutenant Herbert James Stuart earned the following medals:
British War Medal; and
Victory Medal.
He was also awarded the War Service Badge – CEF Class "A".
Herbert James Stuart served: 4 months 6 days in Canada; about 1 year and 6 months in the United Kingdom and about 1 months in France and including 30 days travel time for a total time of about 2 years and 6 days. During his time in the Service Herbert James allotted $25.00 Separation Allowance and $35.00 Assigned Pay per month to his wife, Grace M. Stuart. Grace would have also received Herbert James' War Service gratuity of $120.00.
Lieutenant Herbert James Stuart's body was eventually recovered and is interred the Regina Trench Cemetery at Grandcourt, Somme, France.
Mrs. Grace M. Stuart moved to Riverside, P.O. Box 544, Lakefield, Ontario effective June 6, 1917. She would have received all of Herbert James' Medals & Decorations, Plaque & Scroll and Memorial Cross. Herbert James' mother, Mrs. Hattie Stuart of 97 Howland Ave., Toronto Ontario, would have also received the Memorial Cross.
Notes from Al Llyod, a very experienced person on WW I Files:
I have spent the day going over the file that you sent, as well as doing some extra digging on Lieutenant Stuart. I'm convinced that there are at least two Casualty Form pages missing and of course the medical records. They would have helped with filling in the holes and details.
The date for him being discharged from the 11 CCS is obviously in error, being shown as December 1, 1916, at least that is how I read it, but it is shown as being recorded on October 1st. It is also strange that there is no report of him being sent to a Field Ambulance first, and stranger still that if he was suffering from shell shock, that they would discharge him to duty so soon, and not send him to a General Hospital for further treatment.
Many thanks to Al for all his input and assistance on this Veteran.
An excerpt from an article in McLean's magazine by Barbara Amid, September 1996:
The military is the single calling in the world with job specifications that include a commitment to die for your nation. What could be more honorable?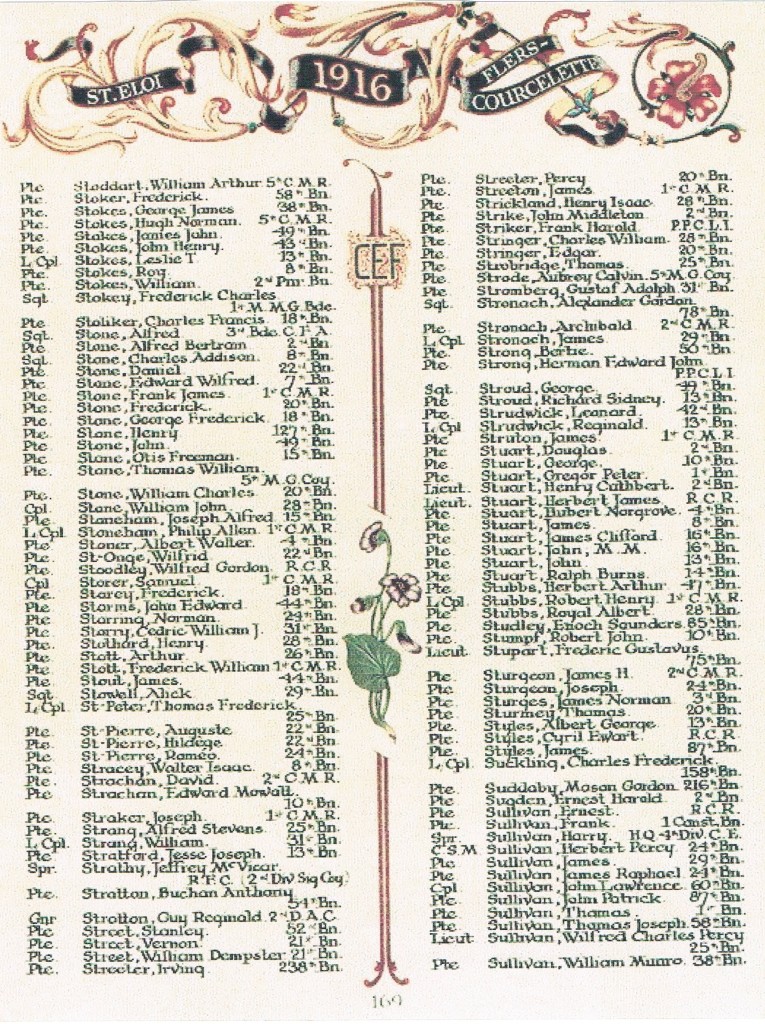 HERBERT JAMES STUART PERSONAL HISTORY
Herbert James Stuart, born September 20, 1886 in Norwood Ontario, but living in Calgary, Alberta working as an Agent married Grace Monsarrat Lillicrap, born in Bradford Ontario August 25, 1884. Herbert & Hattie had Harding, born February 19, 1916 in Toronto, Ontario. Grace M. Lillicrap was living in Lakefield in 1940 and she received a pension from her husband's service. Grace's parents are James Frederick Lillicrap, a Mill Owner & Ida Elizabeth Monsarrat.
THE HERBERT JAMES STUART FAMILY OF LAKEFIELD
Herbert James Stuart's parents are Robert James Stuart & Hattie Beatrice Cummings of Norwood Ontario. Robert & Hattie had 7 children: Herbert James, married Grace Monsarrat Cummings; Lillie; Hattie; Lileon Joyce, married Gilbert Francis Cardell; Aervine J., Robert Charles Victor, married Elsie Christine Chubb and Violet Victoria Elizabeth, married William Andrew McKay.